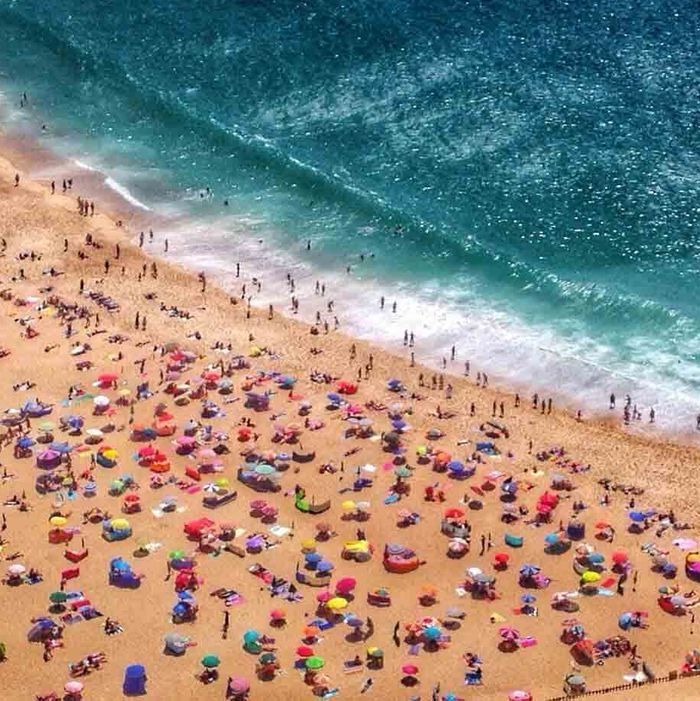 Aaaaah, summer.
Photo: Dario Cingolani / EyeEm/Getty Images/EyeEm
Though we're still in the midst of the COVID-19 pandemic, and cases continue to rise across the country, we're also in the dog days of summer — and the beach or the park or the backyard are the safest places to socialize these days. That means lots of people are spending more time outdoors than usual, and we've spent the last couple of months writing about everything you need to keep yourself comfortable, and have a good time, in the heat. To help you make the most of what is left of the season — whether you're braving the great outdoors or trying to make your indoor space more hospitable — we've rounded up our must-have summertime essentials below.
The
Best
Stuff
for
Going
Outside
Even though the risk of catching or spreading COVID-19 outdoors is fairly low, it is still good practice to wear a face mask outside the house. And for just $20, this Buff, praised by runners, is a versatile face covering that's breathable enough for intense exercise (though that also makes it less ideal for other more crowded environments). It can also double as a headband and protect you from an errant neck sunburn. But if you're looking for something a bit more heavy duty, we found lots of other exercise-friendly face masks, recommended by athletes. Read more here.
This beach umbrella has been our top beach umbrella for a few years running, and for good reason: Its red-and-white stripes are timeless, and it's so high quality and long-lasting that it's been a beachgoer staple since the 1940s. (Plus, its over-seven-foot diameter will help enforce a safe distance from your fellow beachgoers.) If you're looking for a more lightweight or less expensive option, there are some other picks, too. Read more here.
This beach chair will both shield you from the sun and carve a spot away from other beachgoers. That's because of its full canopy, which reviewers on Amazon love. "I liked it so much I'm buying 3 more," writes one reviewer, and another said it's a great gift for a "shade freak." Read more here.
The chair sports a retro look and comes in different colors, and it's portable enough to keep in the trunk of your car at all times for an impromptu picnic. Pair with a vintage cooler, like New York City–based photographer Jennifer Trahan, and your setup will seem effortlessly stylish. Read more here.
Photo: Retailer
Whether you're sitting outside at the drive-in, gathered around the (portable) campfire, or just lounging on your front stoop, this classic, compact, and highly adjustable chair is a summertime must. It's been made the same way for 30 years, comes in nine different colors, and from what the 14 outdoor experts we consulted said, it's a favorite of campers and camp counselors alike. Read more here.
This brightly colored, insulated cooler from REI is a budget-friendly option for keeping your picnic food and drinks cool. Its comfortable straps are also ideal for walking around as you look for the best spot in the park. But if you've already got the cooler you need, we talked to four picnicking professionals about their favorite picnic essentials, including napkins, cutting boards, and even board games. Read more here.
Many people are exploring trails and parks for the first time, but going hiking is not as easy as taking a walk in the woods. If you need help finding your way, this collection of 100,000 trails nationwide — recommended by Appalachian thru-hikers and outdoor experts — will help you find the best hikes in your area, whether you're a pro or a beginner. But if you've already got a trail in mind, we also found the best hiking boots, backpacks, even snacks to get you started. Read more here.
If you're one of many Americans rushing out to buy their first recreational vehicle or just spending a lot of time car-camping, this propane-powered portable firepit is a great fit for on-the-go activities, thanks to the fact it's spark-free and can be quickly and easily turned on and off. In fact, one full-time RV family told us it's their favorite purchase of all time (though they have lots of other recommendations for RV accessories to outfit your new summer outdoor hobby). Read more here.
Since most public pools, beaches, and other places to stay cool in the summer are closed or limited to local residents, there's been a surge of popularity in inflatable pools. We talked to interior-design experts and did our own digging to round up the best ones. This one by Intext feels by far the most adult, and its built-in seats make it comfortable and appropriate for lounging. Read more here.
Hanging a hammock to get some sun and relaxation is one of the many great ways we found to turn a small outdoor or indoor space into a temporary oasis. And our beauty writer Rio Viera-Newton has installed this one in her Greenpoint apartment, and she appreciates that it's easy to take down or adjust, so her house isn't a full-time backyard. Read more here.
With indoor dining closed for the foreseeable future, an outdoor dining set will make your backyard or balcony into an at-home restaurant experience, so we talked with nine interior designers to find the best options for every setting. This one from Grand Patio is budget-friendly, ideal for small spaces, and comes in a large variety of colors: black, blue, white, yellow, pink, and mint green. Read more here.
We've got no judgments if your idea of a good time this summer is sitting inside and watching TV or doing a crossword puzzle. But you'll likely want to stay cool — so we talked with hardware-store owners about the best fans, and this one from Holmes was a favorite. It functions both as a fan and a budget air conditioner, as it blows cool air, removes hot air, and shuts off at night after bringing your space down to your desired temperature. Read more here.
Other
Timeless
Summer
Essentials
This powerhouse sunscreen is a favorite of Strategist readers and writers alike, and is the best pick if you're acne-prone and afraid of sunscreen triggering breakouts. EltaMD UV Clear is noncomedogenic, so it won't clog pores, and contains anti-inflammatory ingredients like niacinamide. We talked to 12 experts who confirmed that it's a top pick among dermatologists, making it one of the best sunscreens you can put on your face. Read more here.
Although you may be inside more often than not this summer, sunscreen is an essential part of practicing safe sun. A favorite of Amazon reviewers, this affordable moisturizer with SPF from CeraVe has restorative ingredients like ceramides and hyaluronic acid to nourish and protect skin without leaving it shiny. Read more here.
We talked to dermatologists, aestheticians, and spa representatives to find the best skin-repairing and soothing après sun solutions. Though most note that aloe vera is nice to have, Manhattan dermatologist Dr. Michele Green recommends this lotion from Sun Bum for its antioxidant and ceramide content, which "restore the skin's balance." Read more here.