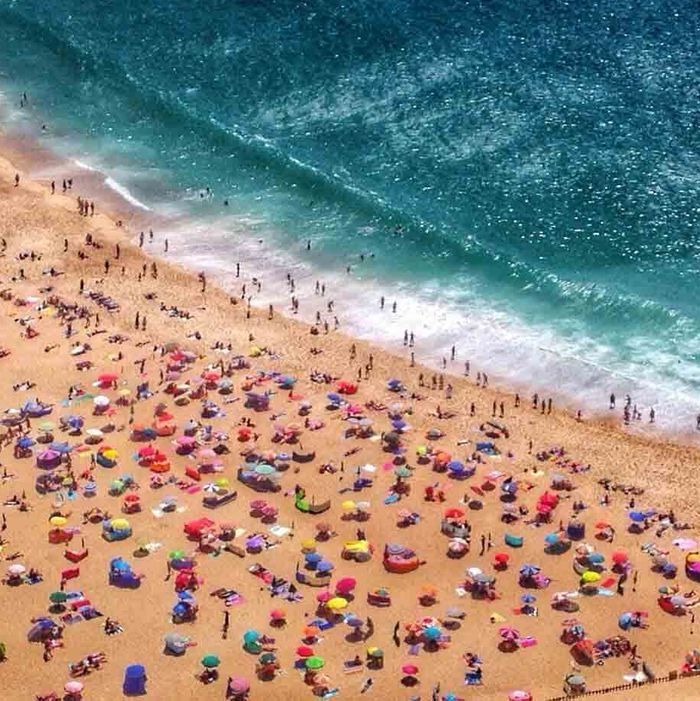 Aaaaah, summer.
Photo: Dario Cingolani / EyeEm/Getty Images/EyeEm
As vaccinations continue to roll out across the country, many of us are breathing long-held sighs of relief and making well-deserved summer travel plans. Whether you're headed to your local beach, planning to stay cool inside your temperature-controlled apartment, or flying to an island resort, you'll need the right gear to make sure you're equipped for the sun, sand, and trails. Luckily, we've spent the past couple of years writing about everything you need to keep yourself (and your crew) comfortable and having a good time in the heat. To help you make the most of what promises to be a summer to remember, we've rounded up our must-have summertime essentials below.
The Best Stuff for Going Outside
This beach umbrella has been our top beach umbrella for a few years running, and for good reason: Its red-and-white stripes are timeless, and it's so high quality and long-lasting that it's been a beachgoer staple since the 1940s. (Plus, its over-seven-foot diameter will help enforce a safe distance from your fellow beachgoers.) If you're looking for a more lightweight or less expensive option, there are some other picks, too. Read more here.
Amazon reviewers love this lightweight, extra-large beach towel for the way it "practically pulls the water right off you in a minute," dries almost just as fast, and can be rolled up into the size of a newspaper. It's also big enough to be used as a beach blanket. Read more here.
Photo: retailer
You're also gonna want a wagon to transport all your beach gear, like this one from MacSports that's a favorite among both Strategist readers and Amazon reviewers. While it's not specifically designed for the beach, the collapsible wagon can easily be wheeled through the sand. Read more here.
This classic folding chair from Coleman is a favorite among Amazon reviewers because it's not only "comfortable, supportive, sturdy, convenient, and roomy," according to one, but also has an ingenious built-in cooler that'll keep your drinks and ice chilled even on the hottest of days. Read more here.
The chair sports a retro look and comes in different colors, and it's portable enough to keep in the trunk of your car at all times for an impromptu picnic. Pair with a vintage cooler, like New York City–based photographer Jennifer Trahan does, and your setup will seem effortlessly stylish. Read more here.
Whether you're sitting outside at the drive-in, gathered around the campfire, or just lounging on your front stoop, this classic, compact, and highly adjustable chair is a summertime must. It's been made the same way for 30 years, comes in a bunch of different colors, and from what the 14 outdoor experts we consulted said, it's a favorite of campers and camp counselors alike. Read more here.
This soft-sided, insulated cooler from REI is a budget-friendly option for keeping your picnic food and drinks cool. Its comfortable straps are also ideal for walking around as you look for the best spot in the park. If you've already got the cooler you need, we also talked to four picnicking professionals about their favorite picnic essentials, including napkins, cutting boards, and even board games. Read more here.
Many people are exploring trails and parks for the first time, but going hiking is not as easy as taking a walk in the woods. If you need help finding your way, this collection of 100,000 trails nationwide — recommended by Appalachian thru-hikers and outdoor experts — will help you find the best hikes in your area, whether you're a pro or a beginner. If you've already got a trail in mind, we also found the best hiking boots, backpacks, even snacks to get you started. Read more here.
If you're one of many Americans rushing out to buy their first recreational vehicle or just spending a lot of time car-camping, this propane-powered portable firepit is a great fit for on-the-go activities, thanks to the fact it's spark-free and can be quickly and easily turned on and off. In fact, one full-time RV family told us it's their favorite purchase of all time (though they have lots of other recommendations for RV accessories to outfit your new summer outdoor hobby). Read more here.
The Best Things for Staying Home
If you can't head to a pool or other body of water, inflatable pools like this one let you (and your little ones) bring the water to you. While you won't be able to swim laps in it, you can certainly sit inside (or dip your feet) and enjoy a lemonade without too much effort. Read more here.
Hanging a hammock to get some sun and relaxation is one of the many great ways we found to turn a small outdoor or indoor space into a temporary oasis. Strategist contributor Rio Viera-Newton installed a hammock very similar to this one in her Greenpoint apartment, and she appreciates that it's easy to take down or adjust, so her house isn't a full-time backyard. Read more here.