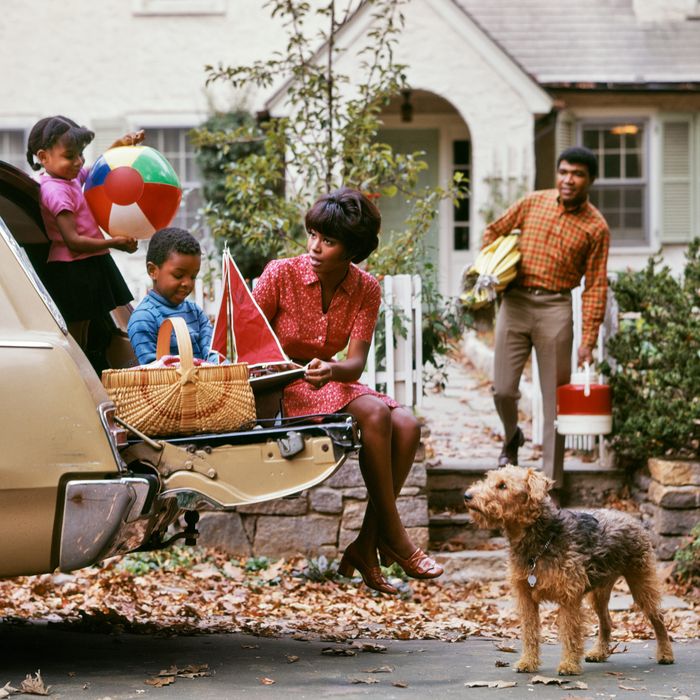 Photo: ClassicStock/Getty
Last month, we wrote about the countrywide surge in RV sales — "as much as 170 percent over a similar period last May," according to the RV Industry Association's Craig Kirby — with seasoned RV road-trippers and newbies alike turning to the vehicles as an answer to socially distanced vacations. It's not just RVs that are in demand, though — in June, the sale of used cars was about 17 percent above pre-pandemic forecasts. Besides transporting you from point A to point B, a car provides various options for vehicle-specific activities, whether it's a night at the drive-in theater, an afternoon picnic out of the trunk, a day trip to go pick up some antique furniture find, or a camping trip where the car serves as a home base. To find the best items and accessories for these activities, we reached out to a variety of people who do them often — below are their picks for drive-ins, camping, picnicking, and more.
Day trips
"I'm a California transplant so the car is my favorite accessory. I essentially treat it like a giant purse," says New York City–based photographer Jennifer Trahan, who told us she uses her car to get to the beach, hike upstate, do " fun Craigslist pickups," and, more recently, go to drive-in movies. Trahan emphasizes the importance of a good in-car soundtrack — and of making it possible to democratize the music selection. "A long aux cord is a must, so those in the back seat can take a turn at DJ-ing," she says. At 6.6 feet, this one is long enough to easily reach the back seat. Not to mention that the blue rope wrapping on the cord makes it sturdier, and even a bit stylish.
Of course, your phone won't be of much use for music if it's not charged, and a few of the people we talked to suggested keeping a portable charger in your car. AI scientist and frequent car-trip-taker Lilly Thomas suggests using a portable solar charger. "I work remotely and in tech, so oftentimes I'll go on trips and bring my work with me — having a portable solar charger is pretty awesome," she says. "There's one I have now by a company called Rise … I've had it for a few months now and it's worked really well, I'll use it to charge my laptop in my passenger seat. Thomas told us that she'll leave the charger on her dashboard where it can soak up plenty of sun for charging her computer and phone.
As a "big Craigslister," Trahan always travels prepared: "Having ratchet straps and bungee cords is a car must-have," she says. "You never know if you're going to need to strap something to the roof or have the back open a little to get that extra-long table inside." The straps can handle loads up to 500 pounds, and come with 15 feet of webbing to keep everything securely in place. They might come in handy locally, too: "In New York, at the end of every month there are tons of treasures on the sidewalk from people moving in and out," says Trahan.
To make your car a more pleasant place to spend time, skip the chemical air fresheners and try an essential oil diffuser like this one, which is a favorite of Thomas's. "I love to use an essential oil diffuser in my car sometimes," she says. "It's called a car humidifier or mini air purifier, but you can also diffuse essential oils in it." To use the diffuser, you just fill the cartridge inside with oil — "I've been using peppermint blends or lavender," says Thomas — and plug it into the cigarette-lighter socket. "I've had it for a while and it's never failed me," Thomas says.
Picnics and camping
Trahan's list of in-car essentials includes some things you might already have with you (hand sanitizer and an iPhone charger, to name a few) but the two items she keeps in her car "at all times" are a vintage travel wine cooler which she found at Coming Soon (and is unfortunately no longer available) and a pair of these classic lawn chairs. The chairs have an appealingly retro look and come in plenty of different colors, including orange and bright blue. And though they may look like something you picked up on an antiquing trip upstate, they actually have an updated construction with slightly stretchy webbing, meaning the seat isn't uncomfortably stiff, nor will it sink to the ground.
Trahan's preferred vintage cooler is no longer available (you can see it in MoMA's permanent collection, though), but you can pick up this Coleman, which comes recommended by data analyst Eva Phillips and her boyfriend Jacob Levine. It's easier to carry than a Yeti, and is also a reviewer favorite on Amazon.
If your picnic or camping plan involves setting up by a lake or ocean, Thomas recommends this Cinch Mat from Dakine, which she uses for surfing. "Changing in and out of a wetsuit is kind of a pain in the butt, because without something to stand on as you're taking it off, you're probably going to pick up some of the sand on the ground and get that in your car. This mat also serves as a bag to put your wetsuit in after you're done changing out of it — you unfold it, change out of your suit, pack your wetsuit up and put that in your car. No messes." While the Cinch Mat sounds ideal for handling a wetsuit, we can also imagine using it for wet bathing suits and towels at the end of the day on a lake or beach, or even for snow-soaked gear come winter.
Drive-in movies
Phillips and Levine have been spending more time at the drive-in lately, where they set up with their pickup truck. "We're in Omaha, Nebraska, and there's theaters that are converting their parking lots into drive-ins, it's really cute," says Phillips. "We're lucky because we have a pickup, so you can set up lawn chairs in the back of the pickup" (we think a Charleston Classic Lawn Chair would work perfectly for this). "For drive-ins, you technically can use your car radio to tune into the movie, but that can sometimes drain your car battery, so we bring a portable FM radio," Phillips says.
The Strategist's own Chloe Anello is a self-described frequent drive-in-goer, and has a few go-to items. The first thing to consider is snacks: "If you're going with multiple people, it's more economical to buy a large popcorn and then split it, instead of everyone getting their own," she says. "However, you're more spread out at a drive-in theater if you choose to sit outside the car, or you have people sitting in the back, so it's super annoying having to pass popcorn around." Her solution: the humble paper bag. "If you bring paper bags, you can easily split the popcorn, instead of passing it," she says. "It also creates less of a mess, and everyone gets the same amount. My mom did this when my sister and I were kids, so I've just kind of stuck with it."
"I don't know anyone who goes to the drive-in regularly who doesn't bring their own water bottle — popcorn is salty and drinks are expensive to buy there," says Anello. "I like the 25-ounce one from Corkcicle (the 16-ounce also works) because they fit in the cupholder and hold a lot."
Phillips, Levine, and Anello all suggested packing some bug spray for your night at the movies, especially if you won't be running the car's air conditioner. "At the drive-in, your car is in accessory mode — it's on so you can play the radio to listen to the movie, but the engine isn't running, otherwise you'd drain the battery," says Anello. "Most cars don't run AC when the engine is off, so instead we open the windows — and it gets very buggy." Anello suggests Kinfield bug spray because "it doesn't give your car a nauseating chemical smell (it smells like lemongrass and herbs), and it works."