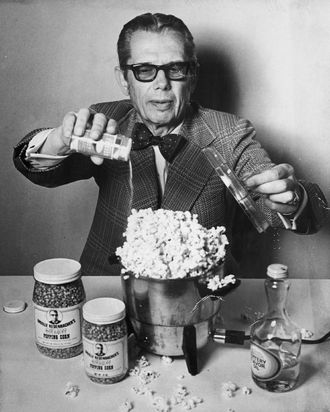 Orville Redenbacher mixes up a batch of his gourmet "popping corn."
Photo: Phil Slattery/Denver Post via Getty Images
Growing up, popcorn existed at the strange nexus between a snack and real food. It was seemingly devoid of any nutritional value, but also lacking the sweet or savory kick of my favored neon-colored after-school refreshments. The few times that I did unwrap and microwave a bag of Pop Secret (from the same jumbo box that, I believe, has sat in my parents' cupboard for a minimum of 17 years), I was greeted by the acrid taste of butter substitute. Even worse, multiple uncooked kernels were lying in wait to be unknowingly scooped up in a handful and wreak havoc on my teeth.
In recent years, though, my relationship with popcorn changed amid what I like to call the gourmet popcorn renaissance, and I have joined the ranks of the devoutly converted. Old cult favorites have reached new levels of popularity, and new pre-popped options are cloud-like vehicles for inventive flavors from salty to sweet. The variety of delicious gourmet popcorns currently has me hooked on a few bags a week, and constantly scanning bodega aisles and websites and online forums (yes, they exist) for new and exciting combinations. Below are some of my favorite gourmet popcorns, including my weekly standbys, my formal popcorns, and a few flavors I want to try.
The true king
A pair of Bard grads making artisanal popcorn using giant mirrors might sound more like an episode of Portlandia than reality. But that's exactly the story behind Brooklyn-based Bjorn Qorn, which has quickly become the standard-bearer for all things fancy popcorn — and the brand I stock in doomsday-prepper–like quantities in my home (Strategist editor Katy Schneider is also a fan). I'm partial to the Original flavor, which is dusted with nutritional yeast to give it a taste reminiscent of a nutty cheddar corn, except this one is vegan. Not only does it have an unreal umami flavor, but it's also packed with B vitamins and protein (thanks to the yeast) so you can fool yourself into thinking you're being healthy. Every person who I've shared a bag with (even those puzzled or disgusted by the words "nutritional yeast") has immediately fallen in deep snack love and never looked back. The price shown for Amazon is for a three-ounce bag; on Mouth, it's for a one-ounce bag.
The sweet standby
Growing up, my mom would tell me stories of getting sleep-away camp care packages full of this chocolate-and-caramel-covered popcorn mix. But in the pre-internet wilderness of the early '90s, the tasty treat seemed out of reach. (I sadly all too late found out that the Harry & David catalogue exists.) Luckily, as I grew up, technology advanced, and I finally got to try this crazy delicious dessert-y mix. The popcorn itself is fluffy but not very flavorful, so the predominant profile is of the rich chocolate, super sticky caramel, and nuts. When my teenage sweet tooth comes calling, this is just what it craves. Bonus points if you get a bag that's just one blob glued together with caramel.
The underground favorite
Even if it doesn't taste like Sriracha per se, this delivers the perfect level of spice with a hint of sweetness. It also pairs great with a dry white wine (no, I'm not kidding at all). It's addictive but nearly impossible to find in the few stores that stock it — my local supplier Brooklyn Larder is almost always sold out. Luckily, there are online retailers that have you (and me) covered.
The "healthy" crowd pleaser
This was a sad-day bodega discovery and I regret nothing. It's low calorie, low sugar, and fatty only because of the inclusion of (reportedly good for you) coconut oil. The organic honey, Himalayan salt, and jalapeño-pepper powder all mix in to become one cohesive salty-sweet flavor bomb. The best endorsement I can give is that it solved my problems as only a good food can, and it also seems to be carried in 80 percent of New York grocery stores. If you're really looking to stock up, Amazon also sells a 12-pack of the 5oz bags for $52.
Popcorn to impress your friends
This is the popcorn I reserve for special occasions. Like Dijon mustard or wine that costs above $9 a bottle, if I bring this out for you then you know we're getting fancy. Made with toasted seaweed and sesame seeds, this popcorn has an earthy sea flavor that I would (inexpertly) compare to that of uni.
The blank canvas
Get creative and do it yourself! Yes 365 Brand is ubiquitous and insanely bland, but it has no unpopped kernels and big fluffy popped pieces that take to flavor beautifully. Drizzle some olive oil and then add seasonings directly into the bag, then just give it a shake to create any flavor profile you want. Personally, I create a pizza flavor with tomato powder, oregano and nutritional yeast, or a smoky barbecue blend with smoked paprika and dehydrated chives. Paint your popcorn masterpiece on this perfect plain canvas.
The Chicago flavor that sounds awful but somehow works
I spent one hellish year living in Chicago after college and though much of my life was a mess, it wasn't a total loss since I discovered the tourist trap/popcorn mecca that is Garrett. As much as I wanted to hate the kind of Frankenstein food abomination that could only come from the frozen shores of Lake Michigan, the cheddar/caramel mix is perversely perfect. It feels like you're doing something fiendish combining the powerfully different flavors in one bite but from a city full of food faux pas it's oh so right.
I've tried a lot of similar mixes, and while the Chicago authenticity of Garrett is superior, it's also pretty pricey. If you're looking for a cheaper option that still delivers taste-wise, this G.H. Cretors mix on Amazon works out to less than $3.50 a bag.
Two breakfast popcorns
Popcorn for breakfast? Yes, I've done it and I'll do it again. The delightfully named Poppingtons makes a variety of flavors to get a balanced meal in before work. The Cinnamon Kettlecorn tastes exactly like Cinnamon Toast Crunch and the Maple Caramel Bacon Cheddar mix is the perfect compliment to a plate of eggs. Or, you know, eat either at a normal time as a snack.
And two popcorns I want to try
The makers of my beloved Sriracha popcorn have a lot more flavors in their arsenal. I've heard great things about the earthy black-truffle variety that offers the flavor of an ingredient typically found on pricey tasting menus at a relatively affordable price.
I would buy this on the adorable name only, but I'm also curious to try it for what I hear is a relatively spicy jalapeño flavor (most manufacturers have a light spice hand). Reviews are glowing across the board. Delightful British nanny unfortunately not included.
The Strategist is designed to surface the most useful, expert recommendations for things to buy across the vast e-commerce landscape. Some of our latest conquests include the best acne treatments, rolling luggage, pillows for side sleepers, natural anxiety remedies, and bath towels. We update links when possible, but note that deals can expire and all prices are subject to change.