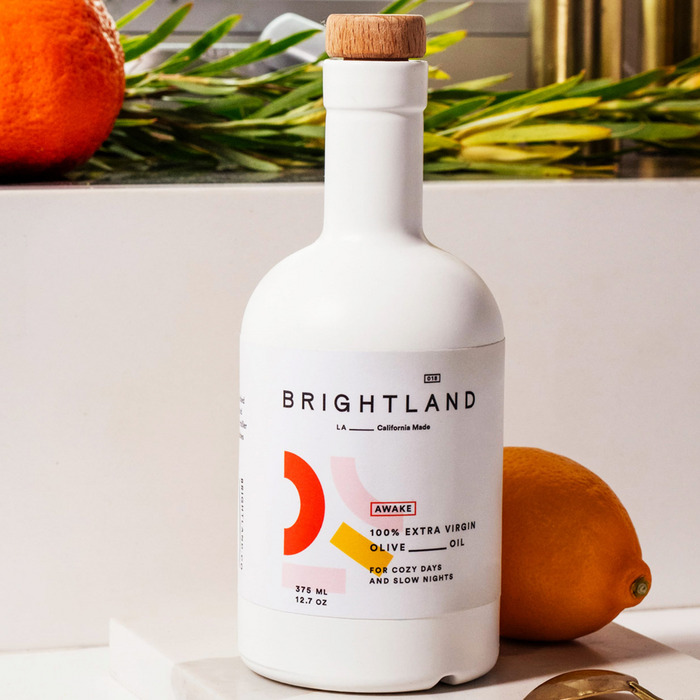 Stand in front of the olive-oil section at any grocery store and you'll start asking questions. Is this one better for cooking or finishing? Should I stick to Italian oils, or try Californian, Greek, or Spanish? Is there such a thing as a good and cheap olive?
Experts will tell you that buying olive oil (that is, extra-virgin olive oil) really comes down to personal preference, and finding your favorite is all about experimenting. Try enough oils and you'll start to notice different flavor profiles — like piquant, peppery, mild, grassy, fiery — and which one you like best. But there are still a few easy ground rules to follow: Look for dark or opaque bottles, because olive oil doesn't like light. Read the label to learn the country — or countries — of origin, the harvest date, and to make sure it's truly "extra virgin" ("pure," "light," or just "olive oil" are not substitutes for EVOO). Richard Rea, the executive chef at the Butcher's Daughter, also suggests looking for the certifications from either the NAOOA (North American Olive Oil Association) or its European counterpart, IOC (International Olive Council.)
People like to compare olive oil to wine, but there's one massive difference: "Olive oil does not benefit from age at all," says Nancy Harmon Jenkins, author of Virgin Territory: Exploring the World of Olive Oil. Olive oil only lasts for about 18 months. If you're worried that your oil has gone bad, food writer Kimberly Stewart has an easy test: "Rancid oil smells like children's Play-Doh," she says, "or mouse urine." And on that note, we spoke to Jenkins, Stewart, and eleven other chefs, importers, and food writers about the best extra-virgin olive oils to use for any occasion.
Best overall olive oil
California Olive Ranch Extra Virgin Olive Oil
Five of our EVOO experts mentioned this California Ranch olive oil as a pantry go-to. Jenkins calls it a good beginner olive oil that's affordable, versatile, and available in three different flavors for everyday use. All the flavors have also been certified by the California Olive Oil Council. Stewart, the author of Eating Between the Lines, also uses California Olive Ranch often and noted that the producers manage to maintain the quality of the oil while keeping the price fairly low. Anna Hezel, senior editor at Taste and the author of Lasagna: A Baked Pasta Cookbook, calls it a "dependable, mild olive oil to add richness to a tomato sauce or to fry some eggs in." Danielle Oron, author of Food You Love But Different, likes California Olive Ranch EVOO for roasting or grilling vegetables, broiling salmon, and making a quick vinaigrette. Oron says it's a great option when she doesn't "want the oil to overpower the flavor of the dressing." And Mailea Weger, the chef and owner of café and natural wine bar Lou in Nashville, who told us she grew up in California and started her career in the state, is also a fan.
Best olive oil for finishing
Tenuta Di Capezzana Extra Virgin Olive Oil (2 Bottles)
But if you're looking for an oil to drizzle over your food for added flavor, this one from Tuscany is your best bet. It came recommended by two of the experts we consulted — Jenkins and Erin Shambura, the owner and chef at Fausto in Brooklyn. Jenkins told us that Tuscan EVOO "is the best oil in the world," and that Tenuta di Capezzana, which is produced outside Florence, is her go-to. Shambura describes it as having "a buttery, mild flavor and a peppery finish. It has a nice balance of fruit and bitter with an earthy aroma," she says. Shambura recommends using this oil for roasted or grilled meat, and on hearty vegetables and mushroom dishes.
Best (less expensive) olive oil for finishing
Olio Verde Oil Olive Extra Virgin
If you're looking for an affordable oil for an easy drizzle, Shambura says Olio Verde is a great choice with a mild flavor and less bitter notes. It's a single-origin Sicilian oil made with Nocellara del Belice olives. ("Noce" in Italian means walnut, so look out for a nutty flavor.)
Best non-California USA-made olive oil
Georgia Olive Farms, Extra Virgin Olive Oil
After California, Georgia is one of the largest U.S. producers of olive oil. This EVOO from the Southern state comes recommended by both Joey Ward, the executive chef and owner of Atlanta's Southern Belle and Georgia Boy restaurants, and David Bancroft, the executive chef and partner of Acre restaurant in Auburn, Alabama. Ward recently visited the family-run farm where it's made and pressed some himself. He says it has a "very bright and peppery, robust flavor," and claims that "it goes toe to toe with the Italian, Greek, and California oil producers." Bancroft, the 2017 winner of Food Network's Iron Chef Showdown, told us it's his go-to at home and at work, saying he loves "the bright aromatics from Georgia-grown arbequina olives. The flavor has a subtle hint of green banana."
Best multi-use olive oil
Best olive oil for snacking
Zoe Extra Virgin Olive Oil
Oron loves this EVOO, which is cold pressed from Spanish Cornicabra olives, giving it what she calls its "rich and fruity flavor and the most beautiful color." Oron likes it so much she mostly uses it as a condiment for various snacks. She drizzles it on crudités, bowls of homemade hummus, and for dipping torn pieces of baguette to enjoy while she cooks. Oron also told us she uses Partanna EVOO for the same purpose when she can find it.
Best flavored olive oil
Agrumato Lemon Extra Virgin Olive Oil (200 ml)
Produced in the Abruzzo region in southern Italy, the Agrumato Lemon Olive Oil is another favorite of Shambura's. As the name suggests, the oil has a lemony aroma. "It's a unique product because the olives and lemons are crushed simultaneously," she says. Drizzle this oil on cooked fish, white meat, crudos, and vegetables.
Best olive oil for salads
Marchesi de Frescobaldi Laudemio Extra Virgin Olive Oil
Underscoring what our experts already said about how the quality of Tuscan olive oils is hard to beat, James Beard Award–winning chef Jonathan Waxman recommends this oil from the region's famous Frescobaldi estate, which he says is great for salads with seafood and vegetables. Though the color of the olive oil is not an indication of taste or quality, the bright-green liquid of Frescobaldi Laudemio is definitely eye-catching.
Best status-y olive oil
Brightland 100% Extra Virgin Heirloom Olive Oil
According to Hezel, "everyone in food media seems to be totally nuts for Brightland olive oil." The California company was started by Aishwarya Iyer, who left her venture capital job to create better olive oil made in small batches sustainably using nothing but olives — cold-pressed single origin heirloom olives to be exact. Each glass bottle (the design of which was inspired by Matisse cutouts) is UV-powder coated to protect the precious contents inside and marked with a harvest date so you know it's fresh (not all brands do that). Plus it's sold at a handful of status-y retailers including Food52, Nordstrom, Goop, and Terrain.
Best olive oil when you need it in two hours
Just FreshDirect Organic 100% Italian Extra-Virgin Olive Oil
Supermarket EVOO brands tend to get a bad reputation, but the next time you need a quick fix, food writer Hannah Howard suggests FreshDirect's brand. The online shopping site has an Italian organic olive oil for everyday purposes, as well as an early harvest EVOO from Sicily that's available only for limited periods.
Best olive oil to buy in bulk
Kirkland Signature Organic Extra Virgin Olive Oil
"Don't laugh," Oron told us when she mentioned Kirkland Signature Organic EVOO as one of her favorites. "I go through a lot of EVOO." The company we like for its great basic white T-shirts is also a surprisingly solid purveyor of USDA organic olive oil, which is bottled in Italy with oils from Italy, Portugal, and Spain.
Best Italian olive oil (that isn't from Tuscany)
Pianogrillo Extra Virgin Olive Oil
Italian olive oils are widely used around the world, and there are a lot of them, so we asked Beatrice Ughi, founder and president of high-quality Italian food importer Gustiamo, for her recommendations. She picked Pianogrillo, which comes from the Ragusa province in Sicily, known for its excellent quality of oils. Compared to Tuscan olive oil, Sicilian EVOO tends to deliver a more forward flavor with bite, and less of the grassy voluptuousness notes found in the former.
Best Spanish olive oil
O-Med Arbequina Extra Virgin Olive Oil
Alex Raij, the chef and owner of New York City Spanish restaurants El Quinto Pino, Txikito, and La Vara, specializes in cuisine from the Basque region of Spain. She prefers olive oils that are "grassy and neutral, but not usually spicy," and recommends O-Med's 100 percent Arbequina olive oil with a low acidity. When trying out different olive oils, many experts suggest tasting the raw oil, but Raij has a different approach. "The true test of olive oil is on food. Floating in a soup or on bread, with a little bit of sea salt," she says.
Best Spanish olive oil for roasting meat
Nuñez De Prado Extra Virgin Olive Oil Tin
Nuñez de Prado, which comes from the Andalusia region, is Waxman's recommendation for a Spanish oil. He uses this oil for roasting meat as well as for marinades. Zabar's, which sells the olive oil in New York, describes it as "bright and fruity with just a hint of pepper and a smooth, sweet finish."
Best Greek olive oil
Gaea Fresh Olive Oil, Extra Virgin
Greek oils don't get as much attention as Italian or Spanish ones, but Howard says this one is actually one of her favorite oils to use while cooking. At $23, it's cheap enough to cook with, but also good enough to drizzle on as a finishing oil, she says. It's pressed within three hours of harvest, and importantly, features the harvest date on the label.
Best Greek olive oil to buy in bulk


Theros Extra Virgin Olive Oil
Jacob Sessoms, the executive chef at Cultura in Asheville, North Carolina, prepurchases 50 gallons of this olive oil for his restaurant. He likes that the oil is a family affair: It's produced by Spiro Theros, a friend of his, and Spiro's son, Nikos. The father-son duo live in Asheville but make regular trips to Greece to press, package, and ship the oil from their family's plot.
Best olive oil for gifting
Miraval Organic Extra Virgin Olive Oil
It's not uncommon for wineries to get into the olive-oil business, and Miraval in Provence (which you might know as the winery bought by Brad Pitt and Angelina Jolie, who still own it, even after their separation) makes a beautiful bottle. Howard, who recently gifted a bottle to friends, says it's delicious enough that you can make a whole meal with just a bowl of this oil and some good bread.
Best olive oil for special occasions
Il Tratturello Extra Virgin Olive Oil
Ughi recommends breaking out this 750ml bottle — a bit bigger than the standard half-liter — for special occasions (and as another giftable oil). The gorgeous bottle is emblazoned with a red wax seal and is individually numbered. "It gives you a sense of uniqueness," she says. Produced in Piani di Larino, in the Molise region of Italy, Ughi says it's one of her importing company's best sellers.
The Strategist is designed to surface the most useful, expert recommendations for things to buy across the vast e-commerce landscape. Some of our latest conquests include the best acne treatments, rolling luggage, pillows for side sleepers, natural anxiety remedies, and bath towels. We update links when possible, but note that deals can expire and all prices are subject to change.
Every editorial product is independently selected. If you buy something through our links, New York may earn an affiliate commission.