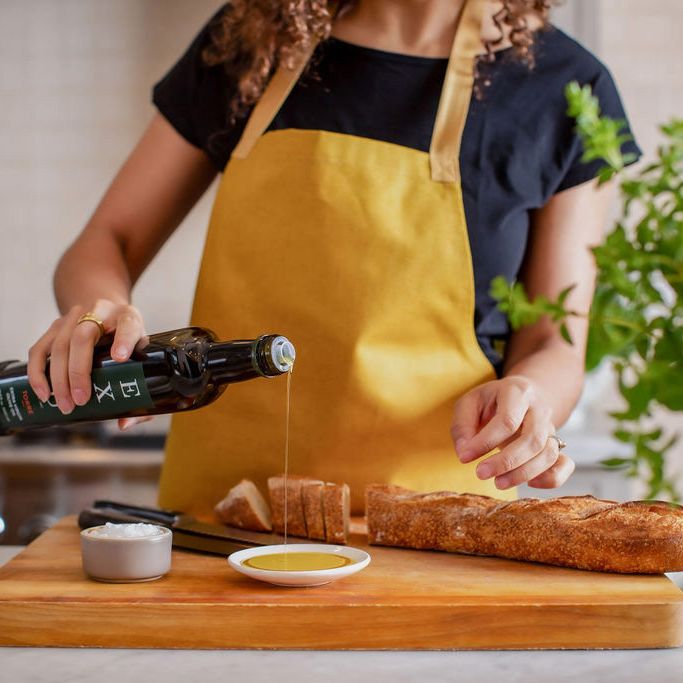 Stand in front of the olive-oil section at any grocery store and you'll start asking questions. Is this one better for cooking or finishing? Should I stick to Italian oils, or try Californian, Greek, or Spanish? Is there such a thing as a good and cheap olive oil? The fact that the industry is growing rapidly, with new options popping up on shelves all the time from both domestic producers and importers, tends to make things even more overwhelming.
Experts will tell you that buying olive oil (that is, extra-virgin olive oil) really comes down to personal preference, and finding your favorite is all about experimenting. Try enough oils and you'll start to notice different flavor profiles — like piquant, peppery, mild, grassy, fiery — and which one you like best. Some of them are meant solely for cooking; they're milder and won't lose too much flavor when they interact with heat. And there are bottles that are meant for drizzling on top of finished dishes; they taste best when served straight from the vessel. Many products on this list, though, can act as both.
No matter what you choose, there are still a few easy ground rules to follow: Look for dark or opaque bottles, because olive oil doesn't like light. (If you do find one that you like in a clear bottle, just be sure to store it in the cupboard instead of on the countertop.) Read the label to learn the country — or countries — of origin, and the harvest date. Richard Rea, the executive chef at the Butcher's Daughter, also suggests looking for the certifications from either the NAOOA (North American Olive Oil Association) or its European counterpart, IOC (International Olive Council).
People like to compare olive oil to wine, but there's one massive difference: "Olive oil does not benefit from age at all," says Nancy Harmon Jenkins, author of Virgin Territory: Exploring the World of Olive Oil. Olive oil only lasts for about 18 months. If you're worried that your oil has gone bad, food writer Kimberly Stewart has an easy test: "Rancid oil smells like children's Play-Doh," she says, "or mouse urine." And on that note, we spoke to Jenkins, Stewart, and fifteen other chefs, importers, experts, and food writers about the best extra-virgin olive oils to use for any occasion. Here are their picks.
Best overall olive oil
Six of our EVOO experts mentioned this California Ranch olive oil as a go-to. Jenkins calls it a good beginner olive oil that's affordable, versatile, and available in three different flavors for everyday use. Stewart, the author of Eating Between the Lines, also uses California Olive Ranch often and noted that the producers manage to maintain the quality of the oil while keeping the price fairly low. Anna Hezel, senior editor at Taste and the author of Lasagna: A Baked Pasta Cookbook, calls it a "dependable, mild olive oil to add richness to a tomato sauce or to fry some eggs in." Danielle Oron, author of Food You Love But Different, likes California Olive Ranch EVOO for roasting or grilling vegetables, broiling salmon, and making a quick vinaigrette. Oron says it's a great option when she doesn't "want the oil to overpower the flavor of the dressing." Matt Hyland, chef at Pizza Loves Emily in New York, thinks it's distinct and tasty enough to pass as a finishing oil. He uses it for everything at the restaurant and likes that it's "one of the only domestic brands you can buy in bulk." He says it works just as well in a vinaigrette as it does drizzled on top of a sizzling pie straight from the oven.
Best olive oil for finishing
If you're looking for an oil to drizzle over your food for added flavor, this one from Tuscany is your best bet. It came recommended by two of the experts we consulted — Jenkins and Erin Shambura, the owner and chef at Fausto in Brooklyn. Jenkins told us that Tuscan EVOO "is the best oil in the world," and that Tenuta di Capezzana, which is produced outside Florence, is her go-to. Shambura describes it as having "a buttery, mild flavor and a peppery finish. It has a nice balance of fruit and bitter with an earthy aroma," she says. Shambura recommends using this oil for roasted or grilled meat, and on hearty vegetables and mushroom dishes. Food artist Laila Gohar is another loyal fan of Tenuta Di Capezzana olive oil. Gohar tells us she is trying to support local shops as much as she can right now since many of them are struggling to survive closures due to the coronavirus, and luckily her favorite local shop is also online. "Formaggio Kitchen in Essex Market is maybe my favorite shop for pantry items anywhere," Gohar says.
Best (less expensive) olive oil for finishing
For an affordable oil for an easy drizzle, Shambura says Olio Verde is a great choice with a mild flavor and less bitter notes. It's a single-origin Sicilian oil made with Nocellara del Belice olives. ("Noce" in Italian means walnut, so look out for a nutty flavor.)
Best non-California USA-made olive oil
After California, Georgia is one of the largest U.S. producers of olive oil. This EVOO from the Southern state comes recommended by both Joey Ward, the executive chef and owner of Atlanta's Southern Belle and Georgia Boy restaurants, and David Bancroft, the executive chef and partner of Acre restaurant in Auburn, Alabama. Ward recently visited the family-run farm where it's made and pressed some himself. He says it has a "very bright and peppery, robust flavor," and claims that "it goes toe to toe with the Italian, Greek, and California oil producers." Bancroft, the 2017 winner of Food Network's Iron Chef Showdown, told us it's his go-to at home and at work, saying he loves "the bright aromatics from Georgia-grown arbequina olives. The flavor has a subtle hint of green banana."
Best multi-use olive oil
For daily use, Shambura recommends the medium-bodied Italian Monini Extra Virgin Olive Oil. It has a fruity, grassy flavor, and can be used for both drizzling and for cooking meats, vegetables, and sauces, making it super versatile.
Best California olive oil for dipping
To re-create the feeling of going out to eat at home Jessica Randhawa, chef and blogger at The Forked Spoon suggests picking up a bottle of this award-winning California olive oil that's local to her neck of the woods. Randhawa says their California Extra Virgin Olive Oil is an amazing oil for both dipping and cooking. If you can get your hands on it, she also recommends "their limited-edition California First Harvest," calling it "out of this world tasty, but also quite expensive at about $50." Plus, she warns, "it sells out fast."
Best olive oil for snacking
Oron loves this EVOO, which is cold pressed from Spanish Cornicabra olives, giving it what she calls its "rich and fruity flavor and the most beautiful color." Oron likes it so much she mostly uses it as a condiment for various snacks. She drizzles it on crudités and bowls of homemade hummus, and likes it for dipping torn pieces of baguette to enjoy while she cooks. Oron also told us she uses Partanna EVOO for the same purpose when she can find it.
Best flavored olive oil
Produced in the Abruzzo region in southern Italy, the Agrumato Lemon Olive Oil is another favorite of Shambura's. As the name suggests, the oil has a lemony aroma. "It's a unique product because the olives and lemons are crushed simultaneously," she says. Drizzle this oil on cooked fish, white meat, crudos, and vegetables.
Best olive oil for salads
Underscoring what our experts already said about how the quality of Tuscan olive oils is hard to beat, James Beard Award–winning chef Jonathan Waxman recommends this oil from the region's famous Frescobaldi estate. He says it's great for salads with seafood and vegetables. Though the color of the olive oil is not an indication of taste or quality, the bright-green liquid of Frescobaldi Laudemio is definitely eye-catching.
Best statusy olive oil
According to Hezel, "everyone in food media seems to be totally nuts for Brightland olive oil." The California company was started by Aishwarya Iyer, who left her venture capital job to create better olive oil made in small batches sustainably using nothing but olives — cold-pressed single origin heirloom olives. Each glass bottle (the design of which was inspired by Matisse cutouts) is UV-powder coated to protect the precious contents and marked with a harvest date so you know it's fresh, something not all brands do. Plus it's sold at a handful of status-y retailers including Food52, Nordstrom, Goop, and Terrain. Choose from one of two flavors: Awake, which is grassier and best used in soups, pastas, or roasted veggies; or Alive, which has a nutty flavor and is great for salads, marinades, and baking.
Best olive oil to buy in bulk
"Don't laugh," Oron told us when she mentioned Kirkland Signature Organic EVOO as one of her favorites. "I go through a lot of EVOO." The company we like for its great basic white T-shirts is also a surprisingly solid purveyor of USDA organic olive oil, which is bottled in Italy with olives from Italy, Portugal, and Spain.
Best single-origin olive oil to buy in bulk
If you'd rather use an olive oil that comes from one region and that you can also buy in bulk, go for Oleo. It's a high-quality Spanish olive oil made in Córdoba, Andalusia, using Hojiblanca and Picual olives. Nick Perkins — chef-partner at Hart's, the Fly, and Cervo's in New York City — calls it a workhorse in the kitchen. "It's great for sofritos, roasting, marinating, and cooking vegetables," he says. "Basically, we use it for all our hot cooking." It's also the bulk olive oil the restaurants sell at their weekly neighborhood market.
Best olive oil for frying