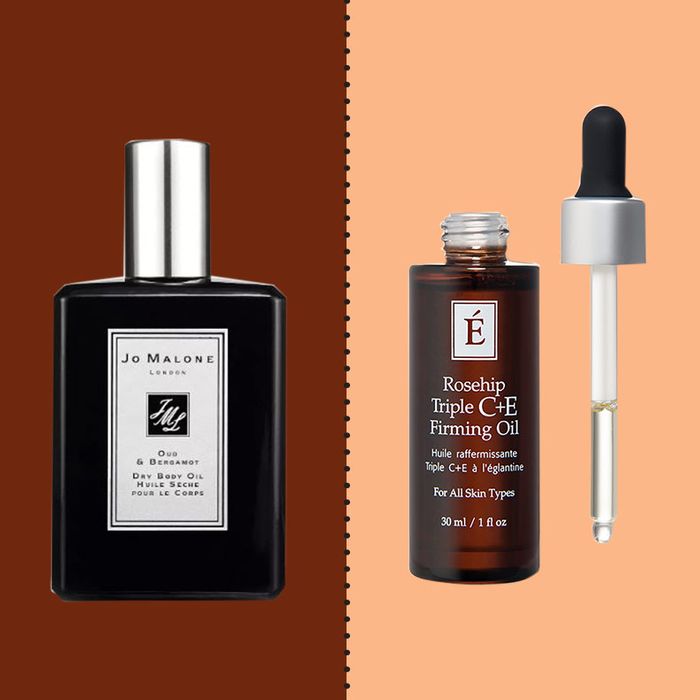 Photo: Courtesy of the retailers.
If you've been in the market for a moisturizer or reading up on fighting acne, you may have come across a category of products called "dry oils." The name sounds like an oxymoron, but the class of light, fast-absorbing oils are actually a favorite of dermatologists and naturopathic doctors for treating everything from generally parched skin to eczema. "I love dry oils because they absorb fully into the skin with no greasy feeling afterward, as opposed to wet oils — such as mineral oils like Johnson's baby oil — that don't absorb as well and sit on top of the skin," says Dr. Anna Karp, a dermatologist at The Skin Institute of New York, who recommends applying dry oil right after showering to lock in moisture.
According to Karp and many of the eight other dermatologists and naturopathic doctors we spoke to, dry oils are usually plant-based and tend to pack a lot of antioxidants. Amy Galper, an aromatherapist and co-founder of the New York Institute of Aromatic Studies, says that dry oils have properties that "have a great affinity to the lipids that exist naturally in our skin," which is helpful for supporting the skin's natural barrier "to keep moisture in, and pathogens out, and to heal and nourish the skin." But "dry oil" is a fairly broad term — some of the experts we talked to said it applies to any fast-absorbing oil, while others said it refers specifically to cold-pressed nut or seed oils — so we set out to find out which oils are the best for specific skin conditions, as well as which ones were ideal for daily use. Read on for our experts' picks, which include everyday dry oils, ones for acne-prone or other types of sensitive skin, and even some for your hair.
Best overall dry oil
While many of the dry oils further down on this list offer specific benefits, jojoba is the dry oil that our experts recommend for general use, both on the body and face. "Most people find jojoba seed oil very fast absorbing," says Galper. Aba T. Gyepi-Garbrah, an aromatherapist and founder of Aba Love Apothecary, told us that the texture of jojoba oil "is similar to our skin's natural sebum, which makes it very popular as a face and body moisturizer for most skin types." Gyepi-Garbrah also notes that jojoba is "virtually odorless," making it ideal for those searching for an unscented body oil. If you are looking for something with a scent, though, jojoba mixes well with essential oils; in fact, it appears in the ingredient list of more than one of the other oils on this list. Altogether, four of our experts recommended dry oils either with jojoba in their ingredients, or in a pure, cold-pressed form, like this oil — which also has over 8,000 reviews on Amazon, almost 90 percent of which were five-stars.
Best dry oil for sensitive skin
"For inflamed skin, rosehip oil is a great choice," says New York-based naturopathic doctor Nicole Egenberger. "In studies, it's shown promising results in decreasing a variety of inflammatory disorders in the skin like eczema." Rosehip oil contains linolenic acid, which Egenberger says "helps keep the skin hydrated," while also fighting inflammation and boasting antioxidant properties. She likes this one from Eminence Organic Skin Care, which also counts sea buckthorn and jojoba oil on the ingredients list. For a less expensive option, Egenberger suggests The Ordinary 100% Organic Cold-Pressed Rose Hip Seed Oil (with the caveat that it isn't the best choice if you've got oily skin or cystic acne).
Best dry oil for acne-prone skin
Henninger told us that grapeseed is a "powerful antibacterial oil" that contains linoleic acid, which helps keep pores from clogging, along with antioxidants and vitamins D, C, and E, which help keep skin healthy. "For patients with active outbreaks, I'll recommend using it as a carrier oil for essential oils like tea tree, which increase the antibacterial effect," naturopathic doctor Maura Henninger says. She recommends Odacité Pure Elements Grapeseed+Grapefruit Serum Concentrate, which combines grapeseed oil with astringent grapefruit to help keep skin clean and excess oil under control.