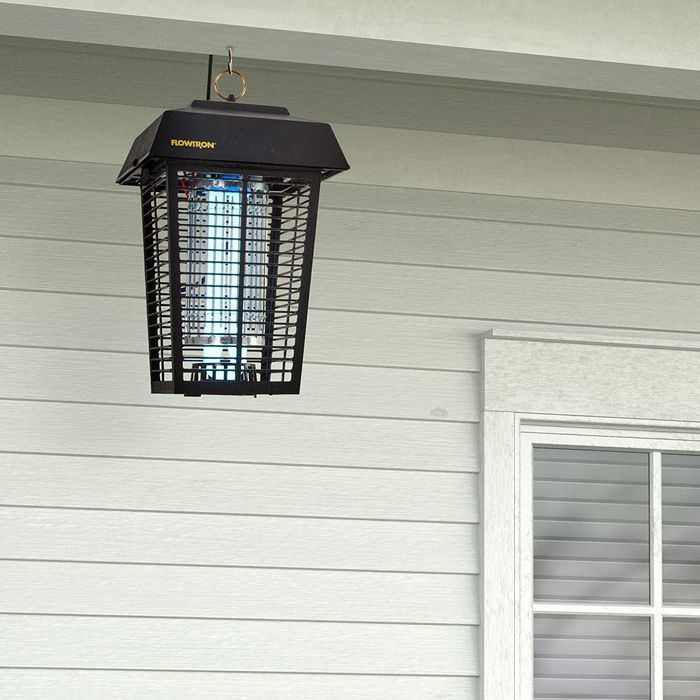 Here at the Strategist, we like to think of ourselves as crazy (in the good way) about the stuff we buy, but as much as we'd like to, we can't try everything. Which is why we have People's Choice, in which we find the best-reviewed products and single out the most convincing ones. (You can learn more about our rating system and how we pick each item here.)
And while we've written before about all sorts of pest-control tools — including "non-smelly" mosquito repellents, expert-recommended tick repellents, and a mosquito-repellent bracelet — here we've rounded up the best bug zappers as praised by the most enthusiastic reviewers on Amazon.
Best-rated bug zapper
"This thing seriously kicks some bug ass," says one reviewer, one of more than 2,000 five-star reviewers, who is impressed by how well this zapper works. "It kills everything that comes near it….white flies, mosquitoes, moths, even the odd gecko, as I live in south FL," one user reports. "If I leave it on all night, there are hundreds of them on the ground in the morning." And after having this up and running for a few days, one reviewer says, "I barely noticed any mosquitoes at all." One reviewer suspects it works so well because of the ultraviolet light, which, according to them, is "very effective at attracting flying insects that are seeking light such as moths. I have tried a different variety that uses a darker spectrum of light, darker to the naked eye, and they do not work nearly as well as this unit does." This light also comes with a mosquito attractant that reviewers say makes it even more effective. "After about a week I stuck the octenol pack to the bottom and now I have ZERO mosquitoes on or near my patio," one says. Another bonus is that the mosquitos don't stick to the zapper, so it's easier to clean, but if you hang the unit on your deck and not in your yard, many recommend placing a plate underneath it because its victims will fall all around it.
Best-rated (less expensive) bug zapper
"So much better than a regular fly swatter or sticky tape," says one reviewer of this mini bug zapper. And even though it's small, it's just as effective as its larger counterparts — maybe even better. "This racket is the perfect size for being able to move quickly and kill bugs," writes one reviewer. "There is a satisfying flash and audible pop every time I kill one." Many say it's easy to use, too. "One swing, one kill. No mess, no clean up," one writes. It's also rechargeable, so you don't have to worry about replacing batteries. In fact, it's so easy to use, about 12 percent of reviewers even describe using this zapper as fun. One reviewer whose family has turned it into a game says, "So far our record is 3 flies with one swipe!"
Best outdoor bug zapper
Reviewers don't hold back when describing this heavy-duty outdoor bug zapper, with one describing it as, "the Mac Daddy, the Mother, the Big Kahuna of bug zappers." Another writes, "This thing is a monster," and a third reviewer calls it "the nuclear option of bug killers." Many note that this is substantially more expensive than other options, but they say it's worth it. "Don't let the price scare you," advises one satisfied customer from who relies on this zapper during the "muggy and hot" Texas summers. "It's more than the others but I promise you it will kill everything for miles and provide you with an insect-free evening outside." Another reviewer from southwest Louisiana says, "It kills EV-ER-Y-THING that flies. Houseguests stand around in bug-free amazement and stare at the electric blue light of death as we watch and cheer (literally CHEER!) as bugs sizzle and fry, snap, crackle, and pop."
Best indoor bug zapper
Photo: retailer
This bug zapper can be used both outside and inside, which was a selling point for more than 10 percent of reviewers. "I use this in my bedroom as I wake up in the morning with bites on my neck and back," one says. "I average around 20 mosquitos in my apartment, put it on my bookshelf, zapped the mosquitos and fruit flies all within a few hours, so happy." Another who composts in their kitchen says "As a result, we get gnats, flies, and other small flying critters around the area" but "This zapper got rid of most of them - you can see the dead bodies pile up at the bottom and it's easy to wipe into the trash." It's safe enough to use inside because of its protective casing. "This bug zapper has a lightweight plastic frame," one reviewer explains. "It is built in a way that protects you from the electrical elements. One would have to work very hard to get hurt by this device." It's also quiet according to one reviewer which helps when leaving it on overnight: "This one doesn't make any sound at all! I can leave them on all night when kids are sleeping."
Best battery-operated handheld bug zapper
Even though these are manual bug zappers, one reviewer says they are pretty easy to use. "You don't even need to swing it, just hold it out in front of you and they will fly right into it and zap, now they're on heaven," one explains. And though these might not be as heavy-duty as some of the larger ones on this list, one user says it works on a variety of insects. "I've killed mosquitos, flies, bees, wasps, pantry moths , spiders etc.," they write. "The only thing that has taken a hit and kept going was one of those really large flies and usually if you get them a second time they fall." And despite the power of these zappers, at least one reviewer thinks they're pretty safe to use. "I really like that the actual zapper part is contained between two metal guards — it keeps accidental zaps from happening if a kid, dog, or you get too curious and try to touch it," they say. It also doesn't need a ton of batteries to function. "Remarkably, the one I use all the time is still on the first set of batteries I put in it, and it seems like it's still ready for more."
Best rechargeable handheld bug zapper
This set of bug zapper racquets is very similar to the ones previously mentioned and are the full-size version of the best-rated, less expensive pick. The main difference is that these are rechargeable, a feature brought up by about 15 percent of reviewers. "The USB charging works very well so it is nice to have it on the charger full-time and just grab it off the charger when needed," one says, while another says the charge lasts. "We've been using it for a couple of weeks now and it hasn't needed recharging yet." Not only is it easy to charge, but it is easy to use, too according to one reviewer who says it "took 4 seconds to learn how to use it - turn it on, then press the button while I'm swinging the racket." After that, users are able to kill everything from flies to mosquitos and even wasps. The experience is described as fun by more than 20 percent of reviewers, and they can't get enough of the satisfying buzz. "I enjoy the smoky smell of freshly zapped bugs," one says. "I also like the way that their eyeballs explode out of their heads and wings and other body parts go hurling scattershot through the air every time I score a successful swing with the racket." Because this is a multipack, the whole family can get in on the fun: "Since there are two racquets, we even have contests on who can score the most kills."
Best bug-zapper racket without screen