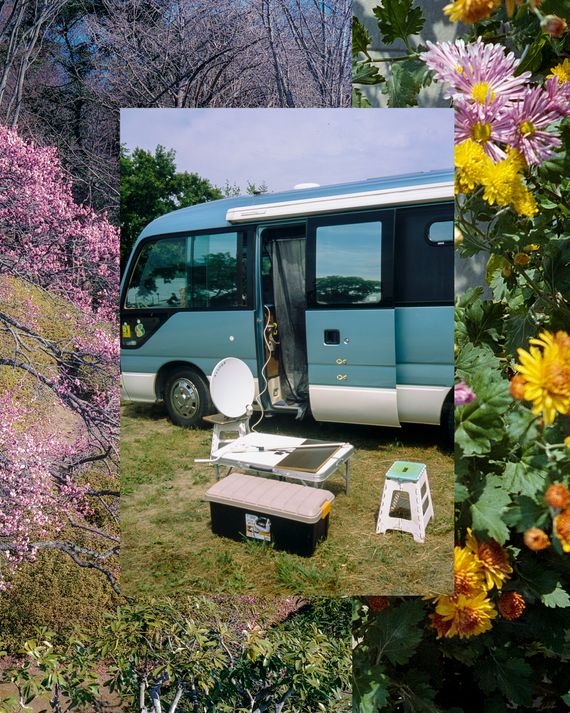 As states lift stay-at-home orders, the humble RV is, for many, suddenly looking like the perfect solution for a socially distanced vacation (or gas-station-bathroom-less road trip). Dealers, in turn, are noticing a surge in sales — "as much as 170 percent over a similar period last May," says the RV Industry Association's Craig Kirby. Seasoned RVers recommend that rookies rent before buying to figure out how much space they need (city dwellers seeking weekend escape might be content piling into a compact camper van, whereas RVers with preschoolers may require bunk beds) and to see if they prefer driving or towing (peer-to-peer rental services RVShare and Outdoorsy make that possible). Here, the best RVs for everyone, from nervous drivers to those looking to replicate an on-the-road two-bedroom condo.
Before diving in, it's important to know that there are three types of motorized RVs (a.k.a. motor homes): Class A, buslike vehicles, ranging from 26 to 45 feet long; Class B, essentially oversize vans; and Class C, roomy hybrids with a bed floating above the driver's cab. Towables cover everything else, including fancy fifth wheels, pop-up campers, and retro teardrop trailers. Now, on to the specifics.
The Best for Inexperienced Drivers
"Trying to maneuver a large RV is tough without experience," says Steve Johnson of Boondocker's Bible. If you're not in the habit of stopping a 12,000-pound beast on a dime, then start with a small Class C and work up from there. Alyssa and Heath Padgett, co-founders of Campground Booking, favor the Class C Winnebago View. "It's shorter (around 25 feet), which means you can drive and park it almost anywhere."
Rent: 2020 Entegra Coach Odyssey, from $200 per night at rvshare.com
Buy: Thor Four Winds 23U, $55,000 at roadbearrv.com
The Best for Exploring Backroads
Mike Scarpignato and Susan McDonald, co-founders of RVBlogger, own a 24-foot Gulf Stream Conquest Class C RV. Its relative shortness makes it easy to drive, "especially when we have to negotiate hairpin turns," but still affords the twosome a generous amount of living space. "We have a large U-shaped dinette where we eat our meals and play board games," says Scarpignato.
Rent: 2018 Gulf Stream Conquest 6245, from $230 per night at rvshare.com
Buy: Conquest Class C, price upon request at gulfstreamcoach.com
The Best for Pet Parents
Because Cindy Scott, a digital-content strategist and full-time RVer, has "two furry cat friends" that join her on the road, she needed an RV that was "comfortable for our entire crew and a suitable place to leave the cats for the day." So she got the Keystone Cougar fifth wheel, which is so roomy that the cats get their own bathroom.
Rent: 2018 Keystone Cougar, from $195 per night at outdoorsy.com; 2016 Jayco Eagle 360QBOK, from $175 per night at rvshare.com
Buy: Cougar Fifth Wheels RV, price upon request at keystonerv.com
The Best for Nervous City Drivers
"For those living in densely populated areas with a lot of low bridges and parking at a premium, a Class B camping van is a good option," Marc and Julie Bennett, co-authors of Living the RV Life — Your Ultimate Guide to Life on the Road and the full-time RVers behind RVLove, say. Though Class B's have tighter living quarters than Class A and C motor homes, they aren't as stressful to pilot down heavily trafficked streets. The Bennetts like Winnebago's Travato and newer Solis model, or for a splurge, the luxurious Airstream Interstate Lounge EXT Touring Coach, made in partnership with Mercedes-Benz. Maxing out at 24 feet, any of these RVs can be parallel-parked in congested cities or used as "a daily driver" for sightseeing or errand running.
Rent: 2019 Winnebago Travato 59K, from $229 per night at outdoorsy.com; 2017 Airstream Interstate Tommy Bahama Grand Tour Edition, from $550 per night at outdoorsy.com
Buy: Winnebago Solis, $102,000 at winnebago.com
The Best for Weekend Car Campers
"If you just want to be able to tow something small behind your passenger vehicle, then a teardrop trailer or pop-up camper is a nice step up from tent camping," say the Bennetts. Sleeping arrangements in vintage-inspired teardrops and clamshells, like the NuCamp T@B and T@G models for rent below, fit up to two people; the kitchen is usually outdoors and there is no bathroom because it's designed to be parked at campgrounds with restroom facilities. Truck campers, which have an indoor kitchenette and a wet or dry bath, fit nicely in the bed of a pickup. The Bennetts are most impressed with newer models from Lance and Northern Lite; the latter's 2021 limited-edition truck camper comes equipped with a solid Sapele hardwood table and leatherette seating, plus solar panels and a wireless backup camera. More design-y brands worth scoping out include Taxa Outdoors, Polydrops, Vintage Overland, Happier Camper, and Timberleaf Trailers.
Rent: 2020 NuCamp T@B CS-S Teardrop Trailer, from $125 per night at rvshare.com; 2019 NuCamp T@G XL Boondock Edge, from $105 per night at outdoorsy.com
Buy: 2021 Limited-Edition Northern Lite, price upon request at northern-lite.com
The Best for Full-Time Drivers
The founders of the blog Getaway Couple, Jason and Rae Miller, have been living out of their 2018 Grand Design Solitude 375RES for the past three years. The fifth wheel's floor plan includes three distinct living spaces, and a raised sitting room has a trio of love seats, a fireplace, "televator," and big picture windows. "The high ceilings make you feel like you're in a real house," the Millers say. While "moving day" with this 41.5-foot RV can be stressful, the couple says the other six days of the week are "spent in total comfort."
Rent: 2017 Grand Design Reflection 323BHS, from $150 per night at rvshare.com; 2016 Grand Design Momentum 397TH, from $134 per night at rvshare.com
Buy: Solitude 380 FL-R, price upon request at granddesignrv.com
The Best for Home Cooks
The spacious kitchen and pantry with a full-size stainless-steel fridge are part of what drew life coach and longtime RVer Debbie Biery to the 2020 Newmar New Aire 3541. The devoted home cook also likes how the 36-foot Class A diesel pusher's removable induction cooktop can be used for prepping meals indoors or out. Other glampy perks include buttery-soft leather seating, recessed lighting and sconces, and touchpads throughout the RV that control the electric blinds and heated floor.
Rent: 2020 Entegra Vision 29F, from $285 per night at outdoorsy.com; 2016 Newmar Ventana, from $450 per night at rvshare.com
Buy: New Aire 3341, $395,000 at newmarcorp.com
The Best for Aspiring Influencers
Sheena and Jason Armstrong, a.k.a. @mavistheairstream, drive a gut-renovated 1977 Airstream Sovereign. "We shopped around at dealerships and never found anything that met our needs both aesthetically and functionality-wise," says Sheena. "So for us, building something from scratch was the answer." Their 31-footer is Instagram-ready: clean, modern, pleasing to the eye, and functional enough to accommodate their work-life balance. To avoid costly repairs, she recommends sticking with newer-model Airstreams (2005 or later).
Rent: 1959 Airstream Caravanner, from $149 per night at outdoorsy.com; 2017 Airstream Bambi, from $142 per night at rvshare.com
Buy: 2020 Airstream Classic, $154,734 at rvtrader.com; 2016 Airstream Sport Bambi 16, $32,800 at rvtrader.com; 2015 Airstream Eddie Bauer, $66,500 at rvtrader.com
The Best for Remote Workers
Alyssa Padgett's new ride, the 2020 Winnebago Forza 38D, has a dedicated built-in desk — the first she has ever seen in a Class A motor home. "It includes a cabinet for a printer, predrilled holes for cords, and movable desk drawers," she says. "In six years of running a business on the road, this is the first time I've had an office space."
Rent: 2014 Forza 38R, from $270 per night at rvshare.com
Buy: 2020 Forza 38D, $268,240 at winnebago.com
The Best for Solo Travelers
Johnson advises parties of one to zero in on a small trailer towable by most cars or SUVs. While a retro-chic teardrop trailer may "look cool," it offers little comfort; you can't stand up straight when you're inside. A 16-to-20-foot toy hauler, by contrast, can accommodate a solo camper, a bike, and maybe even a dog. It's also sturdier. They're also sturdier, Johnson notes, making them "rugged enough for off-road adventures."
Rent: 2018 Dune Sport Dynamite, from $110 per night at rvshare.com
Buy: 2020 ATC Toy Hauler, $38,390 at aluminumtoyhauler.com
The Best for a Group of Seven
For years, Robyn Robledo of Nomads With a Purpose has been full-time RVing with her husband and five kids in a 30-foot Class C motor home and a 42-foot fifth-wheel trailer. The latter, a Highland Ridge Open Range 427BHS, serves as the family's home base in San Diego. Robledo likens it to a two-bedroom, 1½-bath condo with five large slide-outs, a king-size bed, and double bunks that sleep up to six. The 2012 Thor Four Winds 28Z, meanwhile, is the vehicle the family uses to bum around the country. It has a bed over the cab and two futon-style couches but little privacy. On the plus side: It's easy to move and petite enough to camp in national parks. "If you love raw nature and getting off-grid," Robledo insists, "smaller is better."
Rent: 2019 Highland Ridge Mesa Ridge Limited, from $130 per night at rvshare.com; 2015 Thor Four Winds 28Z, from $225 per night at rvshare.com
Buy: 2021 Thor Four Winds 28Z, from $107,250 at rvtrader.com; 2019 Thor Four Winds 28Z, $57,899 at rvtrader.com; 2020 Open Range, price upon request at highlandridgerv.com
The Best for Luxury Living
"A Class A motor home is a good option for those who appreciate creature comforts," say the Bennetts. The couple currently live in a gut-renovated Country Coach Class A diesel pusher with a single slide-out, which they describe as a "solid, well-built coach with a very residential feel." The open-plan layout includes a queen-size bed, a split bath with separate toilet, a spacious kitchen, and dedicated work spaces. The insulation is more residential in nature, too, "which helps keep it cooler in summer and warmer in winter." Plus, air suspension makes for a smoother ride, so one Bennett can work while the other Bennett drives.
Rent: 2018 American Coach American Dream, from $915 per night at rvshare.com; 2017 American Coach American Eagle, from $1,150 per night at rvshare.com; 2016 Entegra Coach Anthem, from $975 per night at rvshare.com; 2015 Fleetwood American Eagle, from $999 per night at outdoorsy.com
Buy: 2007 Country Coach Magna, $280,000 at rvtrader.com; 2006 Country Coach Affinity 7701x 6690, $210,000 at rvt.com
The Best for Backcountry Boondockers
In the RV world, boondocking is "dry camping" on public lands without external hookups for water, electric, and sewer. Off-the-grid RVing demands a vehicle with "sufficient-size tanks for fresh water, sink-drain water, and toilet waste," says Kelly Beasley, co-founder of Camp Addict. The Outdoors RV, she says, is a good choice.
Rent: 2013 RV Creek Side 26BKS, from $135 per night at rvshare.com
Buy: Toy Hauler, $38,000 at aluminumtoyhauler.com
The Best for Traveling With Kids
"For families planning to spend a lot of time in an RV, a truck plus a fifth wheel is perfect," the Bennetts say. Since they don't have the mechanical complexities of a motor home, they're easier to maintain. Aaron and Lauren Grijalva, full-time RVers and co-founders of The Wanderpreneurs, opted for a fifth wheel for its separate bedrooms ("We have two kids and wanted privacy"), washer-dryer hookup, and storage.
Rent: Crossroads Volante, from $258 per night at rvshare.com
Buy: Cruiser Fifth Wheel, price upon request at crossroadsrv.com
The Best for #VanLife
The Padgetts recommend the Class B Winnebago Revel camper van, set upon a 4x4 Mercedes-Benz Sprinter chassis, for "offroading/overlanding people who want to do the classic #vanlife Instagram photo with the back doors open to a view of the mountains."
Rent: Winnebago Revel, from $290 per night at trailmixrv.com; 1981 Volkswagen T3 Westfalia, from $130 per night at outdoorsy.com; 1967 Ford Econoline Club Wagon, from $300 per night at outdoorsy.com
Buy: 2020 Winnebago 4x4 Revel, from $174,906 at winnebago.com
Three Highly Recommended RV-Friendly Campsites
(Which are open — or close to it.)
"Pearl Lake State Park in Colorado is in the middle of a pine forest surrounded by peaks and contains a rather warm alpine lake. The 36 campsites (no hookups) are suitable for RVs up to 30 feet in length. Reserve any site between 24 and 33 in the lower loop — they're 150 feet from the water so you can kayak, paddleboard, or fish for trout all day." —Megan Barber, news editor at Curbed
"The campsites at White Spar, tucked inside Arizona's Prescott National Forest, are shrouded in vegetation — it makes the whole place feel very secluded. Watson Lake, surrounded by granite boulders, is a 15-minute drive; the hike to similarly striking Goldwater Lake is less than a mile. As a bonus, you're likely to run into a javelina — tusked wild boars." —Alexandra Keeling, photographer
"Gualala Point Regional Park in Sonoma County (which is expected to open in early July) is canopied by beautiful, massive trees and sits on the Gualala River. There are various strange species of bugs to observe (I particularly enjoy spotting banana slugs) and plenty of space in between camping spots." —Bionca Smith, Off the Grid With a Kid
How to Outfit an RV, According to Experts
We also spoke to a handful of RV experts about everything you need for your RV — beyond the RV — including extremely stable trash receptacles, dirt-reducing patio mats, and popular-with-RVers loungers. See all of their essentials here.
*This article appears in the June 22, 2020, issue of New York Magazine. Subscribe Now!
The Strategist is designed to surface the most useful, expert recommendations for things to buy across the vast e-commerce landscape. Some of our latest conquests include the best acne treatments, rolling luggage, pillows for side sleepers, natural anxiety remedies, and bath towels. We update links when possible, but note that deals can expire and all prices are subject to change.