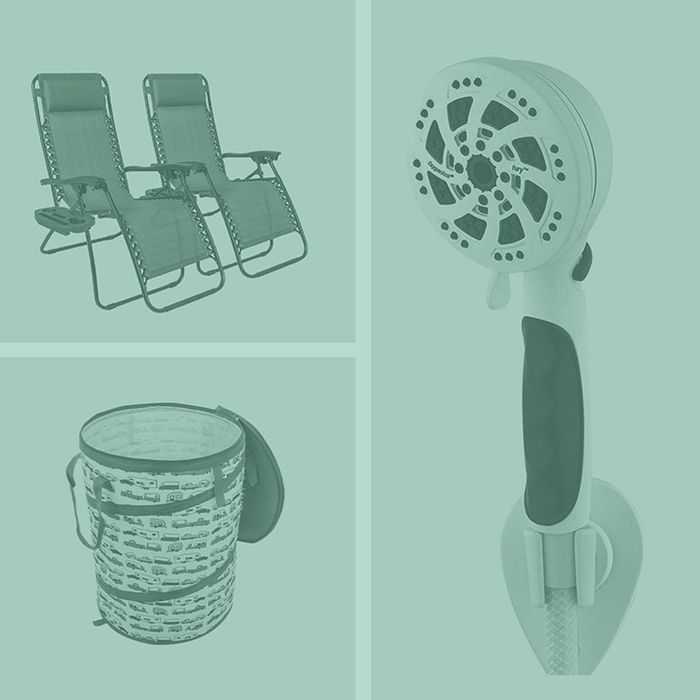 Some RVers are driven to the open road by minimalism, carrying only what can be fit in their modest Class B or C recreational vehicle. Other RVers — like well-heeled retirees or those traveling with kids — expect a mobile home to be as luxuriously appointed as any built on a concrete foundation. Their glamped-up fifth wheels and tour-bus-like Class A's are rolling mini-mansions, furnished with top-of-the-line kitchen and bath accessories. A third set of RVers do it (at least somewhat) for the 'gram, tricking out their retro-cool teardrop trailers, polygonal towables, and #vanlife campers with kitschy lifestyle gear. Curious what products they deem worthy of schlepping across the country, we asked 11 seasoned RVers to highlight the goods they never leave home without.
The best camping chairs
The zero-gravity recliner is wildly popular with the RV set. Steve Johnson of Boondocker's Bible says it's "effectively a folding chaise longue, but much more comfortable." RVBlogger's Mike Scarpignato agrees, admitting it's the only lounger he's ever fallen asleep in. Frank and Grainne Foley of The Roving Foleys, also big fans, prefer their zero-gravity chairs with side caddies — ideal for holding drinks and cell phones.
Sheena Armstrong of Mavis the Airstream says Bliss Hammocks makes a top-of-the-line zero-gravity recliner: "They aren't the prettiest to look at, but they're hands down the best chair for cloud watching and stargazing."
Marc and Julie Bennett of RVLove appreciate that this foldable chair comes with a storage bag for easy transport. But what really makes it stand out is the built-in lumbar support. "It's great for people with back issues, or those who want to avoid them," say the couple. "You have to sit in one to appreciate the difference."
The best camping tables
Scarpignato is a big fan of this portable table because it is "light, compact, and easy to set up and store." It holds four drinks and has a shelf for stashing a flashlight, Bose speaker, and other campfire essentials.
The Foleys like this table because "it's sturdy but folds down flat," making storage a breeze.
The best portable fire pit
Balking at the notion of a gas fire? When you travel full time, "you get sick of the campfire smell always sticking to your clothes and hair," says Jason Miller of the Getaway Couple. "A propane fire allows you to quickly start a fire, enjoy it, then turn it off and head inside." He wasn't the only RVer to rave about the Outland brand. Aaron and Lauren Grijalva of The Wanderpreneurs called the Firebowl their all-time best purchase because RVers needn't worry about fire bans in campgrounds nor purchasing local wood. Seasoned RVer Tom Mesereau also likes how it fits under his rig and runs on a basic propane tank.
The best portable grill
All of Johnson's RV pals love this grill. "It's a bulky propane cooker, but it has emerged as a great way to cook outdoors. You can grill or fry, and breakfasts come out awesome," he says.
The best outdoor lights
"These are made of durable plastic, so we don't have to worry about breaking glass with all the moving we do," the Grijalvas say. "We hang them at every campsite we can."
The best awning
"Even with a large rig, you want to be able to expand your living space to the outside," the Foleys say. "After all, we didn't choose this life to stay inside." The family likes how quickly this zippable awning can be disconnected and rolled up should a storm suddenly roll in. It also blocks "a tremendous amount of sunlight, making a nice shaded area" for relaxing.
The best patio mat
Kelly Beasley, co-founder of Camp Addict, says this water-resistant mat is "king at allowing sand to fall through so it doesn't come into your RV." The Bennetts concur. They've tested half a dozen cheaper mats over the years but say the double-layered mesh mat from CGear "significantly reduces" the amount of fine sand that gets tracked into their RV. They also like that it's lighter and more compact, and comes with "a handy carry bag for easy transport and storage."
The best doormat
In addition to a 9-by-12-foot outdoor patio mat, this grass mat is used by Scarpignato to scrub his shoes before entering his camper. "It keeps the RV floors much cleaner," he says.
The best showerhead
Switching out the showerhead in your RV is one of the easiest and best upgrades a new owner can make. This handheld model, which includes multiple spray patterns, offers "excellent pressure while not wasting water," says Beasley.
The best bathtub if you have toddlers in tow
"While some RVs come with little bathtubs, ours didn't," says Boundless Bakers' Jessica Baker, a full-time RVer with two small children. "So we got creative and decided to get an inflatable swimming pool and use it as a bathtub. It fits in the shower perfectly and gives the kids a nice, deep bath to play in and get clean."
The best toilet paper