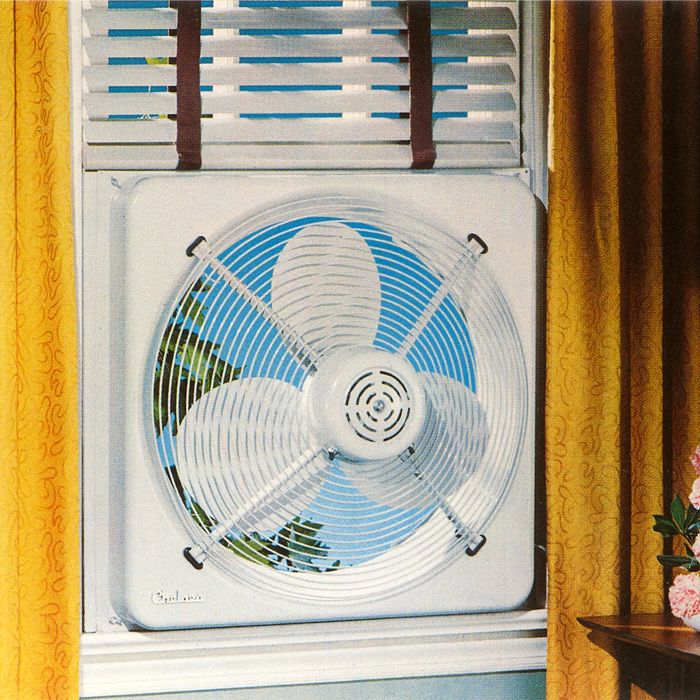 Photo: Getty/Found Image Holdings
We're officially well into summer now, and it might feel like everything's melting — even the sunscreen on your face. The heat outside is probably making its way inside, so now's as good a time as any to start retrofitting your space, especially if there's no central air-conditioning to cool you down. While air conditioners — whether for a window or portable — are effective, they can be expensive and mean high electricity bills.
That's where a fan comes in — desk fans, tower fans, ceiling fans, and floor fans can cool things down while using a lot less energy. A fan in your open window can circulate enough cool air to make your apartment comfortable — especially when the nights and mornings start to get cooler. "I always tell people that window fans are good when the temperature outside is cooler at some point during the day than it is inside," says John Tarzian, owner of Tarzian Hardware in Park Slope. "It'll be 90 inside, and outside it'll be 80 — that's when it's a great time for a window fan." And if the air blown by a window fan isn't cool enough, Jitu Maat, who works at Hardware 2.0 in Brooklyn, has a useful tip: "I recommend putting ice in front of the window fan, and that will blow cool air," he says. "It's called evaporative cooling and it's the way that the ancient Egyptians used to cool themselves." To find the best window fans suitable for practically any space, we asked Maat, Tarzian, and five other hardware store owners about their favorites, all of which are below.
Best overall window fan
Five out of our seven experts agreed that a twin window fan is a reliable way to both ventilate and cool down a room. Bob Fendell, owner of University Hardware and Housewares, says that twin models "work the best" out of all window fans — and come with the bonus of each fan working independently of each other for more customized cooling. This Lasko Twin Window Fan is a best seller in Maat's store. "It's got the ability to go forward, and in reverse, so you can exhaust air," he explains, noting "if you've got a smoky room, you can bring in fresh air." The Lasko fan is also pretty quiet, and competitively priced, according to Maat. Plus, this comes with expanding side panels that can stretch to fit windows as wide as 35 inches, and a built-in dial that can be adjusted depending on whether you want a room warmer or cooler (when the room reaches your chosen setting, the fan will turn off). Tarzian, Nathaniel Garber Schoen of Garber Hardware, and Ed Warshaw, owner of Warshaw Hardware, also recommend using a twin window fan like this, with each saying that Lasko is a brand he trusts.
[Editor's note: While this model is currently out of stock, Lasko offers an almost identical version that's Bluetooth-enabled — so no need to manually move the controls; you can do that right from your phone.]
Best space-saving (and stylish) window fan
Holmes is one of the "trustworthy" brands that Joseph Reuben of Reuben Hardware sells in his shop. What makes this model stand out is just how slim it is — it won't take up the whole window, but it still can be extended width-wise (unlike some box fans, for example) so "you don't lose your view." Reuben says that generally, "you would need a large window fan to cool off the whole house, but this model can handle whole-house cooling in a much more compact way." On the design front, Reuben even called it "a much sleeker design" compared to what he's seeing on the market now.
Best smartish twin window fan
If you're looking for a twin window fan you can set with even more precision, Warshaw recommends this one from Holmes. Like the Lasko, this fan has two blades that pull fresh air in and push hot air out, and it has a thermostat — but on this one the thermostat is digital, making it a little "smarter" than the above model, because you can set the fan to blow until the room reaches a more precise temperature (options include 60, 65, 70, 75, and 80 degrees), when it will automatically shut off. "I like that it has a thermostat feature that will shut off the fan when the temperature drops in the middle of the night," he says. "This way you will not wake up freezing and [have to] shut it off."
Best box window fan
While a twin window fan is ideal for a small apartment or a room, if you've got a bigger space to cool, you might want to spring for a box fan. Maat tells us this one is "extremely powerful," almost to the point of being "enterprise level." Tarzian, who also recommended this one, agrees that "it's just a really powerful fan." He told us that this model is reminiscent of more old-fashioned fans that his family used to sell in their hardware store years ago, that were then used to cool your whole house. You can re-create the effect of those fans, Tarzian says, by putting this one in the window of a room at the top of your house, opening a window downstairs, and then turning the big fan on the exhaust setting, effectively creating a ventilation circuit. "It's not an air conditioner, but if the house gets really heated up during the day and then the sun goes down and it gets cooler at night, you can really cool the house off this way," he says. Reuben is a fan of this model, which is a best seller at his hardware store, and called out how it "allows for the window to close behind it completely for weather protection."
Best tabletop and floor fans you can use in a window
If you're looking for a more versatile window fan that can double as a desk or floor fan, Maat and Gustavo Mendez, of Clinton Hill Hardware, recommend Vornado as a go-to brand, both for cooling a room and for more generally circulating some fresh air. "In terms of quality and coolness, and just doing a really good job circulating, Vornado is a company that's been around for a long time and has always had really good fans," Maat says. For moving air around a room, he says that you "can't go wrong" with an eight-inch Vornado like the above gray model — which has a built-in stand that makes it easy to prop up, whether in your window or on a desk or nightstand. But if you want to actually lower the temperature in that room, he suggests upsizing to the larger 14-inch black model (which also comes with a built-in stand). "If you're really trying to cool a room, as well as circulate air, then they have window fans that are 14 inches," Maat says.
[Editor's note: The Vornado 783 model also comes in varying stand heights. The Medium Floor style is shorter and the Large Stand version is taller than the one recommended above.]
Vornado fans can run on the pricier side, though, and if you're looking for something a little more affordable, Garber says he uses this PowerZone fan to cool his cabin upstate. "I've found that because of its little tripod and rubber feet, it will stand on about any windowsill," he says. "It's very powerful, and since it pivots on an X-Y axis, you can point it up or down," meaning that you have control over where the cool air will flow. Garber notes that if you don't have a screen on your window, the fan might "leave you exposed to critters at night," but otherwise is an excellent option for cooling a room on a tighter budget. "I have a cabin upstate with no air-conditioning, and while it gets cool at night, the upstairs rooms get hot all day long," he told us. "You just stick this fan in the window and turn it on, and it's instant — it tornadoes air from the outside in, or vice versa, depending on what your goal is."
The Strategist is designed to surface the most useful, expert recommendations for things to buy across the vast e-commerce landscape. Some of our latest conquests include the best acne treatments, rolling luggage, pillows for side sleepers, natural anxiety remedies, and bath towels. We update links when possible, but note that deals can expire and all prices are subject to change.