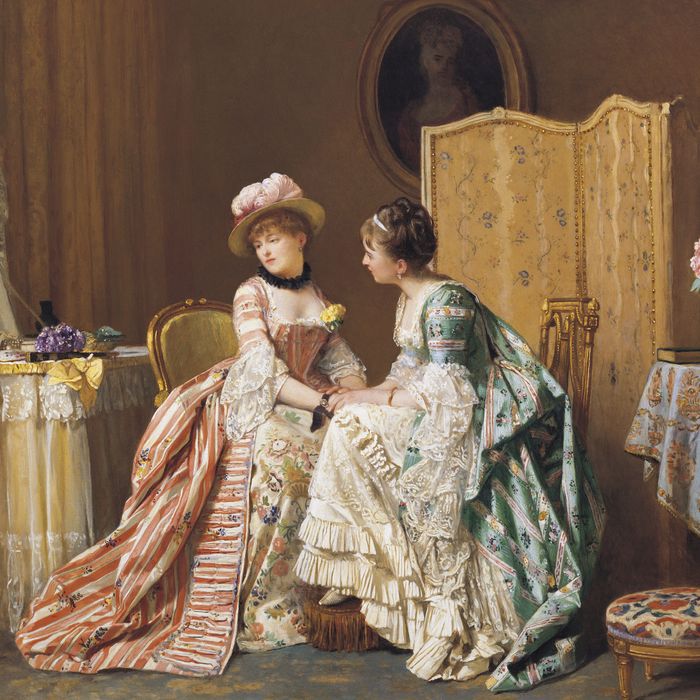 Photo: Charles Baugniet/Fine Art Photographic/Getty Images
Here at the Strategist, we like to think of ourselves as crazy (in the good way) about the stuff we buy, but as much as we'd like to, we can't try everything. Which is why we have People's Choice, in which we find the best-reviewed products and single out the most convincing ones. (You can learn more about our rating system and how we pick each item here.)
And while we've covered all sorts of home décor — including the best affordable apartment accents, sofas-in-a-box, and bar carts — here we've rounded up some of the best room dividers, as praised by the most enthusiastic reviewers on Amazon.
Best-rated room divider
Reviewers repeatedly praise how easily this room divider added a sense of privacy to their space. "It definitely added a touch of class and privacy to my studio apartment," writes one reviewer. "It's changed the entire look of my room," writes another. "My apartment has almost no storage. It was depressing to wake up and see my vacuum cleaner and exercise machine every morning but there was nowhere else to put them. I bought this screen to hide them and now I wake up to a beautiful room every morning!" As one happy purchaser says, "Honestly, the only problem I think I will have is, 'What can't I use it for?' I might need to get another one, or two!" Many mention the double hinges that increase stability and allow the panels to bend in both directions, providing the flexibility to "maneuver the screen in so many [different] ways." And people say it's a really fair price for what you get: "I think the workmanship is amazing for the price — there are no messy glue marks, tears or damage. The edges of the wood fit together tight."
Best-rated (less expensive) room divider
"These dividers are some of the best I found for the price!" says one reviewer. "I would definitely consider picking up another one. Looks way more expensive than what I paid." The quality of this room divider is repeated across the reviews, especially for the cost. "Way better than the small, rickety thing I saw at Home Depot for over $100!" one writes. "The finish on the wood is excellent, as are the hinges and the screen material. The screen is opaque enough to provide real privacy. It's stable, a very nice height, and quite pretty," writes a reviewer. It's available in a bunch of other colors but one reviewer is partial to this "white on white" model because it's "very quiet and calming."
And now for some micro-picks for every type of room divider you might be looking for.
Best room divider for a studio
"The shelves are perfect for knickknacks and make it look less like a divider and more like a piece of furniture," writes one purchaser, while another adds that it's "super cute and very sturdy, and the little shelves hold a lot." Reviewers appreciate this room divider's "handwoven" look because it gives a "homey feel," and many say the shelves are a great way to maximize storage space. Another raves about both the look and ease of installation: "I ABSOLUTELY LOVE THIS DIVIDER! I just received it today. Immediately opened it. There are no directions but it's easy to just slide the two shelves into the divider and then expand to the length that you'd like."
Best room divider screen
The woven bamboo material of this four-panel screen is probably its most popular feature among reviewers. "It's absolutely beautiful," writes one, who loves how the screen shows a small amount of light and isn't completely opaque. "It actually makes it more beautiful during the day when the sun is shining through." A few people make a point of saying that the screen looks "much better in person" and "the picture does not do it justice." It's available in a few different colors, but the natural beige option is the most popular by far, because it shows the "intricate bamboo work" and the neutral color "can work almost anywhere."
Best decorative room divider
Rose Home Fashion's "diamond weave" room divider is praised as a well-made and functional screen in its own right. As one reviewer puts it, "Ideal for both decorative and functional purposes." Another likes having the divider when company is over because they prefer to keep their "own stuff private in those situations," adding, "This works perfectly! It has great height, a good base, and look super nice as a divider! It doesn't feel like a divider so much as an attractive piece of art in the middle of the room."