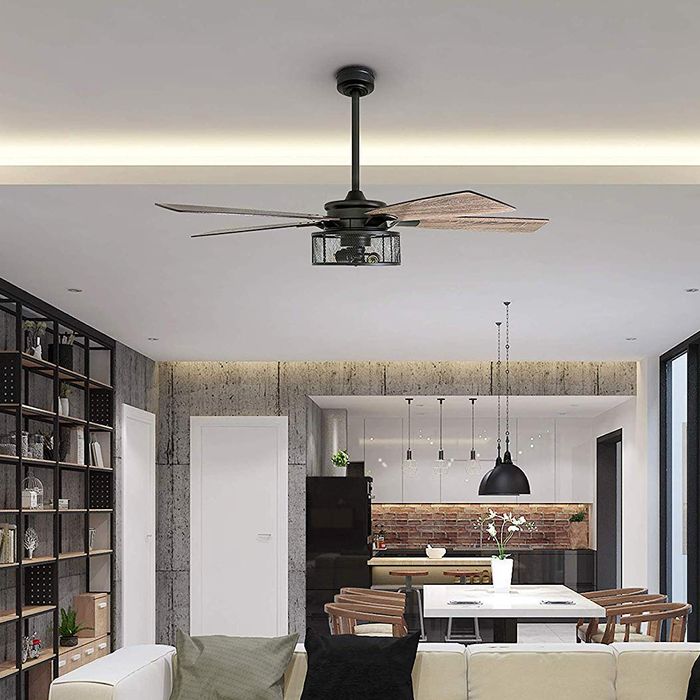 We've written before about all sorts of fans — including a $5 mini-fan that plugs into an iPhone, an energy-efficient balsa-wood ceiling fan, and a stylish Mad Men–esque personal fan — here, we've rounded up the best ceiling fans as praised by the most enthusiastic reviewers on Amazon.
Best-rated ceiling fan
"This fan is beautiful, functional and whisper quiet. It really upped the styling of my media room and man, it puts out some wind too," one reviewer writes of this Hunter ceiling fan. Another calls it, "a beautiful fan at a fantastic price. It looks awesome and has plenty of power." Dozens praise this fan's "quiet operation" and "balanced blades." As one explains, "I have used the fan for extended periods on all three speeds and there is literally zero rotational movement in the core. VERY impressive." Many also mention how much they trust the Hunter brand, including one reviewer who has had a Hunter ceiling fan "running continuously for 38 years." Another loyal customer writes, "Honestly, I've never had a bad Hunter fan … I have always found them to be very quiet and great workhouses — they go and go and go!"
Best-rated (less expensive) ceiling fan
More than 45 percent of reviewers say this 28-inch fan is just right for small spaces, like spare bedrooms, bathrooms, and at least one sunroom. Because the blades are so short, many reviewers say it's excellent for a room with bunk beds. And even though it's small, reviewers say it puts out plenty of air, and it's pretty quiet in the process too. "The blades are so little that the fan does not make the least attempt to wobble, and is so quiet, but still nicely cools the 12-by-12 room it was placed in," one says. And even though it doesn't come with a remote, one user says, "The length of the beaded chain for fan/light switches provided is long enough even for my four-foot child to reach with a seven-foot ceiling."
Best ceiling fan for low ceilings
Reviewers refer to this Portage Bay model as quiet, reliable, and affordable. "You get what you pay for, right? Wrong. This fan looks great, works great, and is whisper quiet." Another purchaser says, "I just couldn't be happier with this purchase. I didn't think I'd be able to find a dark metal fan at this price." Many also mention how easy it was to set up, like one who says, "I literally took out my old fan and in about 40 minutes had this in. Super easy to install." Dozens with low ceilings also appreciate its low profile. "The low profile is great for our low ceiling," one says, while another appreciates that the "Low profile to keep me from whacking my head constantly."
Best steel-blade ceiling fan
Not only does this steel-blade look modern, it also moves air around well, according to more than 15 percent of reviewers. One customer bought five for their home remodel, and reports, "They are quiet, have a very industrial look, move sufficient air at all speeds (from mild to wild), and were the best bargain on the market … Other alternatives I looked at were priced 2-3X more." Another says, "The fan is CRAZY," explaining, "I actually have it installed in my room and turned it on 5 to see what it's capable of… It was moving my curtains, ends of my pillow cases." Because it's made for industrial use, the same reviewer recommends adapting it a bit, by cutting the rod and shortening it: "It's a hazard to your limbs if you leave it as low as it will be." It can also get pretty noisy too at the higher settings. One says that anywhere above level two, it "sounds like a helicopter is hovering somewhere close by."
Best wood and metal ceiling fan
While this ceiling fan receives plenty of praise for its cooling power and affordable price, many purchasers also highlight its stylish design and good looks. "Very attractive color scheme," writes one reviewer. "I purchased this to replace an old, boring white ceiling fan in my bedroom. To me, the 'brushed nickel' looks exactly like stainless steel. Great modern look." Another homeowner agrees, saying that the design "ties right in with my brushed nickel kitchen fixtures and stainless steel appliances." Many also mention that the blades are designed with "a dark side and a wood-patterned side, so you can pick which goes with your decor better," and they appreciate having that flexibility. One realtor liked this fan so much they bought four to install in a renovation project. "Love, love these! I'm a realtor, so I see lots of fans in homes. Was very impressed by this Hunter fan, especially at the price we purchased. Looks nicer than many fans in the $100-$180 range. Wish we had bought more for our next remodel/flip."
Best (less expensive) wood and metal ceiling fan
Just like the ceiling fan listed above, this one has wood blades and a satin nickel finish around the center light that one-fifth of reviewers describe as good-looking. One says it "looks good as a complement to stainless-steel appliances and dark cabinets," while another thinks it makes his son's bedroom look "really classy." Regardless of location, this small fan works well in small spaces. "Easy instructions and moves plenty of air for a ten-by-ten kids' room," one writes, while another says, "It's quiet and enough for my guest room that's about 8 by 11." And the included lightbulb, and globe fixture, shed plenty of light, too.
Best ceiling fan without a light for small rooms
This Hunter fan is a popular choice for equipping small rooms due to its "low profile" design. After installing this 42-inch fan, many reviewers report that they feel like there's more space. "It actually makes the room look bigger and the ceiling look taller," writes one reviewer, who adds, "Now I can exercise without fear of hitting my hand on the fan." In terms of appearance, purchasers using this in small rooms appreciate that it's "not visually overpowering," and they like how it can "blend right in without making the room feel smaller."
Best indoor or outdoor ceiling fan without light