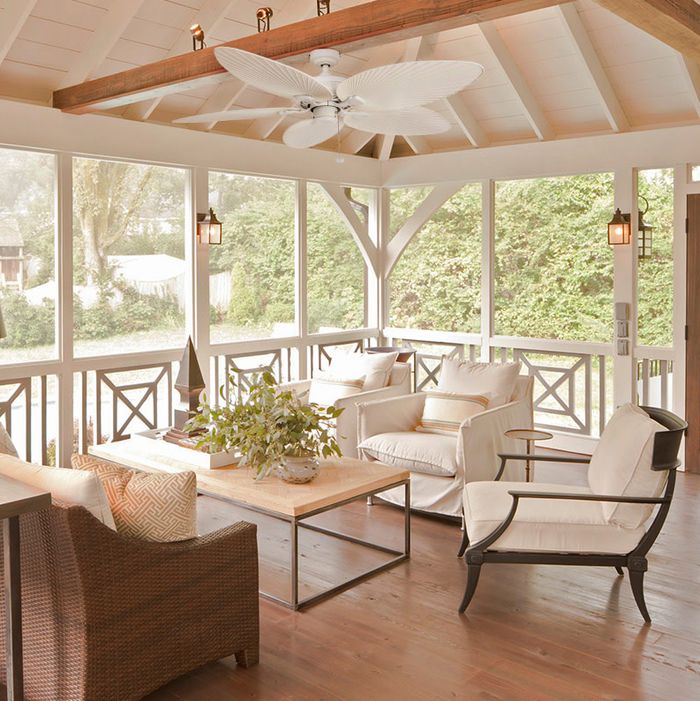 If you're lucky enough to have a covered outdoor space like a deck, porch, sunroom, or veranda, you might want to consider a ceiling fan or two to get a bit of a breeze going on those sweltering summer days. Unlike standing fans, ceiling fans have the added benefit of being overhead and out of the way, leaving plenty of space for lounging. The fact that they're less prominently displayed also means that you don't have to put as much emphasis on how the fan looks if you don't want to. Designers Tavia Forbes and Monet Masters of Atlanta-based interior-design studio Forbes and Masters, for instance, prefer ceiling fans that blend in rather than stand out as eye-catching accents, telling us that sleeker styles tend to be more invisible. But others told us the opposite, pointing out ceiling fans that make more of a statement. To find the best ceiling fans in a range of aesthetics and prices, we asked Forbes, Masters, and 14 other interior designers for their recommendations — all of which can be used outside (but also inside too).
While the ceiling fans below come in several design styles — from tropical, to modern, to bohemian — the experts told us that no such aesthetic style makes one ceiling fan more superior to another when it comes to air circulation. As far as choosing a size for your ceiling fan, Forbes and Masters say they usually go for a width of 60 inches for large patios and living rooms (this list includes fans of that size as well as smaller and larger options). And here is some some basic installation guidance courtesy of Forbes: Place one ceiling fan above each seating area in a space, and make sure fans hang no higher than nine feet above the floor so that you can actually feel their breeze.
Outdoor
Ceiling
Fans
Under
$300
Best overall under-$300 outdoor ceiling fan
The most affordable ceiling fans our experts recommended cost between $100 and $300. For this price, at a minimum you're getting a nice-looking fan that functions as it should — but some options come with bells and whistles like lights and remote controls, too. Tropical-style ceiling fans — or fans with blades that are generally fashioned to look like large palm leaves — were a popular choice among the interior designers at this (and every other) price point. Charise House, a design assistant at Philadelphia-based firm Remix Living, and Devin Shaffer, a designer at digital interior-design service Decorilla, both recommend this affordable option from Honeywell. In addition to liking its "tropical aesthetic," House says the fan is "a good quality at a great price with a fairly easy install."
The fan comes in white and bronze and is controlled by a pull chain, but it can be paired with a remote for added convenience; similarly, it can also be paired with most any light kit if you want it to double as overhead lighting. Shaffer says this fan looks more expensive than it is and that it can "bring a flash of style" to a space without spending too much. A note: While Amazon and Wayfair each have a slightly different name for the product, we've confirmed it is the same fan.
More expert-recommended outdoor ceiling fans under $300
Robyn Pleggenkuhle, a designer at digital interior-design service Havenly, also recommended a tropical-style fan — but her pick comes with a light already attached. "It has great functionality for a very affordable price," she says of this ceiling fan, which has blades that she calls "sculptural." Those blades, she notes, "contribute a tropical look to your outdoor space, even when not in use." Available in white and natural iron, it's controlled by pull chains but can also be paired with a remote if desired.
If you're looking for something with a simpler aesthetic, consider this ceiling fan from Fanimation that Forbes and Masters recommend. The all-black fan has three slim blades, is all-weather, and comes equipped with an LED light and remote. "We usually go for something that's a little bit more sleek and modern," explains Forbes. The duo has used this exact fan in a front porch (and bedrooms) they've designed, adding that they actually like the unifying element of matching indoor and outdoor ceiling fans — especially when an indoor living space naturally extends onto an open-air porch. Though this particular model comes with a light kit, the designers usually prefer ceiling fans without lights because "you don't want your ceiling fans to function as the only light in the room," according to Forbes. "And if it is the only overhead light, please have floor lamps and table lamps to accent that."
Another streamlined option, this sleek black fan has five blades — two more than the one above. (Generally speaking, the number of fan blades is largely aesthetic — but, interestingly, fewer blades typically move more air, while more blades contribute to drag; still, the difference is minimal.) The Mara fan comes recommended by Kelsey Fischer, Havenly's in-house designer. "This outdoor fan is a great way to get that updated designer look for less," she says. "I love the clean lines." She also likes that it comes in several finishes so that you can get a "look that is just right for your home," but says her favorite finish is matte black, if you don't know which to choose. The fan features a dimmable LED light that allows you to choose from three different color-temperature settings — warm white, soft white, or daylight — and it comes with a remote control, both small details that Fischer also appreciates.
Jessie Yoon, a Decorist designer and the founder of New York City–based Casa Nolita, calls this fan "modern and affordable" — we'd like to add that, at more than half off, it's a great deal, too. Yoon says the style works well in almost any décor scheme. The fan features a dimmable LED light covered by a frosted white shade, comes with a remote and a wall control, and is wet-rated (which means it can be placed in locations that might be directly exposed to the elements).
Decorist designer Carmen René Smith recommends this fan from Minka Aire, a brand that makes more expensive ceiling fans featured elsewhere on this list. "I love how sleek and edgy this fan is," she says, calling its design "modern and minimal." The three-blade fan is wet-rated for outdoor use and comes with a remote control. In addition to the brushed-nickel finish shown, it's also available in coal and polished-nickel finishes.
Outdoor
ceiling
fans
under
$400
Best overall under-$400 outdoor ceiling fan
As fans get more expensive, some will have more bells and whistles while others will have finer craftsmanship, and the designers pointed us to different styles for both reasons. Three of our experts told us about this Minka Aire ceiling fan: New York City–based interior designer Danielle Colding; Karina Lameraner, who works in creative marketing at digital decorating service Modsy; and Courtney McLeod, the founder and principal designer of New York City–based Right Meets Left Interior Design. Even slimmer than the Minka Aire fan above, Colding says "the lines and simplicity of this ceiling fan are perfect for modern and transitional spaces alike," adding that the fan's "turned blades" offer a touch of "sweeping elegance and grace." She also appreciates how the fan's different finishes mean it can work within many different décor schemes. "The black finish would look amazing in a classic, traditional space, while the version with wooden blades gives some warmth that would be amazing in a rustic or industrial application," she says. Lameraner agrees, saying that the fan's "sleek and minimalist design creates the perfect streamlined look and feel. McLeod, meanwhile, appreciates the fact that it's "very quiet and moves a surprisingly large volume of air." The fan has a total of six speeds and comes with a remote control; an optional LED light kit is sold separately.
More expert-recommended outdoor ceiling fans under $400
This smart ceiling fan from Modern Forms comes recommended by House and McLeod. House likes the fan's "modern aesthetic," noting that the LED-light-equipped fan is part of "the new trend of smart appliances" and can be controlled by an app that, among other things, can "allow for the light to be dimmed." (In addition to being controlled by its app, the fan can also be integrated with smart home devices from Google and Amazon.) She adds that the fan creates "good airflow" and is easy to install. McLeod agrees, saying the fan is "well priced" for a "highly functional" product. This fan, McLeod notes, is what's called a "hugger-style fan," meaning that it mounts flush against a ceiling, instead of using a downrod. That makes it particularly well suited for patios or other covered outdoor spaces with lower ceilings. The fan, which is also wet-rated, is available in three finishes: matte white, titanium silver, and bronze.
Smith also loves this interesting-looking fan from Modern Forms, calling it "absolutely my top choice in form and function." Another smart fan, it has an "organic shape" with molded wooden blades that she calls "gorgeous," comes in "beautiful color options," and is "super quiet." It also includes an LED light, Smith adds. Like the fan above, this fan is compatible with an app that allows you to control its speed and use smart features like adaptive learning. It can also be integrated with smart-home devices and comes with a Bluetooth remote control. Its available finishes include matte black, matte white, weathered wood, and distressed koa.
If you're looking for something for a smaller room, then you might like this outdoor ceiling fan with shorter and wider blades recommended by Shaffer, who calls it "cute and contemporary." It mounts flush to the ceiling and comes with a light kit. Another plus, according to Shaffer, is that it's "packed full of smart-home features, including Google Assistant, Amazon Alexa, Samsung SmartThings, and Ecobee," all of which can be controlled by an app.
This ergonomic fan with wooden blades is a favorite of Alessandra Wood, the VP of style at Modsy. "I love this fan because it has a vintage look, with warm wood blades and a bronze finish," she says. "It's perfect for giving any patio a modern yet vacation-y feel." Designed for use outdoors (and to withstand humid locations), the fan features three blades in a walnut finish, five speeds, and comes with a remote control. And a note for deal hunters: The fan's list price is technically $299.95, making it slightly under $300.
This three-blade outdoor ceiling fan was recommended by Havenly designer Melissa Wagner, who likes its "minimal" finish and silhouette, which she says makes it "look like something you'd have indoors as well." In terms of blending in, she notes, "This fan isn't overly stylistic and can fit in with nearly all design styles." Wagner also appreciates that it's "easy to keep clean." The three-speed fan comes with a remote and a large LED light.