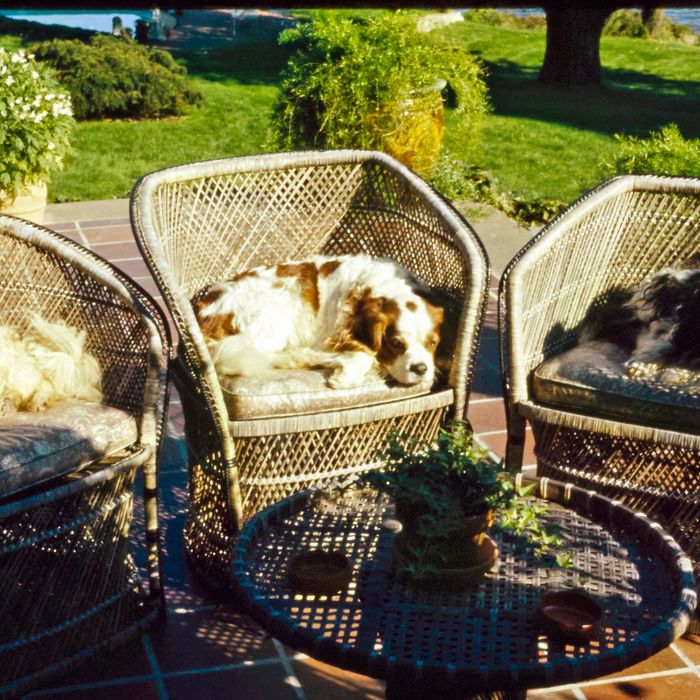 Photo: Ernst Beadle/Getty/Conde Nast via Getty Images
With temperatures getting warmer by the day as summer approaches, we're all itching to get outside more. But given that many of us might not want to go too far outside — much of the country is still in the throes of a viral pandemic, after all — most of our time outdoors will likely be spent in whatever open-air spaces we are lucky enough to have at our own homes. No matter the size of your outdoor space, a great patio chair can transform any yard, balcony, terrace (or patio) into a mini-getaway where you can spend hours reading, lounging, tanning, sipping wine — or all of the above. To find the best patio chairs in a range of styles and prices, we asked asked five interior designers for their favorites. Read on for their 38 recommendations, from beachy sling styles to classic molded-plastic chairs to seating that folds up for easy storage. While most on the list are single chairs, we've also included some recommended sets at the bottom if you're looking for more than just one seat.
Best
under-$100
patio
chairs
Three of our experts — Amy Azzarito, the author of The Elements of a Home: Curious Histories Behind Everyday Household Objects, From Pillows to Forks, Sarah Ramirez of Decorist and Found + Collected Design, and Tina MartinDelCampo, who also designs for Decorist — all recommend this chair by German designer Jannis Ellenberg for CB2. Azzarito likes it for its open-weave design, which she says is "perfect for a small space." She also likes that the back is made from handwoven plastic piping that mimics rattan, noting that "it tends to have more 'give' than a hard-backed chair, making it more comfortable." Ramirez, who calls it "versatile outdoor seating," agrees: "The open-weave back is exceptionally striking. It's complemented by the easy lines of the barrel silhouette, making this a real showstopper." MartinDelCampo points out that the seat is made with 100 percent recyclable resin that's UV-resistant. If you don't like it in natural, it's available in an all-black version, too.
If you have the space for one, an Adirondack chair is a timeless choice that will never go out of style, according to two of our designers. MartinDelCampo says that Adirondack chairs not only "deliver a classic design" but are also "durable." Ramirez is also a fan of the style, and this model that MartinDelCampo recommends would be an especially good one for smaller patios or outdoor spaces, because it folds up — a feature you don't always find in these sometimes-clunky chairs.
If you're looking to buy a bunch of chairs without spending a lot, Devin Shaffer, a designer with online interior-design service Decorilla, recommends these molded-plastic chairs from Ikea that cost $30 a pop. Aside from their affordable price tag, Shaffer loves that they require "zero assembly" and are "easily stackable," which means that they're a cinch to put away at the end of the season. Another detail to love: They're made of UV-resistant plastic that won't fade with time.
Shaffer also recommends this familiar-looking style of chair from the MoMA store, saying that it evokes "summertime nostalgia" but is an upgraded version of similar styles you've seen at baseball games or on freshly mowed lawns over the years (and decades). "MoMA dropped a fresh version of the chair, and it boasts a bit more style than what memory serves," he says of the lightweight, foldable chair that MoMA says is made in the U.S.A. "in small batches at a family-run workshop." It also has a woven back, which, as Azzarito noted above, can be more comfortable if you're sitting for longer periods of time. (Erica Cerulo and Claire Mazur, the founders of our favorite now-shuttered boutique Of a Kind, are fans of the chair as well.)
Another chair that folds is this Ikea chaise recommended by Ramirez, which is made of an acacia-wood frame and rope. "The strong, clean lines of this architectural silhouette are a striking addition to an outdoor space," she told us, noting that the chair's taller back adds "visual height."
Even more affordable than the above Ikea chaise is this one that Ramirez loves for its "ecru color with just the slightest hint of turquoise detailing." She adds that it folds flat for easy transport (even if that's just from shed to porch and back again).
This chubbier armchair made of durable, all-weather resin comes at a price that MartinDelCampo says is hard to beat for such a style. She adds that its included cushion cover is washable and that the chair also comes in brown for those who don't like the gray shown.
For something a little daintier, Ramirez recommends this "petite, almost club-style chair" that she says can work at the head of an outdoor dining table or as a "cozy landing spot" for lounging. It's made of synthetic rattan that's weather-resistant (but the cushion is sold separately).
For something more modern, Ramirez recommends this lightweight aluminum-and-mesh chair that incorporates "graphic black and white lines" to create "a strong, modern style." She says that it would pair just as well with "a small bistro table" as it would with "a footrest and side table, for a lounge feel." To balance the chair's hard edges, she suggests throwing down a sisal rug or pillows to add natural elements or texture.
According to Shaffer, "finding a rocking chair under $100 is like searching for a needle in a haystack." That's a big reason why he finds this $72 outdoor option so delightful. Shaffer loves the country charm of its powder-coated-steel frame and the fact that it has "subtle nods" to the geometric angles and architecture of Frank Lloyd Wright. The bright color, he adds, "ushers it into more-modern spaces" (but it's also available in a few others if red isn't your favorite).
Best
under-$200
patio
chairs
Ramirez says this wicker chair made of weather-resistant resin nods to mid-century-modern style (it reminds us of more-expensive Acapulco chairs, which make an appearance further down on this list). MartinDelCampo is another fan, and both point out that this has a lightweight and compact frame. It's also stackable for convenient storage and available in two more colors (black and aqua).
If you're looking for a quick way to brighten your patio or outdoor space, Ramirez and Shaffer recommend this colorful chair from Crate & Barrel. Shaffer says the contrast of the yellow wicker (made of weather-resistant resin) against the black metal frame reminds him of the '80s in a way that's both "trendy yet timeless." He also appreciates how the yellow strands that make up the chair's barrel shape complement its more natural-colored seat. Ramirez agrees, telling us that "the modern style and bright color walk the line of sophistication and fun." She adds that the barrel shape is comfortable for both dining and lounging, nodding to this chair's versatility.
Another relatively affordable way to bring bright colors to your patio would be with these sling-style chairs from Society6 recommended by Ramierz and Azzarito. Their backs are adjustable, so you can easily reorient them depending on whether you want to sit up or recline, and Ramirez notes that Society 6 sells them in various fabrics, so you "can achieve the look you want, from tonal neutrals to this fun terracotta graphic print." Her favorite is the funky "orange cutout" print, while Azzarito likes the "abstract minimal" style that she notes has a matching stool.
Fashion and accessories designer Clare V.'s take on the sling chair for Anthropologie is another option to consider if you like the style, according to Azzarito. It also has an adjustable back, and she says its print — the designer's signature typeface — makes it "a must for a beach vibe in a small space."