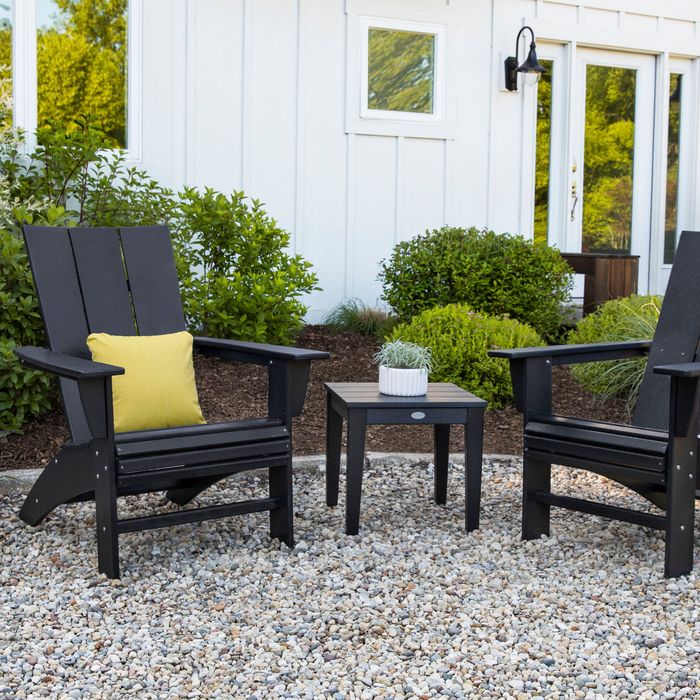 Peruse the websites of a dozen upstate and coastal New England hotels and you will notice that nearly all of them boast postcard-perfect photos of leisure time spent in the sturdy embrace of an Adirondack chair. Sitting in one was a significant part of my upbringing — at summer camp, at the beach, and in my own backyard. In fact, my parents still have the same pair of forest-green chairs they purchased when I was in middle school, and they are still in great shape. Leigh Salem, co-founder of Post Company, the design firm responsible for upstate resorts Inness and Callicoon Hills, says "a great Adirondack chair is simply built, has a deep seat, an elongated back, and a wide arm for holding drinks, and of course it can live outdoors." The original design, patented in 1905 and called the Westport chair after the vacation town where it was invented, was angular and roomy with a single plank back. You were meant to slide into it and stay there. Now, Adirondack chairs span a wide range of shapes and styles, from the popular slatted and rounded back patented by Irving Wolpin in 1938 to sleeker, more modern updates of the original Westport chair to the Wave Hill chair, a version designed for New York's legendary public garden that you can build yourself using DIY plans and that Laura Fenton, author of The Little Book of Living Small, says is very comfy.
To help you find the best Adirondack chairs for you and your backyard (or porch) we talked to six experts, including Salem and Fenton, about their personal favorites and what to look for when shopping for one. If you already have an idea of what you want, you can use the table of contents below to skip ahead. If not, keep reading to see all of our experts' recommendations.
Best overall wood | Best (less expensive) wood | Best overall plastic lumber | Best (less expensive) plastic lumber | Best adjustable | Best for kids | Best (less expensive) for kids | Best lightweight and stackable
Material and durability: For the most part, Adirondack chairs are made out of either wood or some type of plastic. One of the most popular plastics used for Adirondack chairs and other outdoor furniture is Polywood, a proprietary material that includes recycled milk jugs and detergent bottles. Similar to Kleenex or Band-Aids, Polywood is both a brand name and a colloquial term for plastic lumber. Other terms you might see in reference to plastic lumber are high-density polyethylene (HDPE) and high-impact polystyrene (HIPS). HDPE is generally treated with UV inhibitors to prevent its color from fading in the sun. The great thing about opting for Adirondack chairs made from plastic lumber is that they are incredibly durable and require little to no maintenance. George Pisegna, deputy director at the Horticulture Society of New York, says they would be good for someone who doesn't want to worry about caring for a really nice piece of wood furniture or someone who doesn't have a lot of space to store it inside during the winter or offseason. Most of them can be left outside all year round without risk of their flaking or cracking.
That said, many of our experts told us that the ideal material for an Adirondack chair is a hardwood like teak or acacia — or cedar, which is technically a soft wood but is well known for its anti-fungal and anti-termite properties. Their reasoning is both aesthetic and practical: The original Westport chair was made of hardwood that develops a beautiful patina over time, and hardwoods are sturdy and hold up well to punishing outdoor conditions.
According to Pisegna, another reason for choosing wood over plastic — even if it's recycled plastic — is that it's more eco-friendly, since furniture made from post-consumer plastic doesn't biodegrade and isn't necessarily recyclable at the end of its life. "Wood is always 100 percent my choice," he says, adding that he also prefers buying secondhand Adirondack chairs made of wood over buying them new. Pisegna bought a set of original Westport chairs at an estate sale years ago and keeps the wood in good condition by oiling it and covering the chairs in the winter. But he notes that many owners of wood Adirondack chairs stain, paint, or apply sealant to them to make them more weather-resistant. If you're set on buying the original version like Pisegna, there are lots of them for sale on 1stDibs. Just know that prices start at around $6,000 per chair. Otherwise you'll find a few expert-approved wood chairs below that cost much less. For all the chairs on this list, we've noted exactly what kind of material they're made of whenever possible.
Comfort: While it might feel good to really sink into an Adirondack chair, it can be challenging for some people to get back out of their traditionally deep seats. Salem says this is the price you pay for extreme comfort. But if you'd rather not struggle to transition from sitting to standing there are plenty of Adirondack chairs with shallower seat angles. There are also chairs with curved or concave backs, contoured and "waterfall"-front seats, adjustable backs that let you recline, lumbar support, and smaller dimensions that are good for (or designed specifically for) children.
Weight and balance: Part of what makes an Adirondack chair so comfortable are its sturdiness and weight. You should feel like the chair is stable and almost attached to the Earth. The best Adirondack chairs shouldn't tip or move when you sit down, and they should feel balanced and stable on grass, gravel, sand, or a rocky surface. The original Westport chairs were used on many different surfaces, so they were designed not to rock or move. Both wooden and plastic lumber Adirondack chairs will have some heft to them, making them feel sturdy but also making them more durable to leave outside year-round. Almost all of the chairs on this list are on the heavy side, but we have noted those that are not in the details section.
Style, finish, and color: Whether you end up buying an Adirondack chair with a rounded and slatted back or something chubbier and square comes down to personal preference. The color you pick does too. But it might also come down to where you are going to put your chair and the overall style and color scheme of your home. Keeping that in mind, we have tried to include many different styles, and we've also noted when a chair is available in multiple colors or materials.
Best overall wood Adirondack chair
Teak wood | Flat back and seat | Weight not listed | Also available in 7 Polywood colors
If you don't want to drop several thousand dollars per chair and you don't have the time to build one yourself, there aren't a ton of options for wooden Westport-style Adirondack chairs. But this squat version from Crate and Barrel is one of the better examples available to buy online. Interior designer Lauren Ashley Allan recommends it as "a sculptural take on a summer staple." She likes the chair's modern lines, plank-style rear legs, and streamlined double-slat seat and back. Plus it's available in both teak and seven colors of Polywood. You can also buy a matching ottoman in any of the colors and materials.
The teak version of this chair comes unfinished and will eventually weather to a silvery gray. But if you want to preserve its golden wood color, Crate and Barrel also offers teak wood protector and a weather-resistant cover that fits this specific chair, both of which are sold separately. It is worth noting that the Polywood versions of the chair are significantly less expensive. But all teak furniture is pricey, and if you're looking for wood that will truly last season after season outdoors, you can't find a better material.
Best (less expensive) wood Adirondack chair
Acacia wood | Curved back and slightly curved seat | 23 pounds | 3 colors
Though it's not easy, it is possible to find a wooden Westport-inspired Adirondack chair for $100 or less — you just may have to do a bit more maintenance (i.e., staining, sealing, or covering it in bad weather) to keep it looking pristine. This one is made with FSC-certified solid acacia wood, which means it comes from a responsibly managed forest and is extremely hard and durable. (However, teak is still more durable and more weather-resistant and has a more consistent grain pattern than acacia, which is why acacia is typically less expensive.) This chair has a slightly curved slatted back and a contoured seat for added comfort and is available in natural, black, or gray. Its low price (roughly eight times cheaper than the teak Crate and Barrel chair at full price) makes it much more feasible to buy a set.
Best overall plastic lumber Adirondack chair
Polywood | Curved back and curved seat with waterfall front | 43 pounds | 12 colors
Fenton says she loves classic wooden Adirondack chairs, especially those with a curved back for comfort. But for longevity, her recommendation is to buy a chair made of Polywood. She loves that they can be left out year-round and still to look new season after season without any need to paint or seal them. "I personally like them in black, which sort of disguises their plastic-yness," she says. Polywood's Modern Adirondack chair has a curved back, a contoured waterfall seat, and comes in 12 colors. In addition to this chair, Polywood makes a wide range of Adirondack styles, including ones that fold, ones with rounded backs, and even Adirondack glider chairs.
Best (less expensive) plastic lumber Adirondack chair
HDPE (high-density polyethylene) | Flat back and curved seat with waterfall front | 34 pounds | 8 colorsPisegna's pick for an affordable but still long-lasting plastic lumber Adirondack chair is the same one that my parents have had for decades. He and I agree that L.L. Bean's Adirondack chairs are very comfortable and a great deal at under $300 each. I like sharing the chair with another person by sitting next to them on the arm of the chair while they sit in the seat. I have never seen one tip over, and while the seat is rather deep they aren't too hard to get out of, even for older family members. HDPE is completely waterproof, so to clean the chairs of pollen or dirt, we simply spray them with a hose. According to L.L.Bean, the HDPE used to make these chairs contains 20 percent recycled plastic. In all the years my parents have owned them the material has never flaked or cracked. You can literally do nothing to maintain them and they will still last — and look new — for a very long time.
Best adjustable Adirondack chair
HIPS (high-impact polystyrene) | Adjustable flat back and curved seat with waterfall front | 45 pounds | 5 colors
Devin Shaffer, lead designer at Decorilla, and Allison Audrey Weldon, founder of skin-care brand Sangre de Fruta both suggest buying an Adirondack chair with an adjustable reclining back to reach the highest level of comfort. "I love when the back is adjustable so you can recline further for stargazing or a sunny cat nap," she says. Unlike most of our experts, however, Shaffer does not recommend buying Adirondack chairs made out of wood because he prefers the longevity and lack of maintenance that comes with plastic lumber. He says this is the only Adirondack chair he will suggest to his clients after convincing them to not opt for wood. He loves it first for its aesthetics and range of five colors, and second for the three potential seating positions: upright, lounge, and fully reclined. According to Shaffer, the material this chair is made from, HIPS, is 100 percent non-toxic, waterproof, and durable. "What's insanely cool about HIPS is that it can be molded and manufactured to have a variety of forms and texture. For this chair it's done brilliantly with a woodgrain-inspired finish," he says.
Best Adirondack chair for kids
Acacia wood | Flat back and seat | 24 pounds | 3 colors
Allan owns two of these low-to-the-ground acacia wood Adirondack chairs for her children. She bought them because the bold geometric shape matches the rest of her home decor and because having their own chairs helps her kids feel included when hanging outside with friends and family. "These chairs make them feel like they have special spots," she says. Another reason she chose them is that they are made from sustainable acacia wood. Despite being good for Allan's miniature loungers, the chairs are pretty heavy, so you can feel safe letting fidgety kids climb on them without worrying they will tip over. They come in a natural finish, gray, or a rustic aquamarine wash.
Best (less expensive) Adirondack chairs for kids
Sanmu wood | Flat back and curved seat | 7.5 pounds | 2 colors
For families that prefer more traditional-looking Adirondack chairs, this Kidkraft option is a good and affordable choice. Since it's actually designed with kids in mind and sized for children between 3 and 8 years old, it is much lighter than the Lanty chair above. This makes it easy to move around and store in the offseason. Made of Sanmu wood, a type of fir tree similar to pine, it is not as naturally durable as teak or acacia. But it is finished with a child-friendly water-based stain to protect it from the elements. It's available in a natural wood color or white.