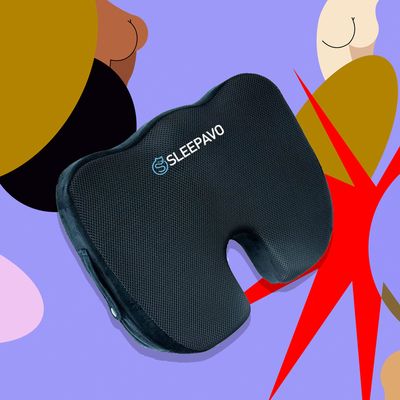 Photo-Illustration: Chaimae Khouldi; Photo: Retailer
Some people believe sitting is the new smoking — which may be a bit of an exaggeration but doesn't mean that sitting for hours on end is ideal. "Humans were not designed to sit for long periods of time the way that we do today," says Dr. Jan Lefkowitz, a chiropractor at Body in Balance in New York. "After 30 minutes of sitting, our supportive postural muscles become fatigued and we begin to slouch." If you tend to start your workday by making a cup of coffee, sitting down at your desk, and then not moving for long stretches of time, your body may start to feel a little worse for wear. That's because slouching causes our shoulders to roll forward and pull our head along with them, putting stress on our spinal discs.
Working remotely throughout the pandemic has made people acutely aware of the butt and back strain a poorly designed seating setup can cause. Ergonomic chairs are an obvious solution, but don't overlook the humble seat cushion, advises chiropractor Dr. Randi Jaffe. "I find that when my patients start to use a seat cushion, they often report back that they are more aware of their spinal posture and more likely to make corrections as they sit," says Jaffe. "When one adds an ergonomic seat cushion, even the most basic chair gets an immediate upgrade, providing more spinal support and improving one's posture immediately."
To find the best seat cushions for hours of sitting on your butt, we collected recommendations from Lefkowitz, Jaffe, and three other chiropractors. They offered advice on how to choose a cushion for your body type and chair, and explained the benefits of memory foam versus gel cushions. The right seat cushion can help you focus on your posture and correct bad habits, ultimately making you more comfortable.
Best memory foam seat cushion
Dr. David Perna at Back and Body Medical says a simple fix for anyone who wants to improve their posture is to make sure your hips are higher than your knees when sitting. "If you could set your office chair to a height that allows your hips to be higher than your knees, you're already ahead of the game and trying to maintain some curve in your low back," he explains. That curvature is important to maintain proper posture and avoid stressing your tailbone. This cutaway style of cushion is popular because of the way it shifts weight off your tailbone and onto your sit bones, reducing direct pressure on the low back. "When you put the weight on a sit bone, it's going to encourage a person to keep their low back curvature on their own," says Perna. He recommends memory foam cushions like the Sleepavo and says they are especially effective for people sitting on harder chairs, because they help distribute weight across the back, butt, and thighs.
Best seat cushion for tall people
If you are a tall person or if your chair isn't adjustable, a seat cushion can help raise the height of your seat to make it more ergonomic. Perna explains that if you max out the height on your office chair, a heavily padded cushion like the Everlasting Comfort will "give you a few more inches to sit" and ensure you can get your hips up higher than your knees. Perna says the cushion will also create a larger contact point across the bottom of your thighs and butt, "so it will distribute the weight of your body more evenly across the entire cushion."
Best seat cushion for bad posture
"Like picking out a new mattress or pillow to sleep on, choosing an ergonomic seat cushion is so specific to the individual," says Jaffe. She recommends another cutaway-style memory foam cushion, the Aylio Coccyx, because "it can improve the natural curves of the spine while providing a soft yet supportive base that molds to the shape of our individual bodies." Jaffe says the level of firmness and support you need "can really vary from person to person" and will depend on body shape and weight. But she notes this cushion can help with posture by "providing more support to the pelvis, tailbone, and lower back, allowing us to sit straighter and reducing slouching."
Best gel seat cushion
In addition to encouraging proper posture, seat cushions can promote good blood flow to your legs, which is important for circulation — especially if you're sitting for long periods of time, says Dr. Cariann Paul, a chiropractor based in New York City. "I'm partial to gel cushions, because they tend to be more breathable and cooling, and there may be evidence they distribute pressure better than foam-only cushions." Jaffe agrees that gel cushions provide great heat dissipation, so your butt won't feel uncomfortably hot. Perna says that's one of the drawbacks of memory foam cushions, which tend to absorb body heat: "Most people know this who have beds with memory foam — it can get hot." So if you want something cooler, he recommends opting for a gel cushion like the Purple Royal, which is also beloved by Strategist newsletter editor Mia Leimkuhler.
Best memory foam–and–gel hybrid seat cushion
If you like memory foam's ability to contour to your butt, but you like gel's ability to dissipate heat, Dr. Brian Meenan, a chiropractor at Premier Chiropractic Clinic in Pittsburgh, recommends the ComfiLife Seat Cushion. "Most of the research agrees that a contoured gel pillow is the best to use," he says, noting that "overall, the contoured gel pillows are the most comfortable and they have the most pain-relieving effects." A cushion like the ComfiLife offers the best of both worlds. Meenan notes you don't want a cushion that's too firm or too soft: "Stick with the Goldilocks principle and find one that feels comfortable to you."
Best seat cushion for travel
Lefkowitz says the Backjoy is the only seat cushion he uses and praises its portability. "Instead of merely supporting the lumbar curvature, which most other products do, it keeps your pelvis in position and prevents it from rolling back," he explains. And when your pelvis is stable, it improves the posture of your entire spine, all the way up to your neck and head. "I have personally found the Backjoy to work incredibly well on long car rides. It eliminated the back stiffness I would get commuting to the city every day." Lefkowitz adds it also works great on office chairs or long plane flights.
The Strategist is designed to surface the most useful, expert recommendations for things to buy across the vast e-commerce landscape. Some of our latest conquests include the best acne treatments, rolling luggage, pillows for side sleepers, natural anxiety remedies, and bath towels. We update links when possible, but note that deals can expire and all prices are subject to change.