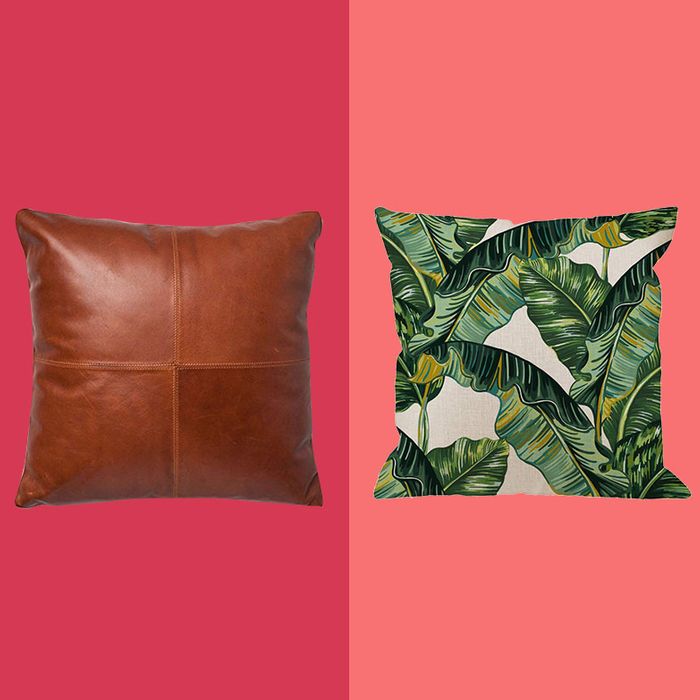 Photo: Courtesy of the retailer
The cost-benefit ratio of a set of throw pillows will almost always work out in your favor. People will argue that they serve no actual purpose, but in reality, they're an affordable decorative exclamation point that, for lack of a better expression, really pulls the room together. And the well-made ones can even help support your lower back. We'd place throw pillows among countless other household markers of adulthood, including but not limited to: framed artwork, design-y planters, area rugs, and status candles. But how to know which of the thousands out there are right for your home? To help answer that question, we did a deep dive to find the best throw pillows (available on Amazon) for every type of space, from living room, to bedroom, to patio, to kid's room, to screened-in porch. But before we get to the pillows, a note: Many of the styles shown below are covers and don't come with the actual pillow insert, so we also included a few of Amazon's best-selling cushy inserts that will fit inside the covers, too.
For the spare bedroom of an ASMR fan
They'll love gently running their fingers across these soft corduroy ridges to produce a pleasant ripple.
For the '70s-inspired, all-white living room
These macramé pillow covers add some texture while still keeping within the color palette.
For the influencer's RV at Burning Man
A pillow whose colors and patterns evoke the desert, so it won't show dirt when you lean against it post–wind storm.
For the fancy vegan's boudoir
For the decidedly un-cutesy nursery
This hare-adorned flour-sack pillow cover adds just the right amount of cottage chic.
For the preppy Pantone addict's studio apartment
To go with all the chartreuse in their closet.
For the pattern phobic's home theater
They may look boring, but these washed-denim covers are beautiful close up (and won't show stains if you spill your soda mid-screening).
For the Craftsman homeowner's screened-in porch
For the outdoorsy dad's home office
Because he loves sitting on actual tree stumps whenever he can.
For the world traveler's futon
Quite a deal for a pillow cover that's block-printed by hand.
For the cat lover's armchair
A tabby that won't scratch or make guests sneeze.
For the farm-to-table chef's casual kitchen nook
These wide-striped cushions look like they could have been plucked from the set of a Nancy Meyers movie, and can be used inside or out, so they'll stand up to a lot of family meals.
For the grade-school science nerd's bedroom
A chubby seal pup is a perfect homework helper.
For the fashion editor's velvet couch
Just fancy enough, without being too flashy.
For the executive's (or executive-in-training's) foyer
Leather throw pillows can make even the cheapest Ikea bench look luxurious.
For the eight-year-old boy's bedroom
For the Florida retiree's back patio
Pairs beautifully with a tiki-inspired cocktail.
For the freshman girl's dorm room
Extra cushy and cute dorm-room accessories are on the top of every college freshman's wish list.
For the tween girl's bedroom
For the WFH freelancer's bed
Writing in bed is easier with a bolster, and this one has a built-in pocket for an iPhone.
For the art historian's library
A reminder of the first time unicorns were trending.
And two best-selling throw pillow inserts
These best-selling inserts on Amazon come in seven different sizes to fit any of the above square throw-pillow covers.