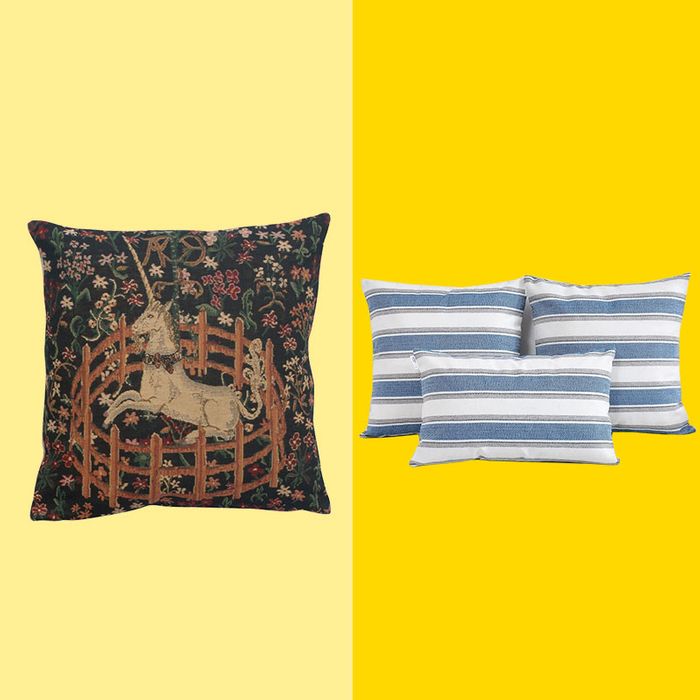 Photo-Illustration: Courtesy of the retailer
The cost-benefit ratio of a set of throw pillows will almost always work out in your favor. People will argue that these pillows serve no actual purpose, but in reality, they're an affordable decorative exclamation point that makes your furniture cozier and easier to nest in; a well-made one can even help support your lower back. But how to know which of the thousands out there are right for your home? To help answer that question, we did a deep dive to find the best throw pillows available on Amazon for every type of space, from your living room to your bedroom, patio, kid's room, and screened-in porch. Many of the styles shown below are covers and don't come with the actual pillow insert, so we included a few of Amazon's best-selling cushy inserts to fit inside the covers.
For the ceramicist's studio
We love the blobby shapes on this textured pillow cover and can imagine it going with some sculptural ceramics — or candles — on a nearby coffee table.
For the professorial study
These soft, wide-wale-corduroy pillow covers, which come in 24 colors, will lend the room an academic vibe.
For the family den
Constructed as a giant knot, this throw pillow can actually be thrown like a ball. More practically, the round shape provides flexible support for propping up a head or back.
For the '70s-inspired living room
For the Instagram-ready bedroom
These covers tick all the aesthetic boxes for millennial decorators: abstract shapes, muted pink-adjacent earth tones, and texture.
For the greenhouse
A sunflower-inspired pillow cover that will keep the spring vibes going all season.
For the vintage-inspired boudoir
Tassel-edged velvet pillows for Old Hollywood lounging.
For the modern boudoir
For the non-cutesy nursery
This leopard-adorned pillow cover is fun for kids and chic enough for adults.
For the Pantone loyalist
To go with all the chartreuse, violet, and rare shades of gray.
For the pattern-phobe
This indigo linen-blend cover is simple and non-fussy, and it won't be too busy for a small apartment.
For the craftsman home
The subtle cross-stitched pattern gives this handsome pair of covers texture and flair.
For the mid-century-modern home
The color and pattern of this groovy, embroidered cover is just the thing to offset the clean lines of their space.
For the consummate host