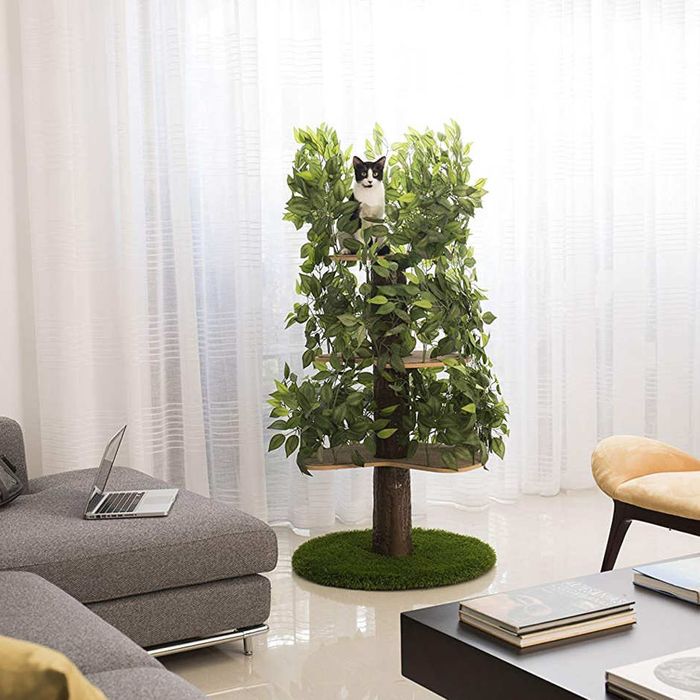 Here at the Strategist, we like to think of ourselves as crazy (in the good way) about the stuff we buy, but as much as we'd like to, we can't try everything. Which is why we have People's Choice, in which we find the best-reviewed products and single out the most convincing ones. (You can learn more about our rating system and how we pick each item here.)
And while we've written about lots of things to take care of cats— including the best cat carriers, cat houses, kitty litter, and litter boxes — here, we've rounded up the best cat trees, as praised by the most enthusiastic reviewers on Amazon.
Best-rated cat tree
One reviewer's cat was so excited about this extra-tall cat tree the reviewer couldn't even wait for it to be assembled. "My cats took to it immediately; they continued climbing to the top as I got further into assembling each story," the reviewer writes. And though this 72-inch multilevel cat tree is objectively tall, it's described by hundreds of reviewers as "easy to assemble." One shares, "What surprised me (positively) is the way the material feels. If my wife wouldn't leave me for it and my cat wouldn't claw at anything dangling — I'd be climbing all over this thing, butt-naked, myself! It's so unbelievably soft and like I said it feels like a faux-fur coat; like mink or something." However, the reviewer reasonably adds, "That being said, Kaner (the cat) has no problem climbing all over it, he's like Spider-Man on there."
Best-rated (less expensive) cat tree
Multiple commenters turned to this affordable AmazonBasics option after their cats "destroyed" other scratching posts, but this one seems durable. "They claw at it all day long and it hasn't torn or left any mess in my floor to clean up, unlike other scratcher," writes the owner of one of "the most prissiest cats in the world." Another reviewer says, "I am pleasantly surprised that she has not been able to pull this one over on herself, and it seems to be holding up to her constant scratching well." One notes kitties can "do a full stretch while they scratched it," even though it's only 20 inches tall. And pleased pet parents find that the cozy hammock has become a new favorite napping spot for their cats. "They playfully fight over it constantly, and it's become the center of their socialization," says a self-described dad to "a large grumpy older orange tabby and a tiny rambunctious black cat." He adds, "The large tabby barely fits but still loves it, and the tiny black cat barely fills the center."
And now for some micro-picks of every type of cat tree you might be looking for.
Best cat tree for kittens
Even five-star reviewers note that this cat tree can, at times, be a little unsteady and wobbly, like one who writes, "Definitely not cheap and flimsy but it has a slight wobble when they're really playing hardcore on it." However, the small footprint is also why this cat tree is a hit among reviewers with kittens and small cats. "To be clear, my cat is small and so is this cat tree. She weighs six pounds," one cat owner writes. "The top perch comes not quite to my shoulder. It is absolutely perfect for our needs, but would likely not suit a large cat or someone wanting to provide access to the ceiling." Another attests, "My kitten loves this tree as we got it for her crazy hyperness. We do have a nine-pound cat that will use it as well but she tends to stay off the top tier. It does shake a little under her weight but we anchored it for extra sturdiness and it is fine now." And that reviewer continues, "My kitten has gone to town running, jumping, clawing and tackling the tree and it is standing up well to her. I definitely recommend this if you are on a budget."
Best cat tree with activities
"It should be called cat heaven," proclaims one reviewer about this split-level kitty condo, and dozens of reviewers with especially active cats appreciate the built-in toys and ramps. "I chose this tree for the toys it furnishes, sisal posts, ramp for angled scratching, hideout boxes with multiple entries, and the overall height," one reviewer writes. "My kitten Colette was immediately obsessed with the dangly mouse in the large hideout." Another reviewer says there are "plenty of ways for them to climb up and not get bored with. It feels really sturdy too." One owner writes that her "extremely active one-year-old" cat does "climb it at LEAST once a day to play with each of its interactive parts, especially the boing-boing puff ball up top and the busy box. In fact, he knocks the balls out of the busy box so quickly that I wish it came with more than two of them, to challenge him more (and to give me a break from retrieving them)."
Best cat tree with cave
Reviewers with cats that love places to hide give this AmazonBasics cat tree top marks for its cave, which provides some shelter. "My cat like to sleep in the cave and uses the higher spots to chill when the dog is annoying him," explains one reviewer. Another writes, "The hidey-hole makes her comfortable as she can get to a quiet place." Some find that the natural jute-fiber stand has encouraged their cats to stop clawing the furniture as well. "They have stopped going after my chairs and are now using the scratch posts daily. Yes, the bits of fluff do come off and can be a nuisance but I don't care. My girls love it and that's what matters to me," shares a reviewer.
Best cat tree for large cats
While this cat stand has a small footprint, it's sturdy enough for "extra fluffy" cats, according to one reviewer. The wide platform can accommodate multiple cats. An owner of two felines, one 20 pounds and the other 15, writes, "Not only do they have plenty of room on their own, they can both fit on it together. They've also been in the little cubbyholes and had plenty of room in there as well." Another with a 16-pound cat observes, "The tree is relatively sturdy. It shakes a little when he jumps down from the very top, but not enough to tip over." A Maine Coon mom notes that it's well designed: "The size is perfect for a larger cat to be comfortable. He uses all three areas: the bottom for hiding in privacy, the center for play, and the large top platform with its 'mattress' for stretching out and surveying his domain. You will not be sorry you purchased this item for your feline friends."
Best cat tree for multiple cats
The owner of a tiger-striped tabby kitten writes that his cat uses this multi-level cat tree "everyday, yet as he grows larger he tends to use the upper levels more than the hammock. The string that holds the bell and ball is impressively durable, despite his best efforts of chewing." However, those multiple activities and perches seem to be why reviewers with more than one cat picked, and enjoy, this cat tree. A reviewer, who admits to having cats that "run the place," writes, "This condo has SIX floors for them to sit on plus the house on the 3rd floor. How many of you have a six story condo? I don't! They absolutely love it and have slept on every available place on it depending on their mood." Another shares that their cats "easily sit on the perches with no overhang and in the house. They love it. They also like hanging out on the platform on the bottom. There was an initial power play for the hammock which they both love but now share it."