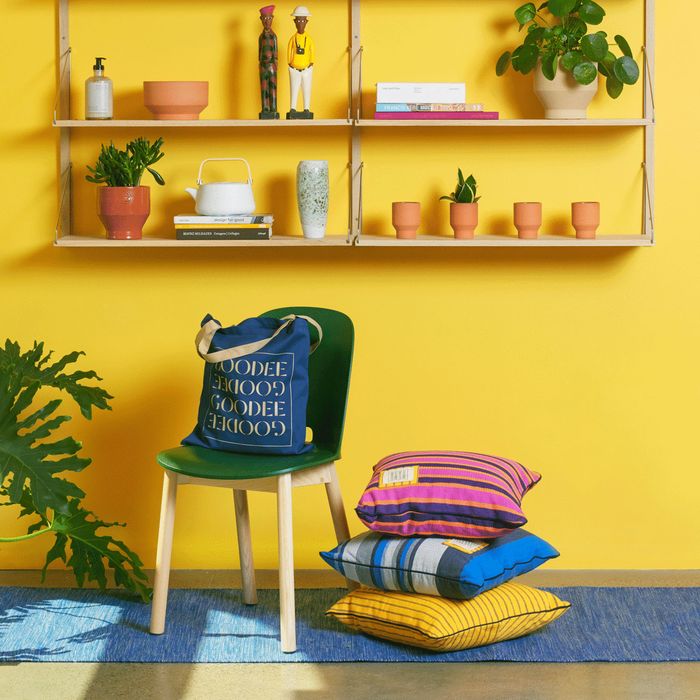 If you've perused our (ever-growing) list of Black-owned businesses to shop, you've probably noticed a big chunk of it is dedicated to companies focused on home décor. To help shoppers get an even better sense of those companies' many wares, we combed through their inventories in search of living-room décor that's as delightful as it is useful, whether it's a throw pillow that can instantly revive a tired couch, a patterned runner that adds texture to a table-scape, or a new cool candle to add to your collection. (If you're looking for more products from Black-owned businesses, check out our guides to the best ceramics, candles, wall art, beauty, skin-care, hair-care and, of course, gifts.)
Goodee, a shop founded by twin brothers Byron and Dexter Peart, sells items made by artisans around the world. It also has its own in-house line of pillows, tote bags, towels, and more. We love this striking throw pillow made in Africa in collaboration with the Ethical Fashion Initiative, the United Nations' fair-trade division. According to the brand, Goodee worked with weavers in Burkina Faso to create the limited-edition cushion, which is made from Burkinabe and Malian textiles and sewn in Kenya.
At her Philadelphia-based interior-design studio and store, Yowie, founder Shannon Maldonado stocks funky, not-seen-everywhere tchotchkes from vases to candles to bath mats to ceramics, like this mug from artist Sara Ekua Todd. The lovely flower-like handle gives it a whimsical (yet still practical) touch.
We love the versatility of this cushion-like pad from Karen Jai Home, an emporium of décor and other furnishings founded by Dallas-based entrepreneur Janelle Langford. Made of water hyacinth, you could use it as a shrunken coffee table, a meditation pillow, or extra bohemian seating for guests.
This cotton mattress is basically a giant floor pillow, making it ideal for anyone who prefers to lounge (or nap) elsewhere than the couch. (Reviewers say it's also great for kids to play on.) Its hand-dyed indigo cover is filled with kapok, a natural and hypoallergenic fiber. Tensira is based in the Republic of Guinea; its founders Hamidou Diallo (whose mother was an indigo-dye artist) and Tuulia Makinen Diallo work with West African artisans to produce many of its offerings.
Laura Hodges, an interior designer who works in Baltimore and Washington, D.C., is also the woman behind Domain, a home-décor shop that sells fair-trade pieces sourced locally and globally. This intricate, handmade ceramic rose is one of them; as for where to put it, we suggest on a bookshelf or even hung on a wall (it comes with a notched keyhole on the underside for easy hanging).
At 54kibo, you'll find an array of contemporary African designs sourced by its founder, Ghana-born Nana Quagraine. This geometric wall hanging follows in the tradition of Maasai beading and is handmade in Tanzania with glass beads.
Founded by Atlanta-based LaToya Tucciarone, SustainAble Home Goods offers a curated collection of fair-trade and ethically sourced items from around the globe, including this flat-weave rug from Morocco. We think it's simple (but still interesting) enough to go just about anywhere in a home.
This speckled incense holder has an equally eye-catching black-and-white motif. It comes from Black Pepper Paperie Co., a Washington, D.C.-based art and design studio founded by Hadiya Williams, who works in both clay and paper media.
Maggie Holladay started her Claude Home business on Instagram and sells vintage furniture and design objects, like this mixed-clay sculpture by Le Minou Studio. Things tend to sell out fast, so don't dillydally.
Atlanta-based artist Rochelle Porter sells a selection of headscarves, activewear, pillow covers, and other home décor in bright patterns and prints that she creates herself. This table runner (made with an organic cotton and linen blend) features a graphic geometric print that would add a bit of dimension to your meals.
This storage tote looks great placed anywhere, and holding anything — blankets, shoes, books. It comes from Bedford-Stuyvesant–based boutique Peace & Riot, a home-décor store founded by interior designer Achuziam Maha-Sanchez and her husband, Lionel Sanchez, to showcase their tastes, inspired by their African and Caribbean heritages.
Designer Tiffany Thompson of Portland's Duett Interiors says her collection of cheeky PVC-covered throw pillows is "inspired by grandma."
Bolé Road, founded by Brooklyn-based interior designer Hana Getachew, sells beautiful textiles made by artisans in Ethiopia. This small rug (perfect for the foot of your bed) is handloomed in 100 percent Ethiopian wool with a terraced design that's inspired by the rises and plateaus of the Bale Mountain Range at sunrise and sunset, according to the website.