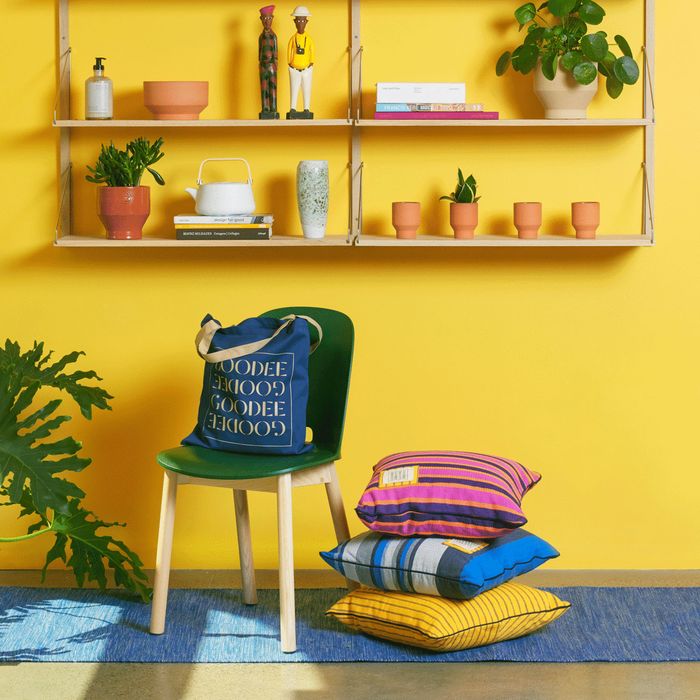 If you've perused our (ever-growing) list of Black-owned businesses to shop, you've probably noticed a big chunk of it is dedicated to companies focused on home décor. To help shoppers get an even better sense of those companies' many wares, we combed through their inventories in search of living-room décor that's as delightful as it is useful, whether it's a throw pillow that can instantly revive a tired couch, a patterned runner that adds texture to a table-scape, or a new cool candle to add to your collection. (If you're looking for more products from Black-owned businesses, check out our guides to the best ceramics, candles, wall art, beauty, skin-care, hair-care and, of course, gifts.)
Goodee, a shop founded by twin brothers Byron and Dexter Peart, sells items made by artisans around the world. It recently launched a curated shop-in-shop at Nordstrom that's selling 100 home essentials — all for $100 or less. While this lamp is at the highest end of that price range, it was created in collaboration with London-based lighting studio Tala, giving it even more design cred. We really dig its mix of materials (like walnut and metal) and shapes (like cylinders and circles) and how they somehow all go together.
And from Goodee itself, here's a striking throw pillow made in Africa in collaboration with the Ethical Fashion Initiative, the United Nations' fair-trade division. According to the brand, Goodee worked with weavers in Burkina Faso to create the limited-edition cushion, which is made from Burkinabe and Malian textiles and sewn in Kenya.
At her Philadelphia-based interior-design studio and store Yowie, founder Shannon Maldonado stocks funky, not-seen-everywhere tchotchkes from vases to candles to bath mats to catchalls like this crescent-shaped resin number in the loveliest aquamarine. You could use it to zhuzh up your work-from-home space now — and then bring it to spruce up your desk at the office, whenever you might return.
Laura Hodges, an interior designer who works in Baltimore and Washington, D.C., is also the woman behind Domain, a home-décor shop that sells fair-trade pieces sourced locally and globally. This intricate, handmade ceramic sea lettuce is one of them; as for where to put it, we suggest on a bookshelf or even hung on a wall.
Atlanta-based artist Rochelle Porter sells a selection of head scarves, activewear, face masks, and pillow covers in bright patterns and prints that she creates herself. This pillow cover, for instance, features a vibrant geometric print inspired by the painted houses of South Africa's coastal Bo-Kaap neighborhood. Note: The price shown is just for the pillow cover (no insert is included).
Maggie Holladay started her Claude Home business on Instagram and sells vintage furniture and design objects, like this mixed-clay sculpture by Le Minou Studio. Things tend to sell out fast, so don't dillydally.
Artfully drape a throw or two on the rungs of this minimalist wall ladder and voilà: You'll have a boutique-worthy space. It comes from Bedford-Stuyvesant–based boutique Peace & Riot, a home-décor store founded by interior designer Achuziam Maha-Sanchez and her husband, Lionel Sanchez, to showcase their tastes, inspired by their African and Caribbean heritages.
Bolé Road, founded by Brooklyn-based interior designer Hana Getachew, sells beautiful textiles made by artisans in Ethiopia. This handwoven cotton curtain has a pattern of gray-and-blue stripes that was inspired by the horizon lines of Ethiopia, according to the brand. It's currently in production, but you can preorder it now to be shipped in six to eight weeks.
Here's a table runner made from denim that would look just as nice on a picnic table (as pictured) or in your dining room. It comes from Mi Cocina, a San Francisco–based kitchenware company founded by denim designer Ulrich Simpson.
When it comes to delightful décor that'll make you (or a lucky recipient) smile every time you glimpse it, you can't do much better than these bookends shaped like an owl. The set is hand-carved from soft soapstone by Gusii artisans in western Kenya. It's sold by Mandinka Home Shop, an Africa-based home-goods store founded by Fatoumata Makadji that showcases work by the continent's artisans.
Los Angeles–based mixed-media artist K'era Morgan sells textiles and notebooks based on her designs. This striking woven throw with a jacquard-weave fabric is made to order (making its price seem pretty reasonable) and finished by hand.
Artist Kenesha Sneed works under the name Tactile Matter and sells a selection of prints, like this one, framed in natural wood with UV-shielding plexiglass. You can get it in a couple of larger sizes, too, all of which come with hanging hardware. (Sneed also sells unframed versions of the print, which start at $45.)
The Black Home was founded by interior designer Neffi Walker, whose work has been featured in publications like Elle Decor, Essence, and Domino as well as on Bravo. In addition to design services, Walker sells tableware and candles, like this one that's hand-poured in New York City and smells of neroli and jasmine.
Husband-and-wife interior-design team Jeanine Hays and Bryan Mason started AphroChic as a blog. The company has since expanded into a lifestyle brand that publishes an eponymous magazine and sells a collection of home goods, including lamps, rugs, removable wallpaper, and poufs, like this one that's printed with a contemporary take on the batik patterns of the Yoruba. The cover is made of heavy oyster linen, and the price shown includes a pillow insert, too, making the cost seem more reasonable.
This mudcloth table runner comes from xN Studio, a Brooklyn-based lifestyle shop founded by D.C.-area native Nasozi Kakembo. In addition to mudcloth and indigo textiles, xN sells furniture that is all made in Brooklyn or D.C. and stocks a small collection of fair-trade goods from Uganda.
Ariene Bethea's Charlotte-based Dressing Rooms Interiors Studio sells both vintage finds and modern pieces, like this handwoven cotton blanket with fringe that adds a bit of texture when slung over a sofa.
Kendal Brown started 228 Grant Street Candle Co. out of his kitchen in 2016. The company now sells candles made with all-natural soy wax, braided cotton wicks, and scented oils, with no other additives or dyes. All of them are hand-poured in Baltimore County, and this sweet-orange-and-morrocan-spice-scented candle comes in one of the brand's signature apothecary jars.
Jungalow, the home-décor line founded by Justina Blakeney, is known for its colorful, textured pillows, throws, rugs, and more. It recently released a line of removable wallpaper in fun, vibrant patterns, like this one called "Ganjalow" that features a cheeky collage of lips, clouds, and a certain herb that looks awfully familiar. Thanks to that herb, the pattern would definitely bring a laid-back vibe to any room it covers. And for every product purchased, Jungalow, in partnership with Trees for the Future, promises to plant two trees in sub-Saharan Africa.