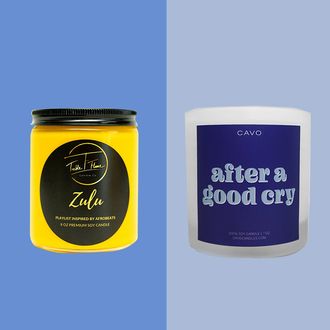 Photo-Illustration: retailers
For a relatively small item, candles are capable of doing a lot of work. They can shift the mood of a space, evoke a particular scent memory, or simply make a room feel a little warmer, brighter, and more inviting. And as we've continued compiling Black-owned businesses to shop at, candles have come up again and again. So, below is a selection from brands we've written about in the past, along with new ones we heard about from Beyoncé's "Black Parade" list, candle obsessives in our group chats, and our (rather candle-focused) Instagram feed.
Founded by interior designer Neffi Walker, whose clientele includes Insecure's Yvonne Orji and Real Housewives of Atlanta's Porsha Williams, the Black Home sells hand-poured soy- and coconut-wax candles that feature warm, musky scents and promise at least 60 minutes of burn time. This candle in particular is inspired by the kings and queens of Egypt and smells of vetiver, neroli, white musk, and jasmine.
Johanna Howard sells a variety of homeware, including throws, pillows, and, of course, candles. The candles are hand-poured and crafted by her daughter, who started making candles when she was 8 years old. The soy-coconut candles use cotton-core wicks and phthalate-free oils and have names like "Herstory" and "Save the Turtles!!!" This one, inspired by a Lizzo lyric, has notes of lavender, sage, and rosemary.
Teri Johnson started luxury-candle brand Harlem Candle Company from her kitchen in 2014 and has since developed collections inspired by the Harlem Renaissance. Some are named after important figures like James Baldwin and Langston Hughes, while others are named for famous places like the legendary Savoy Ballroom. We particularly like the Josephine, a bright, citrusy candle with warm undertones of Moroccan rose, sandalwood, and liquid amber. All of the 12-ounce candles promise an 80-hour burn time and are made from a soy blend.
We've previously written about these candles from Martinique-based brand Ysnay, which come in ceramic bowls that are art pieces in their own right. Made from a blend of soy and beeswax, they have a wood wick and a burn time of 70 hours, and they turn into a reusable vessel once the wax is all gone.
Another candle-as-art option is this one from Laguna Candles, founded by Sharie Hendricks in 2003. The brand collaborates with local artisans to create handblown and sculpted vessels and candles made from a soy-coconut-wax blend and unbleached cotton wicks.
228 Grant Street Candle Co. makes all-natural soy-wax candles with a simple formula: wax, wick, and scent. The candles are hand-poured and packed in Baltimore County. This one is inspired by the tropics and has top notes of melon and peach along with notes of plumeria flowers and jasmine.
Photo: CHRISTA ELYCE/Remodo Studio
Joyaa started Glow Candle Bar as a hobby, but it quickly turned into a full-fledged business. The brand sells candles made from a blend of coconut and apricot wax and essential oils sourced from all over the world. Every candle is hand-poured and comes in reusable glass metallic jars. Featuring a wood wick, this candle has base notes of vanilla, patchouli, and labdanum, along with notes of black rose, cumin, pink peppercorn, grapefruit, and plum.
With a minimal approach to branding and fragrances, Antik Lakay uses a high-quality soy-wax blend and cotton wicks to craft its candles. This one, called Victory, features a blend of cocoa, Rose de Mai, and vanilla — formulated, Lakay says, to make you feel triumphant. These are currently available for preorder and will go into production the first week of September.
If you're on the hunt for candles to brighten up your space, consider this citron and mandarin candle from candle and home-goods brand ReBourné. Founded by Erin C. following a burn accident in 2016. All of the candles use cotton wicks (which are easier to maintain than wooden wicks) and natural soy wax, and promise a burn time of 40 to 50 hours.
Inspired by her Black and Afro-Dominican culture, Dawn Marie founded La Botica as a manifestation of her own self-care routine. The luxury-candle studio currently has an array of its vegan candles available for preorder, including this one inspired by the spirit of Morocco, which is a mix of fig leaf, galbanum, black currant, coconut, and cedarwood.
If you're looking for a candle that smells like warmth and fall, the Open candle from Predominantly Black (which sells a mix of candles, diffusers, and clothing) is made from a soy-coconut-blend wax and smells of smooth musk, vanilla sugar, jasmine, vanilla orchid, with base notes of cedarwood, and creamy vanilla.
Skin-care brand Gilded also makes eye-catching candles that are meant to be refilled or otherwise repurposed. The brand currently sells three marbled candles in black, white carrera, and pink, which can be filled with the scent of your choice, from lavender to fig.