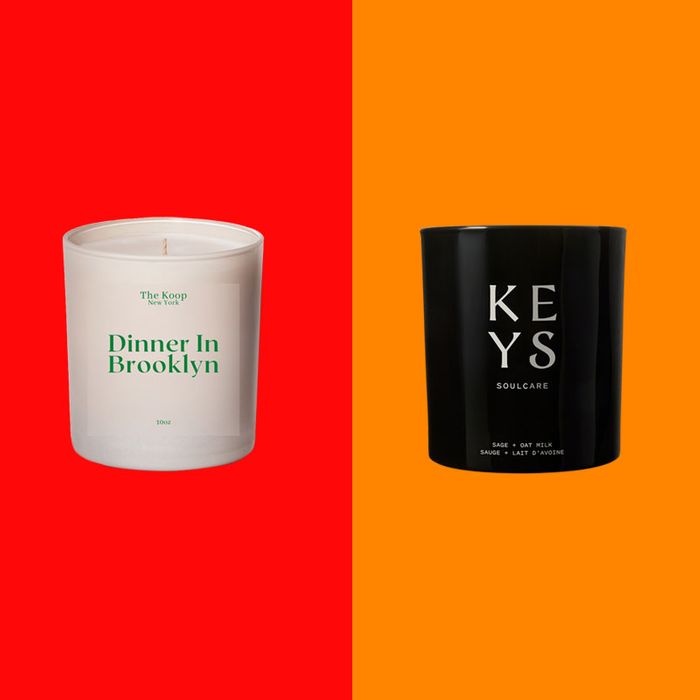 Photo-Illustration: The Strategist
For a relatively small item, candles are capable of doing a lot of work. They can shift the mood of a space, evoke a particular scent memory, or simply make a room feel a little warmer, brighter, and more inviting. And as we've continued compiling Black-owned businesses to shop at, candles have come up again and again. So, below is a selection from brands we've written about in the past, along with new ones we heard about from Beyoncé's "Black Parade" list, candle obsessives in our group chats, and our (rather candle-focused) Instagram feed.
Under $25
Brooklyn-based candle company the Koop makes affordable but luxe candles with names like Pillowtalk and 5 A.M. Club (which smell like amber and saffron and citrusy tomato, respectively). To bring a musky, smoky scent to your space, we recommend Dinner in Brooklyn, which has a smoke base and top notes of oakmoss, amber, and musk, along with cedar and suede middle notes to round out the scent.
Tyshaia founded La Roux after working at a perfumery in Italy, where she noticed a lack of affordability and representation in the fragrance space. Her brand seeks to address both, offering affordable candles (everything is under $25) designed with Black and brown people in mind. The brand currently offers four candles. This one, No. 4 Compassion, is meant to inspire self-love and has notes of citrus, black cherry, plum, vanilla, freesia, amber, and sugar.
228 Grant Street Candle Co. makes all-natural soy-wax candles with a simple formula: wax, wick, and scent. The candles are hand-poured and packed in Baltimore County. This one is inspired by the tropics and has top notes of melon and peach along with notes of plumeria flowers and jasmine.
Cavo is one of a few brands on this list that includes a playlist inspired by the candle's scent. After a Good Cry, for instance, is soundtracked by artists like Ann Peebles and Solange and, appropriately, has notes of rainwater, lavender, vanilla bean, and bourbon. You can also pick between two votive styles — glossy white and a frosty, matte translucent vessel, pictured here.
Yemmie started making candles mid-pandemic, and the brand officially launched last August with four signature scents reflecting different moods. Writer Jenna Milliner-Waddell is a fan of this particular one, which has notes of vanilla and cashmere. Plus, it comes with a crackling wood wick. True to its name, this candle is calming after a rough day, but Milliner-Waddell says it's the perfect complement to a pretty good one, too.
If you're on the hunt for candles to warm up your space, consider the Clarity candle from candle and home-goods brand ReBourné, which has notes of cinnamon, vanilla, sweet almond, ginger, and nutmeg. The company was founded by Erin C. following a burn accident in 2016. All of the candles use cotton wicks (which are easier to maintain than wooden wicks) and natural soy wax, and they promise a burn time of 45 to 50 hours.