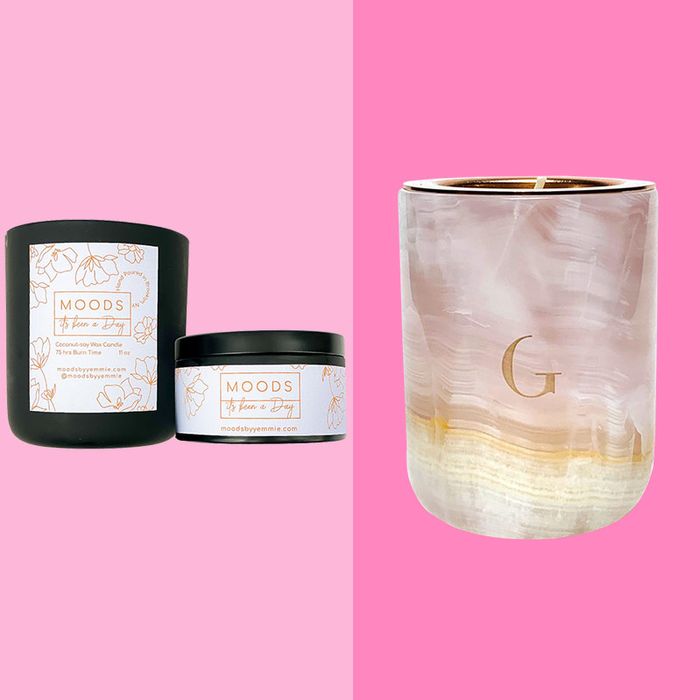 Photo-Illustration: retailers
For a relatively small item, candles are capable of doing a lot of work. They can shift the mood of a space, evoke a particular scent memory, or simply make a room feel a little warmer, brighter, and more inviting. And as we've continued compiling Black-owned businesses to shop at, candles have come up again and again. So, below is a selection from brands we've written about in the past, along with new ones we heard about from Beyoncé's "Black Parade" list, candle obsessives in our group chats, and our (rather candle-focused) Instagram feed.
Three young brothers – Collin, 15, Ryan, 12, and Austin Gill,10 – came up with Frères Branchiaux as a way to make money to buy video games after getting denied more allowance from their parents. We'd say it worked. In four years, they've gone from cooking up scents at home to being sold in Target. They have more than a dozen scents now, as well as other home fragrance products like diffusers and room sprays. The packaging, from the amber glass jars to the script font, makes it feel like it's straight out of a vintage apothecary. The all-natural ethos extends to the ingredients, too – the candles are 100 percent vegan and the containers are reusable and recyclable.
COOLGiRL thebrand launched earlier this year, making candles with 100 percent soy wax and natural cotton wicks. This candle has hints of cocoa butter and vanilla, and smells of "Black women and love," according to the company. The 9 oz version promises 40 hours of burn time, and it's available in 6 oz and travel tin sizes, too.
If you've ever been curious about what Issa Rae is burning at her house, it's likely September Sixth. Even before the actress tweeted her praise for founder Brittney Winbush's candles, they were selling out, so they're especially hard to find now. Good news, though: Rae's favorite is currently in-stock, and so are two other scents – but move fast, because they won't last.
Yemmie started making candles mid-pandemic, and the brand officially launched last August with four signature scents reflecting different moods. Writer Jenna Milliner-Waddell is a fan of this particular one, which has notes of vanilla and cashmere. Plus, it comes with a crackling wood wick. True to its name, this candle is calming after a rough day, but Milliner-Waddell says it's the perfect complement to a pretty good one, too.
[Editor's note: This particular scent is currently sold out, but plenty of other Moods by Yemmie scents — for good and bad days — are still in stock.]
If candles are part of your self-care ritual – and not just something you light to make your home smell good – you'll appreciate these scents from Spoken Flames. They come with audible affirmations accessible through an Instagram filter. In addition to helping you move through your day fearlessly, this candle will also bring a citrusy scent to your home.
Photo: retailer
Copper Wings Candle Co. launched in 2019 with a mission of making non-toxic, clean-burning candles. They developed these coconut wax-based candles with wooden wicks, which creates a charming crackling sound – and also, it turns out, aligns with their mission. According to the brand, wood wicks provide a cleaner smoke, leave little soot, and are natural as opposed to a traditional wick that needs to be covered in wax to burn.
Born out of a love for luxury fragrances and jazz is Olphactory Candles (their tagline – "An Ode to Jazz, Thru Wax" – pretty much says it all.) Most of the candles have music-inspired titles, like this one, which is inspired by jazz musician John Coltrane. Cole's Trane features notes of lime, coconut, vanilla, berries, verbena, and white grapes for a citrusy scent.
Bright Black candles will transport you. Their mission is to "make and share high-quality candles that honor the Black Diaspora," and many of their candles are named after and inspired by "cities of Black greatness" like Addis Ababa, Ethiopia; Durham, North Carolina; and Kingston, Jamaica. This Kingston candle will make you feel like you're on a Caribbean vacation with notes of rum-spiked, grapefruit-flavored Ting and sugar cane.
Founded by interior designer Neffi Walker, whose clientele includes Insecure's Yvonne Orji and Real Housewives of Atlanta's Porsha Williams, the Black Home sells hand-poured soy- and coconut-wax candles that feature warm, musky scents and promise at least 60 minutes of burn time. This particular candle is inspired by the Greek Goddess of love and pleasure, and smells of tuberose, lilac, Ylang Ylang, and sandalwood.
Johanna Howard sells a variety of homeware, including throws, pillows, and, of course, candles. The candles are hand-poured and crafted by her daughter, who started making candles when she was 8 years old. The soy-coconut candles use cotton-core wicks and phthalate-free oils and have names like "Herstory" and "Save the Turtles!!!" This one, for when your whole look has fallen right into place, has notes of ginger and lime.
Teri Johnson started luxury-candle brand Harlem Candle Company from her kitchen in 2014 and has since developed collections inspired by the Harlem Renaissance. Some are named after important figures like James Baldwin and Langston Hughes, while others are named for famous places like the legendary Savoy Ballroom. We particularly like the aforementioned Langston, a warm, layered candle with undertones of nutmeg, clove, leather, and amber. All of the 12-ounce candles promise an 80-hour burn time and are made from a soy blend.
We've previously written about these candles from Martinique-based brand Ysnay, which come in ceramic bowls that are art pieces in their own right. Made from a blend of soy and beeswax, they have a wood wick and a burn time of 70 hours, and they turn into a reusable vessel once the wax is all gone.
Another candle-as-art option is this one from Laguna Candles, founded by Sharie Hendricks in 2003. The brand collaborates with local artisans to create handblown and sculpted vessels and candles made from a soy-coconut-wax blend and unbleached cotton wicks.
228 Grant Street Candle Co. makes all-natural soy-wax candles with a simple formula: wax, wick, and scent. The candles are hand-poured and packed in Baltimore County. This one is inspired by the tropics and has top notes of melon and peach along with notes of plumeria flowers and jasmine.
Photo: CHRISTA ELYCE/Remodo Studio
Joyaa started Glow Candle Bar as a hobby, but it quickly turned into a full-fledged business. The brand sells candles made from a blend of coconut and apricot wax and essential oils sourced from all over the world. Every candle is hand-poured and comes in reusable glass metallic jars. Featuring a wood wick, this candle has base notes of vanilla, patchouli, and labdanum, along with notes of black rose, cumin, pink peppercorn, grapefruit, and plum.
[Editor's note: All of Joe + Monroe's candles are currently sold out, but you can sign up on the product page (of any candle) to be emailed once they're back in stock.]
With a minimal approach to branding and fragrances, Antik Lakay uses a high-quality soy-wax blend and cotton wicks to craft its candles. This one, called Growth, features a blend of fir needles, frankincense, and oud — formulated, Lakay says, to create year-round winters.