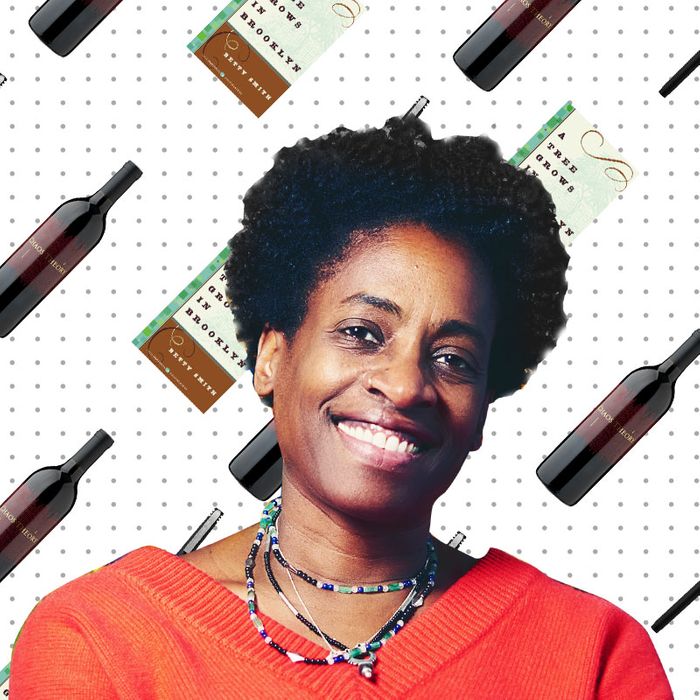 Photo: Tiffany A. Bloomfield
If you're like us, you've probably wondered what famous people add to their carts. Not the JAR brooch and Louis XV chair, but the hand sanitizer and the electric toothbrush. We asked Jacqueline Woodson, whose new novel Red at the Bone comes out today, about the book, wine, and pens she can't live without.
I just love these pens — I've been using Uniball for the past 15 years, probably. They have a fine point and it's so easy to write with them. I actually write both by hand and on the computer, so when I'm in the writing zone I don't even want to be aware of my pen, I want to just think of it as an extension of my hand. I have them at my desk, I have one in my pocket right now — they don't leak, so I don't worry about ink stains — and I have them on the standing desk upstairs, and I have them beside my bed.
We had stopped using our Soda Stream because we're boycotting it, and were without a soda maker. We drink a lot of seltzer and hate the idea of single use plastic bottles, so this came in the mail as a birthday present for my partner last September, and it's beautiful. We have a place up in Brewster, and we were actually putting it in our car and taking it back and forth, and then I just broke down and bought another one for up there.
Parnassus is one of my favorite bookstores. It's an independent bookstore in Nashville, Tennessee, and when I did an author visit there some years ago, they gave me this shirt. One of the things that makes it so special to me is the fact that Ann Patchett owns that bookstore and we go way back to the '90s. The connection between my writing life and my independent bookstore life is really deep because the independent bookstores were some of the first to really support me when the bigger bookstores were like, We don't know you from a can of paint. I just wear the Parnassus shirt all the time. I wear it when I go running, I wear it when I'm sitting on the stoop. I feel proud to have this huge Parnassus logo on my chest because it represents my love of independent bookstores.
Brown's is a black-owned vineyard in Napa Valley, and it's absolutely the best wine I've ever tasted. It's my favorite wine. Whenever there's a celebration, we bring out the Brown. Their zinfandels, their whites — every single bottle we open is amazing, and I love that it's a black-owned vineyard and the fact that it's small. It's the only wine that I order online. They have a 2016 cab that's great, and then they have a Big Dam Cab from 2014 — I don't drink it that often because it's $125. The one I get the most that I actually can afford is the Chaos Theory, which is only $40. These aren't wines you drink every day; these are wines that you have when some really good friends are over, and if they aren't really close you don't share it!
I have memberships to Apollo, Schomberg, BAM, the Botanic Gardens, and the Brooklyn Museum. I just love that you can get a membership and support the arts. It pays back, too: Not only am I supporting the arts, but I get to see shows that are discounted or free, and I get to be on the mailing list for all of these lectures. For a long time, especially when I was younger, I took for granted that these institutions existed and gave back to communities. They've made a huge difference in the everyday way of being able to afford New York City. I think a lot of people think they have to do something expensive to have a good time in this town, and that's not the truth.
Photo: GreggRichards/x-default
This is a copy that I bought recently from the Brooklyn Public Library. The book takes place in Williamsburg, and I grew up in Bushwick. It was one of the earliest books I read about a neighborhood in close proximity to where I was growing up, and even though there was a 40-year difference between when me and Francie were living, I just love that it's a story about this girl who loves reading, who loves sitting on her fire escape, who also loves spending time with her brother, who loves her Brooklyn neighborhood. Her life mirrored mine in so many ways, even though there was a racial divide and a divide in time between us. When I wrote Another Brooklyn it was paying homage to both James Baldwin's Another Country and Betty Smith's A Tree Grows in Brooklyn.
It's also great to be able to walk through neighborhoods that are so filled with literature. We have Community Bookstore in Park Slope, which is about four blocks from where I live, and then we have Greenlight Bookstore in Fort Greene; Word, which is in Greenpoint; and Stories Bookshop on Bergen, where I stop in whenever I walk by and get something for my son because I want to support the store. And on Fifth Ave in Brooklyn, we actually have a small independent comic book shop, too. I remember a time when independent bookstores were disappearing, and I love living in a time when they're expanding.