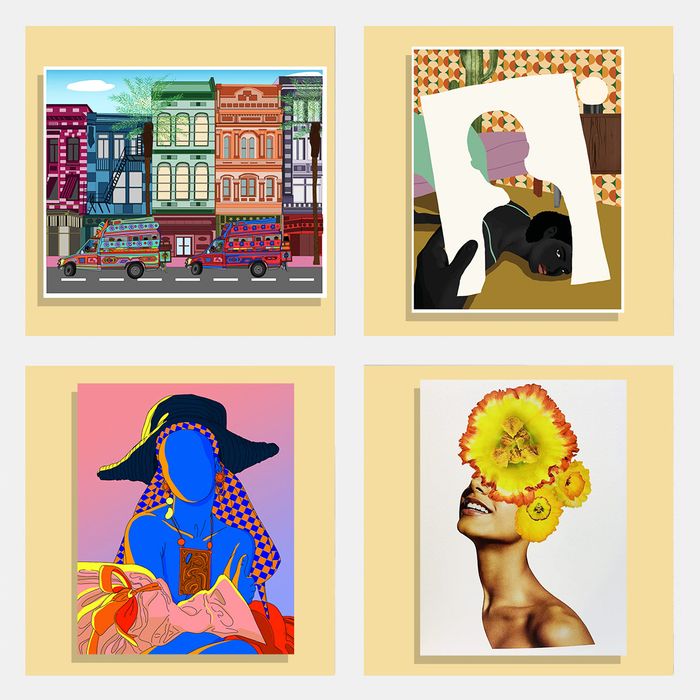 Photo-Illustration: The Strategist; Art: Retailers
After staring at the same four walls for the past year, we wouldn't blame you if you've decided you need a serious zhuzh in the wall-art department. We also wouldn't blame you if, after largely being stuck within those walls you've been staring at, you are lacking inspiration in terms of where to find things to display on them. To help you find the perfect piece, we perused the offerings of 32 Black illustrators, painters, and photographers to find prints and original artworks you can buy. (If your walls are, well, covered, we should note that any of these would also make a great gift for someone else.) Some of the things below come recommended by colleagues in New York Magazine's art and photography departments; some come from makers featured on our growing list of Black-owned businesses to shop at; and others come from scrolling through curatorial Instagram accounts like Muse Origins and It's Nice That, as well as through our own feeds. While what's here is just a toe dip into the world of Black-made wall art, we'll continue to keep our eye out for more eye-catching pieces and update this article when we find them.
Kenesha Sneed is a multidisciplinary artist who makes art, ceramics, and textiles under the name Tactile Matter. We think this calming, meditative design would add a soothing element to pretty much any room, although it may be especially functional hung within eyeshot of wherever you answer emails. The price shown is for an unframed 8x10 print (the smallest size available), but you can also get larger versions and choose to have them framed with UV-shielding plexiglass, archival acid-free foam-core backing, wall bumpers, and hanging hardware.
New York Magazine photo editor and digital illustrator Lyne Lucien sells a handful of her vibrant prints on Etsy. This absolutely delightful collage (which originally appeared on Vulture) depicts several of the most iconic and unhinged moments from Bravo's Real Housewives franchise. Each one of the limited-edition prints comes signed.
When she's not working at New York Magazine, Lucien also curates Instagram's Curator's Art Galore account. It's dedicated to showcasing artists of color, like Los Angeles–based illustrator Monica Ahanonu, who is known for her Pop Art–style portraiture and has recently published her third book of portraits, Icons: 50 Heroines Who Shaped Contemporary Culture. Via her Etsy shop, Ahanonu sells prints of her portraits — some of which are featured in the book — that depict such notable folks as Diana Ross, Rihanna, Britney Spears, Michaela Coel, and Tracee Ellis Ross (seen here).
Vox Media e-commerce coordinator Victoria Gaines tipped us off to the work of Adrian Brandon, who has been featured in Variety, Fast Company, and MSNBC. Brandon sells his art on greeting cards and as prints like this one from his "Brooklyn Windows" series, which depicts scenes from windows and fire escapes in monochrome. "His work is really beautiful and celebrates Black beauty and love," says Gaines.
Sabrena Khadija is a visual artist who specializes in digital illustrations and screen and risograph printing (the latter, to the unfamiliar, is a stencil-and-ink method of duplicating images). Any of the 12 affordable prints from her "Zodiac" series, like this Gemini one, would make for a great gift or fun way to zhuzh up a smaller space like a bathroom or reading nook. If you're not into astrology, Khadija also has plenty of other prints available at her Society6 shop.
Bronx-born artist Jayson Musson's work has been shown at New York City's Whitney Museum of American Art, the Museum of Contemporary Art Chicago, and the Contemporary Arts Museum Houston. This is one of two signed, limited-edition prints of his currently for sale at Absolut Art, which provides a certificate of authenticity with each purchase.
Illustrator Leica Lucien, a Strategist contributor (and Lyne Lucien's sister), makes a range of inclusive stickers and prints. If you want to hang a little slice of Brooklyn in your home, we love this print that recasts the borough's streetscape in more vibrant colors.
Dallas-based photographer and set designer Afritina Coker "specializes in art, fashion, and commercial portraiture," according to her website. This print from her "Handle W/ Care" series feels equal parts art and fashion and comes in two sizes: a smaller 11x14 inch (for $90) and a larger 16x20 inch (for $120).
Visual artist Sarah Huny Young describes their work as "primarily documenting and exalting Black womanhood and queer communities through portraiture and video." Inspired by Marie Antoinette, this portrait features models Remy Black, Jess A. Williams, and Camille West. It's sold in two sizes, a smaller 8x10 inch (for $40) and a larger 11x14 inch (for $50), and is printed on premium pearl luster paper.
Artist Shantell Martin is an adjunct professor at NYU who has had solo shows at the 92Y gallery, Albright-Knox Art Gallery, and MoCADA museum. She has also worked with brands like Nike and Tiffany & Co. and cool people like Kendrick Lamar and interior designer Kelly Wearstler. This print featuring her signature black-and-white linework comes framed, so you can hang it as soon as it arrives.
This print by digital collage artist Arya Haliba is one of several limited-edition works being sold as part of a collaboration between Galerie Number 8 and Nataal, a creative studio dedicated to African fashion, visual arts, music, and culture. Whether or not the image is your style, we suggest checking out the rest of the collaboration, which features unique T-shirts and sweatshirts in addition to lots more prints.
Editor's note: Galerie Number 8 lists prices in euros, so the price shown is an approximate conversion to U.S. dollars.
Arielle Bobb-Willis, who has shot for L'uomo Vogue and The New York Times Magazine, makes dreamy pictures that often blend the line between fashion and fine-art photography. Via Artsy, she is currently selling a limited run of prints of some of her most popular images, but you have to contact the retailer to get pricing.
Strategist writer (and resident illustrator) Liza Corsillo tipped us off to the work of New York City–based illustrator Daniel Fishel. It can be found on tote bags, apparel, stickers, face masks, and, of course, prints — like this lighthearted design that is just asking to be hung on a blank wall in a kitchen.
In addition to her woven pieces, textile artist Avery Williamson — whom former Strategist junior writer Kayla Levy interviewed for our story about what you need to get into weaving — also sells handmade earrings and original paintings via her Etsy shop. Each of these abstract drawings may only be the size of a five-by-seven-inch photo, but every one has enough visual interest to hold its own on any gallery wall. The price shown is for one, which Williamson chooses for you, making it a fun surprise when the package arrives.
[Editor's note: Williamson is taking a short break from her Etsy shop, but you can sign up here to be emailed as soon as she's back online.]
Artist Justina Blakeney, the founder of Jungalow — which sells housewares we've featured in roundups of living-room décor, affordable gifts, and ceramics — makes and sells lots of colorful prints, too. We like this one because it feels just trippy enough and would be a nice way to get some plant life into the home of anyone who lacks a green thumb.