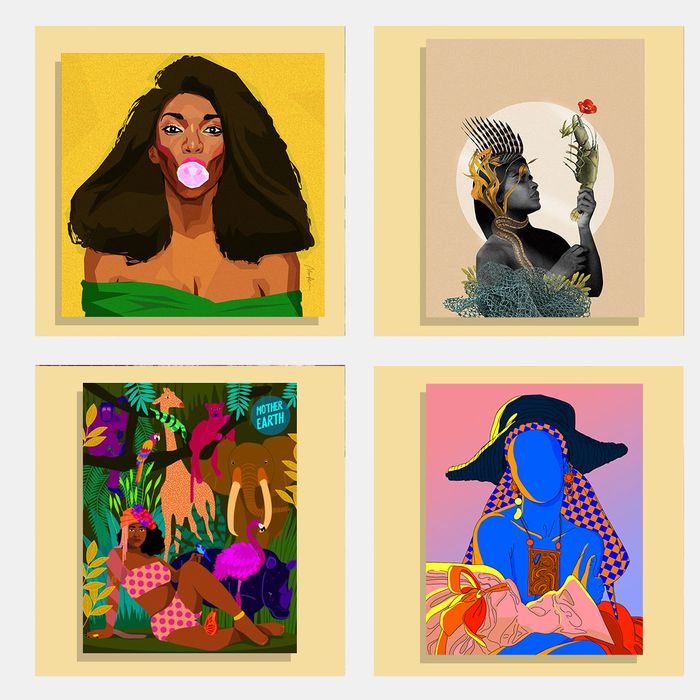 After staring at the same four walls for the past six months, we wouldn't blame you if you've decided you need a serious zhuzh in the wall-art department. We also wouldn't blame you if, after largely being stuck within those walls you've been staring at, you are lacking inspiration in terms of where to find things to display on them. To help you find the perfect piece, we perused the offerings of 31 Black illustrators, painters, and photographers to find prints and original artworks you can buy. (If your walls are, well, covered, we should note that any of these would also make a great gift for someone else.) Some of the things below come recommended by colleagues in New York Magazine's art and photography departments; some come from makers featured on our growing list of Black-owned businesses to shop at; and others come from scrolling through curatorial Instagram accounts like Muse Origins and It's Nice That, as well as through our own feeds. While what's here is just a toe dip into the world of Black-made wall art, we'll continue to keep our eye out for more eye-catching pieces and update this article when we find them.
Kenesha Sneed is a multidisciplinary artist who makes art, ceramics, and textiles under the name Tactile Matter. We think this calming, meditative design would add a soothing element to pretty much any room, although it may be especially functional hung within eyeshot of wherever you answer emails. The print itself is currently sold out, but you can still get different sizes of it framed (hence the higher price) with UV-shielding plexiglass, archival acid-free foam-core backing, wall bumpers, and hanging hardware.
Shantell Martin is an artist and adjunct professor at NYU who has had solo shows at the 92Y gallery, Albright-Knox Art Gallery, and MoCADA museum; she has also worked with brands like Nike and Tiffany & Co. and cool people like Kendrick Lamar and interior designer Kelly Wearstler. This print featuring her signature black-and-white linework is signed and numbered. It comes framed, so you can hang it as soon as it arrives.
Photo: retailer
New York Magazine photo editor and digital illustrator Lyne Lucien loves Monica Ahanonu, a Los Angeles–based illustrator known for her Pop Art–style portraiture who recently published her third book of portraits, Icons: 50 Heroines Who Shaped Contemporary Culture. Via her Etsy shop, Ahanonu sells prints of her portraits — some of which are featured in the book — that depict such notable folks as Diana Ross, Rihanna, Britney Spears, Tracee Ellis Ross, and Michaela Coel (seen here).
Photo: retailer
According to her site, London-based illustrator and maker Naomi Anderson-Subryan is "a kitsch enthusiast, lover of color, and collector of bric-a-brac." Her cheerful ceramic pieces and prints often include animals, like this one featuring a fancy poodle that Liza Corsillo — Strategist writer, resident artist, and poodle owner — is longing for.
Corsillo also told us to check out New York City–based illustrator Daniel Fishel's work. It can be found on tote bags, apparel, stickers, face masks, and, of course, prints — like this lighthearted design that is just asking to be hung on a blank wall in a kitchen.
Photo: retailer
In addition to her woven pieces, textile artist Avery Williamson — whom Strategist junior writer Kayla Levy interviewed for our story about what you need to get into weaving — also sells handmade earrings and original paintings in her Etsy shop. This abstract one is aptly titled Fighting and Laughing and Plotting in Quarantine and has enough visual interest to hold its own on any gallery wall.
Photo: retailer
Over at the Cut, Andrew Nguyen covered a "pro-sex, anti-fascist" print sale organized by do-good organization Towards Utopia. According to him, the sale's proceeds will benefit three grassroots organizations: G.L.I.T.S. (Gays and Lesbians Living in a Transgender Society); SWOP Brooklyn, which provides financial assistance to sex workers in New York City; and For the Gworls, which raises money for Black trans people's rent and gender-affirming surgery. This Marie Antoinette–inspired portrait of model Remy Black — one of 26 prints from the sale — is by sarah huny young, whom Towards Utopia calls "an award-winning visual artist primarily documenting and exalting Black womanhood and queer communities through portraiture and video."
Artist Justina Blakeney, the founder of Jungalow (which sells housewares we've featured in roundups of living-room décor, affordable gifts, and ceramics), makes and sells lots of colorful prints too. We like this one because it feels just trippy enough and would be a nice way to get some greenery into any homes that lack a green thumb.
Photo: retailer
Speaking of just trippy enough, this print inspired by the FKA Twigs album Magdalene comes suggested by New York Magazine's art director and visuals lead, Stevie Remsberg. Blacksneakers is a North Carolina–based illustrator and painter whose work has also been featured on the Cut. Her art — which typically features figures in vibrant colors — is available to buy on her site in the form of prints, original paintings, and even tattoo designs.
If you want something that isn't a regular print, Cynthia Gordy Giwa, co-creator of the digital publication Black-Owned Brooklyn, told us she has this pennant from textile artist Rochelle Negron hanging in her living room. "You can celebrate that you're still here, and you can show up even when it's hard," she says. "It's been a very grounding and centering meditation for me to sit with at this time."
This geometric print, also recommended by Remsberg, comes from Instagram-famous artist KaCeyKal! It has a Matisse-but-cooler quality to it, likely because we haven't seen it hanging in everyone's apartment (yet).