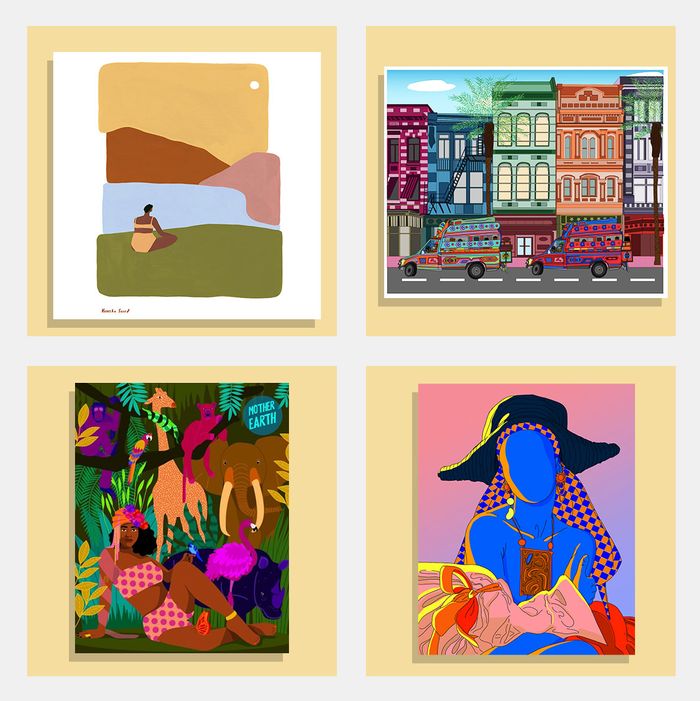 Photo-Illustration: The Strategist; Photos: Retailers
If you've outgrown that Matisse print or had the same map of Paris since college, now's as good a time as any to refresh your art. To help you zhuzh up your walls, we perused the offerings of 31 Black illustrators, painters, and photographers to find prints and original artworks you can buy. (If your walls are, well, covered, we should note that any of these would also make a great gift for someone else.) Some of the things below come recommended by colleagues in New York Magazine's art and photography departments; some come from makers featured on our growing list of Black-owned businesses to shop at; and others come from scrolling through curatorial Instagram accounts like Muse Origins and It's Nice That, as well as through our own feeds. While what's here is just a toe dip into the world of Black-made wall art, we'll continue to keep our eye out for more eye-catching pieces and update this article when we find them.
Kenesha Sneed is a multidisciplinary artist who makes art, ceramics, and textiles under the name Tactile Matter. We think this calming, meditative design would add a soothing element to pretty much any room, although it may be especially functional hung within eyeshot of wherever you answer emails. The price shown is for an unframed 8x10 print (the smallest size available), but you can also get larger versions and choose to have them framed with UV-shielding plexiglass, archival acid-free foam-core backing, wall bumpers, and hanging hardware.
New York Magazine photo editor and digital illustrator Lyne Lucien sells a handful of her vibrant prints on Etsy. This absolutely delightful collage (which originally appeared on Vulture) depicts several of the most iconic and unhinged moments from Bravo's Real Housewives franchise. Each one of the limited-edition prints comes signed.
When she's not working at New York Magazine, Lucien also curates Instagram's Curator's Art Galore account. It's dedicated to showcasing artists of color, like Los Angeles–based illustrator Monica Ahanonu, who is known for her Pop Art–style portraiture and has recently published her third book of portraits, Icons: 50 Heroines Who Shaped Contemporary Culture. Via her shop, Ahanonu sells prints of her portraits, abstracts, and fashion illustrations.
Vox Media e-commerce coordinator Victoria Gaines tipped us off to the work of Adrian Brandon, who has been featured in Variety, Fast Company, and MSNBC. Brandon sells his art on greeting cards and as prints like this one from his "Brooklyn Windows" series, which depicts scenes from windows and fire escapes in monochrome. "His work is really beautiful and celebrates Black beauty and love," says Gaines.
Ashleigh Corrin is a children's-book illustrator who won the 2020 Ezra Jack Keats Illustrator Award with her first book, Layla's Happiness. Though Corrin often depicts joyful moments in childhood, it doesn't need to be confined to a nursery. Corrin's work is thoughtful, and her bold color choices will brighten any space. She offers her framed prints in miniature sizes (4x4 inches and 3x4 inches), which is convenient if your walls are already covered with art or if you only have a small area to work with.
Sabrena Khadija is a visual artist who specializes in digital illustrations and screen and risograph printing (the latter, to the unfamiliar, is a stencil-and-ink method of duplicating images). Any of the 12 affordable prints from her "Zodiac" series, like this Gemini one, would make for a great gift or fun way to zhuzh up a smaller space like a bathroom or reading nook. If you're not into astrology, Khadija also has plenty of other prints available at her Society6 shop.