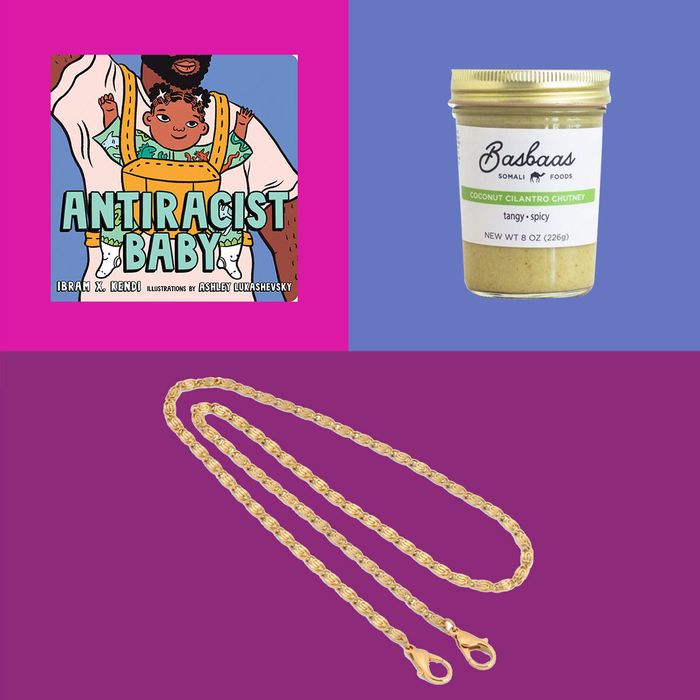 Photo-Illustration: retailer
We're all thinking differently about spending money right now. But that doesn't mean we have to stop giving gifts. In fact sending small presents to friends you haven't seen in months can feel pretty darn good. Thankfully the most meaningful gifts aren't necessarily the most expensive ones, but they are usually something that brings a friend or family member joy while also supporting an amazing person or business. With that in mind, we searched our ever-growing list of Black-owned businesses to find a wide variety of great gifts under $50 for every occasion — from a toddler's birthday party or a best friend's housewarming to a wedding anniversary or virtual wedding.
Like crystals, these rings made entirely from semi-precious stones are said to help bring the wearer peace and balance. Agate soothes and calms, healing inner anger or tension and creates a sense of security and safety — a perfect gift for these uncertain times.
This striking vase is a great way to complement the anniversary flowers you plan on giving your partner.
From Crown Heights–based Marché Rue Dix, this moisturizing rose oil would make a luxurious gift for anyone looking for a two in one fragrance and anti-aging facial oil.
Speaking of dual purpose, 365 Body Love's beard and face wash is good for men who don't like spending a lot of time on grooming. It removes daily dirt and oil buildup from skin and facial hair while providing softness, shine and moisture with the refreshing smell of peppermint and eucalyptus.
This Kenyan dancing person keychain is made using colorful ceramic beads that are skillfully handcrafted and hand-painted by female artisans in Nairobi. It can be used for keys of course but also as a pendant necklace or bag charm.
Stylish friends and family will appreciate this made-in-the-USA ball cap with two embroidered elephants from menswear brand and retail shop Brooklyn Circus.
Alaffia focuses on fair-trade natural hair, face, and body care products sourced from cooperatives in West Africa. This bubble bath is made with lemon balm, eucalyptus oil, and certified organic and fair trade unrefined "raw" shea butter to keep baby's skin soft and moisturized.
Any new parents on your list will love this newly-released board book on raising antiracist children from New York Times bestselling author Ibram X. Kendi. Inside they'll find nine easy first steps to creating a more equitable world.
This Little Likes Kids memory game with original artwork depicting families of mixed race and ethnicity dancing and playing music will delight both toddlers and their parents.
We found this set of durable, ecofriendly dinner plates at Black-owned home goods store Goodee, which is full of excellent gifts. These plates, made in collaboration with illustrator Kelly Knaga, are perfect for outdoor summer dinners and would make anyone from age 2 to 102 very happy.
Masks are a thoughtful gift that help stop the spread of coronavirus. They're also a new and exciting fashion accessory. These bright patterned batik masks will earn your giftee compliments for days.
And you'll still spend less than $50 bucks if you throw in a gold-dipped mask chain too.
Artist Justina Blakeney's colorful cactus print from home-décor shop Jungalow will brighten anybody's day.
So would this spicy-sweet chutney from Somali hot-sauce brand Basbaas.