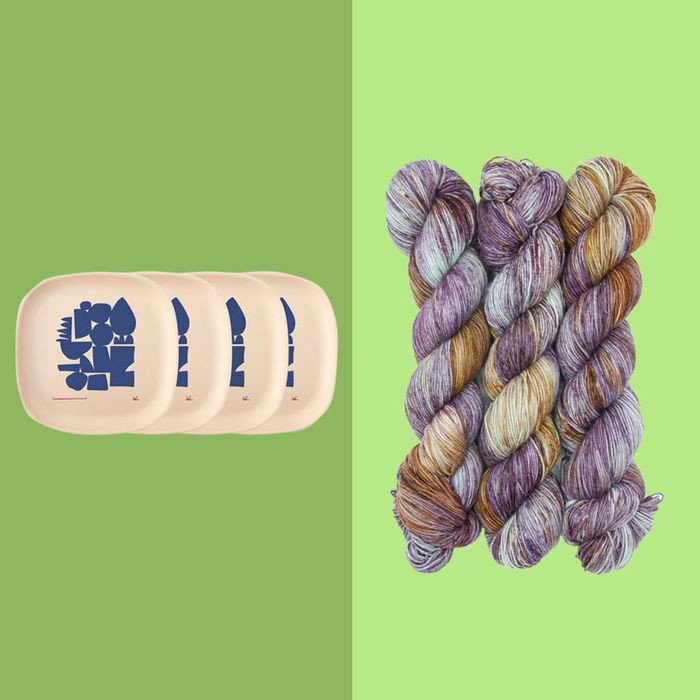 Sending small presents to loved ones you haven't seen in months can feel pretty darn good. The most meaningful gift isn't necessarily the most expensive one, but something that, regardless of price, brings a friend or family member joy. No matter what that thing is, we've met few (if any) people who don't appreciate when it comes from a small business: In addition to the joy of receiving the gift, your recipient will surely be delighted by knowing its purchase supports a hard-working entrepreneur. With that in mind, we combed our ever-growing list of Black-owned businesses to find great gifts under $50 for every occasion — from a toddler's birthday to a friend's housewarming to an anniversary.
These bento boxes from Goodee, a shop founded by twin brothers Byron and Dexter Peart, are the perfect thing for a co-worker or family member who is returning to the office (or just likes to eat their WFH lunches at a park).
This zine from Philadelphia-based shop Yowie is just the thing for the friend who always has a loaf of bread cooling on the counter. As the retailer notes, "Each zine features a different grain and imaginative ways to use them at home."
Brother Vellies, founded by Aurora James, is known for its fine leather goods, like handbags and shoes. If those are out of your budget, the brand's exceptionally cozy Cloud Sock — which comes in 17 different colors — would be a can't-miss gift.
If your recipient is all set with socks, here's something just as comfy: a pair of breezy linen boxers from Linoto that are ideal for lounging.
Tonya Lewis Lee, the wife of Spike Lee and founder of Movita Organics, told us New Secrets Tea is one of her favorite Black-owned beauty and wellness brands. "Instead of grabbing a cup of coffee in the middle of the day," Lee says she'll brew a cuppa of this green tea, which contains peppermint, "to keep me energized and alert." Should you want to shop around, Lee adds that all the brand's teas "blend ingredients known for their positive effects on both the physical and mental well-being."
Photo: Retailer
If they prefer lattes, this turmeric-latte blend from Golde will satisfy their cravings without feeding a crippling caffeine addiction. Former Strategist intern Aisha Rickford calls it her "go-to for calming my stomach, clearing my skin, boosting my energy, and even serving as the secret ingredient in lots of my homemade baking recipes."
If you're going to a dinner party, chances are the other guests are already bringing a bottle of wine for the host. Less expected would be this bottle of bright kombucha vinegar, which can be used to finish off a main course or as an unexpected splash in cocktails.
For the person who writes everything down, these travel journals will fit easily into any bag so they can note-take on the go. You can even throw in a six-pack of Be Rooted pencils and still be under budget.
If it's their lips that are always dry, Gabrielle Union swears by this brand's balm.
This oil would be a thoughtful idea for anyone who loves hair care or has sensitive strands (or a sensitive scalp). Elisa Johnson swears by it, telling us, "The product's formula contains CBD, an ingredient that many brands promise will reduce anxiety and also soothe physical pain. While I can't speak to its effectiveness in other products, I will say the Frigg oil's formula is instantly soothing on my scalp and leaves it feeling less dry after each use. I have also noticed that it reduces itchiness and other scalp discomfort that I can often experience."
Union also swears by these woven pouches for carrying everything from her daughter's snacks to her lipstick. (New York Magazine deputy editor Alexis Swerdloff loves 'em, too.)
These rings made entirely from semi-precious stones are said to help bring the wearer peace and balance. Agate purportedly soothes, calms, and creates a sense of security and safety — a perfect gift for anyone in these uncertain times.
Effortless Composition's set of conversation-starting coasters would make a lovely gift for someone who just moved, especially if they're planning to host a housewarming party.
From Crown Heights–based Marché Rue Dix, this moisturizing rose oil is a great (and luxurious) gift for someone who appreciates twofers because it's both a fragrance and anti-aging facial oil.
Each of these dancing person keychains is made using colorful ceramic beads that are handcrafted and hand-painted by female artisans in Nairobi. Your recipient can use it for keys, of course, but also as a pendant necklace or bag charm.