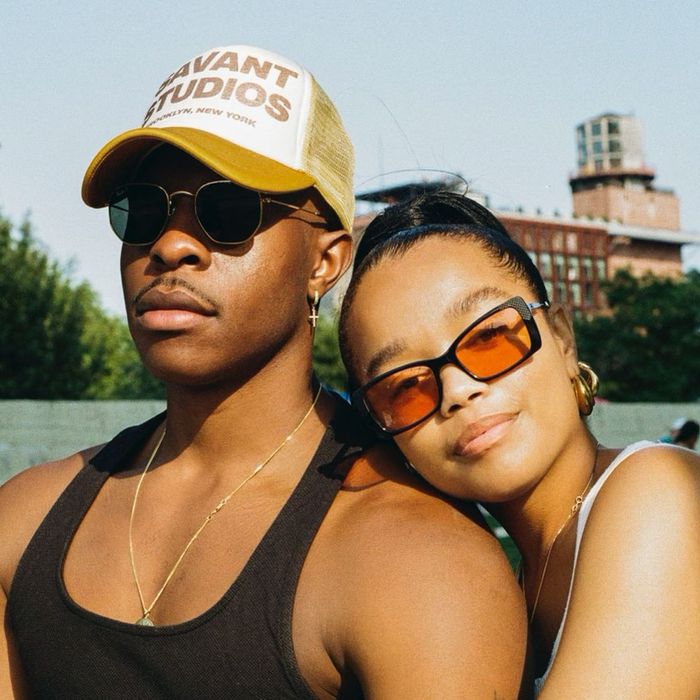 I can't remember the very first time I saw the Savant Studios trucker hat, but once I noticed it, it seemed to be everywhere. Always at well-dressed, cool-people watering holes like Tompkins Avenue on a warm day or in the crush of bodies at Cafe Erzulie. One time, I saw three in a single day, and at that point I knew one of two things had happened: Either I had missed an important trucker hat–purchasing meeting or it was blowing up. Taylor Douglas, a stylist and founder of pop-up thrift shop Second Touch, confirmed the latter. She received one as a gift two years ago and says she's noticed a big uptick in hat sightings since then. "They're everywhere now. If you go to a festival or block party, somebody's wearing Savant." Content creator Skylar Marshai also noted an increase. While at the Lay Out over Juneteenth weekend, she said Savant hats were in abundance. I was also there and counted eight in a two-hour span — and never the same color twice.
The hat, with its blocky type and curved brim, is a versatile accessory. I've seen it used as a pop of color, peeking out from beneath a puffy scarf in the winter or paired with a black tank top in 80-degree heat. It accessorizes box braids and hugs afros, obscuring the forehead but announcing the wearer's affiliation, saying something about the kind of person you are, or perhaps aspire to be. For director Jared Royal, who bought his hat last September, it's a statement about craft. "It means connecting to people who have foresight or focus on the mastery of a skill. It's in the name," he says. "A nod to kindred spirits." For Alex, a creative director at TikTok, it means family. "It's an invisible string that ties us all together."
As the brand's popularity grows (I recently saw musician PJ Morton wearing a trucker in a TikTok and Tom Holland was spotted wearing a Savant Studios T-shirt courtside back in May), so does the cool factor, which seems antithetical to the way "cool" things remain "cool." As much as people have become more interested in shopping secondhand for the sustainability factor, anyone who tells you they don't get a thrill from saying, "It's vintage," is lying. "People usually hate when they are caught wearing the same thing because it attacks their idea of individualism," says model-actor CJ Hart, but he's noticed the reaction is different with Savant. Recently he saw someone else wearing the trucker around Bed-Stuy, and they scanned each other's outfits before offering head nods of approval. It's a signal of belonging, of community, a sign that a beloved Black-owned brand is thriving. Savant eschews celebrity gifting and splashy marketing campaigns. Everyone who purchases has come to the brand organically, which makes a noticeable difference in the way it's received.
Talking to the brand's fans is like tapping into a secret society. Words like family, community, and safety are thrown out unironically — words I often reserve for sacred spaces like my nail salon and my friend Adrienne's very spacious backyard. But a $50 hat? Exchanging money for identity begs for me to make a meta point about capitalism and third spaces and one thing squashing the other. But talk to a Savant fan and you'll soon realize the hat is a shorthand for family and community because behind the brand, which also makes Moesha T-shirts and handcrafted leather bags, there's a shop in Bed-Stuy that people spend their Sundays in and an owner named Mike who everyone seems to know.
The store is a space where people can shop or chop it up with Mike and the Savant team. "It's like a hub for creative people to hang and talk and share ideas," says Royal. There, Sundays are sacred. Every week, Mike and the team host Sunday Vibes, a weekly gathering where creative types are invited to come by and chill. It started informally as a way to facilitate space for the crowds that wandered in post-brunch or after a block party. Now it's become a reliable venue for conversations about culture. Sometimes there are tears, sometime's there's a performance, says Mike. "It's somewhere artists can pour their hearts out," Hart tells me, and feel safe doing it. Usually there's a theme. Sometimes people buy things. Occasionally there's a celebrity sighting, with friends of the brand like Zendaya and Michaela Coel stopping by.
If you happen to visit Savant Studios, located on a busy strip of Fulton Street between an African braiding shop and a hair salon, you'll notice there are truckers everywhere. I count seven on the front table, and no two are the same. There's cream and pink, cream and baby pink, burgundy on burgundy (the monochrome hats have velvet lettering), and orange and cream. And there are more truckers still: plopped in between a bouquet and an antique vase (green with cream), on top of an old leather suitcase (cream with green), inside of a fridge. There's one to match virtually any outfit you can come up with, and if it doesn't exist yet (or is sold out), there's a chance Mike will make it on the spot. A handful of people I spoke to said they got their hats this way, including the breakout star of Netflix's messiest reality show, The Ultimatum, Mal Wright. Last summer she stopped in at Savant while hunting for a birthday outfit and the hat she wanted (black with white lettering) was out of stock. Mike went into the back, printed it on a blank, and gave it to her as a gift. "It's really special to me," she says.
This isn't the first time Savant has released a cool hat. The brand's first hit was the Black is Beautiful bucket, which it released in 2020. It was a perfect storm. Bucket hats were cool again (the Cut had mused that it could be the "It" accessory of summer 2018) and the country was in the midst of a racial reckoning. While white people were listening and learning, some Black people (myself included) were looking for ways to say loudly that we're Black and proud of it. In that period, I bought lots of things that asserted my Blackness as worthy and valid, including a Nina Simone T-shirt from Savant. That shirt continues to be one of their most popular styles. It was a spiritual predecessor to the trucker, and when I spoke to people who ended up purchasing the trucker hat, they often mentioned the Black is Beautiful hat first. Dan Brown, a wardrobe stylist and nail artist, who has been following the brand since the bucket era says lots of color options and the popular trucker silhouette make this hat a hit. "I saw people out in the bucket hats and it was cool, but once they tapped into the truckers, things really took off," she says. "There's something for everyone."
Mike came up with the idea for the hat on a whim. He figured it would be a cool style for summer. Trucker hats, a Y2K fashion staple popularized by Skateboard P and Von Dutch, were coming back around. Initially, Mike made two dozen. "I was just messing around," he tells me, but after two days they were sold out. They made another batch and those sold too. "I was like, What's going on? We couldn't keep them [in stock]." It got so popular that they had to move production from a local Brooklyn manufacturer to the Savant store. They've been making hats every day since. Most recently, Savant released a "forever trucker," a $500 one-of-one collectible that's adorned with vintage bracelets that Mike sources himself. Those were launched back in April and despite the price point, the hats are all sold out online. If you'd still like to purchase, there's a few left in-store.
Despite shipping internationally, the hat signifies Brooklyn — an if-you-know-you-know calling card for its Black creative residents, whether they're in the city or outside of it. Of the three people I talked to who own the hat and live outside of New York (Chicago, Atlanta, and Houston), only one has no connection to the city and had come across the brand on Instagram. A few weeks ago, Brown found herself at Ponyboy in Greenpoint, which she says has a varying crowd from night to night. When she walked in, she noticed a guy wearing a Savant hat and thought, Oh okay, this is safe, she said. For some it serves as a reminder of where they've been. Writer and founder of Black Girl Playground Aley Arion moved to Brooklyn by way of South Carolina and then moved back down South. She bought the hat after leaving the city. "It's just nice to have a little piece of it even though I'm not there anymore."
On a recent trip to Paris, Alex saw a guy wearing one outside of Soho House. It sparked a conversation and she soon realized he was also from Brooklyn and lived in Bed-Stuy. "I just felt like I was home."
The Strategist is designed to surface the most useful, expert recommendations for things to buy across the vast e-commerce landscape. Some of our latest conquests include the best acne treatments, rolling luggage, pillows for side sleepers, natural anxiety remedies, and bath towels. We update links when possible, but note that deals can expire and all prices are subject to change.