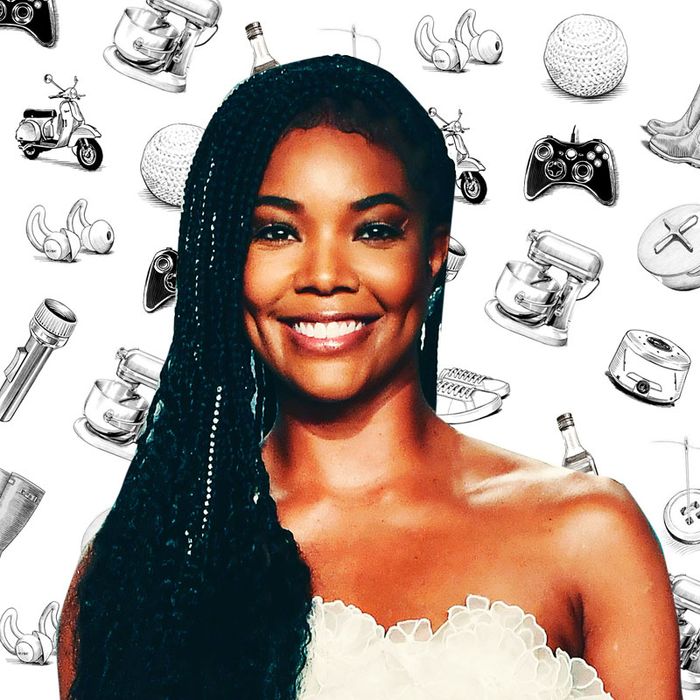 If you're like us, you've probably wondered what famous people add to their carts. Not the JAR brooch and Louis XV chair but the hairspray and the electric toothbrush. We asked actress Gabrielle Union — whose summer collection, designed in collaboration with New York & Company, and book, Welcome to the Party, are out now — about the makeup remover, bronzer, and pitcher she can't live without.
Photo: Retailer
We had to figure out how to entertain ourselves during quarantine, so we started doing sunset cocktails about two months ago. A number of adults are quarantining with us, so we really needed this pitcher. You can get maybe seven or so pours out of it? I will admit I'm super-biased: Chrissy is a very good friend of mine, and I love everything she does. No one hosts a party like Chrissy, and her brand springs from who she actually is in real life. So if you're a hostess with the mostest, you can't find anything better than Chrissy's products because she actually designs for the party. I used to be the bartender for our sunset cocktails, but apparently my cocktails are a little too strong. I also lost pouring privileges because I'm too heavy of a pourer. My family was like, "Okay, ma'am, some of us want to function after sunset cocktails."
As a woman of a certain age, my hormones can kind of dictate what is happening with my skin. Sometimes I'm successful in balancing them out, but other times I'm not. My makeup artist on L.A.'s Finest introduced these wipes to me, and I started buying them in bulk. I keep them in the car. I keep them in my purse. I use them after workouts. Even when I don't have makeup on, I use them because they're like a little refresher. And they smell like a spa. They have aloe and chamomile and cucumber extract, so they're super-soothing, especially when I'm having a breakout or I've got a little rash or whatever. I always have something these days.
Even though Rihanna's foundations are bomb, I don't always love a full face of makeup. But for all the Zooms, it's nice to have a little something. This is my go-to daily jam — it's an everyday thing for me. It's very easy to use when you have a baby and kids running around in a household. It blends well and lasts all day.
I get most beauty-product recommendations from my makeup artist. I'm with her 12 to 16 hours a day for months at a time when I'm working, so we're just always talking about products. She suggested this to me at a time when my skin was so dry it was literally cracking. I usually use it two or three times a month, depending on how dry the weather is. I put it on a little washcloth and go to town. It removes all of my dead skin, and I feel so hydrated after. The company is cruelty free, phosphate free, paraben free, sulfate free — basically just free from any type of toxins and GMOs and all that other bad stuff.
What bathing suit I wear really depends on who's around. If the teens have friends over — we just started to allow for one or two friends who quarantined to come over — the older ones are like, "Can you not with the thirst-trap bikini?" But if it's just me and Dwyane or my sister out in the pool, I'm definitely rocking my Empress bikini. It's for people who want to celebrate their curves and are okay with their bodies and however big or small their tush is. This is a very Miami brand, and the beauty of Miami in general is that there's zero body shaming on the beaches — everyone is very inclusive of all body sizes. Wearing this takes me back there.
They're just really fun and different and kind of wacky. Stance really goes there with their socks — they're true disruptors in the marketplace. And they're sexy, too. I tend to wear them for Dwyane or when I just want to feel sexy for my own damn self. I first started looking at the knee-highs when Rihanna did a collaboration with Stance. And I haven't looked back since. They're so dope.
I have to give all praise to Pat McGrath, the queen of makeup. I could literally go down a rabbit hole of everything that she's put out and why I love it. I've been lucky enough to meet her, and she's amazing — you just fall in love with her. Lip Fetish is for when I'm feeling like I need a little oomph for my Zooms or just for myself — I'll sometimes put it on when I have my sexy knee-highs on. I'm always really feeling myself when I wear it, like, Oh okay, girl, okay, okay, okay! I like that it comes in a variety of shades. It's a really cool mix of a hydrating lip balm and a lipstick without being goofy.
Like most things, I found this brand on social media. I just started looking at the hashtags for turbans or head wraps or something and then I entered into Grace Eleyae's world. Kind of like with Pat, once I fall in love with the person behind the brand, everything else is just a bonus. Grace has the best turbans and headbands and wraps in literally every print you can think of and every color. They're very smartly designed. I'm a natural-hair girl — I stopped using relaxers many, many moons ago — so having that extra protection from the silk lining for your natural hairstyle is key. She has them for kids, too, so on those rare occasions, me and Kaavia will be twinning. To me, nothing is chicer and gives me more pride than wearing one of her turbans or head wraps.