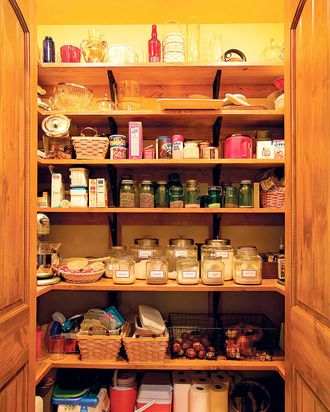 Photo-Illustration: Netflix
Some people's idea of a winter getaway is fleeing somewhere warm. Others, though, like to lean into the season — heading somewhere cold and renting a house to hole up in. If that's your cup of tea — whether you're planning to spend your vacation skiing down snowy slopes, exploring a new city by foot in your puffiest coat, or just spending all your time reading by the fireplace — there's nothing quite as good as getting cozy, turning on the oven, and cooking dinner at the end of the day.
No matter where you are or what you're doing, though, you'd be wise to bring along your own kitchen essentials. Rental kitchens are rarely well-stocked. You don't need to replicate your home kitchen, of course, but a tiny pot and dull knife will not get you very far.
With that in mind, we reached out to several chefs to get their recommendations on what tools and pantry items are nonnegotiable to pack along with your sweatpants and boots (and we even culled our archives for some travel-worthy goods from stories past). Here's everything you could possibly need.
Tools
Knives you find in a rental house are usually dull. So bring your own chef's knife (and maybe invest in a knife roll to prevent it from slipping out and accidentally cutting someone). "One of our favorite knife brands is Shun, but pretty much any sharp knife will do," say Elise Kornack and Anna Hieronimus, who ran Michelin-starred restaurant Take Root. "This size of chef's knife is very versatile, and can come in handy for anything from chopping fresh herbs to breaking down a chicken. Plus, a good chef's knife is a great investment." For her part, Emily Fiffer, co-owner of Botanica in Los Angeles, uses a vegetable butcher's knife, which is more of a small cleaver with a thin blade. It's particularly great for cutting vegetables, which is what Fiffer mainly works with, but just as versatile as a chef's knife if you need to handle a delicate task, or cut up a piece of fish.
A rental may very well have a cutting board, but it's hard to be sure how much a cutting board has been used or how well it's been cleaned. So bring your own. "It's important that you have a fresh and clean surface to prep meals," Kornack says. "Personally, we like wood because it's less slippery."
Photo: retailer
Instead of bringing a carful of paper towels to your rental, consider the humble, eminently reusable bar towel, a staple of any restaurant or bar. "These towels are zero waste and are super inexpensive for a dozen," Kornack and Hieronimus say. "They can be reused and washed over and over."
Of all the kitchen tools that may be missing at your rental, a good can opener is one of the most likely objects you won't be able to find. Plus, as Hieronimus and Kornack point out, "they can also double as a bottle opener."
Sheet pans are a kitchen workhorse, ideal for roasting vegetables or fish, toasting nuts, baking late-night chocolate-chip cookies, and so much more. Fiffer is a fan of quarter sheets (half the size of the standard baking sheets you find in most kitchens). "Not only are they easier to travel with," she says, "but you can roast multiple things in your oven at the same time and take each one out as needed."
If you're starting to worry about how you're going to fit all this stuff into the trunk of your rental, don't. Last winter, Hieronimus's mom gifted her this multi-tool, which features a cheese grater, zester, garlic crusher, channel knife, small paring knife, serrated knife, peeler, fork, spoon, bottle opener, corkscrew, and can opener. "We take it everywhere we go," says Hieronimus. "It has everything you need to prep an entire meal, whether you're in a rental or by the campfire." Plus, it's stainless steel, so it won't rust.
While the above tool really does it all, Fiffer prefers to just bring a microplane. "You can use it to grate garlic for a vinaigrette or aioli. You can use it to zest citrus, which makes pretty much everything taste better. And you can even use it for cheese," she says. "Basically, it's the ultimate garnisher."