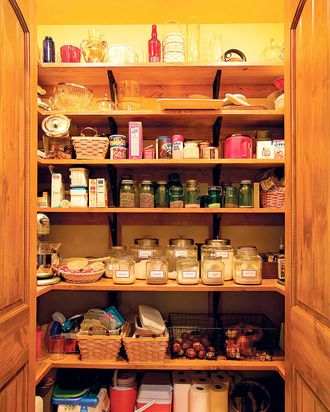 Photo-Illustration: Netflix
Some people's idea of a winter getaway is fleeing somewhere warm. Others, though, like to lean into the season — heading somewhere cold and renting a house to hole up in. If that's your cup of tea — whether you're planning to spend your vacation skiing down snowy slopes, exploring a new city by foot in your puffiest coat, or just spending all your time reading by the fireplace — there's nothing quite as good as getting cozy, turning on the oven, and cooking dinner at the end of the day.
No matter where you are or what you're doing, though, you'd be wise to bring along your own kitchen essentials. Rental kitchens are rarely well-stocked. You don't need to replicate your home kitchen, of course, but a tiny pot and dull knife will not get you very far.
With that in mind, we reached out to several chefs to get their recommendations on what tools and pantry items are nonnegotiable to pack along with your sweatpants and boots (and we even culled our archives for some travel-worthy goods from stories past). Here's everything you could possibly need.
Tools
Knives you find in a rental house are usually dull. So bring your own chef's knife (and maybe invest in a knife roll to prevent it from slipping out and accidentally cutting someone). "One of our favorite knife brands is Shun, but pretty much any sharp knife will do," say Elise Kornack and Anna Hieronimus, who ran Michelin-starred restaurant Take Root. "This size of chef's knife is very versatile, and can come in handy for anything from chopping fresh herbs to breaking down a chicken. Plus, a good chef's knife is a great investment." For her part, Emily Fiffer, co-owner of Botanica in Los Angeles, uses a vegetable butcher's knife, which is more of a small cleaver with a thin blade. It's particularly great for cutting vegetables, which is what Fiffer mainly works with, but just as versatile as a chef's knife if you need to handle a delicate task, or cut up a piece of fish.
A rental may very well have a cutting board, but it's hard to be sure how much a cutting board has been used or how well it's been cleaned. So bring your own. "It's important that you have a fresh and clean surface to prep meals," Kornack says. "Personally, we like wood because it's less slippery."
Photo: retailer
Instead of bringing a carful of paper towels to your rental, consider the humble, eminently reusable bar towel, a staple of any restaurant or bar. "These towels are zero waste and are super inexpensive for a dozen," Kornack and Hieronimus say. "They can be reused and washed over and over."
Of all the kitchen tools that may be missing at your rental, a good can opener is one of the most likely objects you won't be able to find. Plus, as Hieronimus and Kornack point out, "they can also double as a bottle opener."
Sheet pans are a kitchen workhorse, ideal for roasting vegetables or fish, toasting nuts, baking late-night chocolate-chip cookies, and so much more. Fiffer is a fan of quarter sheets (half the size of the standard baking sheets you find in most kitchens). "Not only are they easier to travel with," she says, "but you can roast multiple things in your oven at the same time and take each one out as needed."
If you're starting to worry about how you're going to fit all this stuff into the trunk of your rental, don't. Last winter, Hieronimus's mom gifted her this multi-tool, which features a cheese grater, zester, garlic crusher, channel knife, small paring knife, serrated knife, peeler, fork, spoon, bottle opener, corkscrew, and can opener. "We take it everywhere we go," says Hieronimus. "It has everything you need to prep an entire meal, whether you're in a rental or by the campfire." Plus, it's stainless steel, so it won't rust.
While the above tool really does it all, Fiffer prefers to just bring a microplane. "You can use it to grate garlic for a vinaigrette or aioli. You can use it to zest citrus, which makes pretty much everything taste better. And you can even use it for cheese," she says. "Basically, it's the ultimate garnisher."
The more remote your rental is, the less likely it is that there will be a third-wave coffee shop or Starbucks anywhere nearby, so you're going to want your own coffee-maker. Kornack and Hieronimus, who say "morning coffee is a ritual we swear by," prefer a French press for at-home coffee-making and for travel. "A coffee press produces no waste, compared to a coffee machine that uses coffee pods or a filter," they point out. "The leftover coffee grounds are also a great addition to any compost or garden. This year we poured our excess grounds around our strawberry plants and they are producing more berries than last season." Also an avid coffee drinker, Fiffer likes a Chemex. She'll grind her beans before she leaves home (assuming she's not going for a super long time) and take a scale, too, to weigh them out each morning.
If you're bringing a coffee maker, you're going to need a grinder, too — at least for a super-fresh cup. In our roundup of the best coffee grinders, several of our experts pointed to the Porlex manual grinder as a favorite, especially for traveling, when you're definitely not lugging your hefty electric model with you.
Amanda Parker, managing director of Bay Area cheesemaker Cowgirl Creamery, thinks a fondue set would be super-fun to bring on a winter trip. The idea was inspired by an annual ski vacation she takes where fondue is always on the menu. "Look, it's been a rough year, and hot cheese is delicious," she says. "Just make sure to have good melting varieties, and add a dash of nutmeg at the end."
If you do decide to go the fondue route, Parker says to make sure you have the right cheeses on hand, too. "I like a blend of classic Alpine-style cheeses," she says. "Gruyère for the heft and flavor, and then a more robust cheese like Challerhocker, Scharfe Maxx, or Wagon Wheel."
Consumables
Rather than fill a box with all the contents of your spice rack, Kornack and Hieronimus recommend bringing along a few key spices and leaving the rest at home. "Diaspora Co. is creating a new and equitable version of the spice trade," they say. "Though a rental property may come stocked with a few spices, we doubt they will be as intentionally produced and distributed. We particularly love the turmeric, which we regularly use to season rice before cooking." Diaspora, in fact, has a build-your-own pack where you can choose either three, six, or nine of their offerings to be sent to you in a bundle. Parker is also a fan of Diaspora Co. For fondue, she recommends its black pepper and nutmeg, which make for an excellent way to season your pot of molten cheese.
Kornack is the kind of person who puts hot sauce on just about anything, but not just any old bottle of Cholula will do. The pair likes to stock up on hot sauces from Basbaas, Somali-American chef Hawa Hassan's company. "These two sauces are versatile," Kornack says. "The Coconut Cilantro Chutney is tangy and spicy, while the Tamarind Date sauce is sweet, smoky, and a bit more mild. Both are vegan and gluten-free and delicious."
Photo: retailer
All four chefs recommend bringing a good olive oil with you. "I use it for just about everything I cook," says Danny Newberg, founder of traveling food project Joint Venture. The world of mass-produced olive oil is known to be a bit murky, but that's not a problem with this oil, which is sourced from Calabria, Italy, by an American couple. "They're producing olive oil with their interest and knowledge in nutrition, wine-making, and design," Kornack and Hieronimus say. If you can't wait a few days for a bottle, there are plenty of other fantastic options you can find at your local grocer. Fiffer's favorite all-purpose olive oil is California Olive Ranch (ranked the overall best on Strategist's own list). "It's great for pretty much everything," she says. "It's not so strong that it will overpower what you're cooking, but it still tastes good raw, like in a vinaigrette or drizzled over a finished dish."
Yes, bring your own salt. If you arrive and there's only some iodized table salt in the cabinet, you'll be sorely disappointed, our sources insist. All four chefs say that you need at least two kinds of salt: A nice kosher salt for general use — from salting pasta water to adding to baked goods — and a big-flake finishing salt to sprinkle on salads or a steak fresh off the grill.
Newberg suggests bringing along rice or any other grains that can keep a long time and that can be whipped up in 20 minutes or less, for a quick meal or a substantial side dish. Our own Jenna Milliner-Waddell, who says she doesn't even like rice, swears by the Seeds of Change brand. Fiffer likes polenta, which can bulk up pretty much anything and turn it into a meal, whether roasted carrots, seared mushrooms, or any fish or meat. Her go-to is Anson Mills, but if you don't want to spend 40 minutes standing over the stove, Bob's Red Mill has a quick-cooking version that she says works quite nicely "especially if you season it and add some butter." Polenta is also delicious for breakfast — a win-win in the meal department. Just top it with fresh berries and coconut milk.
Speaking of coconut milk, Fiffer wouldn't travel without multiple cans. "This ingredient can do so much more than you think," she says. "I use it for coffee, granola, curries, creamed kale — the list goes on."
Traveling with protein in the form of eggs can be a bit perilous, especially if you're going a long distance. Newberg highly recommends packing canned fish because they provide "protein, omega-3, and they are so good on your freshly made bread, over rice, or in a taco." His favorites are cod liver and sprats, which are soft, fatty, and high in nutritional value without being too strong in terms of flavor. Fiffer is all about canned tuna, which she also uses on top of toast, or in a salad, or even as a snack on a hike. "I'd much rather eat that than raisins," she says.
If you like to bake on vacation, power to you. But if you put all of your energy into savory meals, or don't want to lug bakeware along with you, too, consider taking some nice chocolate bars to satisfy any sugar cravings that might hit. "I always need a square after dinner, or midday," Fiffer says. "Plus, it's another good hiking snack."
The Strategist is designed to surface the most useful, expert recommendations for things to buy across the vast e-commerce landscape. Some of our latest conquests include the best acne treatments, rolling luggage, pillows for side sleepers, natural anxiety remedies, and bath towels. We update links when possible, but note that deals can expire and all prices are subject to change.