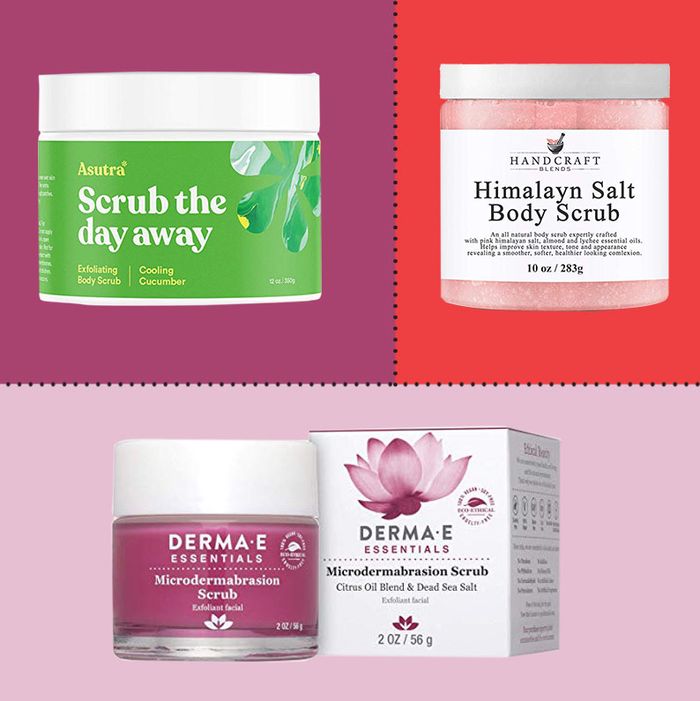 Photo: Courtesy of retailers.
Here at the Strategist, we like to think of ourselves as crazy (in the good way) about the stuff we buy, but as much as we'd like to, we can't try everything. Which is why we have People's Choice in which we find the best-reviewed products and single out the most convincing ones. (You can learn more about our rating system and how we pick each item here.)
And while we've written about lots of scrubs and exfoliants before — including the best scalp scrubs, Rio's favorite 2-in-1 scrub, and the best chemical exfoliators — here we've rounded up the best salt scrubs, as praised by the most enthusiastic reviewers on Amazon.
Best-rated salt scrub
"I have horribly dry skin to the point I thought there was something seriously wrong. It looks like I have fish scales on my legs. And the itching, it's like the itchiest mosquito bite ever but all over my legs," writes one reviewer, who says this salt scrub is what eventually gave them relief. "The first time I used this, it felt like having my worst itch scratched. I had goosebumps it felt so good." Customers with sensitive skin even felt this scrub, unlike others they've used, didn't irritate their skin further after removing dead skin. One calls this body scrub, "a miracle for my skin. I have had three psoriasis patches on my elbows and behind one ear for over 14 years. I have tried dozens of different things to keep it under control. Nothing even remotely handled it until this product. Within 4 days you can hardly see that I even have a grapefruit sized area of psoriasis on each elbow. No flaky skin." Dozens also comment on how invigorating the cucumber scent is, one writes, "This one has the most intoxicating, gorgeous scent of any I have tried. Using this stuff in the shower makes the whole bathroom smell amazing." A few complain about the price, but most feel it's worth every penny, like this reviewer writes, "If you're thinking of buying a cheaper alternative, definitely do not. I made that mistake and bought something online and it wasn't effective at all. This really helps to calm, soothe, smooth, and hydrate your skin."
Best-rated (less expensive) salt scrub
Dozens rave about how gentle yet effective this salt scrub is, especially for the price, like one writes, "I've tried time and time again to find a really good exfoliant that I felt got the dead skin off my body without being so abrasive I might as well have just used sandpaper. That is, until I found Vivo Per Lei. My skin not only feels great but it looks great. Already after only two weeks worth of use my skin is looking younger and firmer!" Another reviewer who says the price is "out of this world," felt her skin looked rejuvenated and younger, writing, "my 'maturing' chest and neck area looks like a 20-year-old's again. I was noticing some creasing between my breasts. It was pretty obvious, I felt. Gone! Just totally gone. I look smooth, healthy and glowing from my neck and shoulders and chest to my hands, elbows and feet." One provided her favorite tips for using the scrub, saying, "At the end of my shower I turn off the water, rub the salt scrub on my arms, legs and chest, turn the shower back on and rinse."
And now for some micro-picks for every type of salt scrub you might be looking for.
Best Himalayan salt scrub for the body
Reviewers with sensitive skin hopped on board with this salt scrub to gently remove their dead skin without causing irritation. One reviewer, who claims to have bought this scrub four times, says, "I have keratosis pilaris on my arms, butt, and my legs. This is one product that I can use to help moisturize and get rid of excess dead skin. It leaves my skin so soft and smooth afterwards that when I do use it, I don't typically use lotion because it's not necessary." A few were hesitant of the fragrance initially but most came around, like this reviewer who notes, "I was reluctant to try this simply because I have scent sensitivities and was afraid the 'light fresh scent' might be too much for me. Because it's all natural (and very light), the scent has not bothered me at all and the scrub is incredible for my skin." One reviewer likes the Majestic salt body scrub so much that they consider exfoliating a treat, calling it "a nice, simple way to treat yourself now and then after a hard workout or a tough day at work. It is lightly scented and leaves your skin feeling absolutely fantastic: soft, supple, and invigorated. It's just right for massaging those tired aching muscles after a strenuous workout, and can provide some much-needed relaxation after a stressful day."
Best Himalayan salt scrub for the face
More mature women tended to rave about this scrub, which they claim helps to diminish signs of aging and dryness. "I thought this would be another regular, run-of-the-mill scrub, but how I was wrong. I have been using it on my face and neck every night for the past week and I was pleasantly surprised," writes one reviewer, explaining, "I have combination, menopausal facial skin, and this product is doing wonders clearing up topical imperfections and dryness." One mom used this to zhuzh her normal routine, writing that she, "started feeling 'kinda' old and wanted to revamp my beauty routine to make me feel better. This product changed my life! I love the relaxing feeling I get scrubbing in the shower. I instantly feel better. All dead skin is gone and I'm left with super soft amazing looking skin." Even one man who call only using soap and water "skincare" became enthralled with this scrub for his face, writing, "As a male, I'm not used to products as such for my skin, usually some soap and water cleans me right up, but I thought it's time to give my skin the love and care it truly deserves. This is definitely everything it's said to be and now more. I'm telling you now, my skin felt refreshed, smooth, extremely clean, and overall, my pores look smaller."
Best salt scrub for feet
Reviewers opened up about their feet troubles, citing this tea tree and salt scrub as a major help for doctor diagnosed problems, like this reviewer writes, "I've had persistent athlete's foot for literally 20+ years and never found anything to be much help. Within a week of using this tea tree scrub once a day, I am seeing definite improvement. Specifically the peeling, itching, heel cracking and little blisters have substantially reduced." Another found this to be a great natural remedy for her son's warts, writing, "My son has had surgery to have a wart removed on his foot and got many other expensive creams and prescriptions for them. I bought this product on a whim and after him using half the container his feet warts are almost completely gone. I've already ordered more."
Best microdermabrasion salt scrub
"I am a certified aesthetician and this stuff really left my skin feeling brand new. Out of all the microdermabrasion products I have used this one is my favorite," writes one satisfied expert, admitting, "It's obviously not going to be as effective as a microdermabrasion machine, but I think when used properly it's pretty darn close." Another content reviewer concurs, saying, "Who needs to get a microderm when you can use this stuff. Best face scrub around, and a little goes a long way. I love its light smell of lemon and how it doesn't scratch up my sensitive skin." Another who uses it as a cleanser instead of a post-face wash treat, writes "This stuff is like Jesus in a bottle! It provides such a great cleanse and leaves my face dewy and smooth without being overly harsh. I can definitely tell after I use it. For the past week, I've been using it nightly and love how my face looks and feels."
Best salt scrub for the shower
Dozens made this scrub a shower staple after noticing how supple their skin appeared from just a few uses, like one who writes, "What I really like about this product is it helps to remove the old dry and dead skin by exfoliating with all natural ingredients and it also nourishes the skin with all natural oils at the same time. So my skin felt soft and nourished after using this for a few days as a part of my daily shower regiment." Another used this to rid her body of pesky ingrown hairs, writing, "You need this in your shower. My skin feels amazing. I have less ingrown hairs on my legs now. I'm not peeling as much after the sun or anything. It's invigorating and your skin will thank you." Many love the light coconut smell, commenting that it's not overwhelming at all. As one reviewer explains, "You can definitely tell it has natural ingredients just from the smell and the feel. It does such a great job of moisturizing my skin. I use it every night when I'm in the shower and it has vastly improved the skin on my feet."
Best salt scrub for hands
Reviewers claim this scrub can smooth even the toughest of skin. "My husband is a delivery driver and his hands get very rough and dirty," writes one. "We could not find anything that would get the dirt out of the cracks of his hands. I ordered this and after one use it made all of the difference. After two uses, his hands felt soft and looked amazing. No dirt anymore!" Another reviewer says, "It's great for my cuticles, the softness of my hands and, best yet, the circulation in my hands, which seems to be making my arthritis feel better after using for a few hours. I'm purchasing more for Christmas gifts." One even treats her guests to this scrub, noting, "I keep some in my guest bathroom as a nice spa treatment for the hands."
Best moisturizing salt scrub
For those looking to soften skin, reviewers cite this scrub as striking a balance between exfoliating and moisturizing. One notes, "I wasn't sure about this scrub, but I really like it. I seems to buff my skin really well and locks in moisture after." Another bought this to clear up one trouble patch of skin but notes, "It works everywhere I put it. The results are phenomenal. I have never really tried anything that has made a difference like this scrub. It was worth every penny." Although it's technically a body scrub, a few feel it's gentle enough to use on their face, like this happy customer comments, "I have adult acne and this scrub helps keep breakouts to a minimum. It also makes my skin soft and refreshed. Definitely recommend."
The Strategist is designed to surface the most useful, expert recommendations for things to buy across the vast e-commerce landscape. Some of our latest conquests include the best hair care essentials, whitening toothpaste, very black mascara, tinted lip balm, acne mask, magnifying mirror, and all-natural deodorant. We update links when possible, but note that deals can expire and all prices are subject to change.
Every editorial product is independently selected. If you buy something through our links, New York may earn an affiliate commission.