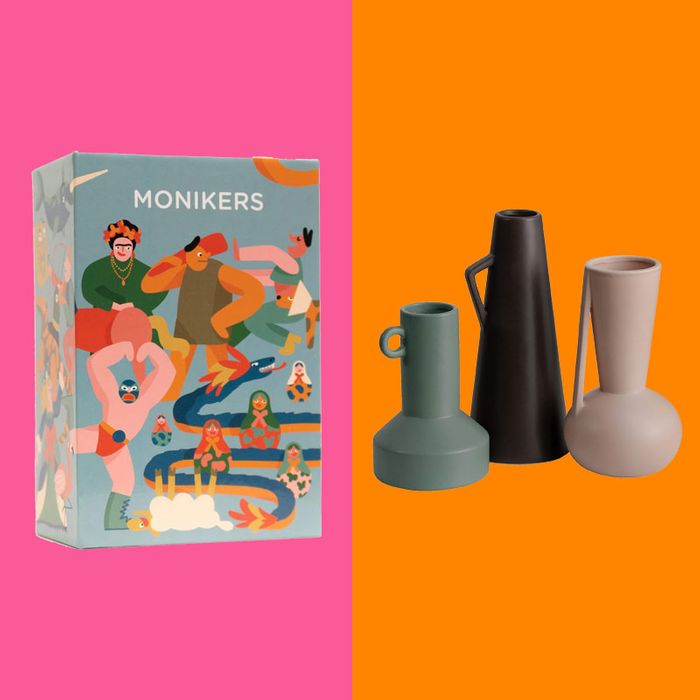 After a year of Zoom happy hours and curbside dining, you may slowly be preparing to (safely) attend your first dinner party at a friend's home in a long time. Or maybe you're finally planning a long overdue visit to see faraway family. No matter the occasion, it's always hard to figure out the best thing to give a generous host — but even more so when whatever it is doubles as an I-haven't-seen-you-in-person-in-a-year gift. You'll want to give them something more unique than a bottle of wine, but not so unique that it risks living in that closet with all the other stuff they never use. Even after a year like the one we had, we think it's best to keep host gifts relatively simple and focus on something that will be easy to use around the house — like fun and design-y upgrades of stuff your host already uses on a regular basis. To help you find the right gift for whatever host you might be thanking, we've gathered some of our favorite ideas below, any of which will definitely be appreciated (even if they insist you not bring anything). While all of the things on this list are available on Amazon, we've found a few of them elsewhere, too, for those who like to shop around.
For the host who's terrible with fresh flowers
A bunch of dried lavender will have their home smelling like the French countryside and requires no upkeep.
For the host who always has fresh flowers
We love the minimalist geometric silhouettes of these ceramic vases, which could pass as objets d'art.
For the host who's a regular at the farmers market
This Click and Grow counter top "Smart Garden" uses an automated hydroponic system with a built-in grow light, so they can grow their favorite fresh herbs from the comfort of their own kitchen. It comes with three basil seed capsules, but they can also mix and match from over 40 other options like mini-tomatoes and wild strawberries. We featured this model in our roundup of the best indoor garden kits.
For the host who knows Catan is a bad idea
While board games can be a great idea for parties, it's important to choose the right one. When writer Dominque Pariso asked a bunch of board game experts about their favorite party games, this emerged as a top pick, especially for large groups. The experts love the fun graphic design and the fact that it's easy to learn. As Dylan Speed of Meeple Mountain explains, "Over three rounds that allow progressively fewer words — from unlimited, to one, to none (charades) — everyone will shout and laugh their way through an evening of making nonsense and new inside jokes."
For the host who already has habanero bitters
If they're into making cocktails — hopefully they don't still call it "mixology" — they'll definitely appreciate this set of two copper cups, perfect for making Moscow Mules or mint juleps.
For the host who already has copper Moscow Mule cups
If they already have a fully stocked bar, then maybe it's time to start practicing their craft. From our roundup of this season's most giftable coffee-table books, this cocktail-focused tome is written by spirit legend Leo Robitschek, the bar director at the NoMad Bar (and Eleven Madison Park). It has nearly 300 recipes, dozens of illustrations, and an in-depth service manual.
For the host who's an umami fiend
Queer Eye's Antoni Porowski told us this black garlic salt is "freaking delicious," and we're just going to leave it at that.
For the host whose bottle opener is a lighter
It's probably time to start using an actual bottle opener. This one, from Georg Jensen, is both functional and cool.
For the host who just got a new coffee table
Made from natural wood, this handsome set of six coasters comes with a handy holder for easy organizing.
For the host who needs a book to place on said coffee table
Try this hardcover with photographs and write-ups on 150 of Picasso's most notable ceramic works, which comes recommended by Chris Black.
For the host who's getting into natural wine
Featured in our roundup of the best gifts for wine lovers, this affordable decanter was recommended by Marissa Copeland, the head sommelier at Junoon.
For the host who enjoys the occasional glass of red
Or, if they're the type who prefers to just have a glass or two with dinner, this sommelier-approved wine stopper might be a better gift because it helps preserve the bottle for future enjoyment. "The Vacu Vin system has been around forever for a reason," says Eric Tschudi, the sommelier and head bartender at Shuko in NYC. "While I wouldn't recommend it for sparkling wines, the included pump gets the wine-killing oxygen out of the bottle and helps keep still wines fresh for days."
For the host who insists on a coarse grind
When we asked baristas and coffee roasters about their favorite coffee grinders, they all told us that if you're serious about coffee you really need to start using a conical burr grinder because it gives a more consistent and even grind. This model, the Baratza Encore, was the clear favorite, recommended by five our experts. (For something a bit less expensive but still expert-recommended, we also featured a Krups burr grinder on that list and it's under $50.)
For the host who loves a good pour-over
This ceramic pour-over dripper also appeared in our roundup of the best gifts for coffee lovers. It's one of the simplest ways to get started with pour-over, and there's no crazy laboratory-looking glass equipment to worry about. It came recommended by Yasmina Palumbo, a co-owner of New York City's Mud Coffee, who told us she loves how you can just place it right over your mug "so you're brewing cup by cup," and that everything stays "super fresh and hot." Hario is a coffee-nerd-approved company, so your host should be impressed.