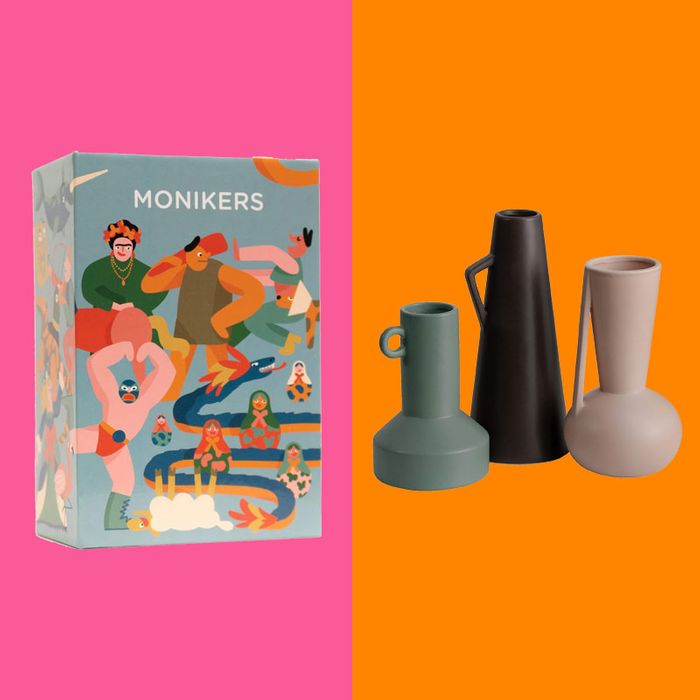 After a year of Zoom happy hours and curbside dining, you may have finally started to get back in the swing of dinner parties at friends' houses. Or maybe you're finally planning a long overdue visit to see faraway family. No matter the occasion, it's always hard to figure out the best thing to give a generous host — but even more so when whatever it is doubles as an I-haven't-seen-you-in-person-in-a-year gift. You'll want to give them something more unique than a bottle of wine, but not so unique that it risks living in that closet with all the other stuff they never use. Even after a year like the one we had, we think it's best to keep host gifts relatively simple and focus on something that will be easy to use around the house — like fun and design-y upgrades of stuff your host already uses on a regular basis. To help you find the right gift for whatever host you might be thanking, we've gathered some of our favorite ideas below, any of which will definitely be appreciated (even if they insist you not bring anything). While most of the things on this list are available on Amazon, we've found a few of them elsewhere, too, for those who like to shop around.
For the host who's terrible with fresh flowers
A bunch of dried lavender will have their home smelling like the French countryside and requires no upkeep.
For the host who always has fresh flowers
We love the minimalist geometric silhouettes of these ceramic vases, which could pass as objets d'art.
For the host who has dogs
Help protect their couch with this expert-recommended throw that's actually quite attractive and comes in countless colors and fabrics — the same ones Pottery Barn uses to upholster actual sofas.
For the host who grills
Chef Tom Colicchio says, "This is the best meat thermometer I've ever used." While that may be enough to convince your host, if they're as big of a grilling nerd as Colicchio, they might appreciate his explanation as to why this thermometer is superior. "There are two sensors — one to get the internal temperature of what you're cooking and one to get the ambient temperature of the oven," he says, noting that "everything syncs up with your smartphone through Bluetooth." As Colicchio says, "You can't cook to time — you have to cook to temperature," and this device lets you — or your host who loves to grill — do just that.
For the host who won't let you help clean up
If you can't help them yourself (despite your insistence), get them something that will. According to contributor Ashlea Halpern, the first person to tip us off to Swedish dishcloths, the reusable, super-absorbent cloths are basically a better paper towel. "I use them to do nearly everything I once did with a paper towel," she says, including "wipe down granite countertops, stainless-steel appliances, and streak-prone cooktops."
For the host known for their homemade desserts
This easy-to-store, roll-up pastry mat has measurements already marked on it, so they won't have to whip out a ruler.
For the host known for their homemade pizzas
This clever pizza cutter won't drag cheese (or toppings) as it slices the pizza, thanks its rocker-style design.
For the host who's a regular at the farmers market
This Click and Grow counter top "Smart Garden" uses an automated hydroponic system with a built-in grow light, so they can grow their favorite fresh herbs from the comfort of their own kitchen. It comes with three basil seed capsules, but they can also mix and match from over 40 other options like mini-tomatoes and wild strawberries. We featured this model in our roundup of the best indoor garden kits.
For the host who knows Catan is a bad idea
While board games can be a great idea for parties, it's important to choose the right one. When Strategist writer Dominque Pariso asked a bunch of board-game experts about their favorite party games, this emerged as a top pick, especially for large groups. The experts love the fun graphic design and the fact that it's easy to learn. As Dylan Speed of Meeple Mountain explains, "Over three rounds that allow progressively fewer words — from unlimited, to one, to none (charades) — everyone will shout and laugh their way through an evening of making nonsense and new inside jokes."
For the host who already has habanero bitters
If they're into making cocktails — hopefully they don't still call it "mixology" — they'll definitely appreciate this set of two copper cups, perfect for making Moscow Mules or mint juleps.
For the host who already has copper Moscow Mule cups