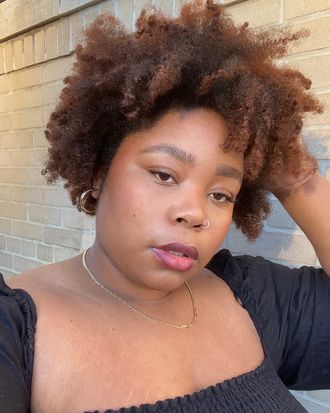 I've recently picked up a habit that Tembe of five years ago would've found disturbing, even dangerous: detangling my hair with shampoo. I'm not crazy, so I'd only do so with a product that's (miraculously) moisturizing enough to do just that. It apparently does exist — Sienna Naturals H.A.P.I. shampoo. First, I'll explain how I got here. While doing some reporting for my length-retention story, I spoke with Jon Reyman, founder of Spoke and Weal salon, who told me about K18, a reparative hair mask that rebuilds broken bonds in the hair shaft. Within minutes of him describing it, I was sold. Unlike other bond-building, protein-packed hair masks (think Olaplex), K18 actually penetrates into the hair shaft and heals those bonds from the inside out. He'd seen it reverse damage of all types — particularly chemical. This was especially important to me because I'd just dyed my hair for the first time, taking it from its natural black shade to a gingery brown. Terrified of any damage that would disturb my curl pattern, I wanted to try the mask immediately.
There was one problem, though: K18 would have to replace my conditioner. The mask must be applied on slightly damp, freshly shampooed hair. It's a light cream, but you're only supposed to apply a few pumps. This is diametrically opposed to curly-girl wash-routine lore: To have natural hair is to use an unholy amount of conditioner. It's just how it is; I don't make the rules. Needless to say, I quickly realized that adding in this new mask would complicate my wash routine considerably, mainly because my conditioner step is also my detangling step. Typically, I use something with lots of slip (my go-to is Carol's Daughter Wash Day Delight, which is very very slippy) and go section by section using my trusty Tangleteezer. The K18 mask, with its thin consistency and product-amount limit, isn't meant to be used in the same way. So I had to improvise. Initially, I tried to detangle my hair with just water, standing under the shower and allowing the pressure from my shower head to do some preliminary detangling. I learned this trick from my stylist, who says that the best tool in the texture-manipulation toolbox is lots and lots of water. This sort of worked. I was able to get through my hair with minimal ripping, but there was still more shedding and fallout than I'm used to.
Serendipitously, I received a package from Sienna Naturals around the same time and had yet to try their stuff. I'd heard the products were affordable yet effective and decided to give Sienna Naturals H.A.P.I. shampoo a try. I squeezed a dollop onto my hair and worked it in. I was immediately impressed by its foamy lather and how soft and moisturized my hair felt. It wasn't as slippery as a conditioner, but I could feel some of my tangles melting as I worked it through with my fingers.
I had yet to to add my Tangleteezer to the mix and was worried about attempting to detangle on conditioner-free hair. But given how soft and moisturized my hair felt, I decided mid-wash that it couldn't hurt to give it a try. I washed the shampoo out and started to rake the brush through like I normally would. I noticed that my curls didn't fight me, but instead were easily detangled. Impressed, I took a peek at the ingredients and saw ultra-moisturizing aloe as the second ingredient, with glycerin not too far behind. Aloe has long been a natural-girl detangler favorite. In its natural state, it has a gel-like consistency that acts as a lubricant and makes it easier to comb out knots and tangles. Glycerin, another moisturizer, does the same thing. These are two of the main components of Carol's Daughter's incredibly slippery conditioner, and while it isn't as drastically slick, it gets the job done.
It also gave my curls the kind of definition I usually only see when I use conditioner. They clumped and spiraled so nicely I was compelled to post a photo on Instagram stories as proof of its effectiveness. I also noticed that my hair felt super-clean but not dry. Was this, I wondered, what people loved about 2-in-1 shampoos and conditioners? Was this the feeling I'd been missing? I couldn't be sure, but I was thrilled.
I towel dried my detangled hair and worked in the K18. Once dry, my hair was softer than it was even before dyeing it and looked like I was on day three of a wash and go: sort of defined and volumized. I was amazed at the results and wondered if it was a fluke. I tried the whole process again the next week and achieved the same results. I've kept up with this combination for nearly three months now, and I'm happier than ever with my wash day. Rather than spending 30 to 45 minutes in the shower, I can get it done in 20 minutes from start to finish. And if I'm good about wearing my hair in twists throughout the week or washing my hair every six days instead of ten, I can do it all in 15.
I've since become an evangelist for the shampoo, telling everyone I know about the surefire combo. And while everyone is immediately curious about the K18 mask, I always remind them that the shampoo lays the foundation for a smooth wash day. It's now one of those things I can't live without. I accidentally left it home while on a recent four-day trip and I immediately bought a replacement at a nearby Target. If you know me (and the amount of products I've amassed as a beauty writer), this is a pretty big deal.
The Strategist is designed to surface the most useful, expert recommendations for things to buy across the vast e-commerce landscape. Some of our latest conquests include the best acne treatments, rolling luggage, pillows for side sleepers, natural anxiety remedies, and bath towels. We update links when possible, but note that deals can expire and all prices are subject to change.