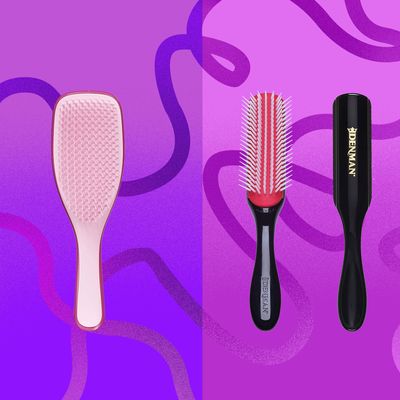 Illustration: Jordan Moss; Photos: Retailers
The process of washing, detangling, deep conditioning, and styling your natural hair can steal hours of your day. It's called wash day for a reason. Of this multi-step process, detangling is perhaps the most dreaded part. Curls and coils don't only get caught in scrunchies and rubberbands (no matter how "ouchless" they claim to be); they also get tangled into each other, leaving you with knots of all strengths and sizes. They can get so intense you might think you have the beginnings of dreadlocks — but before you reach for the scissors, there's a better way. We talked to seven hair-care professionals about the detangling brushes strong enough to brush through your natural hair with minimal pain and hair loss. Most of the brushes on this list are pretty similar, because there are time-tested features that are proven to work for naturally curly hair. They all have flexible bristles that are dense enough to comb through all the hair but are spread out enough to avoid damage. They all can be used following the same instructions, too. Everyone we spoke to recommends only detangling on wet hair, starting at the ends and working your way to the root. With these tips, and one of the seven brushes below, your wash day might turn into a wash afternoon.
Best overall detangling brushes for natural hair
Four of the stylists we spoke to mentioned the Denman brush, and three specifically love this seven row version. "The Denman brush is an industry trusted, high quality, multifaceted brush that stands the test of time," says Kadeisha Placide, the owner of Classic Beauty Studio salon in Brooklyn. "It is an oldie but a goodie." The brand has been around since the 1970s and the brush is praised for how versatile it is. Our experts agree that it's great for all hair textures and tasks like "reducing frizz, blow drying, gently detangling, straightening, and adding shine and volume," adds Placide. For natural hair specifically, however, it has the added function of "helping to define curls," says celebrity stylist Ro Morgan, whose clients include Naomi Cambell and Precious Lee. Morgan also thinks the bristles on the brush make it safe for delicate natural hair. It has "flexible bristles that are widely spaced apart enough to prevent damage to hair from breaking," he says. Not to mention, "it also helps reduce harshness to the scalp while grooming and styling," says Placide. And while our experts are professionals and could probably work with any tool you gave them, Erica Legagneur, a stylist with mobile salon Yeluchi, says the Denman brush is foolproof. "I love the size of the brush itself; it fits well into my hands, allowing for better control when brushing," she notes. "The seven rows of teeth glide through hair evenly and never get tangled, and as a stylist, my favorite feature is how easy it is to clean loose hairs from the brush, further ensuring that the detangling process is a seamless one."
In terms of how to use this brush, all of our experts emphasize the importance of using it on wet hair. "When it comes to detangling curly hair, it is always best to start on damp to wet hair, starting from the ends and slowly working your way up to the roots," says Morgan. Placide explains that working from the ends of the hair prevents damage and reduces shedding. She also recommends separating the hair into four to six sections to start. The more hair you have, the more sections you should use. To ensure your hair stays damp while you're detangling, Legagneur says keep a spray bottle close by.
Mika English, a stylist at the Ursula Stephens Salon and founder of Grew by ME hair-care line, prefers the Denman brush with nine rows. She likes that the bristles are firm and closer together, which speeds up the detangling process. "You don't have to keep going over the same section of hair," she says. "Once you go over it once or twice, you can go on to the next section. For me, it's all about speed and getting as many clients in as I can throughout the day." Denman, she says, "always does the job." English also likes that the base of the brush isn't a cushion, like a paddle brush, which makes "the bristles gather together when you're brushing your hair," tangling your hair even more. The Denman, on the other hand, "doesn't squeeze or hold water so when you use the brush, it's a firm grip and it's not re-tangling the hair — it's detangling the hair." The base of Denman brushes also have a slight curve, which stylist Koni Bennett looks for in a detangling brush because it "gives your hair a little bit of bounce," she says. When detangling, in addition to sectioning off your damp hair, Bennett suggests clipping the individual sections as well "so that it doesn't get caught up in the next section that you begin to detangle."
We've previously called the Felicia Leatherwood Detangler Brush "the Mason Pearson of natural hair brushes." When Strategist writer Tembe Denton-Hurst created our guide to 4c hair, all the stylists she spoke to raved about it. The brush was designed specifically for natural hair, using widely spaced, flexible bristles that glide through without ripping or tearing your hair. The reviews were so good, it prompted former Strategist writer Nikita Richardson to purchase it. As she explains, "Working from the ends up, it glided through my thick head of hair with impressive ease and, most importantly, stretched it along the way," which is of utmost importance for anyone with curls and coils that dramatically shrink up when dry. It's a favorite of Morgan's, too. He appreciates that it works on all textures and adds that it also "comes in so many cool colors."
Best (less expensive) detangling brush
If you're on a budget, this detangler has a similar design to the Felicia Leatherwood brush but is half the price. Placide, who says the Denman works on all textures, switches to this Ez Detangler when she's working on thicker hair. "The EZ Detangling Brush Flex is the holy grail for detangling curly, coily, and kinky textured hair," she says. "It is a newly emerged tool on the market, specifically geared towards detangling. The flexible head with separate bristles easily detangles textured hair without any snagging or damage."
Best paddle detangling brush
This detangling brush is reminiscent of a paddle brush but without the cushioned bottom that English advises you stay away from. It has a hard base and flexible, spread-out bristles to glide through your hair. Celebrity stylist Takisha Sturdivant-Drew, who loves this brush so much she's a Tangle Teezer ambassador, says it can be used on all hair types but "is especially good on long, thick curly hair." She notes that this brush — like all of the brushes on this list — works best on wet hair. She says it "has 325 two tiered teeth, which flex over and through the tangles and knots to detangle the hair quickly and gently while reducing breakage." The detangling process is so gentle with this brush she says you can even use it on kids. Denton-Hurst is also a big fan of the Tangle Teezer. "I own four and collect them as if one day they'll be discontinued," she admits. A big deterrent for people who choose to only wear protective styles or relax their hair is that they won't be able to take care of their hair in its natural state, but "this brush was the first brush I used where I felt like my hair was not only manageable but easy to care for, which I think is sort of revolutionary in the world of natural hair," Denton-Hurst notes. And not only does it make detangling a breeze, but if you're looking for more definition, Denton-Hurst says, "I run it through my hair in sections with lots of conditioner and it gives me ultra-juicy curls that dry nicely too."
Best easy-to-clean detangling brush
When Tracee Ellis Ross launched her hair line Pattern, this shower brush was one of the first tools in the collection (she's since added a pick and an edge brush). It has a similar design to the Denman brush with its curved base and nine rows of bristles, which initially piqued my interest. The Denman was the first brush I used when I first went natural and I had a lot of success with it, so when this came across my desk in 2019, I was excited to try it. Unlike other brushes I've tried, it really clumps my curls together for that highly sought-after bounce, and with so many teeth, every tangle is tended to without having to brush it through too many times. I also appreciate that the bristles can be removed from the handle for easy cleaning, and unlike other brushes on this list with flatter handles, I can actually get a good grip on the thick round handle and never have to worry about dropping it in the shower.
Best detangling brush for scalp health
On the other end of the spectrum, this brush doesn't have a handle at all. You can nestle the knob on the back in between your fingers and turn this brush into an extension of your hand, which is supposed to make the detangling process as easy as running your fingers through your hair. The flexible bristles — they move 360 degrees to fully contour to the shape of your head — help, too. Celebrity stylist Myss Monique likes this brush because the design lends itself to easy detangling and scalp massaging. "We tend to forget how scalp health is just as essential when taking care of natural hair," she says. "The delicate bristles on the Manta brush allow you to exfoliate the scalp while washing your hair and evenly distribute conditioners. Removing build-up, eliminating flakes, and providing a deep cleanse can result in shinier, manageable, growing, healthier hair."
The Strategist is designed to surface the most useful, expert recommendations for things to buy across the vast e-commerce landscape. Some of our latest conquests include the best acne treatments, rolling luggage, pillows for side sleepers, natural anxiety remedies, and bath towels. We update links when possible, but note that deals can expire and all prices are subject to change.