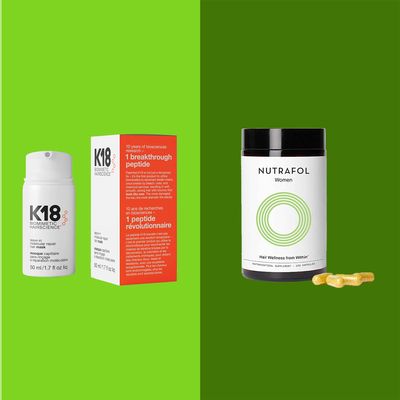 Photo-Illustration: The Strategist; Photos: Retailers
I think back to my first hair memories — where I'm lying on a countertop in a kitchen, my neck suspended, coils wet or sitting in between my mother's legs while she braids. Even then — I must have been 4 or 5 years old — I knew I wanted long hair. I'd wrap a towel around my head and let it flow down my shoulders. I thought short hair was ugly. By high school, I wanted nothing more than to have my hair swing in a ponytail or graze my back.
Black girls in pursuit of long hair are aware of just how tedious the process can be. Much of it is a waiting game dependent on how quickly your hair naturally sprouts from your scalp. And even though many of us know that all you can do is wait, that doesn't stop an entire industry from claiming they can speed up the process. There are vitamins, growth oils, powders, and supplements, all of which are supposed to thicken, lengthen, and strengthen hair. But does any of it actually work? And why do we care so much about long hair in the first place?
Black hair has been shunned, sought after, politicized, and villainized across time — sometimes all at once. Black hair has been tucked away, pressed out, cut off, permed straight, all in service of a beauty standard that held up long hair as a prize — something to be euther proud or envious of. Girls who had it were told to protect it at all costs — cautioned against cutting it, against even a quarter-inch trim. It has bred an industry obsessed with chasing potential, selling the promise of results, with the reward being proof of your ability to get closer to a Eurocentric idea of beauty. And while long hair isn't the exclusive domain of Rapunzel and her descendants, the ideal of straight, flowing tresses is not rooted in Black beauty traditions; it's in contradiction to the way our hair grows. "Our hair grows out before it grows down," explains trichologist and former stylist Bridgette Hill. "We need to shift the conversation to acknowledge the reality that healthy looks different for various textures and celebrates shrinkage. We need to make that beautiful."
Making Black hair beautiful has been a decades-long project that has occurred in fits and starts. The most recent attempt can be located within the modern natural-hair movement, which began in the early aughts and encouraged lots of Black women (myself included) to stop relaxing their hair in favor of wearing their natural texture. It was intoxicating to watch big-chop videos where TWAs (teeny-weeny afros) turned into waist-length hair over the course of a few years. Plus long hair was happening across texture categories — from 3B to 4A to 4C, dispelling a decades-long myth that long hair was only achievable for a few. For the first time, people were turned on to their hair's potential and also its ability to grow. This only increased the amount of hair-growth-specific tutorials and product recommendations — some of it helpful (moisturizing, regular trims, good nutrition), some of it not (never washing your hair). It was a new approach to a long-held beauty standard, and while it isn't problematic to want to grow out your hair, it's important to keep the ultimate goal in mind: hair health.
So what of the vitamins and supplements and oils? These things can certainly assist in your journey, but your hair is already growing — you just might not be retaining that length or, because of shrinkage (a hallmark of healthy hair), you might not be able to really see it. While it might seem like curly and coily hair types don't grow as quickly, the biggest difference in growth rate is actually friction and fatigue. Straight and wavy hair types don't experience friction in the same way as curly hair because it lays flat and doesn't bounce and curl into itself. "As curls spiral around, certain parts are stronger while others are weaker. When you brush through them with enough pressure, you get mechanical damage, also called hair fatigue, and the hair breaks," says Jon Reyman, a hair stylist and the founder of Spoke and Weal salons. Curly hair is incredibly fragile. Hill likens it to a cashmere sweater. "It is the most delicate fabric and should be treated the way you treat your dry cleaning," she says. "We need a more gentle approach."
Gentle means limiting manipulation like brushing, combing, and processing, detangling carefully, moisturizing regularly, and maintaining a clean, healthy scalp. All of these things, in addition to being healthy overall, creates an optimal environment for hair to grow. Reducing manipulation is one of the reasons protective styles are so popular, the logic being: the less you touch your hair, the more it will grow. And while protective styles are great, and can be an effective tool in the length retention and hair growth tool box, it's important to still be attentive to your scalp while you're tucking away your ends. Many of the stylists we spoke to also stressed the impact of lifestyle on hair and how that has more to do with growth and health than a magic pill, serum, or growth method. "Hair growth is based on genes, lifestyle, diet, and whatever else is going on with your body." says Hill.
But there are products that can help in one way or another — whether it's preventing split ends or stimulating your scalp to encourage growth. To find out the best of the bunch, we spoke to stylists and a trichologist about their favorite products, below.
Reyman recommends looking for surfactants, which add slip to the hair and make sure it stays detangled. If you're detangling wet, Reyman recommends using something with lots of surfactants — think a conditioner or oil or cream — to lubricate the hair. He likes this prewash from Aquis, which he says adds a hydrolyzed coating of coconut oil on the hair that stops the hair from absorbing as much water, which means it's less likely to get damaged while wet. "It acts as a semipermeable membrane that stops the water from coming and leaving. It's what the hair does naturally," he explains.
It's important to keep your scalp clean and build-up free, which is why cleansing is an essential step. Hill recommends alternating between detergent-based shampoo (think sulfates) and gentle scalp rinses. "Creating a hair regimen where you have a proper balance is going to be essential for anyone with curly and coily hair," she says. Hill is a fan of this scalp tonic from Design Essentials, which she says can be used daily. "It doesn't build up, and I love the way that it removes the debris," she says. "It disintegrates nicely into the hair fiber and really penetrates into the scalp."
She also likes this rinse from Renee Furterer, which uses a blend of cherry vinegar and plant extracts to cleanse the hair without stripping while also making it shiny. "I like applying this directly to the scalp," she says. "I've found that my clients have seen great results."
Reyman likes to use a hydrating spray as a first layer to moisturize hair. "The molecules are small enough to go deeper into the hair shaft," he says. He opts for Nurtiplenish Leave-in Spray from Aveda. "It's fucking amazing," he says. "It doesn't sit on the surface of curly hair, which often happens because curly hair tends to have a lower porosity. These molecules are small enough to penetrate without adding too much weight."
Hairstylist Ebony Clark-Bomani looks for leave-in conditioners that help maintain an optimal moisture-protein balance, which she says is "imperative for strength, optimum curl and coil formation, better moisture retention and elasticity." One of her favorite conditioners is Pattern Leave-In Conditioner, which she describes as "super moisturizing." It also protects the hair, says Clark-Bomani, and tends to layer well underneath stylers.
Reyman likes to pair the leave-in conditioner with this styling cream from Masami. "It's pretty soft and not overly heavy," he says. The curl-defining cream uses a blend of mekabu and aloe for moisture and shine along with vitamin E, grapeseed and almond oils to help with frizz. It offers a little bit of hold too, so you don't need lots of additional products to set your style.
"Our hair needs to be moisturized frequently, just like with lotion after you wash your hands or shower," says Hill. "Everyone should have a cream-based leave-in conditioner and a dry-oil serum that doesn't create buildup on the scalp." Her favorite is this oil from Rene Furterer, which she likes as a daily moisturizer to coat and seal the ends of the hair.
If you have processed or color-treated hair, it's likely you've dabbled in bond-building products like Olaplex to fortify and soften hair. Reyman cautions against using products like this too often, as it can cause hair to be overproteinized. "These bond multipliers support the hair for a little while, then they build up and overproteinize and break the hair. So you want to be careful of these products that don't wash out." He recommends using a product like K18 instead, which he says strengthens the hair whether it's healthy or compromised. K18 uses peptides that reverse damage. It works in just four minutes when applied to slightly damp hair. "It brings it back to a pre-damaged state," he says. "We've seen hair heal."
While Hill cautions that supplements are not a one-stop fix for hair growth, there are a few that she recommends. Viviscal Pro, which contains ingredients like biotin, zinc, vitamin C, horsetail extract, and iron. "It gives the body necessary nutrients and helps to create an environment for optimal hair growth," she says. "It can definitely make a difference."
Hairstylist and Hair Addict Salon founder Michelle Cleveland calls Nutrafol supplements her personal favorite. "Hair growth starts from within," she says. Nutrafol contains ingredients like biotin, iodine, and zinc along with vitamins E, D, and C. According to the brand, expect to take these supplements anywhere from three to six months before you see potential results like shinier, fuller, faster-growing hair.
Reyman is skeptical of supplements but says he likes Harklinikken, a topical brand that focuses on regrowing hair. "It really helps density grow back in," he says. Reyman uses it personally, as do many of his staff at Spoke and Weal. The brand uses organic ingredients to formulate its products, which he prefers. "You see results within the first three months," he says. He recommends applying the topical directly on the scalp in the evenings, waiting thirty minutes, and applying it again. "I do it every day," he says. "I'll watch a show, rub my scalp, then do it all again."
Photo: retailer
"Silk-satin pillowcases are a must," says Hill. Unlike cotton, silk and satin pillowcases don't absorb dirt and moisture in the same way and won't pull away moisture from your hair and skin. It's also a smoother fabric, which lessens friction and thus reduces the potential for split and frayed ends. Although she doesn't have a particular favorite, we've previously written about this affordable, highly rated one from ZimaSilk. One reviewer called it "life-changing," and another said that it smoothed out her frizzy hair.
"A lot of people use wide-tooth or firm-tooth combs when detangling, but the bristles are pretty aggressive," says Reyman. "I'd rather use a detangling brush." Its paddle shape makes it ideal for gripping firmly, and the flexible bristles glide through the hair without breakage. Plus they come in lots of different colors.
The Strategist is designed to surface the most useful, expert recommendations for things to buy across the vast e-commerce landscape. Some of our latest conquests include the best acne treatments, rolling luggage, pillows for side sleepers, natural anxiety remedies, and bath towels. We update links when possible, but note that deals can expire and all prices are subject to change.