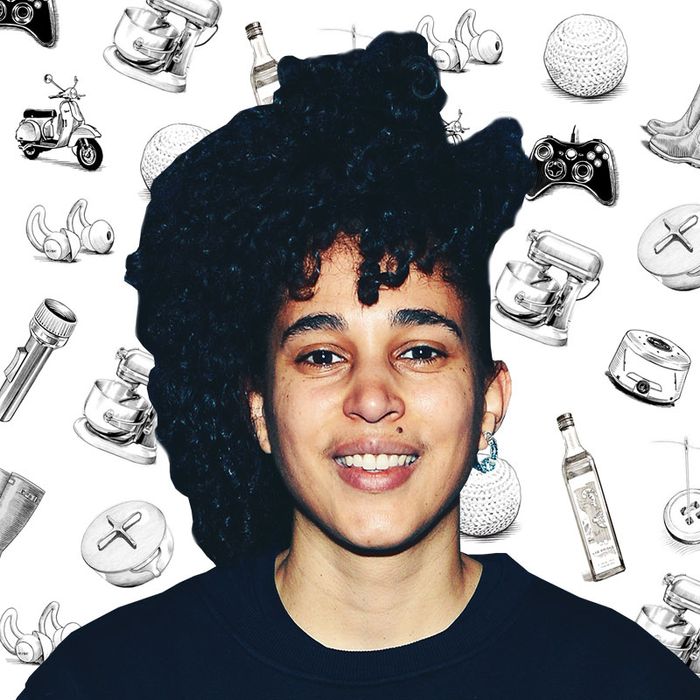 Photo: Getty Images; Illustration: Joe McKendry
If you're like us, you've probably wondered what famous people add to their carts. Not the JAR brooch and Louis XV chair but the hairspray and the electric toothbrush. We asked artist Shantell Martin about the markers, leave-in conditioner, and socks she can't live without.
I've been using Adam J. Kurtz diaries for a long time because of their playfulness. In this one, there are 365 prompts that encourage you or make you smile or let you know something special is happening that day or that month. I always have it right next to me.
A couple years ago, I started to write everything down on index cards: ideas I have, the names of people I meet, different things I want to remember. It has been really helpful. If I have an idea, I'll write it on an index card. If I meet someone who is really interesting and with whom I'd love to keep in touch, I write their name and info on a card. I don't really do anything with them — they just sit in a pile on my desk, and every now and then I'll flick through them. I'll be like, Oh let me check in on this person and see how they're doing, or Oh yeah, this was a really good idea for a project. I'm glad I was reminded of it.
My hairdresser told me about this leave-in conditioner two or so years ago, probably after it first came out. I've been buying it ever since. For people with curly hair, like me, finding the right conditioner is always a little bit of a struggle. But this has been working out really nicely. I use it once a week when I wash my hair.
This brand's sponsored ads were always popping up on my Instagram for some reason. I always thought they did quite cool photo shoots, so I clicked on an ad one day to learn a little bit more about the brand. It's actually really cool, and I guess it's putting ads in the right spots because they worked on me. I bought these socks. I mostly wear black and white, but I still like to bring a little bit of color and fun into my wardrobe. These socks are great for that.
A huge part of my work as an artist is words and lines. I play with both of those, so I'm often drawn to products that use words in big or bold or playful ways. I see words as seeds — things that we can plant in ourselves that grow messages. I think these keychains are really great: The brand sells them with tons of different phrases, but this one spoke to me. It's a very simple reminder to not be afraid of taking risks and to live in the present. I keep it on my keys, so every time I open my door it's: bam, now or never.
I'm a huge T-shirt person. This specific Noah tee checks all the boxes for me. It's kind of a medium weight that feels really good. It's nice quality, made in the USA from 100 percent cotton, and so simple. It just has the little Noah logo on the pocket. The pocket on it is important to me because I can put stickers in it. I carry these stickers around that say, "Who are you?" or "You are you," or "Are you you?" If I bump into someone, like a fan who says they love my work or someone I know, I'll give them a sticker. I've been doing this for about ten years. And a shirt pocket is the easiest, most accessible place to keep stickers.
One of my pandemic pastimes has been playing cards. I hadn't played in probably 20 years, but this past year, I've played a lot. I was looking for a really nice deck, and these Star Wars playing cards, surprisingly, have become a favorite. I'm not a huge Star Wars fan, but I really enjoy this deck. The cards are made really well; they feel good to play with and are easy to shuffle. The jack, queen, and king are all Star Wars characters. They're beautifully drawn. I mostly use them to play Rummy with my girlfriend. At the beginning of quarantine, we played a lot of different games, but we enjoy Rummy the most. I taught my girlfriend how to play, so I was winning all the time at first. Now she's pretty good, but it's less fun when I don't win all the time.
I love playing and making music and have actually put out a couple of songs on Spotify. If you imagine my drawings as music, that's what my songs are — sometimes a little bit repetitive but playful and not overly complicated. I have a couple of keyboards, and I also have this pocket operator. I use it when I want to take a break from everything I do professionally. You don't really need to have a background in music to pick up a pocket operator. I just started by pressing buttons and making little beats. Teenage Engineering is really great at product design. It makes really nice interfaces that show these playful characters — as you make sounds, the operator's screen shows funny little digital drawings. Using it is nostalgic; it reminds me of the calculators I had in school as a kid and also of handheld games, like Game Boy.
I've used a wide variety of pens and markers for my work, but these Krink paint markers have stuck with me. I really like the consistency of the ink. It's a really solid color. I mostly use black, and I really like the shade of this black — the consistency of it and how it flows. The markers also look cool and they're generally easy to use. They're also nontoxic. You can draw on anything with them. The smoother the surface, the better, obviously, but I've used them for drawing on paper, objects, walls, floors — anything that's not super-bumpy.
I wasn't always a candle person, but I've become a big fan of them. I always have one burning now, especially in the evening. I just like the light and scent that they give. The Nomad Noé ones are really fun and playful. As I've said, I'm a big fan of words, and their candles combine really great scents with simply designed vessels that have these large positive words. This one, for instance, says "Dreamer" on it. It's warm and quite calm and evokes the feeling of being at home. I love that about it.
The Strategist is designed to surface the most useful, expert recommendations for things to buy across the vast e-commerce landscape. Some of our latest conquests include the best acne treatments, rolling luggage, pillows for side sleepers, natural anxiety remedies, and bath towels. We update links when possible, but note that deals can expire and all prices are subject to change.