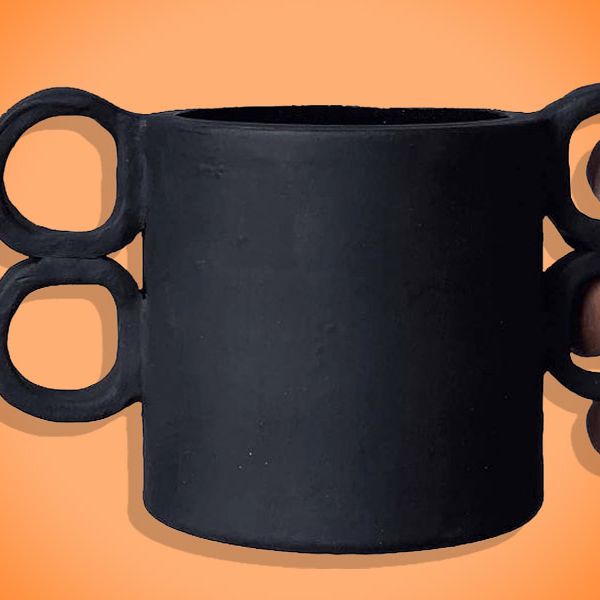 Photo-Illustration: retailer
You don't need us to tell you that ceramics can instantly freshen up any room in your home while also serving as functional décor. (That said, we just did.) To help you find your next piece, we combed through the online collections of Black ceramicists, the inventories of home-décor retailers on our (ever-growing) list of Black-owned businesses, and curated Instagram accounts like Black Ceramicists, Pottery for All, and that of artist Chantal Strasburger (where she rounded up her own list of Black ceramicists to support). From minimal vases for your bodega bouquets to handmade trays for displaying knickknacks to cheery mugs that'll add some joy to your morning coffee (or tea) routine, read on for our favorite ceramic pieces made by Black artisans or sold by Black-owned businesses. While expansive, this list is far from complete, and we'll be updating it as we find more stuff we like.
Maybe you've seen Lalese Stamps's work on your Instagram feed before. We have, and we've also seen how fast her signature whimsical mugs can sell out when she drops new ones on her Lolly Lolly website. Which is why we feel it's important to let interested buyers know that you can also get them at West Elm now. Given the mugs' popularity, we'd still advise not to dillydally if you like them.
West Elm also currently stocks a selection of pieces from Camille at the Wheel, a line of ceramics that artist Camille Beckles hand-makes in New York City. Shown in white, this petite bud vase is also available in black and tan.
Founded by Coy Johnson, the Coy Collection is a small-batch ceramics and jewelry line based in Austin that sells all sorts of pieces, from smiley-face cups to acrylic earrings. While its own website is currently sold out of a lot of stuff, you can still get this cheery cup the brand made in a recent collaboration with Free People from that retailer.
If you've got ceramic vases and mugs aplenty, this hand-thrown pour-over coffee set from Los Angeles–based Ekua Ceramics is a less-expected choice. We particularly like the contrast between its raw clay interior and glazed white-and-lavender exterior.
Virginia Felix is a Brooklyn-based ceramicist whose work fuses function and form, like this sculptural lamp supported by two legs that look kind of like a wishbone. If you're looking for something purely decorative, you can also buy just the base for $100 less.
These adorable blob companions are so affordable, you could buy one for each of those friends you still can't see in person just yet. In addition to unusual ceramics, artist Avé Rivera also sells equally funky stickers and apparel.
Artist Jennée Antoinette is the maker behind the small-batch pottery studio Wayfaring Woman Ceramics, which is based in Portland, Oregon. The colors and landscape of the Pacific Northwest provide inspiration for her pieces like this simple vase with loopy handles (that kind of reminds us of a Lolly Lolly mug).
Goodee, an online shop founded by twins Byron and Dexter Peart, focuses on curating products from sustainably minded artisans and brands. Among them is this four-legged anthropomorphic tray designed by Sebastian Herkner for Ames. According to Goodee, the tray — which comes in both black and red finishes — is handcrafted in Colombia's Tolima region and is inspired by the pottery exhibits from Bogotá's Museo de Oro.
Goodee also stocks a collection of hand-thrown stoneware ceramics from Dutch ceramics brand Studio Ro-Smit, including this minimalist vase that the retailer says is sure to "make floral arrangements stand out."
If you're looking for a vase that breaks the norm, this brightly patterned chubby-ish number from home-goods line Jungalow is as eye-catching without flowers as it would be with some peeking out of the top. (Though if you do want to add some, Jungalow says the vase is best for displaying dried or faux flowers instead of freshly cut stems.) The company, founded by Justina Blakeney, stocks pieces she makes herself as well as "creative, colorful, modern goods from around the globe," according to its website.
Founded by Shannon Maldonado, Yowie, a boutique based in Maldonado's native Philadelphia, has a wide range of ceramics to choose from. One of them is this bold black-and-white planter from London-based ceramicist Louise Madzia.
Yowie also sells this fun tray for tiny trinkets like earrings. It's made with orange-and-yellow tie-dye marble and the design is inspired by 1970s-era backyard pools. Each tray is handmade by the Rockaway Beach–based studio Locus of Occult, so no two are exactly alike.
Interior designer Marie Burgos's MB Collection stocks a wide selection of home goods, from lighting to furniture to accents like this pill-shaped vase with a slightly textured exterior that catches the eye without overcomplicating its simple design. In white, it will surely make whatever flowers you add pop.
An actual work of art, this 16-inch-tall stoneware sculpture by artist and activist Malene Barnett is handmade and one-of-a-kind. (As are all her ceramic pieces, which can go for several thousands of dollars.) The Brooklyn-based Barnett is the founder of the Black Artists + Designers Guild, a collective of independent Black creatives, and has shown her work at galleries and museums across the country.
This peace sign–shaped vase from Jungalow is designed by Blakeney herself. It comes in eight bright colors and will add a groovy touch to an entryway table or bookshelf — with or without flowers.
Bay Area artist Turiya Gross's work is inspired by both Mexican folk art and Turkish antiques. All of her pieces — including this handsome platter — are thrown on a wheel, handpainted, and microwave, food, and dishwasher safe.
Brooklyn-based artist Kyle Lee has exhibited his work in both solo and group shows at several New York galleries. According to his website, he creates ceramics that, like this brightly patterned cup, incorporate "traditional shapes with a colorful and abstract sense of design and glaze application."
The mug comes from Utility Objects, an Atlanta-based studio founded in 2018 by Aleisha Ellis. The extra-long handle makes it look way more interesting than your standard mug — and, presumably, makes it much more fun to sip from.