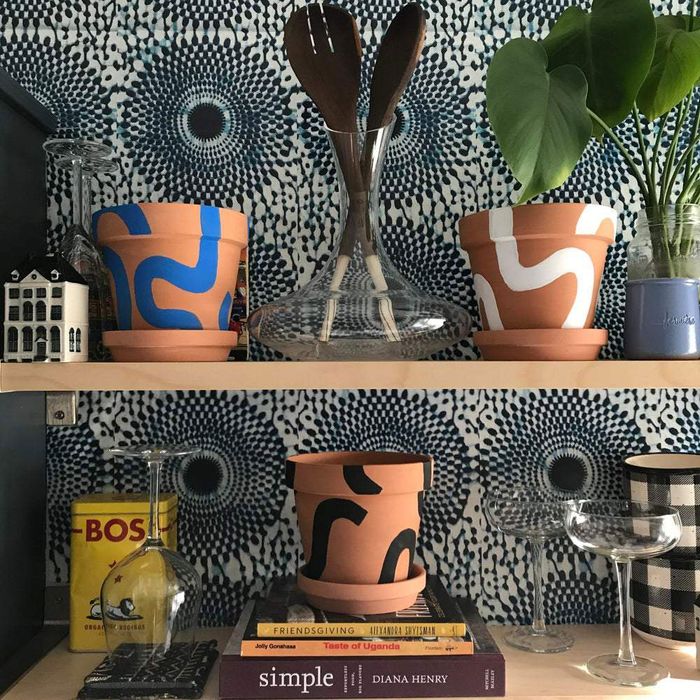 You don't need us to tell you that ceramics can instantly freshen up any room in your home while also serving as functional décor. (That said, we just did.) To help you find your next piece, we combed through the online collections of Black ceramicists, the inventories of home-décor retailers on our (ever-growing) list of Black-owned businesses, and curated Instagram accounts like Black Ceramicists, Pottery for All, and that of artist Chantal Strasburger (who rounded up her own list of Black ceramicists to support). From minimal vases for your bodega bouquets to handmade trays for displaying knickknacks to cheery mugs that'll add some joy to your morning coffee (or tea) routine, read on for our favorite ceramic pieces made by Black artisans or sold by Black-owned businesses. While expansive, this list is far from complete, and we'll be updating it as we find more stuff we like.
Crate & Barrel currently stocks a selection of hand-thrown pieces from Los Angeles–based Ekua Ceramics, a line founded by artist Sara Ekua Todd. We like how the inverted profile of this sky-blue vase makes it look different from most.
Founded by Coy Johnson, the Coy Collection is a small-batch ceramics and jewelry line based in Austin that sells all sorts of pieces, from smiley-face cups to acrylic earrings. Right now, all of their offerings are spooky-season themed, including this mug and coaster set. (Make sure to take note of that creepy third eye.)
These vases from Karen Jai Home, founded by Dallas-based entrepreneur Janelle Langford, come in 12 shapes and sizes and range in price from $48 to $68. Singles can be used to hold buds (or even candles) — or, as the retailer notes, a few empty ones arranged together "make an equally striking display on their own."
Kristina Batiste, the artist behind Tacoma, Washington's one-woman pottery studio Juniper Clay, makes these small dishes that work just as well as snack bowls as they do jewelry catchers. And while it's not Black-owned, Saltstone Ceramics is a small business that supports local and regional artists who, like Batiste, hail from the Pacific Northwest.
Claude Home founder Maggie Holladay sells an impeccably curated selection of vintage furniture and design objects. A lot of the stuff is one-of-a-kind, but this flattened earthenware vase is made to order by artist Willem van Hooff — so no two will be exactly alike, but more than one person can enjoy the piece.
Although not made to order, each of these terra-cotta planters is hand-painted with bold blue, white, or black lines. Founded by Nasozi Kakembo, the Brooklyn-based shop xN Studio sells a collection of home goods including pillows, furniture, and bath products.
This graphic, black-and-white incense holder comes from Black Pepper Paperie Co., a Washington, D.C.–based art-and-design studio founded by artist Hadiya Williams.
These adorable blob companions are so affordable, you could buy one for each of those friends (or family members) you still haven't seen in person yet. In addition to unusual ceramics, artist Avé Rivera also sells equally funky stickers and apparel.
Editor's note: Avé Rivera Studio has temporarily paused sales in preparation for the holidays. You can sign up on its website to get emailed when it reopens.
Artist Jennée Antoinette is the maker behind the small-batch pottery studio Wayfaring Woman Ceramics, which is based in Portland, Oregon. The colors and landscape of the Pacific Northwest provide inspiration for her pieces like this simple vase with loopy handles.
Goodee, an online shop founded by twins Byron and Dexter Peart, focuses on curating products from sustainably minded artisans and brands. Among them is this four-legged anthropomorphic tray designed by Sebastian Herkner for Ames. According to Goodee, the tray — which comes in both black and red finishes — is handcrafted in Colombia's Tolima region and is inspired by the pottery exhibits from Bogotá's Museo de Oro.
Goodee also stocks a collection of hand-thrown stoneware ceramics from Dutch brand Studio Ro-Smit, including this minimalist vase that the retailer says is sure to "make floral arrangements stand out."
Virginia Felix is a Brooklyn-based ceramicist whose work fuses function and form, like this sculptural lamp supported by two legs that look kind of like a wishbone. If you're looking for something purely decorative, you can also buy just the base for $100 less.
If you already have (or don't have room for) a giant stuffed giraffe, this planter sized for a shelf may be more your speed. We think it would be eye-catching with or without a succulent peeking out of the top. Founded by Justina Blakeney, Jungalow stocks pieces she makes herself as well as "creative, colorful, modern goods from around the globe," according to the brand's website.