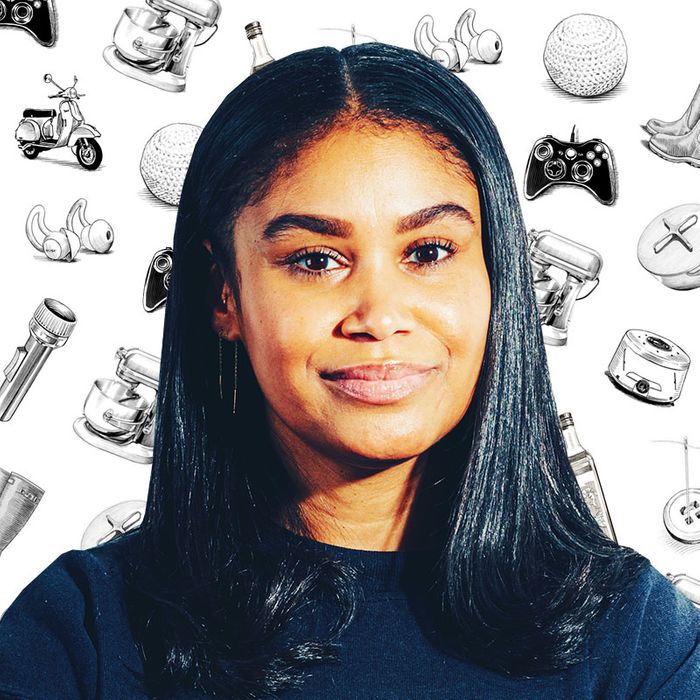 Photo: Bre Furlong, Illustration: Joe McKendry
If you're like us, you've probably wondered what famous people add to their carts. Not the JAR brooch and Louis XV chair but the hairspray and the electric toothbrush. We asked Shannon Maldonado — the founder of Philadelphia's interior-design studio and store Yowie — about the earrings, cleanser, and snacks she can't live without.
I've tried expensive mascaras, I've tried Benefit, and this is the only one I've ever used consistently. It's no-frills, I get it at Rite Aid, and it's usually on sale. I have curly eyelashes and like my eyes to look like bunny eyes, and for whatever reason, this brush works with my lashes. I go superheavy top and bottom. I like it in Very Black because it's a heavier black.
I've seen all the seasons of all the Love & Hip Hop franchises. It's one of my favorite reality shows. Everyone's so self-aware and so ridiculous, including, obviously, the people that make it. There's also a Love & Hip Hop YouTube channel — they do this genius thing where they're all compilations of ridiculous moments throughout the series. I watch it when I'm doing mindless work and when I'm working out.
I actually started with the brand's nighttime lip mask and now I carry this one around. It's one of the best lip balms on the planet. It's light and has a little bit of that old-school heavy-jelly feel, which I think is fun. It doesn't really smell like much and has a really subtle pink color that I like, but they have more colors, too. I'm not someone who wears foundation or eye makeup or anything, so this just helps me look a little alive, you know?
Every year I dream of becoming like a skin-care girl who has a whole routine. And every year it doesn't happen. I'm very inconsistent. But I try a lot of different things; I'm really open to trying new brands. When Klure came on my radar, I first loved that it is Black-owned. I also loved how simple it is — the ingredients, everything. I definitely see a difference in my skin as far as consistency. The product feels very clean — it doesn't feel chemical-y or like there's too much in it. I do two or three pumps every morning and then sometimes a couple more at night, too. I've messaged with the founder a bunch — we commiserate a lot about being Black small-business founders. It's really awesome when you find a product that you love and then grow to love the person that's making it.