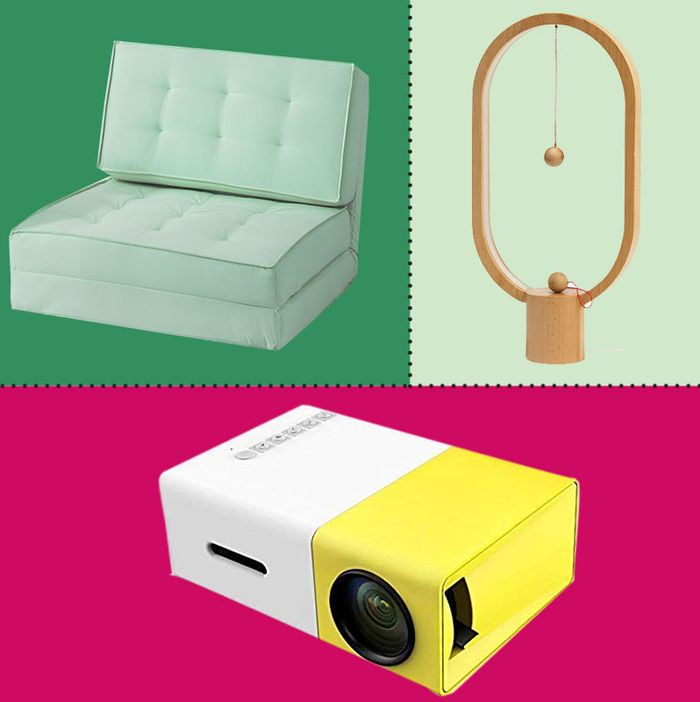 Photo: courtesy of retailer
Heading off to college has a way of wiping everyone's slate clean. No one cares if you were voted coolest, funniest, or best-dressed in high school, but moving forward, they might care if you have a video projector, comfortable seating, extra snacks, or, according to Stanford University senior Amanda Tu, Lord Jones CBD gummies in your dorm room. The things you use to decorate your dorm room can help curb homesickness, break the ice with fellow students, host fun parties that attract lots of students or potential new friends or, if that's not your thing, keep socializing to a minimum. When it comes to the latter, Reed College junior Zack Youcha advises against making video games a focal point in your room because they often attract lots of people and make it hard to kick them out. "I had a guy who would just walk into my place and play PS4 without asking all the time. It was awful," Youcha tells us.
While some may think that the clean slate that comes hand in hand with going to college is a bad thing, we see it as a major positive. Your four (or more) years on campus present the enviable opportunity to reinvent yourself. To help you self-reinvent in style, we asked Tu, Youcha, and 20 more intimidatingly cool and design-minded students from 19 universities across the country (and across the pond) to tell us about all the statusy stuff to bring to school so that you'll look like the big man — or woman — on campus. Read on for 33 things (excluding video games) that will help you make friends and influence people outside of the classroom, according to our cool college students — who, if you're interested, come from Yale, the University of Pennsylvania, Brown, Columbia, the University of South Carolina, Tulane, Haverford, Reed, George Washington University, Syracuse, Barnard, Boston College, Stanford, Eton/Imperial College London, Ohio State, Leeds University, Goldsmiths, Lehigh, Goddard College, and Philadelphia University.
Mood lighting
Nearly every student we talked to agreed that the quickest way to zhuzh up a sterile dorm room is to add soft lighting. More than half of our cool students — 12, in total — say they use string lights to create mood lighting in their own rooms, or have seen some kind of string-light configuration (ranging from full curtains of twinkly fairy lights to remote-controlled, color-changing bulbs) in their friends' dorms. Daniella Isabel Apodaca, a senior at Columbia University, told us she hangs slightly larger globe-shaped string lights like these "around my room every year." In addition to softening the often unflattering standard dorm-room lighting, she says the bigger exposed bulbs solve another problem: "If you want to sleep or watch a movie, but your roommate needs some light, usually having just the string lights on provides a happy medium."
Stella Vujic, a sophomore at Yale, told us these remote-controlled lights give her the flexibility to quickly change a dorm room's vibe. "I know several people that have string lights that can change color around their room," she says. If you're going for something chill and relaxing, switch them to white or warm yellow, and if you're "fixing to have a party," switch them to blue or green.
In addition to string lights, Tu says that pink Himalayan-salt lamps are definitely a thing on her campus. "I'm hard-pressed to think of a single cool girl on campus who doesn't have one in her room. The glow is super mellow, they're not that expensive, and people have fun licking them when they are intoxicated." When we followed-up on the lamps' lickable appeal, Tu told us: "I think every single person I've talked to who owns or knows someone who owns a salt lamp has licked it once. It's not a trend so much as the intuitive thing to do, I guess."
Gunner Park, a junior at Cornell who spent his summer interning at HypeBeast, first discovered this design-y but still affordable alternative to your standard desk lamp in a friend's room. He told us he was surprised that the sculptural piece — which would look just as nice in an adult apartment — didn't cost a lot more than the more run-of-the-mill desk lamps you can buy.
Photos and art for a gallery wall
Once you've secured your mood lighting, the next most agreed-upon way to inject style into your dorm room is through a gallery wall. Eighteen of the rising sophomores, juniors, and seniors we talked to say they like to use a mix of posters, framed art, and personal mementos and photos to do so. Many of the students expressed a fondness for using vintage-looking photographs, telling us about several different ways they get that aesthetic, including using affordable instant cameras or going even more low-fi with a cheap disposable one and drugstore prints.
Lillie Walsh, a Junior at Goddard College, has a collection of old and new instant cameras that she uses to help decorate her dorm. "I use my father's old Polaroid 600 from the '90s, and I also own a couple of Fujifilm Instax Mini cameras." Christel Langué, who graduated from Lehigh University last year, also likes using instant cameras because they create photographs that are more lasting than the ones filling up her cell phone. "One thing that makes me sad about smartphones is that we take so many pictures and never look at them again. Polaroid walls are a fun way to make memories and not forget about them." If you do prefer using your smartphone as a camera and want to make prints of your digital images, our panel of cool students told us to check out Framebridge for affordable printing and framing, Parabo Press for customizing photos using retro filters and square formats, and Snapfish, which lets you print tons of photos cheaply and quickly through an app.
Nicolas DeStevens, who graduated from Philadelphia University with a degree in fashion marketing last year, told us he has seen a lot of students using disposable cameras instead of instant ones. "One trend that is pretty big right now is using disposable cameras, like the '90s. Once the pics are developed, just stick them on your wall."
Carl Escoffier, a recent graduate of Leeds University who is about to start at Goldsmiths, recommends this framed limited-edition vintage print of Muhammad Ali to anyone who, like him, could use some help him with "Monday morning motivation."
A handful of students recommend buying poster versions of famous works of art, including Youcha, who directed us to this poster of a Mark Rothko painting. He says it will make you "seem educated" in addition to "adding color to an otherwise bland room."
Apodaca says her favorite posters come from artist Paul Baxendale, who shares his work on Instagram via the handle @fieldstudieseditions. She likes them "because they add a modern, southwestern vibe to my room." This print is available in a bunch of sizes so you can tailor it to your gallery wall.
Both Annabelle Williams, a senior at the UPenn, and her friend and recent UPenn graduate Shiv-Louis van de Ven told us that vintage-looking city maps are a great way add a touch of home to a dorm-room gallery wall. Williams directed us to this brand for its map of Philadelphia (where she hails from); that map is currently out of stock, but there are a ton of other available options, like this print of Atlanta.
Nice-smelling things
Many dorms have rules against candles because they pose a fire hazard. But of the 14 students who say it's important to have something to mask dorm-room funk, candles were the most recommended thing to do so by far, with eight students telling us that scented candles are essential to creating an inviting atmosphere. "You really never want to be in someone's space if it's dirty or smelly," says Langué, who suggests getting an essential-oil diffuser if your dorm doesn't allow candles (or you don't think you can sneak one in). Van de Ven likes this one from Malin & Goetz because of its "rich earthy notes that say style, not skunk." Vujic adds that, despite her campus's no-open-flame rule, in her experience, "people just have candles anyway and hide them when it's time to check on dorms."
For those who believe that rules aren't made to be broken, this essential-oil diffuser from Muji is another effective way to freshen dorm-room air. Three students, including Park (who has used this to mask the aroma of his frat house), say they prefer using electric oil diffusers because, while candles look nice, a diffuser does a better job at improving the scent of an entire room.