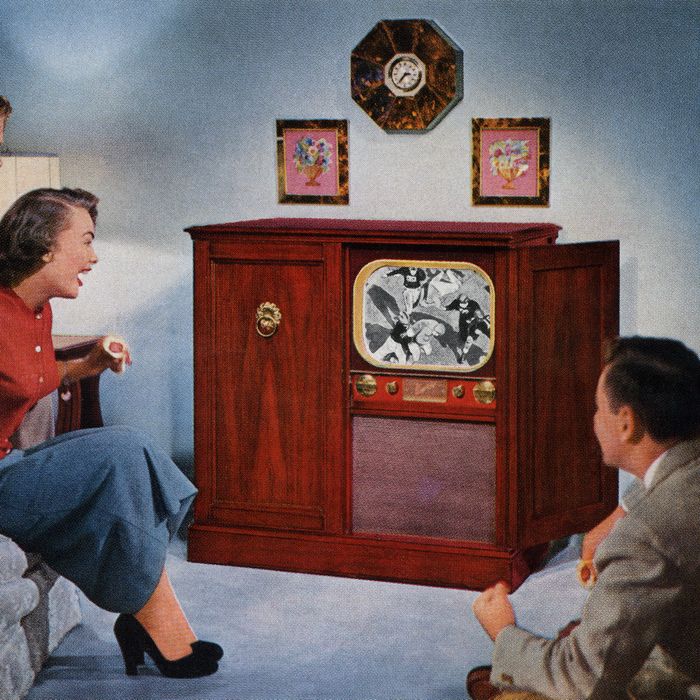 Photo: GraphicaArtis/Getty Images
If you ask someone what tech gift they might like to receive this holiday season, there's a good chance they'll tell you that they want a new television. That, at least, is according to research from the Consumer Technology Association (CTA), which found that TVs are 2018's most-coveted consumer-tech gift (even if 96 percent of Americans already own one). However, figuring out which model to buy can be tricky, since the technology moves fast. So to figure out which TVs are actually worth the splurge this holiday season — and which models you'll want to keep an eye out for on Black Friday — I asked a researcher from the CTA, along with two home-theater and smart-home consultants, to talk through this year's biggest television trends and highlight some of 2018's most popular TV models.
There are some features that have basically become standard on any new TV that's worth buying. For instance, explains Brian Markwalter, CTA's senior vice-president of research and standards, "If you're shopping now, you would just want to get a smart TV," by which he means one that's able to connect to the internet. Also, at this point in the game, adds Markwalter, "it would be a mistake not to look at Ultra HD and 4K TVs." That means TVs with high resolution and wide color gamut, which simply means you can see a much broader range of vivid colors, including truly black blacks and bright whites. Don't miss all of the Strategist's holiday gift coverage right here, too.
Where you do have some options is in which display technology your TV uses to get these ultra-high-definition results. The first is called quantum dots, a type of LED technology that both improves the efficiency of the light and makes it possible to do these vivid colors on an LED screen. This is what Scott Weinstein, vice-president of custom integration at Audio Den, favors, and he's been pointing clients toward QLED TVs from Samsung, which utilize quantum dot technology at a reasonable price point. He will recommend either the Q6 series …
… Or the Q8, depending on his client's budget. And the reason these two Samsung models are his favorite in the QLED line is because they don't use Samsung's One Connect system. "That One Connect uses a proprietary cable to go from the One Connect box to the TV itself," he explains. "Proprietary things are always a little scary when it comes to the future."
However, if price is less of a concern, Weinstein calls the Sony Z9F, "our favorite, favorite television on the market. That is pretty much the Rolls-Royce of televisions right now." It doesn't use quantum dot technology, but this LED screen still looks beautiful. "As far as performance goes, it's smooth, it's accurate, it's a pleasure to watch," says Weinstein. "It's pretty much, we think, the best-looking TV on the market right now."
The other major TV display technology that allows for an ultra-high-definition picture is OLED, and according to Eugene Fiks, president of Fiks Consultants, "OLED, right now, is sort of the most popular, most-asked-about technology." It's been around longer than quantum dots, which means it's also finally starting to come down in price (and if you want to learn more about the technical specifics, feel free to check out this OLED explainer from our colleague Jake Swearingen). "One of the great things about the OLED, especially that television, is how clean it looks," adds Weinstein, and both consultants recommended this LG TV as a go-to OLED. "The C8 is one of our favorites in terms of performance, bang for the buck. A lot of people love that modern appeal," says Weinstein. And Fiks agrees: "These TVs are almost paper-thin. The depth of this TV, it's actually 0.23 inches deep," but it doesn't sacrifice image quality at all.
However, Fiks estimates that about half of his clients who are looking for a 55-to-65-inch OLED go for this Sony A8F. "They're thin, have a really wonderful picture in 4K, of course, and really, I think a pretty good value," he explains. This TV is actually from the same line as Weinstein's favorite Sony Z94, and so has many of the same features, but uses OLED instead of LED technology. So this is really where personal preference comes in.