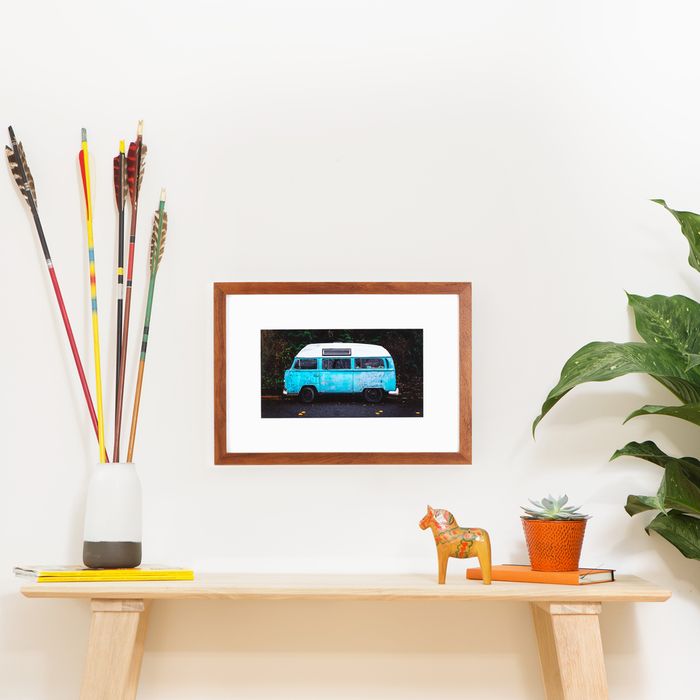 Photo: Courtesy of Framebridge
With smartphones, each of us is walking around with tens of thousands of photographs of our friends, family, and pets every day. (Right now, I have just over 15,300 photos stored on my phone.) In the past, it was unlikely that any of those photos would make the journey from pixels to actual ink on paper, but in 2019 printing and framing photographs is actually easier than you think. There are tons of online-framing services that will take photos straight from your phone or Instagram feed and turn them into framed works of art.
To find the best online photo print services (ahem, Mother's Day gifts) we tested a handful of online-framing services, focusing on sites that let you upload a photo, choose a frame and mat, and purchase straight from a website or an app. To accurately test for print quality across retailers, we chose to only use images taken with an iPhone 7. We also opted for frames on the small side to accommodate all kinds of placement and because a giant framed photo might be more of a burden than a gift. Below, the results.
Criteria
During the ordering process we took notes on each retailer's user experience. Things that stood out were wide arrays of frames and mats to choose from, free basic retouching, PDF proofs, image adjustments, and choice of hardware. As our framed photographs arrived we judged each one on four criteria giving each a numerical rating from 1 to 5.
Shipping: How long did it take to arrive? Was it well wrapped? Could the packaging possibly work for a gift?
Print Quality: How professional does the print look? Does it look better than what any normal person could print at home? How does it compare to looking at the same photo on a phone screen?
Frame and Mat Quality: Is the frame made from quality materials and well assembled? Is the mat staying in place or does it shift? Does the hardware seem sturdy and easy to use? Is the acrylic dust-free and of good quality?
User Experience: Could any consumer use this service? What options are available and how much customization is possible? Do they offer image adjustments? different sized mats? Do they have an app?
Best overall online-framing services
Shipping: 5 | Print Quality: 5 | Frame & Mat Quality: 5 | User Experience: 4.5
Framebridge offers a wide enough variety of framing options without becoming overwhelming. You can upload a photo from your phone or computer (they have an app but we didn't use it) or you can send something in and they'll provide a flat box for you to use. They also offer design services to help you choose a frame or hang a gallery wall. The former is free and similar to a try-on glasses service. They send four designer-chosen frame samples to your home so you can pick in person. The latter will run you around $200.
We went for the simplest option they offer: choose a frame, upload a photo, pay, and wait for it to arrive. The process couldn't have been easier, and it's worth noting that they offer free shipping. When choosing the size of your frame and print Framebridge lets you see a preview of your frame in a room for scale. The only negative we found is that they don't offer image adjustment or a PDF proof the way other services did (we docked a half a point). Our framed photo arrived in seven days and was packed so securely you could have dropped it off the back of a truck without it being damaged. The photo itself turned out really well. Framebridge prints on archival paper and doesn't offer different paper options, which might be frustrating for some but eliminates an extra decision (plus the paper quality is good). There are several mat options including no mat at all and you can change the width of your mat in half inch increments. The frame is well-assembled and to be honest looks extremely professional, as does the UV-protection acrylic. It comes with extra hanging hardware in addition the wire at the back of the frame, too.
TL;DR: If you're looking for a user-friendly service for regular people with a lot options and the potential for some design help this is your best bet. It's also the best option for ordering multiple frames for a gallery wall.
Shipping: 4.8 | Print Quality: 5 | Frame & Mat Quality: 5 | User Experience: 4.3
A close second behind Framebridge, Simply Framed offers printing and framing services together or printing services on their own. You can also send in drawings, a favorite scarf, a newspaper clipping or a love letter for them to frame. One interesting difference between these two is that Simply Framed partners with artists, designers, and galleries to provide wholesale framing. Their tagline is "Trusted by artists, made for everyone" and the site itself is like a mood board for framing ideas. On the downside, Simply Framed doesn't have an app nor does it offer the same kind of designer help as Framebridge, though its customer service was very responsive to our emails. The process of choosing a frame and uploading an image was easy — our only complaint is that you're asked to choose between fine-art print, fine-art photo, personal photo, and Instagram at the outset and the frame options are not the same in each category despite similar sizing. This meant we did a lot of extra clicking around to consider our options. On the plus side, Simply Framed allows you to choose from ten different print papers, five mat styles, and eight different mat materials. You can also change the mat width in half-inch increments, which is nice if you're dealing with a small photo.
Shipping took a bit longer — ten days after ordering (though technically 5 business days since we placed our order on a Friday). The actual frame was not wrapped as heftily as our Framebridge package but nothing was damaged and it seemed secure enough. The image quality is as good as Framebridge with lots of detail in both lights and darks and impressive for such a small file. The construction of the frame and mat are impeccable and there's even a quality-control stamp of approval on the kraft-paper backing. As for the acrylic, you have the choice between five different options ranging from regular UV-protective shatter-proof acrylic to museum-quality UV, anti-glare, anti-static, and scratch-resistant acrylic but only the first option is free.
TL;DR: If you're framing important artwork or family mementos, Simply Framed may be a better option for you and it is still very easy to use. But if you're in a hurry to get a gift, it presents more options than necessary.
Best cheap (but surprisingly nice) online-framing service
Shipping: 4.5 | Print Quality: 5 | Frame & Mat Quality: 5 | User Experience: 4.5
If you're on a budget, Keepsake is definitely your best option. Frames start at $25 and most of them won't reach over $40. We ordered a beachy white-wash wooden frame with a bright-white mat and a five-by-seven print for $29. Keepsake is another framing service that has an app, which is how we placed our order. The whole process, minus deciding what to print, took about five minutes and was actually a lot of fun. One nice integrated option in the app is creating a personalized gift card with a photo. This would be a really nice way to give new moms or moms of young kids a gift from a child by including their photo on the card. Keepsake doesn't come with as many options for mats or printing paper or design help as some of the other services. And once you have chosen your frame and photo you can't go back in and make edits which is frustrating. But it's 100 percent something you could order for a Mother's Day gift on your lunch break from your phone.
Shipping is not free from Keepsake but it was less expensive than other retailers, just $4 dollars to ship our order. Our package arrived quickly and in excellent condition. Because it came wrapped in clear bubble wrap the gift card could be seen through which was a sweet addition. Everything about the print, the frame, the backing and little cork wall bumpers makes it hard to believe that it cost under $30 bucks.
TL;DR: If you're looking for speed and surprising quality at an affordable price Keepsake is your best bet.
Best professional-level online-framing service
Shipping: 5 | Print Quality: 5 | Frame & Mat Quality: 5 | User Experience: 4.5
If you already have some knowledge of print papers and other framing materials and you're kind of picky about your frames go with American Frame. The site allows you to upload a photo, choose your mat and frame, click and ship just like the other online services. But it requires a lot more decision making and the interface is not as intuitive (they told us that they are in the middle of updating their system). That said, it offers the widest variety of frames, mats, paper, and customization of all the services we tried. Another important distinction is that it's the only service we tried that offers free basic retouching and a bunch of other retouching options for an added cost.
Our order arrived under the expected shipping time and was packed with the same amount of care and precision as it was printed and framed — a lot. We chose a dark brown wooden frame from their American hardwoods series which come from an FSC-certified mill in Northern Michigan. While it's not the cheapest option, our order came to around $70. The frame is really well assembled and sturdy looking and the mat and print quality are extremely high. One other thing worth mentioning is that American Frame offers frames that you can assemble on your own which is great for artists and folks who want to save some money. Their cheapest assembled frame and print option will run you around $40 with shipping. For the quality you'll get that's a great deal.
TL;DR: If you have more than half an hour to devote to your framing project, high standards and are looking for tons of options give American Frame a try.
Best online-framing service for beginners
Shipping: 5 | Print Quality: 4.5 | Frame and Mat Quality: 5 | User Experience: 4.5
Level Frames offers several framing options: custom-sized frames, standard photo frames, collage frames, tabletop frames, and even custom frames for your vinyl. Once you've made your choice (we opted for the standard hanging frame) the process is super simple and pared down. After uploading your photo you can rotate, zoom, or crop it. Then you have the choice between lustre or matte paper and a total of ten frame styles ranging from plain black or white, to vintage style frames in gold or silver. You can either choose your own mat width or you can click the Golden Ratio button which will adjust the mat to the best ratio for your photo size. There's a second button that lets you share a preview of your frame with friends to get a second opinion which could be helpful for folks who have never had something framed before. Where acrylic is concerned there are three options with the anti-glare UV protector costing a mere $5 extra.
We were impressed when our order arrived in just four days. And even more impressed with the quality of the frame and mat. The weathered black wood frame we chose is dark but with subtle highlights that keep it from looking too heavy or serious. The mat is well cut and firmly sandwiched in place. As for the print quality we chose lustre which seems to be enhancing the digital texture of the photo a tiny bit. But honestly you have to look really closely to see that. With other services, the plethora of options could become stressful to navigate, and Level's automation and limited choices were actually a nice relief.
TL;DR: If you don't have a ton of time, you get overwhelmed by choices and you'd like some help with the process this is the service for you.
Best online-framing service for a non-traditional photo frame
Shipping: 5 | Print Quality: 4.5 | "Frame" Quality: 4 | User Experience: 5
Full disclosure, we tested Artifact Uprising's traditional framing services but we found them a bit underwhelming. Compared to the other services the frames were less sturdy and the mats shift easily within the frame. But we were very impressed with the brand's non-traditional framing options. This brass photo easel, which comes with a set of 12 thick stock paper prints, is really nice-looking and offers more photos for your money, even if it's not technically a frame. The best thing about this alternative is that you can rotate through the dozen photos as often as you want. The ordering process was extremely easy and Artifact Uprising lets you save a ton of photos in a personalized queue for repeat printing or testing multiple photos in a frame. Once your images are uploaded, the site will warn you if they're too-low resolution which, don't worry, you can ignore if you want. Artifact Uprising is the only service to offer image adjustments along with basic cropping so you can make a photo brighter, darker, or turn it from color to black-and-white. You can choose between prints with borders and prints that are full bleed but you can't choose the paper they are printed on. Still the matte textured, almost watercolor paper, prints are as far away from the experience of viewing your photos on a screen as we can imagine.
The shiny brass easel came shipped flat and wrapped separately from the prints and was incredibly easy to put together (just watch out for sharp corners). We docked this "frame" a point because it's not technically a frame and because your prints are not protected from dust, fingers, and other dirt.
TL;DR: If you're looking for traditional framing services, there are better options. But if you're looking for an alternative to the traditional frame, Artifact Uprising presents an interesting choice.
The Strategist is designed to surface the most useful, expert recommendations for things to buy across the vast e-commerce landscape. Some of our latest conquests include the best acne treatments, rolling luggage, pillows for side sleepers, natural anxiety remedies, and bath towels. We update links when possible, but note that deals can expire and all prices are subject to change.