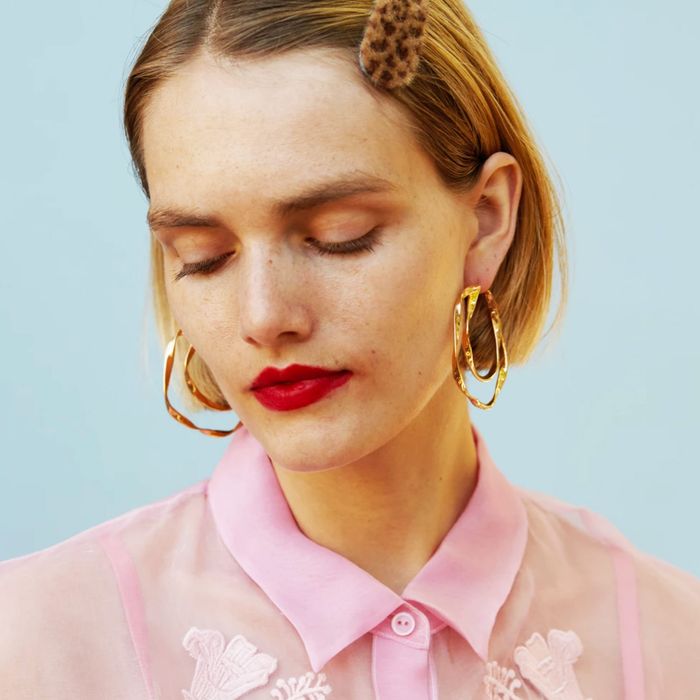 Photo: Courtesy of the retailer
Hair clips are back in a big way. As with many trends, celebrities are in part to thank — Alexa Chung wears pearl-studded barrettes, Ariana Grande has shown a seemingly unwavering commitment to the snap clip (as has Kendall Jenner), and Selena Gomez has even used a bedazzled barrette to cheekily call out her haters. The fashion world played a role, too, with clips showing up on runways including Chanel's fall 2019 show, and at the Met Gala, where a Dapper Dan–clad Ashley Graham completed her look with a ton of pearl- and jewel-encrusted clips pinned to her giant braid. And, of course, there's Instagram, where Sydney-based Valet Studio seemed to have kick-started the frenzy on social media when it debuted its flashy pearlescent pins in spring 2018, months before Man Repeller followed up with its own line of jaunty clips as part of its (digital) holiday pop-up last year.
But with so many hair clips out there, we wanted to know which, specifically, are the coolest, the ones that would make us look more like Bella Hadid in her '90s–style claw clips and less like we raided our childhood dresser for twee clips we actually wore in the '90s as kids. So we turned to hairstylists and a bunch of cool women we've seen wearing interesting-looking clips to find out what they're putting in their (or their clients') hair. Below, their 30 favorite barrettes, clips, and claws for practically any aesthetic.
For the traditionalist
Valet Studio's vintage-inspired resin accessories, which are available in a slew of styles, were the most popular hair clips among our panelists (our editors also love them), with the five who recommended Valet clips each naming different ones as her favorites. If you're on the fence about sticking a big chunk of plastic in your hair, you might want to start with something more subdued in a classic shape and colorway. Eva Lee, content operations manager at Refinery29, recommends Valet's delicate tortoise-shell clips. "They add a little decoration to your hair, but they're still understated," she says.
If you prefer wearing classic white pearls in your hair (and don't want to break the bank on the clip trend), publicist Sonya Casino recommends this inexpensive set of clips from Amazon. "I wanted in on the trend but was not willing to pay more than a few bucks," she says, "so these were the perfect gateway clips for me." She has a particular soft spot for these snap- and bobby-style faux-pearl clips because "they remind me of the clips I wore as a kid."
For pop-of-color lovers
If you're ready to graduate from more traditional to funkier clips, blogger Jen Pinkston of the Effortless Chic recommends this affordable variety pack, which includes classic shapes in a variety of shiny colorways, including more traditional tortoise-shell styles along with dreamier pastels. "The price point of this ten-piece hair-clip pack from Amazon lured me in, but the versatility and color combinations are what has kept me going back to them in my hair drawer," she says.
When it comes to pearly hair clips like Chung's, Coveteur's senior beauty editor Hannah Baxter likes styles from Neophyte, a Toronto-based accessories brand she found on Instagram. "I like to stack a few of these pearl styles on either side of my part for an asymmetric look." Man Repeller's market and affiliate strategist Elizabeth Tamkin also turns to Neophyte for its rainbow of pearly barrettes, which she particularly likes for how tiny they are: "I like to wear a few at once," she says, adding she'll wear three of them in a row with her hair pulled back or intertwined in the strands of a braid.
For another pop of color, Tamkin recommends these marigold crocodile-style clips from Foe & Dear that she says are super-easy to style. "These are great for securing a bun and don't make a dent in your hair like a ponytail holder does. They remind me of those fasteners they use at a hair salon," she says. "I love the marigold color."
Another style recommended by Tamkin, this is your classic bar-shaped barrette but in a fun lilac shade that'll brighten up any outfit.
Photo: 19-06-19 Accessories AM1 B3 alexandergrant W
Casino told us about this pair of simple bar clips from Lele Sadoughi, whose shape is elevated by their colorful, swirly pattern.
Here's another set of crocodile-style clips, recommended by Casino, in a subtle tone Anthropologie calls peach. We think the softer hue is a little more understated than those of clips in more saturated colors on this list, making these slightly less attention-grabbing.
Baxter also loves clips from Brooklyn-based, sustainability-focused jewelry brand SVNR, calling the line "one of my favorites, not only for the gorgeous jewelry but for primarily using recycled materials." The Waikiki barrette is also colorful but subdued, thanks to the fact that it's made of found sea glass, pearls, and quartz. In addition to the fact that it allows her to be a little more environmentally responsible, Baxter says she just loves how cute the clip is.
Casino calls this clip "a little piece of modern art for your hair." We agree; the colorful, terrazzolike pattern gives this otherwise basic, rectangular clip a delightful twist.
Iris Diane Palma, director of visuals at vintage and contemporary clothing retailer The Break, also turns to Valet for its hair accessories. She especially likes this space-inspired clip embellished with stars and moons and a moody blue color scheme. "I love anything cosmic design," says Palma, who says to "pair this one with a bright-orange-red lipstick for a fancier day look."
For the vintage lover
If vintage is more your thing, hairstylist William Scott Blair suggests turning to Etsy, where he says "there is a literal wealth of inexpensive deadstock hair clips and combs from the '50s, '60s, and '70s." Most important, Blair adds that "because it's deadstock, you know that no one else will have the same one." He particularly likes this chunky embellished barrette from the '60s, saying, "If you're going to wear a hair accessory, I think it's important that it make a statement, even if it is purely utilitarian."
Hairstylist George Kyriakos also likes clips with an old-school aesthetic. He pointed us to this hammered-brass clip that he says has a '70s-inspired shape but looks "modern, sleek, and simple." He adds: "I love this hair clip because it's a great way to put your hair halfway up. I adore the look of it."