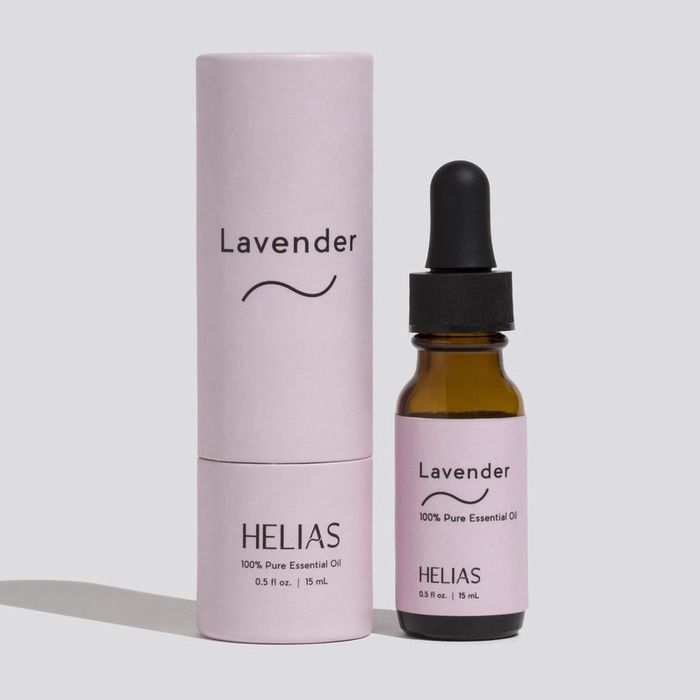 Photo: Courtesy of the retailer.
Yoga feels good for a lot of reasons: Stretching relieves tension, and you get the combined benefits of working out and meditation in one class. But there's another part of yoga class that's so good, it rivals the bliss of exercise endorphins and deep breathing. It happens during Savasana (the laying-down-eyes-closed part at the end of class) when essential oils are applied to skin or clothing via a mini-massage to the neck, temples, shoulders, or even feet. Not all instructors do this (to my great personal disappointment), but most recognize the power of aromatherapy and its effect on their clients.
If, like me, you've ever spent your Savasana in a half-dream hoping the teacher would hurry up and do the little scented-massage thing already, you get it. The brief experience feels like a thousand lavender eye masks, times a hundred whiffs of fresh farmers' market herbs, plus well, a massage — a.k.a. heaven. Happily, it's also easy to simulate at home. To help you achieve yoga-studio-level good vibes, we talked to experts in the field about their favorite oils and oil blends (plus a few scents in other forms) that anyone can use for massaging their own neck and feet, or to simply make their apartment smell like a relaxation palace.
Sarah Calandra Fine, studio manager and private instructor at Good Karma Yoga in Peekskill, New York, grew up with a massage therapist for a mom, so she knows the power of healing touch. "I do aromatherapy and healing touch at the end of my classes, some teachers don't, but I'm definitely a touchy-feely person. I think that that kind of physical touch is really important for grounding at the end of class. People can get a little bit floaty there. I live by the brand Young Living. They're amazing. They are therapeutic grade oils, so you can actually eat them, which is important because anything that we put on the skin digests into our body."
Fine makes her own blends using different base oils for their cooling or warming properties. "I use Banyan Botanicals as a base. They're a good Ayurvedic brand. Coconut oil is more of a cooling oil. I often use it because if there are sensitivities, it's much gentler on the skin. However, in the colder winter months, using something like a sesame oil, which is really warming on the body, can feel great. I'm really connected these days to cedarwood and sandalwood. I find them to be really earthy and centering in a way other oils aren't. I'll mix lavender with one of those for a really simple blend."
Krissy Jones of Sky Ting Yoga keeps a roster of her favorite essential oils on hand, some for calm and others for improved focus. "My favorite oils are jasmine, rose, and frankincense. I put jasmine and rose on as my perfume. Recently, I've been diffusing different scents in my home from my friend's essential oil company called Helias. I diffuse lavender before bed or when I'm in the bath relaxing, and I diffuse this blend called Passion when I'm doing work and trying to focus. They're so effective."
For lavender on the go, these essential-oil-infused towelettes are a lifesaver and easy to throw in your bag. They're great for midafternoon calming breaks, freshening up, removing makeup, or even repelling mosquitoes.
Beau Dobrikov, a yoga instructor at Align Brooklyn, diffuses oils at home and enjoys the activating properties of bergamot. "Many yoga instructors apply essential oils to t