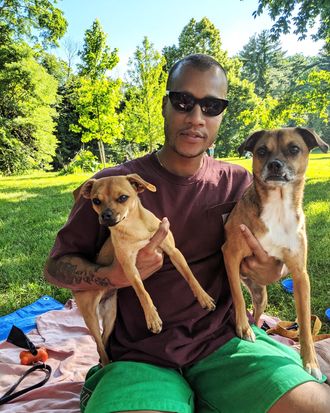 Preston with Boo Boo and Bambi.
Photo: Courtesy of Heron Preston
Celebrities really are just like us — they need to buy things, too. And just like us, some of them become obsessive about the things they buy, enough that they become experts themselves. Heron Preston might be known for safety-orange streetwear designs, associations with Kanye West and Virgil Abloh, and pop-ups in Moscow — but he really just wants to cuddle with his dogs. So much so that his most recent collaboration was with dog apparel line Very Important Puppies. Here he tells us about the memory-foam dog bed, pet camera, and pork chop chew toys he's picked up for his rescue pups.
I have two dogs. Both are rescues — we used a site called adoptapet.com. The first is Boo Boo, he's a two-year-old Chihuahua mix with pug and American Eskimo dog. He's from Tennessee. And Bambi's nine months — she's also a Chihuahua. We adopted her from Mississippi. We like southern dogs, by way of Mexico. I always had dogs growing up in San Francisco — always pit bulls. One of my first tattoos was my dog, Muscles. I have a really close connection to animals, but particularly dogs. Though after Muscles passed, I never got another dog. And so once we finally did get a dog again, I became super on it when it came to raising them and training them and teaching them. I was really obsessed with having a dog again all of a sudden — it had been over 20 years. And now I spend most of my time with them, more than I do with some of my friends. Having a dog in New York is hard, that was something that prevented us from getting one earlier. But we just said fuck it, and we made it work. If you really want one, you'll figure out how to make it work.
So Just Food for Dogs is a dog food that we decided to start feeding them after we saw this documentary called Pet Fooled. It's about dog food — and how bad it is. We noticed our dogs weren't feeling great, going to bathroom way more than normal. So we looked deeper into their food, and decided to try this human-grade, home-cooked, USDA-approved dog food. It is a bit more expensive than normal dog food, but it's just way more than healthy. Just Food for Dogs is super-transparent, I think they have an open kitchen in L.A. where you can see the dog food being prepared. Like, we could eat it! That's how good it is. But I encourage every dog owner to to watch this documentary. We're concerned as humans with what we put in our bodies. We should also be concerned with with we're giving our pets. They can't speak up, so we have to for them.
These come in different lengths — I have the medium one, but there's one that's super-long and allows you to throw the ball even further. We use it all day, every day at the park. It allows you to pick up the ball without bending down. Also the balls can get kind of gross, so with this thing you you don't have to touch it. But yeah, it gives you the ability to throw the ball super-far. So they can just run all day long and get a good workout in.
This is a super-affordable option for what we needed. Just $38 — compared to Nest cameras, those were near $200. And it kind of does the same thing. You can put the app on your phone, watch remotely from wherever you are. It has almost 360-degree rotation, has two-way audio so you can yell at your dog if they're barking, it has night vision. It's a great option we found for under $40.
Yeah these Nylabones are funny; they come in the shape of a pork chop and they have different flavors. But they're really durable. Boo Boo has jaws of steel, he can't have soft toys. Those don't last more than a couple hours. But with these, they can chew on it forever, for months at a time. The pork chop Nylabones keep them busy.
This is for keeping their breath fresh. We put a capful in their bowl of water every time we fill it up. It keeps their teeth healthy too.
This one is our favorite because it smells good. And everyone loves a good- smelling dog because they tend to get smelly. This shampoo has this yummy oatmeal-y fragrance. We tried others that didn't really smell that good. We've got two puppies and we just want them to be two yummy balls that smell good. So that's why we like this shampoo.
This has some structure to it, it's not super-super-soft, but it does have memory foam. So Boo Boo likes to rest his head on the curved part, and both of them will ball up like little crescent moons together in there. The dogs love it, they can get into all these positions. We've had it for a super-long time. And it's easy to clean. The liner is removable — you can just throw in the wash.
So Very Important Puppies is a brand that was started by my girlfriend Sabrina and her sister. The whole concept was designing dog apparel at a luxury level to match the owners. They kicked off with some collaborations; I was one of the first ones they launched with. We took the orange tape from my line and designed some dog leashes and collars. And then we also made some hoodies, rain jackets, and other doggy apparel using my Heron bird graphics. That was the first collection we released together. The next one we're doing together is a NASA collaboration, it's out later this month.
The Strategist is designed to surface the most useful, expert recommendations for things to buy across the vast e-commerce landscape. Some of our latest conquests include the best acne treatments, rolling luggage, pillows for side sleepers, natural anxiety remedies, and bath towels. We update links when possible, but note that deals can expire and all prices are subject to change.