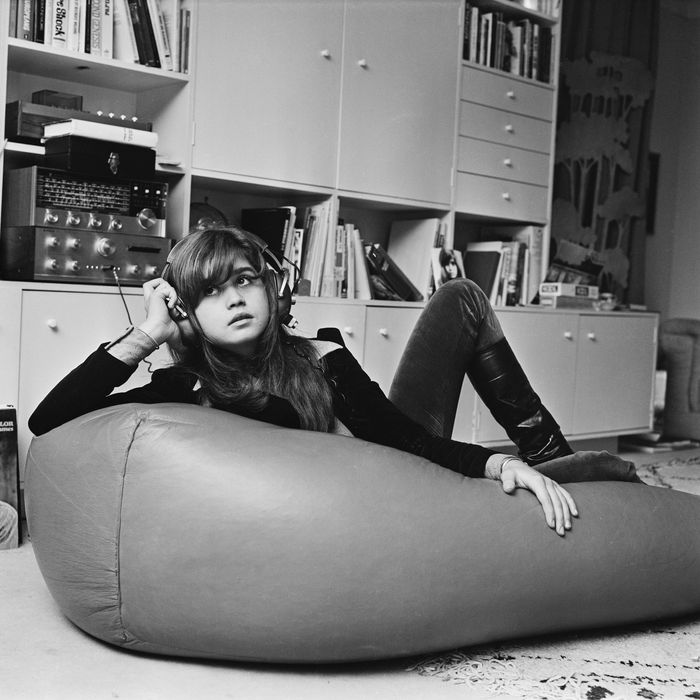 Here at the Strategist, we like to think of ourselves as crazy (in the good way) about the stuff we buy, but as much as we'd like to, we can't try everything. Which is why we have People's Choice, in which we find the best-reviewed products and single out the most convincing ones. (You can learn more about our rating system and how we pick each item here.)
And while we've written about lots of different types of chairs before — including the best office chairs, the best gaming chairs, and the best rocking chairs — here, we've rounded up the best beanbag chairs, as praised by the most enthusiastic reviewers on Amazon.
Best-rated beanbag chair
"Can I give this 6 stars?" asks one impressed reviewer, who says that this bean bag is so comfortable, it "has replaced our couch. We just bought a nice brand new couch along with this beanbag and no one wants to sit on the couch. This thing is so comfortable it sinful." More than a third of reviewers agree that this beanbag is very comfortable, and many chalk that up to the size. Many who ordered the large were shocked by just how large it actually is. "It's big enough for me (6'3" rockin' the dad bod) or my wife (a svelte 5'10") to relax in; it's even big enough for both our kids," one says. Another reviewer, who has both the medium and large, says, "We are about 5 feet and two inches tall - medium is good if you want more of a chair (where your legs can hang off the edge); but if you want more of a lounger, go for the large." And if you're really looking to relax, go for the extra-extra-extra large option: "You could probably fit 4 on it if you wanted," says one customer.
One thing reviewers warn is do not be alarmed if this arrives and it isn't as large or as comfortable as they all claim it is. One reviewer who was originally disappointed when they first opened the box says, "I then read the directions and saw that it needed some time to breath and stretch out after being stuffed in the box…and it did just that."
Best-rated (less expensive) beanbag chair
From the same manufacturer as our best-rated pick, this bean bag is better-suited for kids. "They are perfect for my 1-year-old and 4-year-old," one parent writes, while another says, "This is a cute little beanbag for my short 8-year-old." And reviewers like that their kids can move the bean bag themselves, like one parent of 6-year-old who says her daughter uses it to "have her own space in the living room for reading, Kindle or TV." They say, "It is easy for her to carry in one hand if she wants to take it to her room." And since this kids' bean bag is subject to sticky little hands, it's a plus that reviewers say it's easy to clean. "She loves her chair and I love being able to clean it with ease," one reviewer says. Many reviewers are just spot-cleaning this, but one took it a step further, saying if you're up to the challenge, it can be put in the washing machine: "I have actually machine washed it (handwash cycle) without the beans in it and it worked and held up just fine, it was a messy job as I said before the beans will go everywhere, but worth it."
Best memory-foam beanbag chair
Reviewers loved this chair for its overall size, comfort, and quality. "Bottom line — we love this chair. It's big, it's comfortable, and it's awesome!" However, several reviewers noted that upon initially unpacking the bean bag chair there is a distinct chemical smell. "It does smell at first but is a 'new sofa' smell. It eventually fades," explains one reviewer. Most of the reviewers recommended allotting a few days for the smell to fade and the bag to fluff up to its full size.
Best memory-foam beanbag chair with suede cover
The combination of a memory foam filling and a suede cover makes this beanbag chair comfortable, according to more than a quarter of reviewers. "It is comfy to sit in, supports the weight of an adult, doesn't make a lot of noise (it is foam, not Styrofoam), and doesn't get hot (fabric breathes nicely, it isn't like old plastic/vinyl ones from decades ago)," one writes. Another says, "The cover is really nice quality suede type material that seems like it'll hold up for a long time." They continue, "The foam inside is amazing. Just molds to my body and supports me perfectly. It's like sitting in a cloud. So comfy I've fallen asleep and spent the night curled up on it." Many reviewers also note that they went with the three-foot version of this beanbag and that it was plenty big. One writes, "I was worried I should have gotten the 4 or 5-foot but this one is plenty big for my wife, my son, and almost even for me (250 pounds)."
Best structured beanbag chair
Reviewers appreciate that unlike the traditional shapeless beanbag chair, this one has some structure to it. "It's much comfier than a basic beanbag chair since it has a back and arm rests," one says. Another writes, "It's comfortable and the beans don't compress to nothingness… as in the chair doesn't go flat after a while." It also has a handle on it, which makes the chair easy to move around. And even though it's a beanbag chair, reviewers say it is big enough for both kids and adults. "I bought them for my kiddos to enjoy relaxing in but also use as structured chairs to sit up in for work time," says one, while another self-proclaimed man-child says "these are the way to go." For adults, many say these seats work perfectly for gaming or laptop use, too.
Best oversize beanbag chair
"The perfect beanbag chair," says one reviewer who had "been looking for months." She describes it as "big enough to hold an oversize adult, an average teen or two little ones." Another customer says it's "cute, cute, cute." She bought a vinyl beanbag chair previously, but had to toss it because "the styrofoam beads went everywhere and they are DIFFICULT to get up; they stick to everything." So she chose this oversize Flash Furniture option as an alternative. "It is cloth, which is a plus, and it is very sturdy. I haven't scotch guarded it yet but it has done pretty well in regards to staining. I am content." And another customer just wanted it to fit more than one kid at once. "It's definitely oversize for the kiddos, and it's pretty big for me as well," she adds. Plus, she was "actually impressed that it is so comfortable."
Best six-foot beanbag chair
"I don't know that I've ever loved a piece of furniture this much," writes one reviewer. "If I could live in this chair, I would. It brings me so much comfort and joy. It's like 50 lbs, but I still drag it from room to room with me." And though it seems silly to describe a bean bag as "heavy," it's actually the most common complaint about this six-foot-long bean bag. "This is not a lightweight item; it is heavy, bulky, and cumbersome," one user says but adds, "Last night it held two adults, 2 very large dogs, and 3 small dogs with space of a toddler or two still available." Another says, "My husband and I can both lay on it with our 4-year old and 8-year old, and no one feels squished." Reviewers do note that this chair does need to be fluffed up from time to time, but it more or less holds up to long-term use, according to one user who's had it for four months: "Our eleven, ten and six year old have been jumping on it since we purchased, and it is holding up just fine."