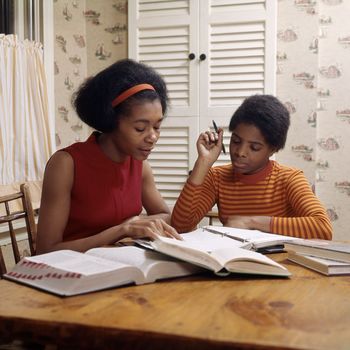 Photo: Photo Media/ClassicStock/Getty Images
As back-to-school season approaches, so too comes the reality that many students will remain in full-time remote learning for the foreseeable future, while others will be relegated to at least several days a week spent "at school" from home. In Los Angeles and San Diego, for example, the decision has already been made that kids will stay home; in New York City, it seems a split schedule is likely.
To help the scores of students who will be studying remote this fall (and the parents who have become de-facto teachers), we reached out to educators, curriculum specialists, medical professionals, school administrators, and other experts for advice for at-home learning. We also inquired about helpful products, from school planners to blue light glasses, which we've organized by age group, from kindergarten all the way through eighth grade (and for those with teens in the house, we have you covered, too).
One point all experts agree on is that a child must have a specific spot for his or her remote learning — and this space needs good lighting, sufficient ventilation, and plenty of room to accommodate textbooks, laptops, notebooks, and any other necessary academic materials, as well as an organization system the student can manage with little to no assistance. Dr. Lee Scott, chair of the Educational Advisory Board with The Goddard School, explains that while "you do not need to create a complete classroom in your home, they do need a dedicated learning space. It will help your children focus when they are using the space and use other areas in the home for media time, play time, and so on." Ahead, everything you need to outfit your kid — or kids' — study space.
Remote
learning
gear
for
all
ages
Adequate light, beyond a glaring overhead, can make all the difference when it comes to at-home schooling. "I use a TaoTronics dimmable desk lamp," says Javier Arroyo, co-founder of online math learning platform Smartick, because its bright LEDs can compensate for a lack of "natural lighting needed for the atmosphere for study." Any desk lamp will do, but this one has a small base and long, slender head that can illuminate a large work area, and it can be toggled to multiple brightness settings. Plus, the USB charger in the base helps keep a tablet, phone, or other device that may be used in remote learning powered up with less cord clutter.
Blue light glasses
"Many of my younger patients experience a noticeable reduction of eyestrain with their blue light blocking glasses," says Dr. Jordan Kassalow, partner at Farkas, Kassalow, Resnick & Associates. Mitigating eye strain associated with hours of screen time can lead to better sleep at night, help with dry eyes and headaches, and may even reduce "the chances of macula degeneration," which is worth mentioning, as Dr. Kassalow notes a recent "significant uptick in the number of kids who are becoming myopic," or nearsighted.
Dry erase squares
No matter how old your kid is, these removable and endlessly reusable dry erase squares "are a game-changer when used to create weekly or daily schedules," says Laura Grill, chief academic officer with SchoolHouse, an educational support and tutoring company. The squares can be rearranged and written on over and over. They can be used for math equations, study notes, daily schedules, or, as Grill suggests, to "create word walls of frequently used or misspelled words."
A spill-proof water bottle
To combat an afternoon slump — which affects kids and adults alike — staying hydrated is crucial. Arroyo recommends kids "have a spill-proof water bottle at hand" at all times during the day. This one won't leak on the computer if tipped over and won't crack open if knocked off the table.
USB microphone
Although it's not a must-have, if teachers are having a tough time hearing your child's voice clearly, consider an affordable, high-quality computer microphone like this one. Just note that adapters may be need for use with some computers or tablets, such as a USB-C dongle for newer Macs.
Remote
Learning
Gear
for
Kids
in
Grades
K,
1,
and
2
The tables and desks in your home are likely much too tall for a student in the early elementary years, which is why Dr. Lee Scott from The Goddard School recommends "adjustable height tables" that allow younger kids to comfortably "spread out work and art materials." She adds that the "Lakeshore Learning Flex-Space series gives you a lot of options," in terms of desktop height and placement around the home.
Art supplies
Art is an essential part of early childhood education, so make sure your child has a bounty of art supplies on hand. "The Studio in a Box by Kid Made Modern has a great variety of kid friendly art supplies," says Dr. Scott, so you can stock up without "running around an office supply store."
Organizational bins
"Learning spaces for young children should always include tubs and containers," says Dr. Scott. "We love the Flex Tubs from Kaplan School Supply because they are a great size for children, they're colorful so kids can sort by color easily (all blocks go in the blue tub, e.g.)." Plus, Scott notes, the little handles help kids move the tubs as needed.
Creativity station
Art and school supplies are one thing; creative play time is something else — and something essential for young kids who need a brain break several times a day, our experts say. Charmaine Pattinson, founder and CEO of online education platform Plinkit, advises parents to set up "a 'creativity station' and plant it in the middle of a table. Regardless of your child's age, a small creativity station is a great idea — it's a simple place to pause, rejuvenate the mind, and tinker with your hands." With increased screen use as a result of distance learning, finding easy ways to encourage children to stimulate their creativity and brain development in a hands-on, playful way is essential. Pattinson recommends filling a storage caddy with fun little odds and ends, like random LEGO pieces, pattern blocks, popsicle sticks, googly eye stickers.
Math manipulatives
Utility cart
"Using a mobile cart to store materials makes it easy to switch-up learning spaces when kids have competing virtual sessions or need a change in scenery," says Hirsch. A large, open cart like this also makes organization easier for younger kids who can't be expected to have mastered that life skill just yet. A cart like this is helpful in any remote school situation, but almost essential if the child's school spot must revert to a dining table, parent's desk, or any other space after school.
Remote
Learning
Gear
for
Kids
in
Grades
3,
4,
and
5
By the middle elementary years, children can be expected to manage their own academic days more, and kids (and adults) at any age benefit from breaks and brief changes in scenery. Thus Dr. Scott recommends establishing "a cozy reading area" that "becomes their special place to read" and also offers a brief reprieve from the desk, table, and, most importantly, from screens. "A Big Joe beanbag chair creates a cozy place to read."
Dry erase board and markers
Chalkboards are messy. Instead, Javier Arroyo of Smartick recommends a dry erase board with markers (and magnetic markers like these help make sure "your child spends more time learning and less time searching for the nearest pencil," Arroyo adds). Plinkit's Paige Hirsh agrees, noting that dry erase markers are "helpful for practicing many types of skills from spelling words to math problems, and minimize paper-use. Plus, writing on a vertical surface develops a child's dexterity and core, and shoulder and arm strength, which leads to improved fine motor skills."
Backpack
The ritual of packing up a backpack is part of heading off to school, and doing so can help get a child into the school day mindset even if he or she is just switching rooms and logging onto a computer. The Kanken Mini series of backpacks have easily adjusted shoulder straps, top carrying handles, and a large and small storage area to help keep kids organized. When we polled 100 teens, many mentioned this one as the coolest backpack, and the Kanken also happens to be the favorite of this author's kids.
Paper organizer
Kids in these middle grades study a variety of subjects, so an organizer like this is critical for helping them separate math work from writing, language studies from social studies, and so on. Hirsch recommends these to help "keep papers sorted and help your child prioritize what worksheets to focus on." If space provides, she also says: "Clipboards come in handy in a variety of ways, especially when it comes to keeping pre-printed materials easily accessible. Designate one clipboard for each subject."
Tablet stand
Arroyo says it's critical to invest in ergonomic furniture that'll allow your child to maintain good posture. This helps with their comfort and their focus. As many kids are liaising with teachers and classmates via tablets, Hirsch calls this stand "necessary so that a child's hands are free of distractions, and their attention is focused on being ready to learn."
Jump rope
School days can be taxing on young minds (and old ones too, for that matter) — especially with so little change of environment. That's why Arroyo recommends kids get help making it through the day with "more creative and physical activities, like skipping rope." A jump rope is a great outlet for pent up energy because it requires so few square feet of free space.
Remote
Learning
Gear
for
Kids
in
Grades
6,
7,
and
8
Convertible desk
Older kids need plenty of space to spread out their ever-expanding academic workload, and are expected to spend for longer periods of time focused on said academic work without breaks. Dr. Scott says "height adjustable tables give children lots of options based on how they like to work." A chance to stand up without breaking the flow of class can help keep kids engaged much longer. And if you don't want to invest in a new desk, you could always upgrade with a standing-desk converter.
Headphones
Among the lessons learned in our months of distance learning last spring was that many children benefit from wearing a set of noise-cancelling or isolating headphones connected to their computers, says Jeanne Huybrechts, Chief Academic Officer at Stratford School and a multi-decade veteran of the education world. "This is especially important when children are working in a communal space, but even if that's not a concern, many children and teachers noted significant improvement in focus and attention" when headphones were worn. TaoTronics SoundSurge 60 headphones are a great price for such high-quality sound and ANC technology.
Time management clock
"During the middle-school years, adolescents want and deserve more agency and autonomy, more opportunities for choice and for making decisions that affect them directly — for example, how they use their time," says Huybrechts. "But they still need structure in the form of routines and repetition that foster the development of good learning habits." She notes that time management is a "largely conceptual construct" — one that eighth graders are better at than sixth graders — "but almost all middle schoolers need a good deal of help with time management." As for the best way to help kids manage time on their own, Arroyo recommends a simple "desk clock with countdown timer" that's set simply by turning it on this side or that.
Storage locker
"Middle school is often the first time a youngster gets a locker, and the 'idea' of a locker is a good one for home, as well," says Huybrechts. An actual, physical locker will give your child a better sense of ownership of their remote school experience as they have a private space for materials not related to home life, just as they would with a locker at a school. If getting an actual locker isn't practical, Huybrechts recommends you "set aside shelves or drawers that remain single-purpose, the place where your child can keep his or her books and school supplies in one place and store them at the end of the day."
School planner
"A school-year planner that allows for detailed daily entries is an essential tool for middle school students, whether learning from school or at home," explains Huybrechts. Although there are lots of computer-based calendars out there, she recommends an old-school notebook or planner. "The process of putting pen to paper and having a permanent year-long record of assignments and appointments, complete with checkmarks of completion, is very satisfying," she explains. "Creating lists trains students to prioritize in a way that makes sense to them. The repetition supports the development of a healthy habit."
The Strategist is designed to surface the most useful, expert recommendations for things to buy across the vast e-commerce landscape. Some of our latest conquests include the best acne treatments, rolling luggage, pillows for side sleepers, natural anxiety remedies, and bath towels. We update links when possible, but note that deals can expire and all prices are subject to change.