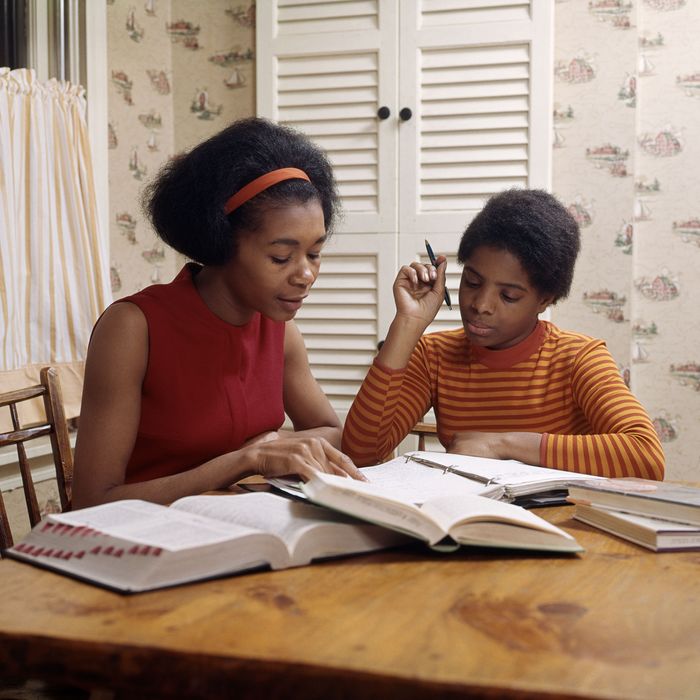 Photo: Photo Media/ClassicStock/Getty Images
As back-to-school season approaches, so too comes the reality that many students will remain in full-time remote learning for the foreseeable future, while others will be relegated to at least several days a week spent "at school" from home. In Los Angeles and San Diego, for example, the decision has already been made that kids will stay home; in New York City, it seems a split schedule is likely.
To help the scores of students who will be studying remote this fall (and the parents who have become de-facto teachers), we reached out to educators, curriculum specialists, medical professionals, school administrators, and other experts for advice for at-home learning. We also inquired about helpful products, from school planners to blue light glasses, which we've organized by age group, from kindergarten all the way through eighth grade (and for those with teens in the house, we have you covered, too).
One point all experts agree on is that a child must have a specific spot for his or her remote learning — and this space needs good lighting, sufficient ventilation, and plenty of room to accommodate textbooks, laptops, notebooks, and any other necessary academic materials, as well as an organization system the student can manage with little to no assistance. Dr. Lee Scott, chair of the Educational Advisory Board with The Goddard School, explains that while "you do not need to create a complete classroom in your home, they do need a dedicated learning space. It will help your children focus when they are using the space and use other areas in the home for media time, play time, and so on." Ahead, everything you need to outfit your kid — or kids' — study space.
Remote
learning
gear
for
all
ages
Lighting
Adequate light, beyond a glaring overhead, can make all the difference when it comes to at-home schooling. "I use a TaoTronics dimmable desk lamp," says Javier Arroyo, co-founder of online math learning platform Smartick, because its bright LEDs can compensate for a lack of "natural lighting needed for the atmosphere for study." Any desk lamp will do, but this one has a small base and long, slender head that can illuminate a large work area, and it can be toggled to multiple brightness settings. Plus, the USB charger in the base helps keep a tablet, phone, or other device that may be used in remote learning powered up with less cord clutter.
Blue light glasses
"Many of my younger patients experience a noticeable reduction of eyestrain with their blue light blocking glasses," says Dr. Jordan Kassalow, partner at Farkas, Kassalow, Resnick & Associates. Mitigating eye strain associated with hours of screen time can lead to better sleep at night, help with dry eyes and headaches, and may even reduce "the chances of macula degeneration," which is worth mentioning, as Dr. Kassalow notes a recent "significant uptick in the number of kids who are becoming myopic," or nearsighted.
Dry erase squares
No matter how old your kid is, these removable and endlessly reusable dry erase squares "are a game-changer when used to create weekly or daily schedules," says Laura Grill, chief academic officer with SchoolHouse, an educational support and tutoring company. The squares can be rearranged and written on over and over. They can be used for math equations, study notes, daily schedules, or, as Grill suggests, to "create word walls of frequently used or misspelled words."
A spill-proof water bottle
To combat an afternoon slump — which affects kids and adults alike — staying hydrated is crucial. Arroyo recommends kids "have a spill-proof water bottle at hand" at all times during the day. This one won't leak on the computer if tipped over and won't crack open if knocked off the table.
USB microphone
Although it's not a must-have, if teachers are having a tough time hearing your child's voice clearly, consider an affordable, high-quality computer microphone like this one. Just note that adapters may be need for use with some computers or tablets, such as a USB-C dongle for newer Macs.
Remote
Learning
Gear
for
Kids
in
Grades
K,
1,
and
2
Height appropriate desk
The tables and desks in your home are likely much too tall for a student in the early elementary years, which is why Dr. Lee Scott from The Goddard School recommends "adjustable height tables" that allow younger kids to comfortably "spread out work and art materials." She adds that the "Lakeshore Learning Flex-Space series gives you a lot of options," in terms of desktop height and placement around the home.
Art supplies
Art is an essential part of early childhood education, so make sure your child has a bounty of art supplies on hand. "The Studio in a Box by Kid Made Modern has a great variety of kid friendly art supplies," says Dr. Scott, so you can stock up without "running around an office supply store."
Organizational bins
"Learning spaces for young children should always include tubs and containers," says Dr. Scott. "We love the Flex Tubs from Kaplan School Supply because they are a great size for children, they're colorful so kids can sort by color easily (all blocks go in the blue tub, e.g.)." Plus, Scott notes, the little handles help kids move the tubs as needed.
Creativity station
Art and school supplies are one thing; creative play time is something else — and something essential for young kids who need a brain break several times a day, our experts say. Charmaine Pattinson, founder and CEO of online education platform Plinkit, advises parents to set up "a 'creativity station' and plant it in the middle of a table. Regardless of your child's age, a small creativity station is a great idea — it's a simple place to pause, rejuvenate the mind, and tinker with your hands." With increased screen use as a result of distance learning, finding easy ways to encourage children to stimulate their creativity and brain development in a hands-on, playful way is essential. Pattinson recommends filling a storage caddy with fun little odds and ends, like random LEGO pieces, pattern blocks, popsicle sticks, googly eye stickers.
Math manipulatives
Utility cart