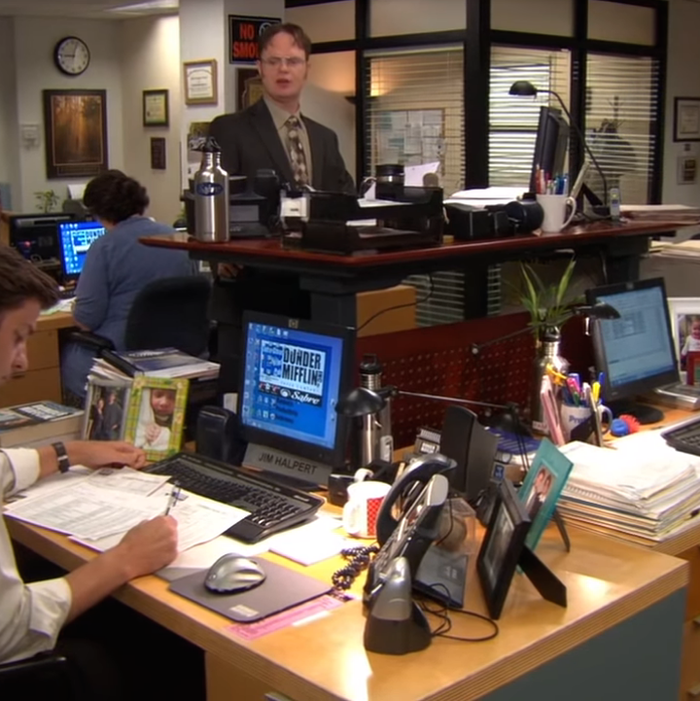 Here at the Strategist, we like to think of ourselves as crazy (in the good way) about the stuff we buy, but as much as we'd like to, we can't try everything. Which is why we have People's Choice, in which we find the best-reviewed products and single out the most convincing ones. (You can learn more about our rating system and how we pick each item here.)
And while we've written about lots of desk accessories — including the best standing-desk converters, the most ergonomic keyboards and mouses, and the best laptop stands — here, we've rounded up the best standing desks, as praised by the most enthusiastic reviewers on Amazon.
Best-rated (and least expensive) standing desk
This compact and affordable standing desk impresses customers with its value and ease of assembly. "Excellent value and simple for any lady to put together solo," raves one reviewer. "I assembled mine in less than an hour, and I have no idea how I ever managed without it. I love working at home on my own projects standing up, especially after sitting down at work all day." Many share that this desk is "easy to adjust," both to shift the angle of the tabletop "for a wide range of mobility" and change the height. "I love this desk because I can have it at full height (around 40 inches tall), which is perfect for me as I am 5'3" and comfortably do my work," says one, adding, "I love that I can easily adjust it much lower to act as a sitting desk for the times I might not feel well enough to stand for prolonged periods of time." Another commenter writes: "I highly recommend it if you're looking for something simple that looks nice, feels well constructed, and is easy to put together. I have a carpeted office and the wheels roll nicely." The moveable mouse pad is another great perk. "The side table is the exact size of my mouse pad making Fortnite on the go incredibly viable," says one gamer.
Best two-tier standing desk
Dozens of five-star reviewers agree that there's a lot to "love" about this double-decker desk. "There is plenty of room on my desk for my two large monitors, an organizer, two medium-sized plants, a keyboard and mouse, and there's still room for my two cups and notebook — PLENTY big," one reviewer says of the 60-inch workspace, adding, "I love that the monitors have their own platform. This is SO great for an ergonomic set up."
While similar-priced models often include an electric motor, many share that they are just fine with the manual crank: "At five foot, six inches, I crank the thing 53 times, and the height is perfect. Cranking is much easier than I feared. The crank moves smoothly and quickly without a lot of pressure. I am happy I didn't pay more for the electric one." For the overall "value," one commenter is smitten. "It is gorgeous and sleek with smooth edges, easy to assemble, sturdy, and well crafted. Very good price (free shipping), especially for 60 inches. I don't recall the description mentioning this, but the crank can be placed on the left or right side, which is sooooo cool."
Best electric standing desk
Many customers use the word "value" to describe this adjustable desk from SHW. "The price for most electric-based desks was more than I felt I could justify, but this SHW model was markedly cheaper than all the others I came across. I made the purchase, half-wondering if I was gambling, but the unit is exactly what I was hoping to get," says one reviewer, who continues, "The assembly was surprisingly easy (and I usually relegate all things assembly to my son). The desk is sturdy and works great." Commenters enjoy the quick adjustable-height settings, thanks to the motorized lifts. "Never knew I needed an electric height adjustable desk until I got this one," writes one. "Perfect for sitting and standing as well. It's fast when it rises and lowers to your height based on your input." Another was shocked he could get this desk "for almost the same price" as some standing-desk converters: "Exactly what I wanted," he writes. "I love the presets. It's very smooth and pretty fast. I find myself standing for almost half my day now."
Best dual-motor electric standing desk
Plenty of five-star reviewers recognize that this 60-inch desk "isn't cheap," but dozens say it's worth it. This desk's heavy-duty steel constructed frame and two integrated motors are two features cited as favorites. "One thing I like about the desk is that it is heavy, and heavy means high quality and long-lasting materials," says one commenter. Another writes, "I have some very jealous co-workers because they think that this is one that I have to manually raise, and lower, and then they get a nice surprise when I reach over and press the button. The cleaning lady likes it too since she can raise it up and clean under it better."
"The quality of this desk is amazing," another writes. "Even with two 27-inch monitors, this thing raises it like butter. The motors are quick and quiet. I absolutely endorse this desk." The ergonomically-shaped tabletop was an unexpected benefit for one reviewer: "You can lean in on the cutout. I probably would've previously discounted this benefit, but it's fantastic. When you've been standing a while and want to sit, you can stand for longer by simply leaning on the desk a little. It's also good because if you need to see something clearer/closer on a screen, you can lean in. It's an unexpected, huge advantage to this type of a sit/stand desk."
Best standing desk with storage
"If you need a standing laptop desk that's easy to move around, has plenty of storage, and a generous working surface, I don't think you can do better than this for anywhere close to the price," writes one reviewer. And the additional storage space was a big selling point for dozens of other reviewers, like one who says that "one of the best features" is the shelf underneath the laptop tray. "My document camera fits perfectly there, and a sheet of paper fits nicely between the bars on the shelf." He also appreciates the desk's "slim profile" because it "will fit just about anywhere." A third reviewer calls this standing desk "the Swiss Army knife of carts." He personally keeps his "27-inch monitor on it" with enough room for a "wireless keyboard and mouse," but he says it still "rolls easily" from one room to the next. "That's what I love most."
Best glass-top standing desk
Reviewers thought the tempered glass top on this Seville Classics standing desk was a nice touch. "The glass top seems very high quality," says one customer. Another describes it as "clean and simple." He actually uses the glass top as a whiteboard, saying that the ability to write notes on it is one of his favorite features. He warns that it's "quite heavy," so recommends "you assemble it in the room where it's going to live" or phoning a friend to help. Another says the glass is a nice, sophisticated touch, but the "electric movement" works wonderfully, too. All you have to do is "push the button up and down" and it goes where you want it to. The movement is "SMOOTH and QUIET," he writes. "For the price, this desk cannot BE BEAT."
Best standing desk with cable-management tray
This desk comes with a cable-management basket to get all your wires up off the floor before they get tangled — and many reviewers think the result is just a neater, nicer-looking desk. One customer explains, "I secured a power strip to the bottom of the desk so only have one cord running from floor to desk." He appreciates how easy it is to "wrap wires in the box and keep everything off the floor and moving with the desk." Many also say it's a very well-constructed desk. One describes it as "functional, large enough, attractive, and not terribly expensive," calling it "the best value." Plus it's super easy to operate. "The motor works nice and smoothly," he adds. Another reviewer, who does "a lot of crafting, beading, and jewelry repair" at her desk, calls it "a lifesaver" because her "legs used to go numb from sitting so long." Now she can "sit a little, stand a little, sit a little, stand a little" because it's so simple and quick to adjust the desk. "And the motor to adjust from stand to sit is quiet," she adds.