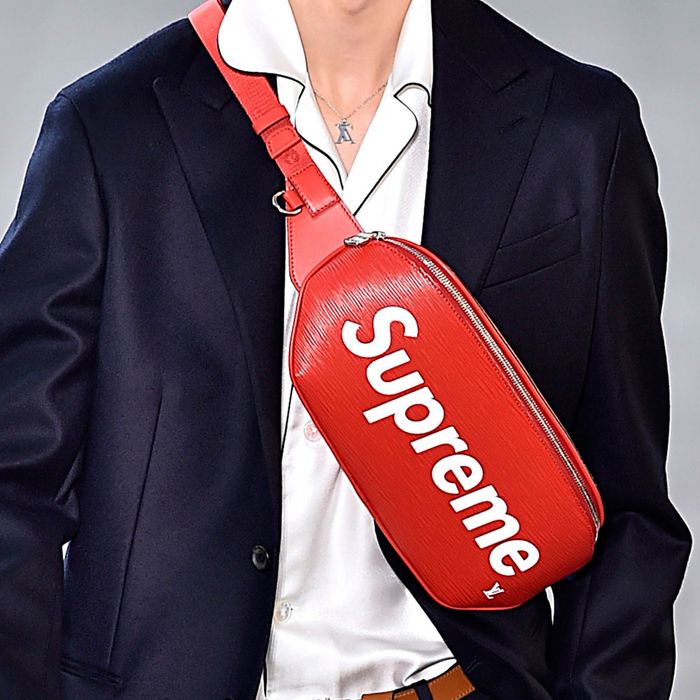 This fanny pack is worth 5 million clout points.
Photo: Victor VIRGILE/Gamma-Rapho via Getty Images
"Status fanny pack?"
Kate Huling, the leather designer behind Marlow Goods, repeats the phrase back at me over the phone, questioning it. Turning it over. And then she laughs — really laughs. The whole concept is just so ridiculous. The words status and fanny pack do not belong in the same sentence.
We can mark the fanny's transition into a legitimately fashionable accessory to around the same time we decided to start calling them waist bags. Or shoulder bags, which is where we've actually started wearing them. Or bum packs, which is what British people have used all along. Basically anything besides fanny. And once the fanny was no longer the fanny, a whole new world opened up. The bag, always about convenience above all, became cool. Or at least it shed its image as being wrapped around some '80s-era Jazzercise-er with ankle weights and parachute pants.
That's in no small part thanks to Huling herself, who designed her own fanny — she called it the Lexington Bum Pack — with leather left over from the cows that supply Marlow and Sons, Diner, Romans, and the other Brooklyn restaurants owned by Andrew Tarlowe, her husband. Huling herself wore it cross-body when she released the bag in 2014, popularizing the fanny's whole new look. That bum pack made its way to Greta Gerwig. It was also picked up and sold at Madewell. "They always sold out," Huling remembers. She closed down Marlow Goods in March to focus on other projects, but "every single time I see a lady who bought one, they still have it on."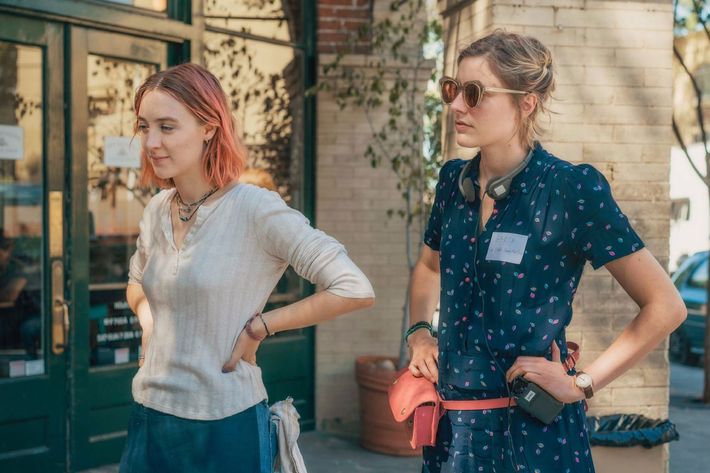 At around the same time, in the same city, but in an entirely alternate universe, hypebeasts were picking up on the perfect way a bum pack allows its wearer to conveniently carry all of their goods, while displaying brand allegiances right across the chest. Places + Faces, a photography duo turned merch-and-fashion label, was one of the first to incorporate them into the world of streetwear in 2016. A year later, Virgil Abloh wore a cross-body Prada fanny pack over a tuxedo to receive his GQ Australia Man of the Year award. Supreme's picked up steam, too, culminating in a fanny pack on the Louis Vuitton runway. Gucci brought them back in a big way. And eventually, devoted lifelong fanny wearer Judnick Mayard wrote an article for Ssense calling Off-White's take "a $760 baguette of clout," with clout essentially translating to status.
The fanny's clout changes according to the group wearing it. Whereas the status clog is likely the same for all clog-wearers, the status fanny, and the clout it emits, shifts between Grailed-obsessed hypebeasts, Brooklyn moms, runners, and anyone else who might strap one on. So below, we've organized the status fannys by tribe.
Now that the iconic Lexington Bum Pack is sold out, only to live on forever as highly covetable dead stock, where is a Brooklyn mom into sustainable leather to get her bag? Huling points us to Agnes Baddoo, who's making similarly structured fanny's out in L.A. "She sells a lot at the Echo Park Craft Fair," Huling says.
For the woman who had the Proenza PS1, the Céline Luggage tote, and the Balenciaga City bag, there is the Gucci Marmont fanny. The "It" bag of the fanny renaissance — the one you'll find in street-style photos outside of fashion weeks around the world. "Where I came from in leather goods, it was all about function, not making a statement or communication about how much is in my bank account," Huling says. "But if I were to just lose my mind and be a completely diff person, I love all the Gucci ones."
Huling calls Pilgrim Surf's Sacoche (descriptor courtesy of the retailer) really "techno and sporty," and if she were to buy a new bag right now, it would be this one because it's both lo-fi and functional. It's almost the athleisure version of the Lexington Bum Pack.
Back in 2016, Places + Faces, the photo project turned clothing brand, zine maker, and party thrower, released a waist bag with their logo and were the first to reintroduce fanny's into the world of hype and hip-hop. Wearing this bag projects an in-depth insider knowledge far beyond the clout of an Off-White grosgrain belt. The bags aren't for sale right now, but they can be purchased on resale websites like Grailed.