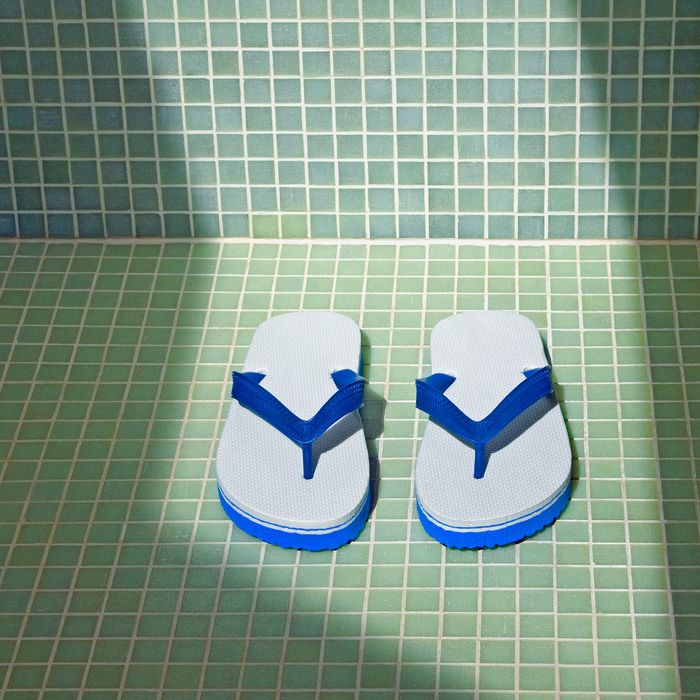 Photo: John W Banagan/Getty Images
Here at the Strategist, we like to think of ourselves as crazy (in the good way) about the stuff we buy, but as much as we'd like to, we can't try everything. Which is why we have People's Choice, in which we find the best-reviewed products and single out the most convincing ones. (You can learn more about our rating system and how we pick each item here.)
And while we've written about lots of waterproof shoes before — including the best water shoes for men, the best water shoes for women, and one writer's favorite rain sandals — here, we've rounded up the best shower shoes, as praised by the most enthusiastic reviewers on Amazon.
Best-rated shower sandals
Nearly 1,000 reviewers describe these classic Crocs as "perfect." "Crocs really are perfect, they are great in the shower," one writes, adding "I don't have to worry about slipping, especially when I use hair conditioner or body wash that is slippery, and I can wash my crocs at the same time I wash me." One deployed soldier used regular flip flops for shower shoes until his wife sent him these. He writes that they "stay on my feet, and I can walk up and down stairs with wet feet without the fear of slipping or falling. And they dry off easily. If I ever need another pair of shower shoes, they will be Crocs for sure." Many more appreciate that they don't slip while wearing these, like one reviewer who notes it's "easy to take feet out of shoe to wash feet. I'm able to get each foot sudsy (one at a time) with body wash and put each foot back into the shoe, without slipping." While lots joke that they're ugly, one reviewer defends Crocs' utilitarian looks: "They're stylish and functional. These shoes are the future. Be a trendsetter with Crocs, the shoes that should have never gone out of style."
Best-rated (less expensive) shower sandals
Dozens write how "slip-resistant" these rubber sandals are, with one reviewer noting that they are "slip-resistant in the showers, even with soap on the tiles." Plus, that reviewer adds, "these fit well and keep your feet off the tiles, which is important when you use gym showers because people can be nasty." Another says these were a major upgrade from her old shower shoes, writing, "I was using $1 Old Navy flip-flops and one day almost slipped and fell walking back to my locker. So I upgraded, and am very happy I did." Another thinks these are "perfect for the gym shower," while yet another agrees, adding that he "did not want to pay $40 for Nike or Adidas" sandals only used in a gym shower. Many think these will even last a long time, including one user who calls them "an inexpensive, but well-made sandal with great wet traction. Since the top strap is molded into the shoe, I don't see if ever breaking." One notes that, yes, "at first glance they look ugly," but adds "make no mistake, these are designed as shower shoes and for that reason they are awesome."
And now for some micro-picks for every type of shower sandal you might be looking for. 
Best shower slides
"Best slides ever," writes one happy customer. Many other hyperenthusiastic reviewers agree, saying they found these while searching for a flip-flop substitute. "I hate flip flops…I find them very uncomfortable, so these are a great alternative to flip flops. Incredibly comfortable and they don't absorb water so no need to dry out," one writes. Another user who bought these shower shoes for her nephew going off to college writes, "These are all-rubber, even under the top part, so they will not get the rotten mildew smell from getting wet everyday (at least i hope he will take a shower everyday)." A few think these are cheaper compared to other Adidas slides, but another reviewer also appreciates they do not have a fabric lining under the slide part, writing, "Since I wear these in the shower, I really don't like the fabric. It stays wet for days (especially in winter) after shower use. Adidas probably cheapened up the sandals and I'm glad. I'm probably an exception in this regard, and some folks may miss the heavier liner. Other than that, the sandals seem the same quality as ever."
Best adjustable shower sandals
A bunch of reviewers appreciate that unlike other slides, these have an adjustable velcro band. "I looked around a lot and ordered a few pairs, but most slides were too narrow. These slides have a very comfortable and cushy sole, and the velcro closing was great for adjusting size," raves one. Another shares that sentiment, noting "they fit perfectly. Love the adjustable strap (I have wide feet)." Because they fit so well and have a comfortable sole, that reviewer also describes these sandals as "extremely walking-on-a-cloud-like." Another uses "these as shower shoes, before and after karate," calling them her "all-time favorite pair of slides" when it comes to comfort. "These slides are comfortable — unlike the ones that feel like you are standing on rocks, but are supposed to massage your feet. They have a soft footbed that is also waterproof. Most waterproof sandals have little to no padding, but that is not true of these." And overall, users appreciate that, for shower shoes, these "dry very fast and don't absorb any of the water," as one puts it.
Best lightweight shower sandals
Many rave about the lightweight feel of these Crocs sandals. "These are great shower shoes for the gym because they are lightweight, comfy, and easy to dry off. I'm considering getting another pair for other uses," writes one satisfied customer. Another agrees that these are "easy to clean, lightweight, and soft," but loves that they "don't look like Crocs." And that reviewer is not alone: lots mention that they're surprised by how stylish these Crocs are. "These are great gym shower shoes but they look stylish enough to wear outside of the gym (and I am style conscious)," writes one user, who adds that they're extremely functional. "If you plan on using them for a shower gym shoe, they dry super fast, and I can put them right in my bag without them getting anything wet or smelling funky." Another reviewer admits she was "blown away by how comfortable and cute they were," while yet another says she was in "extreme shock" because, "for something branded Crocs, they're very cute. These suckers are the triple threat: cute, comfortable, and extremely practical, which isn't an aspect I usually seek out, but hey, law of averages."
Best comfortable shower sandals