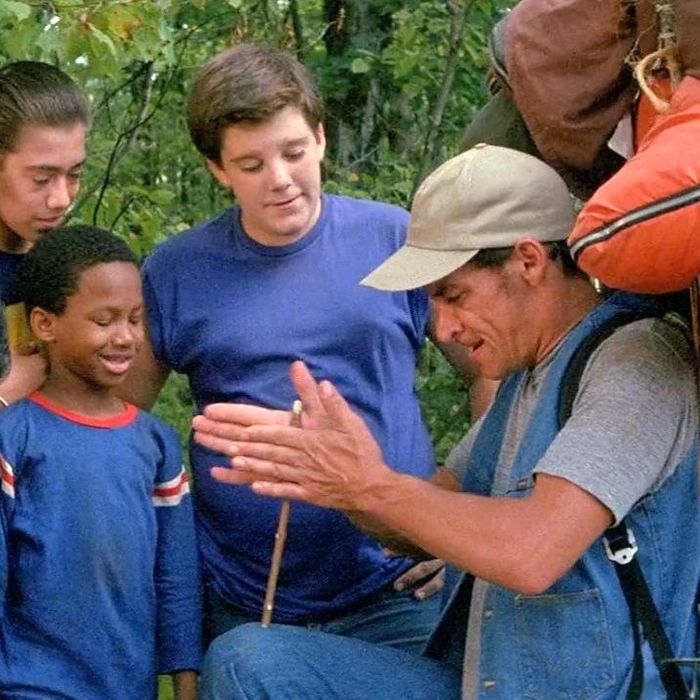 Photo: Touchstone Pictures
If there's an unpleasant part of summer camp, it's figuring out what to pack. Yes, most sleepaway camps send detailed packing lists. They're helpful for giving you general categories, but what if you want to know the best sunscreen or hiking boots? It's not just the practical stuff, either. You might not be aware of the sandals every camper (and counselor) will be wearing, what bunk decorations kids are clamoring for, or what games might break the ice for first-time campers looking to make new friends. To help you get a handle on all of these things, we spoke to 15 camp experts, including camp owners, camp directors, camp counselors, and parents of kids going to camp this summer about the best, most useful things you'll definitely want to pack in their trunk or duffel bag.
The suggestion we heard the most was not to bring anything you wouldn't mind losing or ruining. As Julie Cole, mother of six camp-aged kids and co-founder of Mabel's Labels puts it, "Don't spend a fortune on camp clothing, it will get trashed." But the experts also say it's worth the risk to pack a keepsake or two. Comforting things that remind kids of home — like a stuffed animal, a favorite book, or photos of friends, family, and pets — will go a long way toward curbing your kids' anxiety and homesickness.
Note: We cover a lot of different things in the list below. To help you navigate it more easily, you can click on the following links to jump directly to what you're most interested in: trunk or duffel bag, bunk décor, gear, free-time activities, clothes, toiletries, bedding, or masks.
Trunk or duffel bag
Before you start laying out swimsuits and folding underwear, you'll need something to pack everything in. Anything big should be fine, but you'll want to make sure to account for the specific circumstances of the camp, too. "One of my best friends runs a camp where they sleep in cabins with open walls and just a roof. They require a trunk because it just keeps their stuff safe and it's waterproof," says Kayla Weissbuch, co-founder and executive director of Brave Trails in California. "But we actually recommend a rolling duffel bag because our campers transport their own luggage to their cabin on opening day, so something with wheels is a lot easier for them." If you're in doubt about the requirements at your camp, just call them for guidance. Here are a few solid options in the two biggest camp luggage categories.
Bunk décor
Even if they're staying only for a week, campers love decorating their bunks to show their personality and make it feel a little more like home. "I know that it's really big with teens," says Kayla Weissbuch. "Our campers really love to bring like their pride flags, but for other camps it might be a sports team flag or a poster of their favorite music artist. It just depends on the camper. Sometimes there's so much decoration, you can barely find the camper."
Gear
Going to horseback-riding camp obviously requires different gear than a summer spent rock climbing or hiking, but there are a few things you should pack no matter what kind of camp you'll be attending. Above all, our experts said, it's important to label your kids' stuff — especially the water bottle — so it doesn't get lost or mixed up with another camper's.
Free-time activities


"I think it's important for kids to have a project they can go to when they want some time to reflect or reenergize from a rush of social interaction," says Lindsey Charbonneau, camp counselor and co-lead of Adventure Ready Girls. The activities your camper likes best will, of course, depend on their individual interests, but classic camp crafts like friendship bracelets are always a good choice. As Charbonneau points out, they take multiple days to create and can be done anywhere if temporarily tied to a water bottle.
Since campers won't be able to take pictures of their new best friends with a phone, five of our experts recommend packing a Polaroid or a disposable camera. Both Mumford's and Bhattacharyya's daughters have requested Polaroid cameras this summer, along with two 10-packs of film. "Consensus was that 10 is not quite enough and more than 20 is a little obnoxious," says Mumford. King and 15-year-old camper Phoebe prefer disposable film cameras, however. Phoebe says they're very popular and have replaced Polaroids at her camp.
Clothes
The advice we got around clothing can be summed up in two parts: Pack things that are comfortable (and already worn-in), and don't be surprised if they don't all come back. Along with stressing the importance of packing for inclement weather, our experts also said theme days and color wars are still very popular, so you'll want to pack any brightly colored clothing, costumes, and even wigs and makeup you have lying around at home.
Tie-dye is still popular at a lot of camps, so two of our experts suggest packing blank white clothing to use. Kurtz McKinnon says, "Sports bras are always fun for older campers." She also recommends packing white T-shirts, bandanas, plain cotton white masks, and anything else that the kid has permission to destroy/make their own.
Toiletries
We heard from everyone we talked to that camp staff are trained to deal with a range of personal issues that might arise for campers. That could be anything from losing a pair of glasses to getting your first period. So don't worry too much. But our experts did say that if your child takes a specific medication, you should pack it in the pharmacy container rather than putting it in something else. This helps staff with valuable information about dosage and instructions. And according to Sutherland, whose daughter just got her hair braided, making sure your child has the right products will help them feel comfortable at camp. "Sending her with the products she needs to take care of her hair is really important," he says.
Bedding
For the most part, cabins won't have air-conditioning. Besides, because of COVID, we heard from several camp directors that the windows will be open at all times and fans will be blowing for increased ventilation this year. That means that some nights will be very hot and others could be pretty chilly, depending on where your camp is located. So, as with clothing, you should pack varying layers of bedding. And because it will help them feel at home in their bunk, everyone recommends bringing your own pillow.
"Don't bring a comforter. It just takes up a lot of space," says Sutherland. Instead, he and three others recommend bringing a fleece blanket that can be thrown in the washing machine. "Even if it's not a pee-pee accident, your child's bedding might need to be washed while at camp, so everything should be small enough and machine washable so a counselor could wash it without ruining it," says Kurtz McKinnon.
Masks
Every camp has its own plan for how to deal with COVID safety, which will ultimately affect their mask guidelines. Some of those plans include making sure all of the staff is vaccinated; providing fabric masks for campers upon arrival or disposable masks as backup; washing masks on a regular basis; and allowing kids to go maskless after a period of quarantine and when in small core groups. Weissbuch says, "We want to make sure campers have more than one mask per day at camp and we don't want them rewearing masks unless they've been washed." She also notes that kids are welcome to bring face shields too if that makes them feel more comfortable, and that they shouldn't feel out of place for being as safe as they want to be.
As for how many, "You need as many masks as you do underpants, or maybe even more because you might leave them somewhere or drop them in the dirt," says Kurtz McKinnon. If you have a kid who tends to lose things easily, you might want to pack some extras. But don't stress about it too much: "Camps are trying to have a lot available to make it as easy as possible for kids to mask up when they need to," she says.
The Strategist is designed to surface the most useful, expert recommendations for things to buy across the vast e-commerce landscape. Some of our latest conquests include the best acne treatments, rolling luggage, pillows for side sleepers, natural anxiety remedies, and bath towels. We update links when possible, but note that deals can expire and all prices are subject to change.