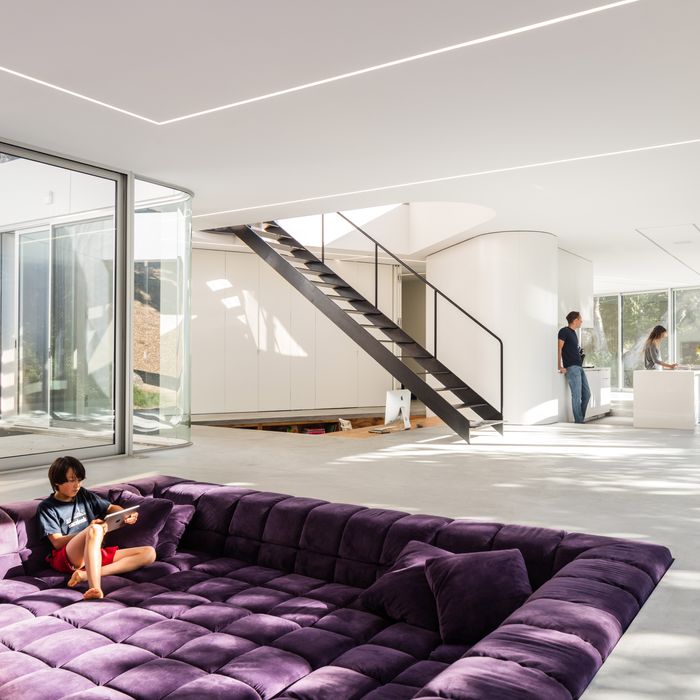 Don't you just want to dive in? Photo by: Darren Bradley
Photo: Darren Bradley/Darren Bradley
The first time over 400 people, together, felt so inclined to double-tap the architect Craig Steely's Instagram, it was because of a conversation pit. That is, a built-in sunken sofa, in a rich, deep purple, that looks like something between a bed, a tufted couch, and a Chuck E. Cheese ball pit, but without the balls. He had designed it for a house in California because the entire back wall of the house was a window looking out into an almost-forest full of trees, and he didn't want any furniture obstructing the window or the trees. Anyway, that was back in March, and then a few months later that same purple-sofa pit made the August cover of Dwell magazine.
"The weirdest thing about it is how that photo exploded everywhere," Steely says. "The idea of using a conversation pit seemed retro and weird to me, but people were like, 'I've never seen that.' I'm like, 'Look at Sunset magazine from the 1970s.'"
So it really wasn't anything new. These comfy pits are actually relics of the sunken living rooms of the '50s, '60s, and '70s, where people would descend into living rooms of built-in sofas and very permanent-looking furniture. Now, somewhere between the design world's mid-century-modern revival (obsession) and the return of Memphis Milano (a Memphis designer once made this crazy boxing-ring conversation pit), the glamour and decadence of a sunken, low-profile couch where you can look at nothing but the people around you has returned.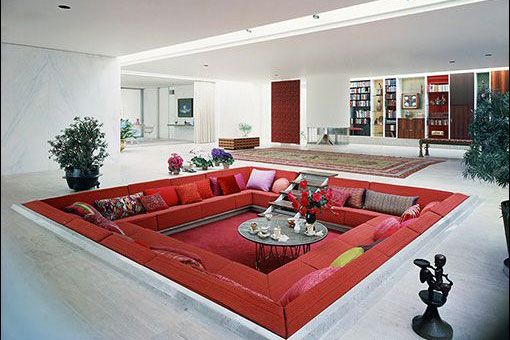 Then, just a couple of weeks ago, the women's club The Wing unveiled the first pictures of its new space in Dumbo, Brooklyn. Right there in the middle of the renovated warehouse, surrounded by tables and banquets and really high ceilings, was an emerald-green conversation pit. "Since those pictures came out, so many people have asked me about it," says Chiara de Rege, the interior decorator behind the space, who prefers the term "sunken living room" to conversation pit. She was inspired by the sunken look and feel of Eero Saarinen's now-defunct TWA terminal at JFK Airport and the Miller House he designed back in 1957 in Columbus, Indiana, that she'd been obsessed with as a teen. Now they're all making their way back.
While it's tricky to achieve the look without digging straight down into your apartment floor, we've gathered some other ways to achieve a sunken look. First, with the fancy sofas Steely and de Rege used in their own projects. Even if these aren't embedded into the floor, they're still low profile, made of components, and modular, so they can be combined and organized into a pit structure. And then we spoke with an interior designer at Homepolish, who gave us some of the cheap suggestions for giving your existing living room a more conversation-y feel.
For the full sunken-ball-pit look, find a couch made of components you can buy separately. It's like a puzzle. You build around the edges with components that have backs and armrests, and then fill in the middle with ottomans. The higher-end brands, here and below, will work with you to accomplish the look. That purple sofa in Steely's California home is the Tufty-Time from B&B Italia pictured here.
Another company called Tufty Time also makes a version of this couch. You can buy a completed sectional, pictured above, or all of the modular pieces, like ottomans and modules with armrests, to combine into a conversation pit.
B&B also makes the similarly modular Tufty-Too.
Ligne Roset's Togo was first designed in the '70s and they've been producing it for the 40 years since. It's a component sectional couch, so you can buy the single seater, above, or a longer couch-size version, and actually the exact sofa that Craig Steely has in his own home.
Ligne Roset's Plumy has a similar, cozy, low-profile look that has ottomans and armchairs that can be combined in a variety of ways.