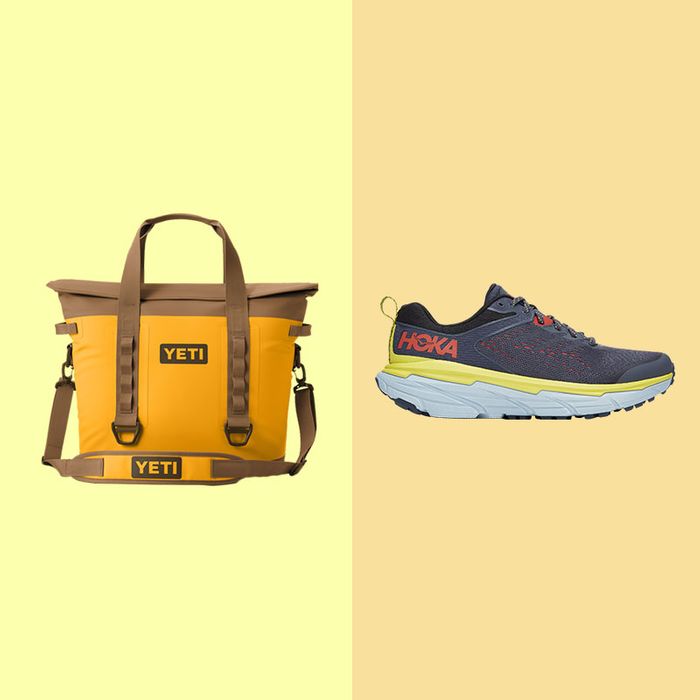 Photo-Illustration: George Shelley/Getty Images
Getting some time in nature may be the best Father's Day gift for outdoorsy dads, but we'd wager that most of them would still appreciate some new gear as well. To help you find the right thing for the outdoorsy dad in your life, we consulted dads who love to hike, fish, kayak, and camp about the things they think would make great gifts for Father's Day — June 19 this year — or any day. (Then, for good measure, combed our archives for any standout stuff that we've written about before.) From electronics and gear, to tools and knives, to clothes and shoes, to plenty of supplies for camping and water sports, the products below are sure to delight any dad who spends time outdoors, whether he's a consummate camper or just learned how to pitch a tent.
Electronics and gear
Kevin Mooney, the owner and operator of the Mohicans, a tree-house resort in Ohio, recommends giving a GoPro because it will allow Dad to capture everything from mountain biking to working on an at-home building project. "Everybody should have a GoPro; it's fantastic for shooting outdoor videos. The footage that we have shot with ours is phenomenal," he promises.
If he already has a GoPro, outdoorsy dad David Stephan says that "a cool additional accessory" would be an affordable way to make it feel new again. This harness would allow Dad to mount a GoPro to his chest so he can record bike rides, trail runs, and other activities hands free.
For dads who are tracking their fitness (outside or indoors), cyclist Chris Cosentino — who is also a chef, a restaurateur, and a dad — directed us to this heart-rate monitor that doubles as a calorie tracker. "The TICKR X is equipped with Bluetooth and will connect directly with your training apps," he explains. "It has 50 hours of memory, so you can go for a run or ride your trainer indoors and it'll record and remember that activity."
If you've got a dad who likes to head out into the woods alone, here's a way for him to keep in touch should he need to. A separate GPS rescue device "is a go-to standard these days for people in the backcountry," Scott Wilkinson, communications director at the Pacific Crest Trail Association, tells us. The most advanced of these devices, like the Garmin inReach here, can pair with your dad's phone and send a text message even if he doesn't have cell service.
If your dad likes birding, hiking, or just seeing faraway sights, he'd get plenty of use out of some new binoculars. Robert DeCandido — who goes by Birding Bob and leads bird-watching tours of Central Park — told us about this lightweight, waterproof, and fogproof pair from Sightron that he says Dad can "wear all day" without feeling any strain on his neck. They're not cheap, but these they with a case, neck strap, and lens cover — all things that make them more giftable. If you want to shop around, we heard about more expert-approved pairs when we asked birders about their go-to gear.
Knives and multi-tools
According to Cosentino, pocketknives are so handy for outdoorsy dads that he has two of them. "One I leave in my Dopp kit for when I travel (so I don't get it taken away in airport security); the other I keep in my seat bag when I'm bike riding," he says, noting this Elko model can be used for everything "from tasting fruit at the farmers' market to breaking boxes at my restaurants."
Strategist contributor Michael Easter, an Outside magazine columnist, told us he has used this pocketknife for "tasks both mundane and epic." The more mundane include cutting through apples and packages, while gutting trout "alongside Utah streams and Wyoming lakes" and butchering a 400-pound caribou in the Arctic tundra are some of the more epic things he has done with it. Made in the USA, Easter says the tool came recommended to him by a U.S. Special Operations Forces operator, writing that "its fiberglass-reinforced, diamond-engraved plastic handle sits comfortably in your hand and stays there." If it ever dulls, he adds that you can ship the knife to the brand's Oregon City factory, and the company will take care of "cleaning, oiling, tuning, and resharpening" for free.
If you think your dad would prefer a more full-featured multi-tool, this one comes recommended to us by Chase Anderson, industry relations manager at Utah State University's Outdoor Product Design and Development program and creator of the Outdoor Recreation Archive, who says that with 18 different tools, it "has everything you need." The wire cutters are replaceable, and there's a 25-year warranty. With its central pair of pliers, the design is a highly giftable classic that dad can pass down to you someday.