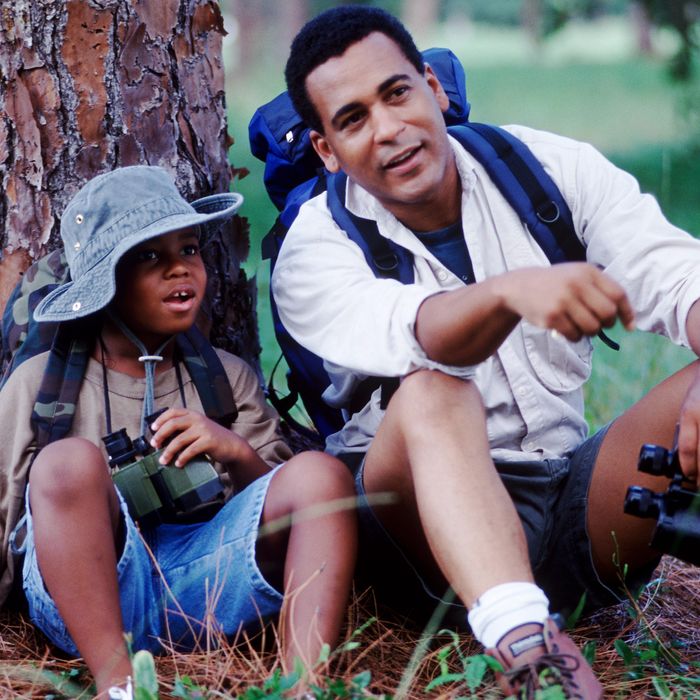 Photo: George Shelley/Getty Images
Spending time in nature may be the best Father's Day gift for outdoorsy dads, especially since they're likely spending more time indoors than usual, thanks to the pandemic. The good news is that being in uncrowded outdoor spaces remains a low-risk activity, but that still might not be possible for dads who live in more densely populated areas. That's why we consulted 14 outdoorsy dads who love to hike, fish, kayak, and camp (but are also stuck inside right now) about the pandemic-friendly gifts they'd want this Father's Day, from backyard camping gear to a new paddle for their next socially distanced kayak trip. We rounded up a bunch of gear and clothes that your dad can use during and after quarantine, along with some gifts that'll make the outdoorsy dad's time in the great indoors a little more enjoyable.
Outdoorsy gifts
Kevin Mooney, owner and operator of the Mohicans, Ohio's first-ever treehouse resort, recommends giving a GoPro so Dad can capture anything from mountain biking to working on an at-home building project. "Everybody should have a GoPro; it's fantastic for shooting outdoor videos. The footage that we have shot with ours is phenomenal," he says.
If you decide to take Mooney's advice and get a GoPro, or if Dad already has one, you might want to pick up one of GoPro's many accessories. "While it's nice (but expensive) to upgrade to the newest version, a cool additional accessory could be all he needs right now," says Stephan. This harness will enable Dad to record his next (socially distant) bike ride or trail run.
For dads who are tracking their fitness, outdoors or inside, Chris Cosentino — who is a chef, restaurateur, cyclist, and dad — says he is "enamored" with this heart-rate monitor that doubles as a calorie tracker. "The TICKRx is equipped with Bluetooth and will connect directly with your training apps," he explains. "It has 50 hours of memory, so you can go for a run or ride your trainer indoors and it'll record and remember that activity."
Cosentino rotates among three different models of this Nixon 51-30 Crono watch, which he called indestructible, so friendly for any outdoor activity: "I was wearing my first 51-30 watch in the kitchen prepping one day, and I realized it was missing. Six hours later, my staff was straining some chicken stock and found my watch inside. Amazingly, it was still working. The watch face is large so it's easy to read at a quick glance, and it's a show-stopper of a watch."
Cosentino also has two pocket knives from the James Brand: "One I leave in my Dopp kit for when I travel (so I don't get it taken away in airport security). The other Elko I keep in my seat bag when I'm bike riding." And it has a ton of uses, "from tasting fruit at the farmers' market to breaking boxes at the restaurants."
Buddy Kite, who describes himself as a family hiking captain for his two children, says he's been riding an old skateboard around his neighborhood during quarantine but is "looking into getting a nice longboard, which would be for more dad-speed cruising alongside kids on scooters." He likes the boards from Arbor Collective, a California-based, sustainability-focused snow and skate company.
Two dads we spoke to said that lots of outdoorsy fathers might appreciate a six-pack right now. Cosentino doesn't drink alcohol, but he loves the "piney richness and awesome aroma" of the non-alcoholic craft beer at Athletic Brewing. "I'm a huge IPA guy, so the one I drink most often is their single IPA. It tastes like the real deal, but you can drink all day without getting hammered," he says. When you shop on its site, Athletic Brewing will donate 10 percent of online profits to the Restaurant Employee Relief Fund to support industry employees.
A dad who likes to hike is also likely one who brings along a snack, and Kite recommends gifting a box from Patagonia Provisions — the outdoor company's line of sustainable food. He calls it "a splurge, but I know quality costs, they often run sales, and their seafood options are really impressive. Super-high sustainability standards." While the Responsible Seafood Sampler includes 11 boxes and cans, you can also buy products individually. Carolina Santos Neves, executive chef of American Bar, says her favorite tinned food is the brand's mussels.
A couple of dads mentioned that all parents could use a "good chill" right about now, and one way to gift that is to give some soothing incense or calming essential oils. Cosentino uses the Flow Blend of essential oils from Range Essential every day. "It has a calming, soothing effect, whether I go for a bike ride and roll it directly on my sore muscles or need to take the edge off a stressful day," he explains of the minty-scented oil, which comes with a spray bottle and roller.
Since National Parks are slowly beginning to reopen (albeit with certain restrictions), you can literally give your dad the gift of nature with a parks pass. "A lot of us outdoor dads are more into experiences than we are stuff. This is a perfect gift to get guys going out to some of the best natural places on Earth — and it's good for an entire carload, so he can take the family with him," explains outdoorsy dad David Stephan. Although the nationwide parks pass is currently backordered, you can get state or region-specific passes online. Until parks fully reopen, you can still explore them virtually online or support preservation efforts with a National Park Foundation donation in your dad's name.
Clothing
Joe Peters, a father of two and head of marketing for hiking-boot brand Vasque, likes the versatility of this moisture-wicking tee, which serves him just as well indoors as it does in the wild. "I've spent an entire three-day weekend in one of these, solo parenting while my wife was out of town, which is an adventure in itself. The engineered fabric incorporates the natural properties of merino wool that wick away moisture, resist odors, and regulates temperature." He also says that the cut is flattering while still allowing for lots of movement.
Kayak fisher and dad David Walters loves these Columbia long-sleeves so much that he owns three of them. "They keep me cool and shaded from the sun, and they dry quickly," he says of the shirts, which he wears for sun-protection while kayaking in particular.
Two dads we spoke with highly recommend Outerknown's jeans. Kite calls them "the best jeans I've ever owned," and Greg Breitmaier of Simms Fishing Products in Bozeman, Montana, says, "They look great with a modern cut, and they feel super-soft." Plus, Outerknown's apparel is so comfortable that Strategist writer Louis Cheslaw says it's his loungewear brand of choice. Both dads also love that these jeans are sustainably made. As Breitmaier puts it: "I'm always looking for brands that adhere to the highest possible ethical and environmental standards, like Outerknown. If we're not making conscientious decisions with our consumption now, there won't be the same outdoor opportunities for our children to enjoy later," he adds.
Steve Lemig, founder of wilderdad.com and father to his 10-year-old daughter, whom he calls his "No. 1 outdoor bud," says that these Hoka sneakers are his favorite trail-running shoes of all time (and experts we've asked about trail-running gear agree). Lemig goes trail running in Denver and describes these shoes as "grippy on the trail with tons of cushion and great toe protection," so much so that he's known to wear them while "hiking, camping, or even just cruising around town."
Steve Casimiro, founder of Adventure Journal magazine, says, "I'd love to be given the Danner Mountain 600 EnduroWeave hiking boot. It's built on Danner's legendary platform, which is sturdy, durable, and time-tested, but now has a modern and urbane look. EnduroWeave is textured, sleek, breathable, and bombproof." Danner boots are also known to look as good as they feel, making them stylish enough to wear around town — or for now, the neighborhood.
Backyard camping gear
While your go-to camping spot right now likely isn't farther than the backyard, that's exactly where Peters admits to using this tent the most. "I'm six-foot-three, but the Wagontop's dome height is impressive, allowing me to comfortably stand inside while I tell bedtime stories before we spend a night under the stars," he says.
Setting up camp on your lawn, or even inside your home, might be more convenient than spending a night in the wilderness, but it's not necessarily more comfortable — which is where this KLYMIT sleeping pad comes into play. Two of the outdoorsy dads we talked to recommended this packable and inflatable sleeping pad, including Utah-based hiker Rob Urry, a father of four and grandfather of 11. He was sold on this pad's comfort when he tried one out inside on the cement floor of a Costco. "These are the best pads ever! They blow up with just a few breaths, are lightweight and are super-comfortable. Works great on the ground or in a hammock," he adds.
"Anyone who spends any time outdoors needs to have light," says Paul Ronto of RunRepeat, which is why his first gift recommendation is the Black Diamond Spot Headlamp. "It's cheap, but it's not lacking in performance. They updated it to 300 lumens this year. It's lightweight and small and uses triple-A batteries, which are easy to find and also lightweight," he explains. While Ronto has used this headlamp during years of outdoor trips, headlamps are also a good tool for some homebound activities: One writer uses hers to read in bed, and Bon Appetit's Brad Leone (an outdoorsy dad himself) uses his headlamp to optimize his grilling.
Ronto also believes that there's no gift more universal than a water bottle, especially a high-end one that your dad might not buy himself. "I'd recommend anything from Hydro Flask; they are all vacuum-sealed, stainless-steel bottles that keep things cold or hot for hours," he says, adding that his has held ice for over 24 hours while traveling, which makes us think it'll hold up well on a (socially distant) walk or during a day of working from home.