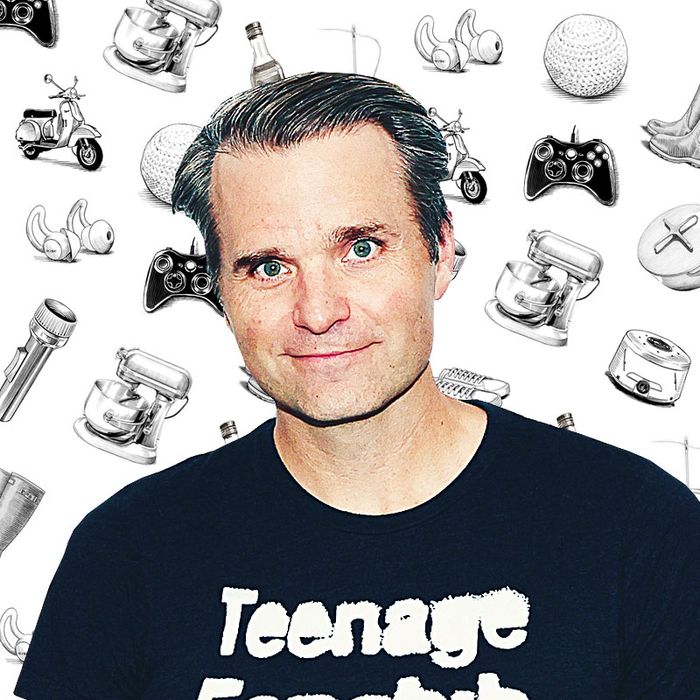 Photo-Illustration: The Strategist; Photo: Dia Dipasupil/Getty Images; Illustration; Joe McKendry
If you're like us, you've probably wondered what famous people add to their carts. Not the JAR brooch and Louis XV chair but the hair spray and the electric toothbrush. We asked musician Ben Gibbard — front man of Death Cab for Cutie, releasing their tenth studio album, Asphalt Meadows, today — about his travel-coffee setup, trail running gear, and favorite nonalcoholic craft beer.
When my wife and I got together ten years ago, I noticed that she traveled with an Aeropress and a kettle. She also toured with bands for a number of years, and when you're on tour, the first thing you want every morning is a really good cup of coffee. I'd rather make it myself than be on the hunt for it. And this kettle is great, because it compresses down and doesn't take up a lot of room in your bag. Hotels, sometimes they'll have a kettle and sometimes they won't. Or you can sometimes use the coffee maker in the room to heat the water. But it's way better when it comes from your own kettle. With the AeroPress, I'm not that adventurous; I just brew it the traditional way — I've seen people do the upside-down method and they swear by it, but I'm a believer that if you're drinking good coffee and you let it steep long enough, it's going to be good, whether it's upside down or right side up.
Whenever we would tour through Norway over the last 10 to 15 years, I would make the pilgrimage to Wendelboe and buy bags of beans to take home with me and make them last as long as I could. Now they have this subscription service. The coffee is just really flavorful and really fruity — they specialize in light roasts. It feels not so environmentally responsible to have beans shipped from Colombia to Norway, then roasted and shipped back to the United States, but I'd like to think my daily carbon footprint is narrow enough that it allows for an indulgence like this.
I started trail running a little over ten years ago. I had signed up for a trail run by accident. The band was on our way to Australia, and we had a stopover in San Francisco for a couple days, so I signed up for the Golden Gate 30K, thinking it would be fun. I showed up at the race start and it turned out to be in the Marin Headlands. I asked someone where the race was going and they looked at me like I was insane and pointed to this giant mountainside. But I just fell in love with it, and have run tons of 50Ks and 500 milers since then. Brooks was one of the first brands to make trail shoes. Other brands made improvements over the years, and the Cascadias fell out of favor for a long time, but in the last couple years they have been redesigned. Now I think they're perfect: really solid, mid-cushioning. I'm doing a big push tomorrow and I'm wearing them for the whole day.