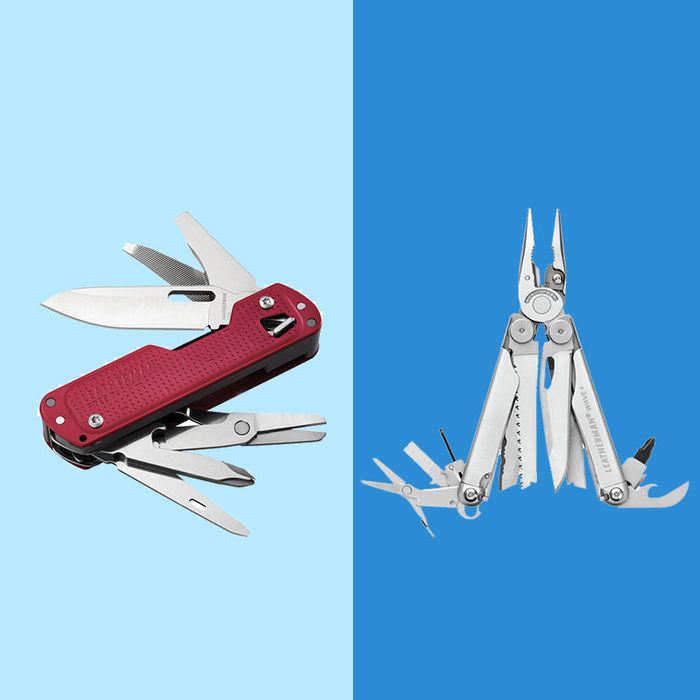 Photo-Illustration: retailers
There's something deeply appealing about a chunky metal rectangle that unfurls to reveal an arsenal of tools. Phillips and flat-head screwdrivers, knives and saw blades, scissors and wire snips, pliers and bit drivers and tweezers and bottle openers — with a multi-tool they're all available with the flick of a finger. Slide one in your pocket when you head out hiking, biking, or fishing and you'll be ready to tackle just about anything.
While multi-tools make our lives easier, however, finding the right one for you can be hard. There are myriad configurations of blades, snips, and other bits and bobs. According to Explorers Club president Richard Wiese, who has carried his Leatherman Bond up Kilimanjaro and Everest, "Leatherman was the first to have big hefty pliers, and to me, that's the most practical thing." Pliers are key, agrees Chase Anderson, industry relations manager at Utah State University's Outdoor Product Design and Development program and creator of the Outdoor Recreation Archive. You're guaranteed to make regular use of them, "whether you're fishing and need to pull a hook out, or you just need to do something around the house."
While Leatherman is something of an industry standard for outdoorsy people (Anderson says he thinks of the brand in the same way he does Kleenex or Xerox), it's tricky to choose between the numerous design variations available. It's also true that a couple of rival brands may suit your needs better. To help you find your next multi-tool, we asked Wiese and 16 other outdoor experts about the favorite multi-tools they take with them on every adventure. Along with pliers, other popular features they suggest include a knife, scissors, and screwdrivers — versatile tools you'll use all the time. After that, it's a matter of finding the components (and the price point) that speak to you.
Best investment multi-tool
Neither cheap nor outlandishly expensive, Anderson refers to this well-equipped multi-tool as "the standard Leatherman" that "is the best bang for your buck" and "has everything you need." The Wave+ is a recent upgrade to the brand's best-selling Wave model, featuring 18 different tools, few of which feel superfluous. The wire cutters are replaceable, and as with all Leatherman multi-tools, there's a 25-year warranty. With its central pair of pliers, the design is classic, and reminds Anderson of the Leatherman tools he and his family grew up using.
Best backcountry multi-tool
In addition to a 7.5-inch Bowie knife he uses for big tasks like cutting wood and cleaning fish, Navy veteran and angler Chad Brown carries a Signal. "I use my Leatherman for small things — cutting line, getting stuff untangled," he says. The pocket-size Signal has staples like pliers, a knife, and a bit driver, but it also includes a couple of key survival items: a fire-starting rod and a safety whistle. Plus, for extended trips in the wild, the sewing awl can help fix a torn pack or tent, and the removable blade sharpener keeps the knife's edges honed.
Best survival multi-tool
Photographer James Barkman raves about this slightly bulkier Leatherman, which he "swears by" and takes on all kinds of hunting, climbing, and dirtbike trips — even those where space constraints and pack weight are critical. "It's pretty burly and on the heavier side," he admits. "But if it weighed anything less, I wouldn't have what I need, whereas anything more is overkill." Featuring a miniature saw as well as more standard tools like pliers, scissors, and a file, Barkman's 3P4 has been through the wringer: he most recently used it to skin a deer. On a climbing expedition in Pakistan over the summer, Barkman and his climbing partner relied on this multi-tool for potentially life-saving gear repairs to their tents and ice axes. "In remote areas where you could really be in trouble if something happened and you weren't able to fix it, the pliers and the screwdriver tools on it are very helpful," he explains.
Best multi-tool for travel
Outdoors writer and avid hiker Latria Graham carries the Style PS because it's TSA friendly. There's no knife, of course, but it still packs pliers, a wire cutter, scissors, tweezers, a screwdriver, a nail file, and a bottle opener. "Pre-pandemic, my work had me on the road four-to-six months out of the year," she says. "Eveningwear and camping gear are often in my luggage at the same time, which means there's usually precious little room for extra stuff. The Style PS is small enough to fit in my continental wallet for everyday carrying, and that's usually where it stays."
Best multi-tool for fishing
To make quick work of trimming lines and handling hooks, angler Kayla Lockhart keeps the Skeletool clipped to her waders. "I'm a big advocate of practicing good river etiquette and proper fish handling," she says, "so the majority of the use of the tool goes to the pliers, which are easy and quick to open for clamping barbs on hooks. I also use them for removing the hook from the fish — this allows for the least amount of contact with the fish itself and a smooth catch-and-release moment." The Skeletool comes with seven tools, including a bit driver. "That came in handy big time when I dropped my reel and the handle fell off," she says.
Best multi-tool for biking
Bikes require a specific set of wrenches, and two of our experts spoke highly of Topeak's Alien II. "It's been banging around in my packs for ten years, and it's still going strong," says Gloria Liu, a former gear tester at Bicycling magazine. "I've tested many multi-tools, but this Alien II — which I bought for myself when I first started riding — remains the only tool that's never let me down for on-trail, roadside, or mid-trip repairs. Most multi-tools will have a range of hex wrenches, but this one has some of the bits that are often missing from more streamlined options." At ten ounces, the Alien II is chunkier and weighs more than twice as much as other multi-tools on this list, but that doesn't bother adventure photographer and cyclist Evan Green. "It's worth its weight," he says. "I know I can throw it in the pack and it'll handle almost any common bike repair while I'm out on a ride."
Best budget multi-tool
No conversation about multi-tools would be complete without mentioning the classic Swiss Army knife, which comes recommended by two of our experts. "I'm obsessed with the Victorinox," says Grizel Caminas, a bikepacker, thru-hiker, and mental-health advocate. "It's really cute and really small — just 0.7 ounces. It has scissors, a knife, tweezers, everything you would need for an emergency. It's honestly the only thing I take besides a bike tool with all the Allen wrenches." Arborist Alex Vaught uses a chain-saw multi-tool called a "scrench" when he's on the job, but he always takes his Swiss Army knife — a gift from his father — when he goes backpacking. "It's small and light, it easily fits into a pocket, and it's unlikely to look intimidating to anyone. It also doesn't have more things than I would actually use on a trip."
Best multi-tool for big jobs
For home and vehicle projects, this multi-tool includes a lot of toolbox staples, such as a fine-edged blade, a serrated blade, needle-nose pliers with wire cutters and strippers, a pry bar with a nail puller, and a sheath of magnetic flat-head and Phillips bits. But the full-size bit driver is what Rogala considers the star of the show. Its bend places it on the center axis of the tool between both handles, which allows for ergonomic use and maximum torque. "I'm a huge fan of the Center-Drive for working on my adventure rig," Rogala says. "It lives in my truck at all times and is especially useful for quick repairs or maintenance on the road."