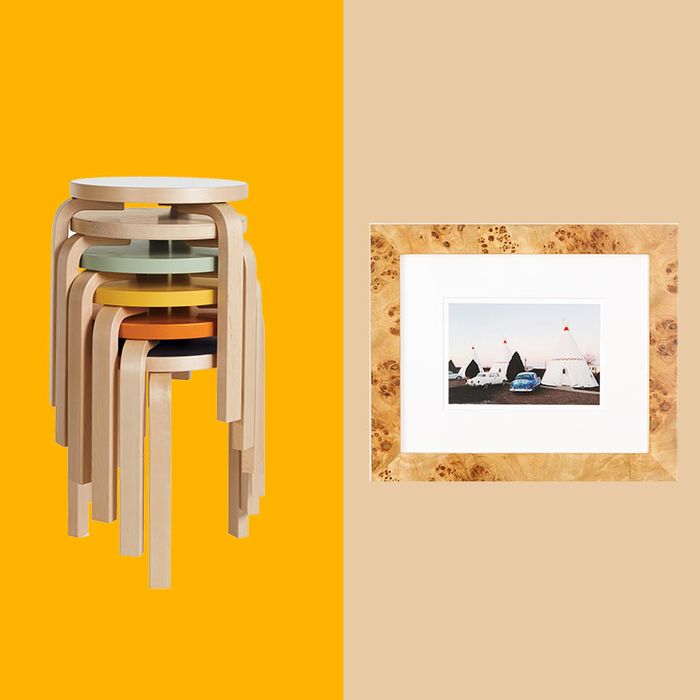 Photo-Illustration: Courtesy of the retailers
A few things might have changed since you got married five years ago — maybe you moved to a new city, bought a house, or even had a baby. What hopefully hasn't changed, though, is how much you love your spouse and enjoy spending time together. So when your fifth anniversary rolls around, you'll want to get your husband or wife a gift that honors the special things you share — whether that's hosting dinner parties, taking care of your plants, or simply enjoying your morning coffee together.
If you've been following the traditional anniversary gift guidelines, you know that the recommended five-year gift is wood. Here at the Strategist, we've covered lots of wooden things, and below we've rounded up some of our sturdy favorites that should last you through the next five years — and beyond. If you haven't been married for 5 years, we also have guides for 1-year, 2-year, 3-year, and 4-year anniversary gifts; as well as ones for 6-year, 7-year, 8-year, 10-year, 20-year, 25-year, and 50-year gifts if you're looking ahead.
For the couple with a bathtub
Made from water-resistant teak, this tray lets you prop up a tablet or book for reading in the bath, and even has a wine-glass holder. Writer Verena von Pfetten is a fan and says, "It makes me feel almost productive, even if all I'm really doing is lounging, drinking, and catching up on prestige television."
For the couple with a backyard
Ideal for dining outdoors, this affordable set is made from sustainable acacia wood and comes recommended by interior designer and Duett Interiors founder Tiffany Thompson, who likes its versatility. Everything folds up for easy storage, and if you really want to spread out, the table can be extended for even more space.
For the couple with a (tiny) backyard
If your outdoor space is limited, this storage bench offers both seating and a place to stash bug repellent, cushions, or other essentials. It's made from stained acacia wood, which is ideal for weathering the elements.
For the couple with (very) little outdoor space
Recommended by architect Ming Thompson, this tiny table clamps onto balconies and fire escapes, making dining or working outside possible. When you're not using it, it's easy to tuck away and store, making it the ideal table for the couple with limited square footage.
For the couple who still hasn't framed their wedding photos
Sure it's been half a decade, but better late than never, right? This burl wood frame would also work for displaying vacation or family photos, and with Framebridge's custom framing service, you can simply send a file from Instagram or Facebook so you really don't have any excuses.
For the couple organizing their coffee table
Photo: retailer
This sustainable wood catchall tray from Robin Wilson Home is perfect for holding magazines and serving tea and snacks, and has an eye-catching, graphic design.
For the couple who collects coffee-table books
For the couple that loves to read
Any bookworm would appreciate this airy, minimalist shelf from Article, which happens to come highly recommended by Black Chick Lit podcast co-host Mollie Esposito, and has shelves that get deeper from top (paperbacks) to bottom (hardcovers).
For the couple who likes to entertain
These colorful stacking stools are a favorite of interior designers. Store them in a stacked-up spiral and pull them out when you need additional seating.
For the couple who hosts dinner parties
These dining-room chairs are surprisingly affordable, so you can easily buy a few sets for the next time you host.
For the couple that likes to cook
This do-anything Japanese knife comes highly recommended by Justin Devillier of La Petite Grocery in New Orleans and has a driftwood handle that's been buffed supersmooth. "I'd use it If I were a home cook and I were having people over to break down a chicken, cut up vegetables, or chop herbs. It's a total everything-you-do type of chef's knife," he says.